The Thunderbirds (official name: USAF Air Demonstration Squadron) are the official aerobatic team of the US Air Force. They fly six F-16C/D Fighting Falcons and have performed around the world, representing the United States. The team are based at Nellis AFB near Las Vegas.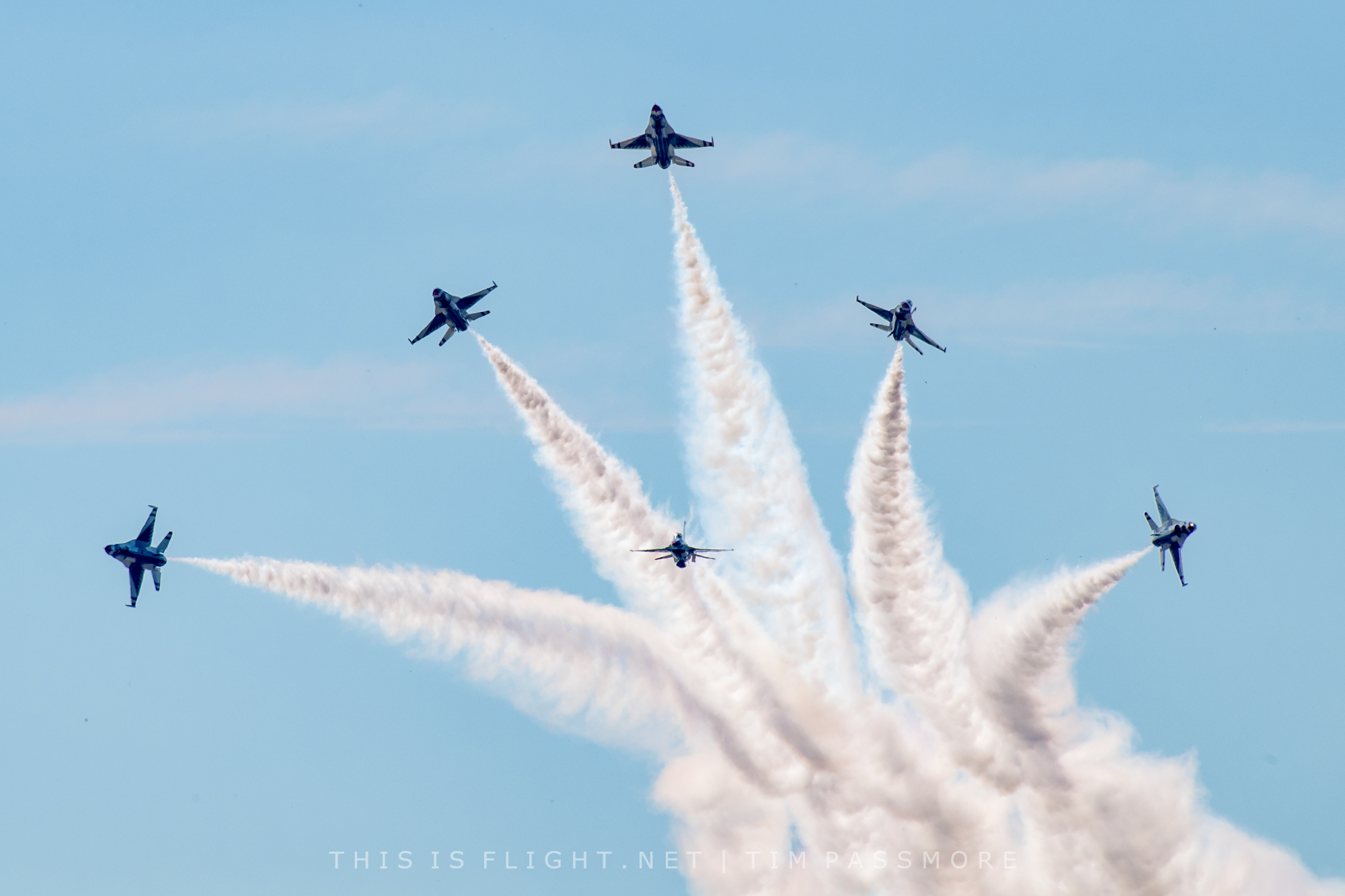 Active: 1953-present
Country:

United States of America
Home base: Nellis AFB, NV
Operator: Air Force
Size: 8 aircraft (6 in display)
AIRCRAFT FLOWN
F-84G Thunderjet (1953)
F-84F Thunderstreak (1954-1955)
F-100 Super Sabre (1956-1963)
F-104 Thunderchief (1964)
F-100 Super Sabre (1964-1968)
F-4 Phantom II (1969-1973)
T-38 Talon (1974-1982)
F-16A Fighting Falcon (1983-1991)
F-16C Fighting Falcon (1992-present)
History
The Thunderbirds were established as a formal aerobatic team in 1953, making them arguably the third-oldest military aerobatic team still performing today after the Patrouille de France and Blue Angels. They were known as the 6300th Air Demonstration Team and flew four F-84G Thunderjets. In 1954, the team added a fifth jet, which performed solo manoeuvres during the display, and made their international debut during a tour of South and Central America. In 1955, they upgraded to the F-84F Thunderstreak, followed by the F-100C Super Sabre in 1956. The emphasis of the show was on low, fast passes, and the team would often create a sonic boom as part of their act until this was banned later in 1956.
In 1959, the Thunderbirds performed a one-month tour of East Asia. 1962 saw the addition of a second solo jet, bringing the total number of aircraft in display to six. It was followed by their first European tour in 1963 and a switch to the F-105B Thunderchief in 1964 – although a fatal accident saw them revert to the F-100 (this time the D variant) after only six shows.
In 1969, the team upgraded again to the F-4E Phantom II, which they flew until 1974, when oil prices forced them to switch to the more economical T-38 Talon. I 1983, they transitioned to the F-16A Fighting Falcon, and finally the F-16C in 1992.
Display
The Thunderbirds typically use their C model F-16s for public air displays. Their display sees four aircraft, known as the Diamond, performing formation aerobatics, alternating with synchronised and opposition aerobatics from the two solo pilots. The Diamond are known for their extreme close formation flying, with minimum wingtip-to-canopy separation of just 0.5 metres. All six aircraft join together for several five- and six-ship manoeuvres towards the end of the routine. Manoeuvres include:
Calypso (two-ship pass in Mirror formation)
Cross-over Break (two-ship fly over crowd from rear and split)
Inverted opposing knife-edge (one vs. one opposition pass)
Eight-point Roll (solo eight-point hesitation roll)
High/Low Pass (four-ship low-speed high alpha pass and solo high-speed overtake)
Five Card Loop (five-ship loop in Card formation)
Line Break Loop (five-ship loop in Line Abreast and split into four-ship and solo)
Delta Roll (six-ship barrel roll in Delta formation)
Delta Burst (six-ship bomb burst)
High Bomb Burst (four-ship upwards bomb burst and solo spiral climb through burst)
High Bomb Burst Cross (four-ship cross at show centre)
Accidents
11th December 1954: A pilot is killed while solo training in the F-84G
26th September 1957: A pilot is killed during a training flight at Nellis
9th October 1958: All 19 officers on board the Thunderbirds' C-123 support plane die when the aircraft crashes following a bird strike
12th March 1959: A pilot is killed during a solo training flight at Nellis
27th July 1960: The team's advance pilot is killed during a proficiency flight at Nellis
6th April 1961: The team's Commander and advance pilot dies during a training flight at Nellis
24th September 1961: A member of the Thunderbirds' support crew is killed on a flight with the Golden Knights when their jump ship crashes on take-off during a show in Wilmington
9th May 1964: A pilot dies when his F-105 breaks up during a break-to-land at Hamilton AFB
12th October 1966: A pilot dies when two F-100s crash during an opposition pass at Springs Auxiliary Field; the second jet lands safely
9th January 1969: A pilot is killed during a solo training flight at Nellis
4th June 1972: A pilot is killed during the Transpo '72 Airshow near Washington, DC
21st December 1972: Two pilots die during a test flight at Nellis
25th July 1977: The team's narrator dies during a failed aborted landing; his jet crashes into a rodeo arena in Cheyenne
9th May 1981: A pilot is killed in a crash while flying a low approach during an airshow at Hill AFB
8th September 1981: The team's Commander dies following a bird strike in Cleveland; his passenger ejects safely, but the pilot's parachute fails to deploy
18th January 1982: Four T-38s hit the ground while practicing a formation loop at Indian Springs, killing all four pilots
14th September 2003: A pilot flying a Split-S manoeuvre with insufficient altitude steered his plummeting aircraft away from the crowd and managed to eject safely
20th August 2005: Two planes make contact and sustain minor damage during the Chicago Air & Water Show
2nd June 2016: A pilot ejects safely when his engine is accidentally shut down following a flypast in Colorado Springs
23rd June 2017: The advance pilot is injured when his jet overruns the runway and flips over just before the start of the Dayton Airshow. His passenger is uninjured.
4th April 2018: A pilot is killed when he crashes during a training flight near Nellis
Gallery