The Patrouille de France (English: French Patrol; official name: Patrouille Acrobatique de France) is the main aerobatic team of the French Air Force. With roots going back to 1931, the Patrouille de France may be the oldest aerobatic team in the world still performing today. They were officially comissioned in 1953. Now flying eight Alpha Jets, it is considered to be among the world's top aerobatic teams. Several former members of the Patrouille de France flew for the Breitling Jet Team, and others mentor the UAE's Al Fursan.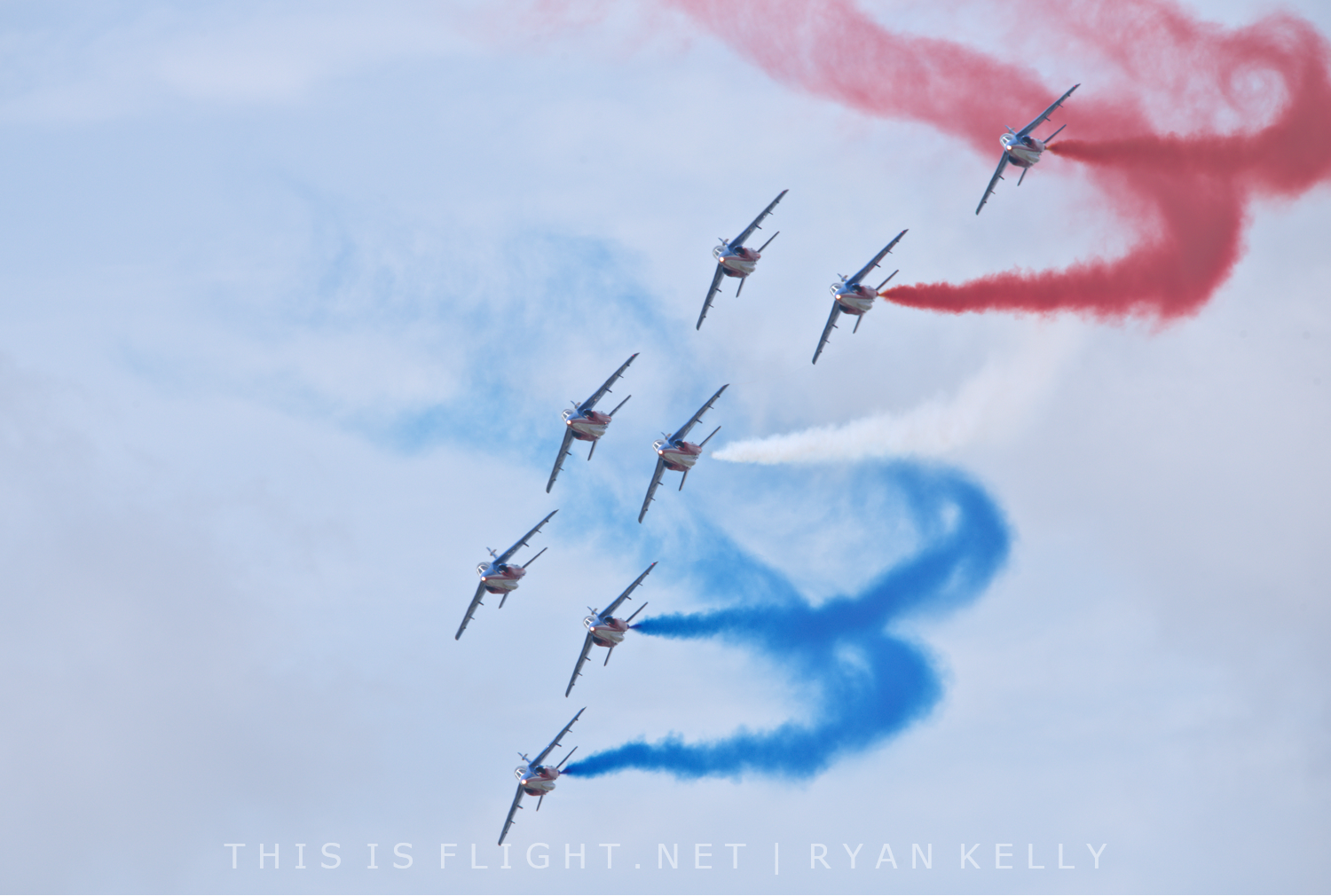 Active: 1953-present
Country:

France
Home base: Salon de Provence Air Base
Operator: Air Force
Size: 11 aircraft (8 in display)
AIRCRAFT FLOWN
F-84 Thunderjet (1953-1954)
MD.480 Ouragan (1954-1957)
MD.454 Mystere IV (1957-1964)
CM.170 Magister (1964-1981)
Alpha Jet E (1981-present)
History
The French Air Force has had an official aerobatic team since the Patrouille d'Étampes was formed in 1931, flying three MS.230 monoplanes. The team went through several phases, at one point performing with twelve SV-4 Stampes, and later four Republic F-84G Thunderjets. While performing in that guise in Algeria in 1953, the name Patrouille de France was coined; this became the team's official name later that year.
In 1957, the team transitioned to the Dassault Mystère IV, but was dissolved in 1964 due to budget constraints. The Patrouille de l'École de l'Air, another French Air Force team flying six Fouga Magisters and based at Salon-du-Provence, gained the title Patrouille de France instead. In 1981, the Patrouille switched to the Dassault/Dornier Alpha Jet, flying seven jets initially and increasing to eight in 1982.
In 2009, the Patrouille de France became the first military aerobatic team to be commanded by a woman, when it was lead by Cmdt. Virginie Guyot.
Display
The Patrouille de France's display routine changes every year and is among the most sophisticated of any aerobatic team. Broadly, the first half of the display sees all eight jets performing formation aerobatics, before breaking down into smaller groups (usually twos and fours) during the second half for more dynamic manoeuvring. The display particularly makes use of the Alpha Jet's excellent roll characteristics, featuring aircraft performing rapid aileron and barrel rolls in extreme close formation. Red, white and blue smoke is used throughout.
Accidents
The Patrouille de France has had 12 major accidents since 1953, of which eight were fatal.
Gallery