Al Fursan (full name: Fursan al Emarat; English: The Knights/Knights of the Emirates) are the aerobatic team of the United Arab Emirates Air Force. They fly seven MB-339As painted in black and gold, to symbolise the desert and the riches of the oil hidden beneath it. They are famous for their exceptional smoke generators, which produce thick plumes of black, white, red and green.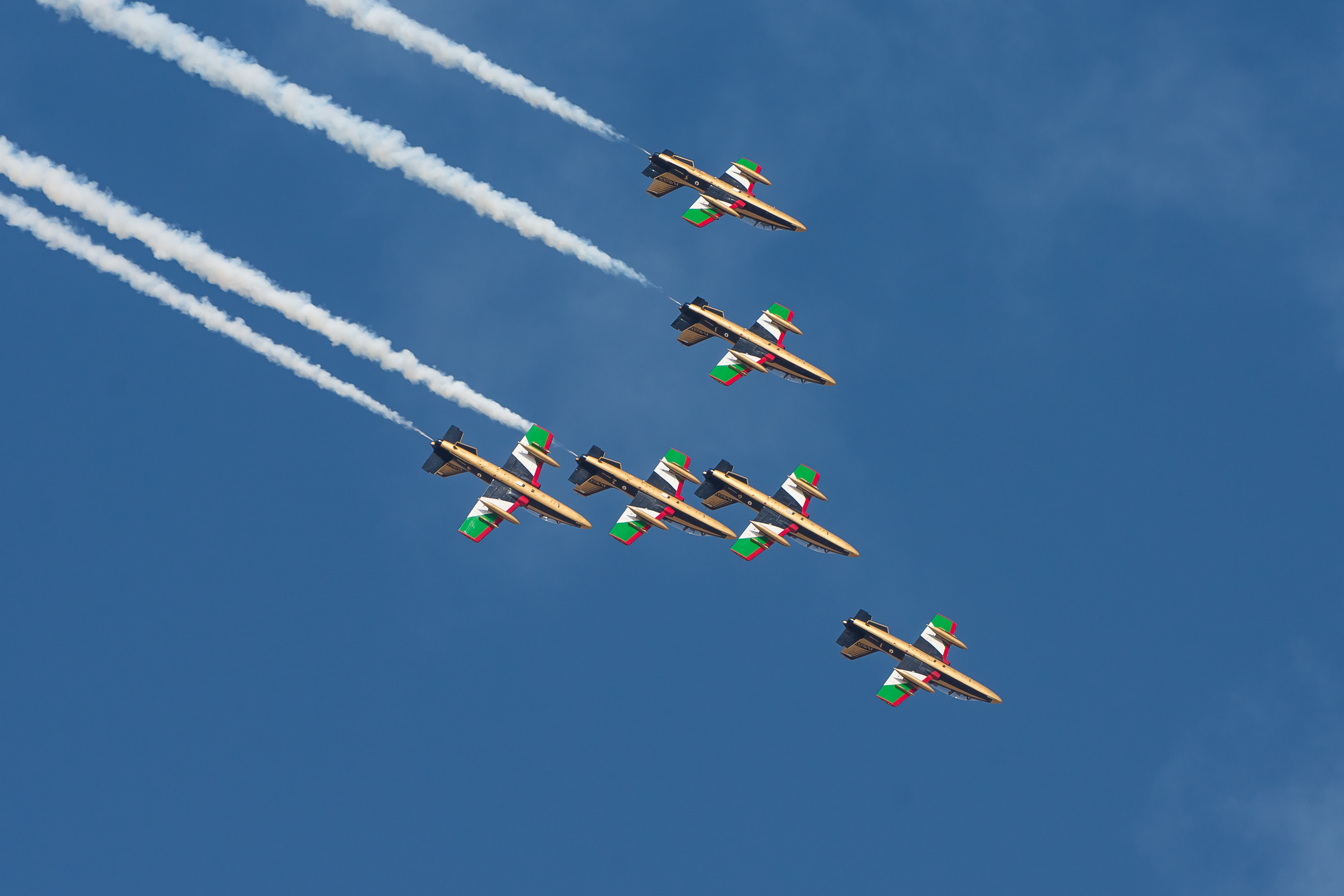 Active: 2010-present
Country:

United Arab Emirates
Home base: Minhad Air Base
Operator: Air Force
Size: 7 aircraft (7 in display)
AIRCRAFT FLOWN
MB-339A (2010-present)
History
The UAEAF purchased the MB-339 solely to equip their new aerobatic team, which was established in 2010. Team members were trained by the Frecce Tricolori, who fly the same aircraft type, at their home base in Rivolto, Italy. Al Fursan then returned to the UAE and made their debut display at the Dubai Airshow 2011.
Al Fursan made their international debut in 2012, flying at the Yeovilton Air Day and the Royal International Air Tattoo in the UK. They have since returned to Europe on several occasions, including to Switzerland in 2014 for the Swiss Air Force's 100th anniversary show in Payerne and to Slovakia (the Slovak International Air Fest) and Russia (MAKS) in 2017. The team have also visited Asia and Africa, flying in Morocco (Marrakech Airshow 2015), China (Airshow China 2014) and Malaysia (LIMA '15).
More recently, Al Fursan has been mentored by former members of the Patrouille de France. The two teams performed a short combined display at the Dubai Airshow 2019.
The UAE Air Force has expressed the intent to replace the MB-339 in the mid-2020s, before it reaches the end of its useful life in 2030. The frontrunner to replace the MB-339 is widely thought to be the Hongdu J-15 Falcon.
Display
The display begins with all seven aircraft flying in formation, before breaking down into smaller elements in the second half. This includes dynamic manoeuvring by the team's solo pilot. Al Fursan's signature manoeuvre, which closes the show, sees two aircraft barrel rolling around the rest of the formation. Thick white, red, black and green smoke is used throughout the display.
Gallery