This Week in Airshows: Monday 18th September
Our news page will be updated every Monday with a comprehensive analysis and discussion of the week's news. This week's top stories:
RED ARROWS COMMENCE MIDDLE EAST TOUR
RED BULL AIR RACE LAUSITZ: THE RESULTS
THE PEOPLE'S MOSQUITO EXPRESS CONCERN OVER "COMPETITION"
---
Red Arrows commence Middle East tour
After leaving their home base of RAF Scampton on Thursday 14th July, the Red Arrows have embarked on a five-week international tour for the second consecutive year. En-route to the area, the team participated in the Athens Flying Week, the largest airshow in Greece. They will then perform at dedicated events at a number of Middle Eastern countries with the aim of boosting Britain's profile in the Gulf region. However, the tour isn't without its negative consequences: it has forced the Red Arrows to miss the Jersey Airshow for the first time in over five decades as well as other airshows at Duxford and Southport. It also denies them the opportunity of celebrating the USAF's 75th anniversary and Canada's 150th anniversary, which caused some speculation of a tour to that region before the airshow season. No full schedule has been released for the tour, but the order of appearances is as follows:
Cannes Yachting Festival, Cannes, France (flypast)
Athens Flying Week, Tanagra, Greece
Amman, Jordan
Jeddah, Saudi Arabia
Kuwait City, Kuwait
Doha, Qatar
Muscat, Oman
Karachi, Pakistan
Manama,  Bahrain
Riyadh, Saudi Arabia
The Middle East tour will end just days before the Dubai Airshow, meaning the team will not participate in any Middle Eastern airshows. This will allow the team maximum training time to induct their new pilots (including a new team leader) before the RAF's centennial display season.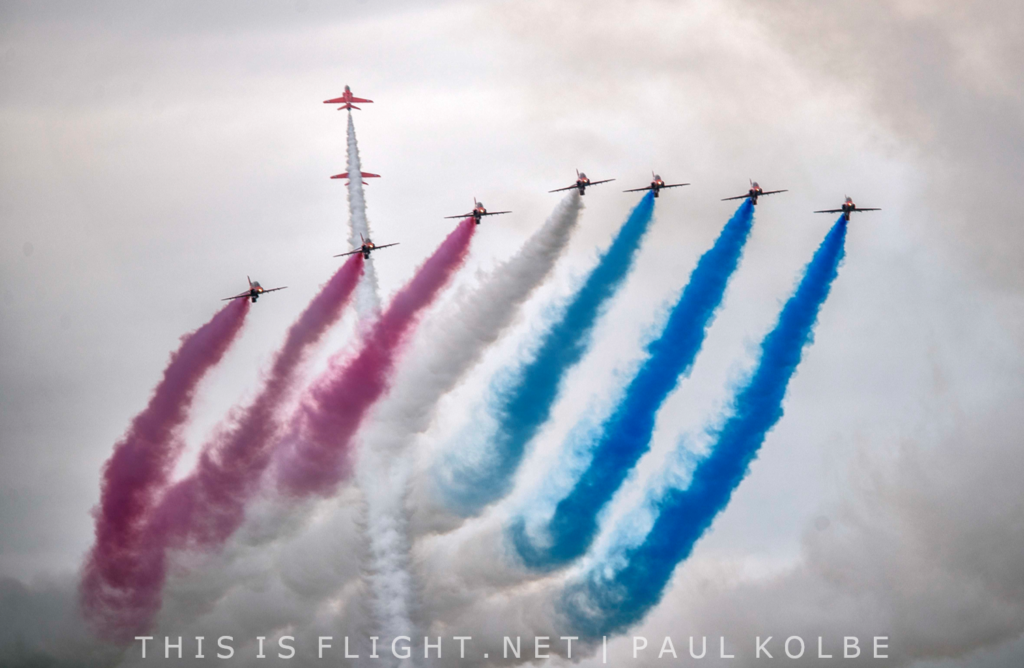 ---
Red Bull Air Race Lausitz: the results
For the penultimate race of the 2017 season and only the first land-based track of the year, the Red Bull Air Race World Championship touched down at the Eurospeedway Lausitz in Germany on the weekend of the 16th-17th September. Lausitz would be the final chance for the Challenger Cup pilots to prove they have what it takes to fly at the final round in Indianapolis, and after mixed fortunes in the practice sessions, Ben Murphy found himself topping the timesheets in Qualifying. On the day of the race, Melanie Astles found herself out of contention after a pylon hit early in her run, ruining an otherwise brilliant time. Daniel Ryfa set the early pace with his best time of the week, and was followed by his great rival Florian Berger, the title leader. The German ace was ahead on the timesheets until the very last split time, putting him just one hundredth of a second behind Ryfa. Daniel Genevey's run was dogged by a pylon hit and two additional penalties, totaling seven seconds. Ben Murphy was the final pilot to fly, collecting a penalty but finishing fast enough to book himself a place at the final in Indianapolis by just one tenth of a second.
CHALLENGER CUP: LAUSITZ RESULTS                CHALLENGER CUP: TITLE STANDINGS
Daniel Ryfa (SWE)                                                   1. Florian Berger (36)
Florian Berger (GER)                                              2. Daniel Ryfa (34) ⇧
Luke Czepiela (POL)                                               3. Luke Czepiela (30) ⇧
Ben Murphy (GBR)                                                 4. Kevin Coleman (26) ⇩
Melanie Astles (FRA)                                              5. Melanie Astles (18)
Daniel Genevey (HUN)                                          6. Ben Murphy (16) ⇧  

_______  CUTOFF FOR

N/A                                                                           7. Baptiste Vignes (14) ⇩          

FINAL ROUND

N/A                                                                          

8. Kenny Chiang (12)

N/A                                                                          

9.

Daniel Genevey (12)
In the Masterclass, it was Matt Hall that celebrated the Qualifying win (on his birthday, no less) with Petr Kopfstein and Yoshi Muroya right behind him. Pete McLeod struggled to find his form in Germany after winning the previous four Qualifying sessions. Nicolas Ivanoff was first to fly in the Round of 14; having struggled all season to keep pace with his competitors, championship leader Martin Sonka was able to progress easily. The story was much the same for Mika Brageot, who was resoundingly beaten by Kirby Chambliss, although Brageot was the fastest loser. Juan Velarde had been on top form all week, and his time was a serious challenge to Matthias Dolderer, the home hero. For Dolderer, the pressure was too much, hitting a pylon and apologising profusely to his fans on the radio. Track record holder Yoshi Muroya found himself in a perilous position, posting his slowest time of the week against Fracois Le Vot, although he still progressed with relative ease. Michael Goulian was next up, and posted a blistering net time ruined by penalties, including two seconds for flying too low, giving Pete McLeod easy passage, even with a penalty of his own. Petr Kopfstein and Matt Hall also won their heats.
The Round of 8 included some of the most exciting pairings of the season so far. First into the track was Matt Hall, flying slightly slower than expected. Brageot was right behind Hall, finishing just two thousands of a second behind Hall's time. Yoshi Muroya was in for a tough heat against Kirby Chambliss, with a slightly messy run but an overall fast time: Chambliss was half a second off the pace. The heat between Kopfstein and Velarde could have easily gone either way. True to unpredictable form, Kopfstein exceeded the G limit right at the start of his lap, giving Velarde easy passage. Pete McLeod then found himself flying against Martin Sonka, in a run that could be decisive in the world championship. The Canadian put the pressure on with a fast time, but Sonka was on fire with a near-perfect flight, putting him into the final. Hall was the first into the track in the Final 4, posting a fast time that was immediately bettered by Muroya. With nothing to lose, Juan Velarde gave it his all, but was trailing Muroya even before incurring an incorrect level penalty. With his two closest rivals out of the chase, Sonka was looking to extend his lead in the championship standings but was unable to maintain his form, handing Muroya the win. As a result, Sonka and Muroya are now separated by just four points, taking the chase for the championship to the final round of the race in Indianapolis.
MASTERCLASS: LAUSITZ RESULTS                          MASTERCLASS: CHAMPIONSHIP STANDINGS
Yoshihide Muroya (JPN)                                           1. Martin Sonka (63)
Matt Hall (AUS)                                                          2. Yoshihide Muroya (59) ⇧
Martin Sonka (CZE)                                                   3. Pete McLeod (56) ⇩
Juan Velarde (ESP)                                                    4. Kirby Chambliss (52) ⇩
Pete McLeod (CAN)                                                  5. Matt Hall (37) ⇧
Kirby Chambliss (USA)                                             6. Petr Kopfstein (37) ⇩
Mikael Brageot (FRA)                                                7. Juan Velarde (28) ⇧
Petr Kopfstein (CZE)                                                 8. Matthias Dolderer (27) ⇩
Nicolas Ivanoff (FRA)                                                9. Michael Goulian (24) ⇩
Francois Le Vot (FRA)                                             10. Mikael Brageot (19)
Cristian Bolton (CHI)                                              11. Nicolas Ivanoff (16) ⇧
Matthias Dolderer (GER)                                       12. Peter Podlunsek (14) ⇩
Peter Podlunsek (SLO)                                           13. Francois Le Vot (9)
Michael Goulian (USA)                                           14. Cristian Bolton (7)
---
The People's Moquito express concern over "competition"
The launch of the Mosquito Pathfinder Trust (MPT), a UK-based charitable organisation with the aim of restoring a de Havilland Mosquito Mk.IV to flight, has caused a stir in the aircraft restoration community. The trust, who require funding of £4 million in 3 years including £750,000 in the next few months, anticipate displaying the completed aircraft at airshows around the UK from mid-2020. However, The People's Mosquito (TPM) – a long-running charity currently working to restore a Mosquito FB.VI to flight – has expressed concern that there is insufficient interest and funding for two simultaneous UK Mosquito restorations. "We are naturally concerned that parallel projects risk reducing the chance of that vision becoming a success", said TPM in a statement on Wednesday 13th September. Significant numbers of comments on MPT's Facebook page appear to vindicate these concerns. The TPM team also expressed disappointment that they were not contacted by MPT at any point. "We feel collaboration will be vital to both projects if we are to co-exist, capitalise on any potential efficiencies and provide mutual support", said the statement. Both charities will be using Avspecs, a New Zealand-based aircraft restoration company, to undertake much of the construction and restoration work. There are currently three airworthy Mosquitoes in the world, although none are in the UK. A meeting between MPT and TPM has been scheduled for October.
---
One day: two airshows. Join us next week from Duxford and Owensboro
---
News in Brief
AeroLegends will be hosting a second consecutive Battle of Britain Airshow on the 30th June and 1st July 2018, with the announcement made on Battle of Britain Day.
Navy Wings' Sea Fury T.20 has returned to RNAS Yeovilton after being restored to flight at North Weald following its crash landing in 2014.
A BE.2 and Sopwith Snipe currently based in the UK will be returning to their home in New Zealand later this year.
The Sunderland Airshow will return on the 27th-29th July 2018.
---
The next news update will be on Monday 25th September.