This Week in Airshows: Monday 16
th April
Our news page will be updated every Monday with a comprehensive analysis and discussion of the week's news. This week's top stories include:
RED ARROWS PLAN FOR 2018 SEASON
USN F/A-18 'TAC DEMO' SCHEDULE SCALED BACK FOR 2018
SCOTTISH AIRSHOW THREATENS TO LEAVE AYR
FINNISH AIR FORCE RELEASE 2018 AIRSHOW SCHEDULE
ROB HOLLAND RESUMES FLYING AFTER CRASH
RAF FALCONS RELEASE 2018 SCHEDULE
---
Red Arrows plan for 2018 season

The Royal Air Force Aerobatic Team, the Red Arrows, have released their schedule for the 2018 season.
The schedule sees them perform at almost all of the UK's major airshows, and – unlike last year – they are not currently scheduled to perform at ticketed events only on specific days.
This does, however, come at a cost to non-British events: only three overseas appearences have been scheduled, of which just one, the Bray Air Display in Ireland, currently appears to be a major airshow. The remaining appearences, in Menorca, Spain, and Monaco, this September, do not seem to be full airshows.
The most notable omission from the schedule is the Farnborough International Airshow, after an embaressing risk assessment in 2016 deemed only flypasts would be performed. The same will be the case this year.
There is, however, positive news from the RAF Cosford Airshow, who said the team "plan on performing along the normal display axis" after an embaressing previous year in which they performed much further than usual from the crowd.
The Red Arrows' schedule, excluding non-aviation events and flypasts, can be seen below:
Jun 2-3: Torbay Airshow, Torquay, England
Jun 10: Cosford Airshow, RAF Cosford, England
Jun 16-17: Great Yarmouth Airshow, Great Yarmouth, England
Jun 23-24: Weston Air Festival, Weston-super-Mare, England
Jun 30: Armed Forces Day National Event, Llandudno, Wales
Jun 30-Jul 1: Wales National Airshow, Swansea, Wales
Jul 1: North East Lincolnshire Armed Forces Day, Cleethorpes, England
Jul 6: Southport Airshow, Southport, England
Jul 7: Yeovilton Air Day, RNAS Yeovilton, England
Jul 13-15: Royal International Air Tattoo, RAF Fairford, England
Jul 14-15: Goodwood Festival of Speed, Goodwood, England
Jul 22: Folkestone Airshow, Folkestone, England
Jul 27-28: Sunderland International Airshow, Sunderland, England
Jul 28: Scotland's National Airshow, East Fortune, Scotland
Jul 29: Bray Air Display, Bray, Ireland
Aug 11: Newcastle Festival of Flight, Newcastle, Northern Ireland
Aug 12: Blackpool Airshow, Blackpool, England
Aug 17-19: Airbourne: Eastbourne International Airshow, Eastbourne, England
Aug 18-19: Biggin Hill Festival of Flight, London, England
Aug 23-24: Clacton Airshow, Clacton, England
Aug 25-26: Dunsfold Wings & Wheels, Dunsfold Park, England
Aug 26: Rhyl Airshow, Rhyl, Wales
Aug 30-Sep 1: Bournemouth Air Festival, Bournemouth, England
Sep 1-2: Scottish International Airshow, Ayr, Scotland
Sep 2: AirWaves, Portrush, Northern Ireland
Sep 13: Guernsey Airshow, Guernsey, Channel Islands
Sep 13: Jersey Airshow, Jersey, Channel Islands
Sep 18: Menorca, Spain
Sep 22-23: Duxford Battle of Britain Airshow, IWM Duxford, England
Sep 27: Monte-Carlo, Monaco
The team are still recovering from last month's fatal accident, and Red 3 Flt. Lt. David Stark will not be able to fly this year. Instead, Sqn. Ldr. Mike Ling MBE will return to the team to take his place this year. This will allow the team to continue to exhibit their famed 9-ship display.
Ling previously spent three years flying with the Red Arrows, and later six years as Red 10, the team's commentator and ground supervising officer, following an accident of his own during a training flight. He retired from the Red Arrows last October, becoming the Air Safety Manager for the Central Flying School at RAF Cranwell, but he opted to continue his aerobatic career part-time, guest-flying for The Blades in the Blade 3 position. However, rejoining the Red Arrows has forced him to put these plans on hold.
---
USN F/A-18 'Tac Demo' schedule scaled back for 2018

The US Navy has authorised a limited show season for the popular F/A-18 "Tac Demo", which could see the team fly at as few as four events. In a statement, the Navy said their operational committments "must take priority" over flying at airshows.
It currently looks as if only VFA-106 will be performing air displays this year, with Leemore-based VFA-122 not scheduled to appear at any events. As of today, even VFA-106's home base of NAS Oceana is not scheduled to include a Hornet demonstration at its airshow this September, but it has been suggested that at least one such display is still being planned.T
wo more shows, in addition to the four which have been confirmed, have also been approved for Tac Demo participation, although this will not be confirmed until May. The schedule, as it stands, is as follows:
Apr 14-15: Sun 'n Fun, Lakeland, FL, USA
Apr 21-22: Thunder Over Louisville, Louisville, KY, USA
May 5-6: Fort Lauderdale Airshow, Fort Lauderdale, FL, USA
May 26-27: Miami Beach Air & Sea Show, Miami Beach, FL, USA
Jun 9-10: Thunder Over Niagara, Niagara Falls ARS, NY, USA (TBC)
Jun 30-Jul 1: Battle Creek Field of Flight Airshow, Battle Creek, MI, USA (TBC)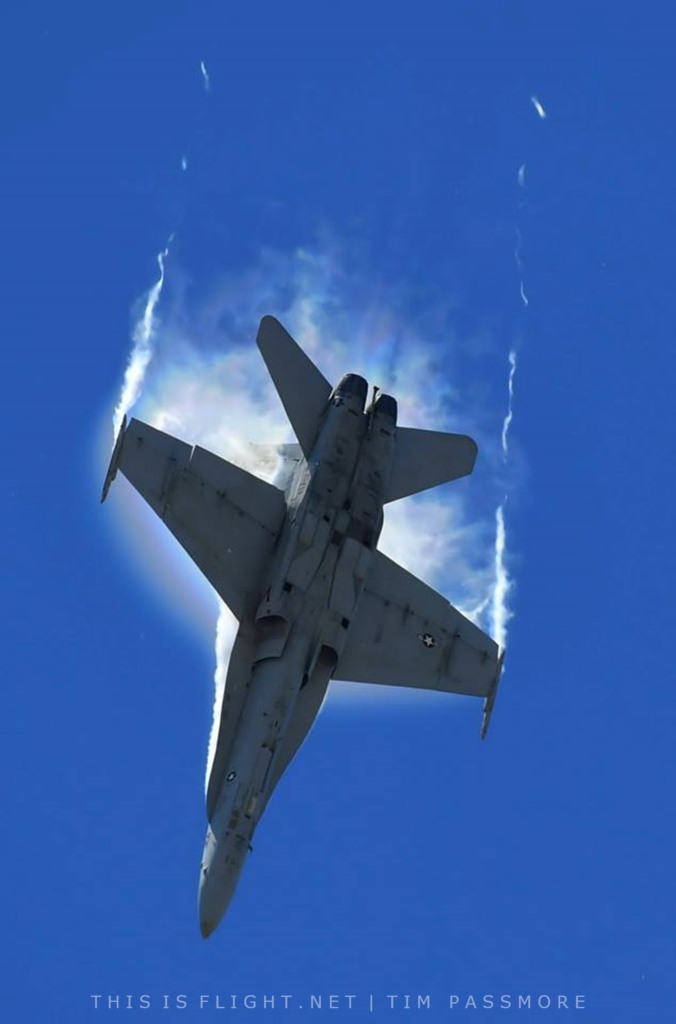 ---
Scottish Airshow threatens to leave Ayr

The organisers of the Scottish International Airshow have threatened to move to a new location to protest the council's funding scheme.
The airshow, which began in 2015, draws hundreds of thousands of visitors to the town of Ayr each year. However, South Ayrshire Council, who are the event's primary financial backers, have only agreed to fund two of the next three shows, forcing the event to take a one-year break in 2019.
The Daily Record say they have seen emails between the event's organisers and North Ayrshire Council, proposing that the airshow be moved 15 miles north to Irvine, for next year at least. In the emails, it is suggested the event is expanded to include a maritime or coastal theme to differentiate itself from previous events in Ayr.
Doug Maclean, the Event Manager, told the Daily Record that he has "no desire" to leave Ayr, and that he is only proposing a temporary move for the 2019 event, for which funding is not avaibale in Ayr.
However, a spokesman for North Ayrshire Council said they have not discussed hosting the Scottish Airshow in 2019 and have no plans to do so, the Daily Record said. Instead, they are considering working with South Ayrshire Council on expanding the event from 2020 onwards.
---
Finnish Air Force release 2018 airshow schedule

The Finnish Air Force, celebrating their 100th anniversary this year, have announced their airshow committments.
After a busy few days in May, hosting a number of Open Base events, they will then perform at three of the year's biggest overseas airshows. With non-aviation events and flypasts excluded, the schedule is as follows:
May 15: Satakunta Air Command Base Open Day, Pirkkala AB, Finland (Midnight Hawks, F-18C, BAE Hawk, L-70 Vinka, others TBC)
May 16: Karelia Air Command Base Open Day, Rissala AB (Midnight Hawks, F-18C, BAE Hawk, L-70 Vinka)
May 17: Base Open Day, Utti Jaeger Regiment, Finland (Midnight Hawks, F-18C)
May 18: Lapland Air Command Base Open Day, Rovaniemi AB (Midnight Hawks, F-18C, BAE Hawk, L-70 Vinka, Pilatus PC-12NG)
Jun 2: Finnish Defence Forces 100th Anniversary Festive Week, Kaivopuisto, Helsinki, Finland (Midnight Hawks, F-18C)
Jun 16-17: Finnish Air Force 100th Anniversary Air Show, Tikkakoski, Finland (Midnight Hawks, F-18C, BAE Hawk, L-70 Vinka, others TBC)
Jul 13-15: Royal International Air Tattoo, RAF Fairford, England, UK (F-18C)
Aug 25-26: Polish Air Force 100th Anniversary: Radom Airshow, Radom, Poland (Midnight Hawks)
Sep 15-16: NATO Days & Czech Air Force Days, Ostrava, Czech Republic (F-18C)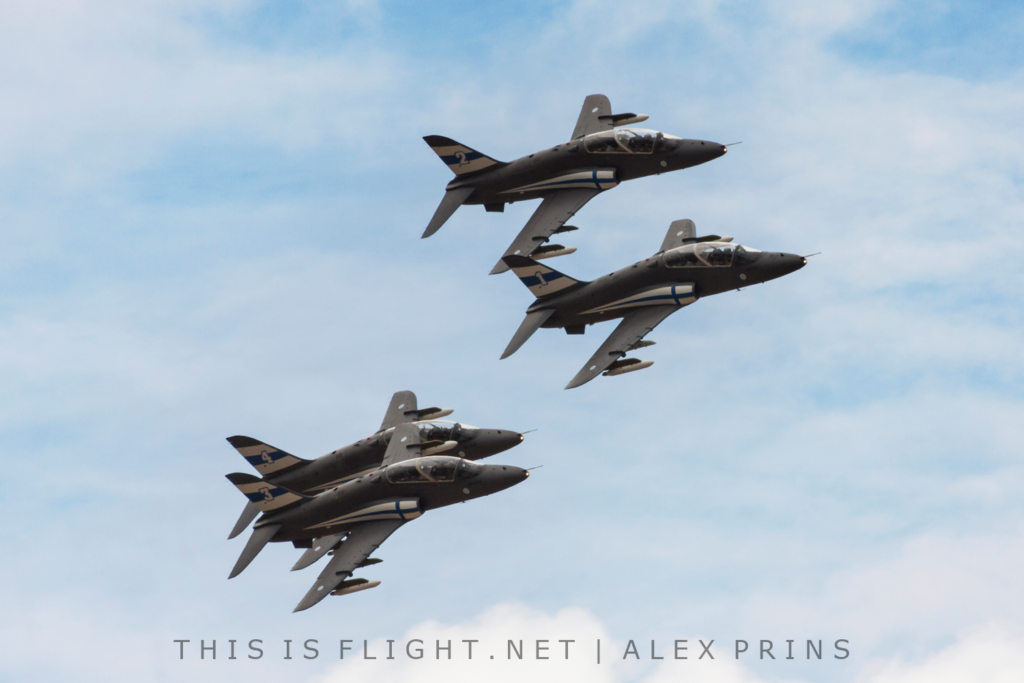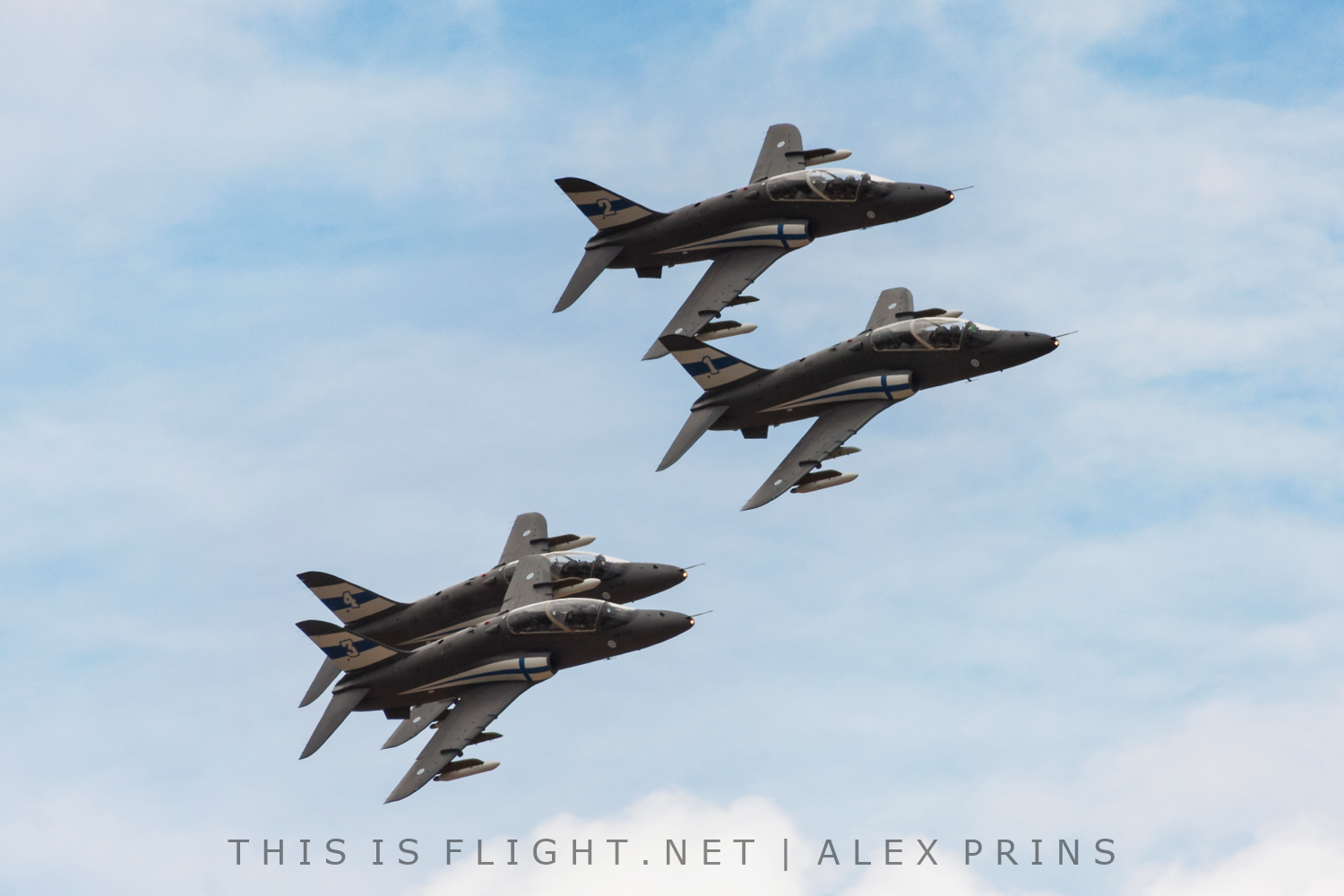 ---
Rob Holland resumes flying after crash

Just a few weeks after his plane was written off in an accident, US airshow pilot Rob Holland is to resume his show schedule. His customised MXS-RH was badly damaged in an emergency landing when Holland suffered an engine failure during a routine ferry flight last month. He escaped without injury.
He has now leased his previous aircraft, an MX-2 owned by Marty Flournoy, to continue his show season. Holland's own colour scheme and sponsor logos were quickly applied. The MX Aircraft Company are completing an MXS-RH Version 2, which Holland will take delivery of later this year. His old MX-2 will only be used until he can begin flying his new plane.
---
RAF Falcons release 2018 schedule

The RAF Falcons parachute display team will perform across the UK and in Belgium this year. As well as numerous smaller events, the team will drop into seven British airshows, taking in each of the four countries of the United Kingdom. The schedule includes:
Jun 10: Cosford Airshow, RAF Cosford, England
Jun 30-Jul 1: Wales National Airshow, Swansea, Wales
Jul 13-15: Royal International Air Tattoo, RAF Fairford, England
Jul 28-29: Sunderland International Airshow, Sunderland, England
Aug 11-12: Newcastle Festival of Flight, Newcastle, Northern Ireland
Sep 2: Scottish International Airshow, Ayr, Scotland
Sep 2: Air Waves Portrush, Portrush, Northern Ireland
Sep 8-9: Belgian Air Force Days, Kleine-Brogel, Belgium
---
We've been working with Aerosparx to produce some stunning videos taking you behind-the-scenes with a civilian aerobatic team. Read the article here.
---
News in Brief
Added to the Radom Airshow flying display are a Pakistani Air Force JF-17 Thunder and from the Polish Air Force a MiG-29 and Su-22.
The only international airshow on the Turkish Stars 2018 schedule is the Bucharest International Airshow in Romania.
Two de Havilland Vampires and a BAC Strikemaster will represent the Cold War era at the Great Yarmouth Airshow.
The organisers of Dunsfold Wings & Wheels have confirmed they expect to run the show until at least 2019, and possibly beyond, pending the airfield's redevelopment.
The two-day Folkestone Airshow is to return on the 21st-22nd July, featuring the BBMF on both days and the Red Arrows on the second.
The USAF A-10 Demo Team schedule has been updated to include the Seafair Airshow in Seattle, WA.
The USAF F-22 Demo Team schedule has been updated to include Wings Over Columbus, MS, and the Mountain Home AFB Airshow, ID.
The RAF Cosford Airshow will feature a flypast by a Dutch KDC-10
---
The next news update will be on Monday 23rd April.