The Blue Angels (official name: US Navy Flight Demonstration Squadron) are the aerobatic team of the US Navy, flying six F/A-18 Hornets. They are the second-oldest formal aerobatic team in the world still flying, after the Patrouille de France, and one of only two formal Navy aerobatic teams along with the UK's Black Cats. Along with China and Russia, the US is one of only three countries to have multiple fully-fledged jet aerobatic teams. More than ten million people see the Blue Angels perform from March to November each year. They are regarded as one of the world's top aerobatic teams.
History
The Blue Angels were founded in 1946 as the Navy Flight Exhibition Team, first being introduced as the Blue Angels later that year. For the first few months, the Blue Angels flew three Grumman F6F-5 Hellcats and one SNJ Texan, painted as a Japanese Mitsubishi Zero, which was used to simulate aerial combat. The team upgraded to the F8F-1 Bearcat later the same year, replaced the SNJ with a fourth Bearcat in 1949. Later the same year, they upgraded to their first jet aircraft and began displaying with five F9F-2B Panthers, with the Bearcat used for solo aerobatics before the start of the main show until it crashed in 1950.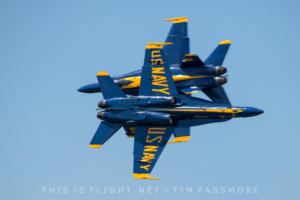 The Blue Angels temporarily de-activated in 1950 during the Korean War, but returned in 1951 with the F9F-2B. This was changed to the F9F-6 in 1953. In 1954, the Blue Angels moved to their current base of NAS Pensacola. In 1956, the Blue Angels became a six-ship formation team, adding the Opposing Solo position. In 1957, they upgraded to the F11F-1 Tiger.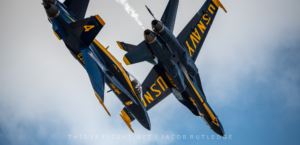 The Blue Angels began performing internationally in the 1960s, including European and Caribbean tours in 1965. They visited Europe again in 1967. In 1969, they transitioned to the F-4J Phantom. In 1971, they conducted their first visit to Asia. In 1974, they transitioned to the A-4F Skyhawk II.
In 1986, the team transitioned to their current aircraft, the F/A-18 Hornet. Although their fleet today includes A, B, C and D model Hornets, the team generally use the F/A-18C model for displays. In 1992, the Blue Angels became the first foreign military aerobatic team to perform in Russia. The Blue Angels are expected to upgrade to the F/A-18E/F Super Hornet for the 2021 airshow season.
Historically, the Blue Angels have not worn G-suits during their displays, as this might interfere with their movements of the control stick.
Display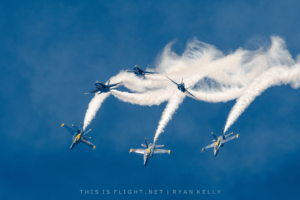 The Blue Angels' display is split into two elements: #1-4 form the Diamond, who perform formation aerobatics and flypasts, while the lead solo (#5) and opposing solo (#6) perform more dynamic synchronised and opposition manoeuvres. The Diamond are well-known for their extreme close formation flying, with wingtip-to-canopy separation of just 0.5 metres in some cases. On occasion, the Blue Angels' support plane performs a short display of its own before the start of the performance. The process of crewing in and starting up is also considered part of the Blue Angels' show, giving the display a total running time of around an hour – although the jets are only in the air for around half of this. Favourite manoeuvres include:
Fortus (two-ship mirror formation with gear and tailhook extended)
Diamond Dirty Loop (four-ship loop with gear and tailhook extended)
Opposing Minimum Radius Turn (one vs. one opposition 360 degree turn)
Sneak Pass (solo high-speed pass when crowd are looking elsewhere)
Line Abreast Loop (five-ship line-abreast loop)
Opposing Hesitation Roll (one vs. one opposition four-point roll)
Vertical Break (four-ship upwards bomb-burst)
Barrel roll break (four-ship barrel roll and split)
Delta Roll (six-ship barrel roll in Delta formation)
Fleur de Lis (six-ship split and individual aileron rolls)
Loop Break Cross (six-ship downwards bomb burst, reverse and cross at show centre)
Delta Breakout (six-ship bomb burst)
Show season
The Blue Angels typically perform at around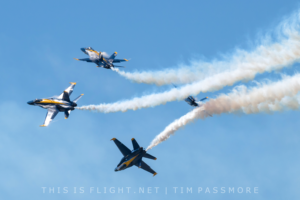 30 venues per year, with the season running from mid-March to early November. The traditional season end is the Blue Angels Homecoming Airshow at Pensacola.
Training during the winter takes place at NAS El Centro in California, but the team are based at Pensacola in Florida. During the show season, they typically practice at Pensacola several times per week. These practice demonstrations are open to the public.
Schedule (2019)
| | |
| --- | --- |
| Dates | Event |
| Mar 16-17 | El Centro Airshow, CA, USA |
| Mar 23-24 | California International Airshow, Salinas, CA, USA |
| Mar 30-31 | Southernmost Airshow, Key West, FL, USA |
| Apr 6-7 | Sun 'n Fun Fly-in, Lakeland, FL, USA |
| Apr 13-14 | Wings Over South Texas, Corpus Christi, TX, USA |
| Apr 27-28 | Beaufort Airshow, SC, USA |
| May 4-5 | Fort Lauderdale Airshow, FL, USA |
| May 11-12 | JB Andrews Airshow, MD, USA |
| May 18-19 | Cape Girardeau Regional Air Festival, MO, USA |
| May 22 | US Naval Academy Airshow, Annapolis, MD, USA |
| May 25-26 | Northeastern Pennsylvania Airshow, Scranton, PA, USA |
| Jun 1-2 | Star-Spangled Salute, Tinker, OK, USA |
| Jun 8-9 | Great Tennessee Airshow, Smyrna, TN, USA |
| Jun 15-16 | Ocean City Airshow, MD, USA |
| Jun 29-30 | Quad City Airshow, Davenport, IA, USA |
| Jul 6-7 | Kansas City Airshow, MO, USA |
| Jul 13 | Pensacola Beach Airshow, FL, USA |
| Jul 20-21 | Duluth Air & Aviation Expo, MN, USA |
| Jul 27-28 | Grand Junction Airshow, CO, USA |
| Aug 3-4 | Seafair, Seattle, WA, USA |
| Aug 17-18 | Chicago Air & Water Show, IL, USA |
| Aug 24-25 | New York Airshow, Newburgh, NY, USA |
| Aug 31-Sep 1 | Atlantic Canada International Airshow, Greenwood, NS, Canada |
| Sep 7-8 | Spirit of St. Louis Airshow & STEM Expo, MO, USA |
| Sep 21-22 | Lemoore Central Valley Airshow, CA, USA |
| Sep 28-29 | Miramar Airshow, CA, USA |
| Oct 5-6 | California Capital Airshow, Sacramento, CA, USA |
| Oct 12-13 | San Francisco Fleet Week, CA, USA |
| Oct 19-20 | Fort Worth Alliance Airshow, TX, USA |
| Oct 26-27 | Jacksonville Sea & Sky Spectacular, FL, USA |
| Nov 2-3 | Thunder Over South Georgia, Moody, GA, USA |
| Nov 8-9 | Blue Angels Homecoming Airshow, Pensacola, FL, USA |
Accidents
The Blue Angels have one of the highest fatality rates of any major jet team, with 27 deaths since inception.
29th September 1946: A pilot was killed when the wingtip broke off his aircraft, sending him into a spin
7th July 1952: A pilot was killed when two F9F Panthers collided mid-flight during a display in Corpus Christi
2nd August 1958: An aircraft landed with gear retracted after suffering engine problems; the pilot was unhurt, but the aircraft was written off
14th October 1958: The new team leader was killed during an orientation flight
14th June 1960: A pilot was killed when he crashed during a test flight
15th March 1964: A pilot was did not survive an ejection while attempting to make an emergency landing
2nd September 1966: A pilot was killed when he crashed his F-11A Tiger at the Canadian International Airshow
1st February 1967: A pilot was killed when he stalled and crashed during a practice display
18th February 1967: A pilot was killed when he struck the ground during a loop while practicing
14th January 1968: A pilot was killed while practicing a Double Immelmann
30th August 1970: An F-4 Phantom accidentally landed with gear retracted, but the pilot ejected safely
4th June 1971: A pilot ejected when his jet caught fire during a practice display in Rhode Island
14th February 1972: A pilot was killed when he struck the ground while practicing inverted flight
26th July 1973: Three pilots were killed when two aircraft collided in Lakehurst
25th February 1977: A pilot was killed when he crashed during a practice flight
8th November 1978: A pilot was killed while performing aerobatics as he arrived at Miramar
April 1980: A plane made an emergency landing and overran the runway after a fuel line fire and hydraulic failure during a display
22nd February 1982: A pilot was killed while practicing a dirty loop at El Centro
13th July 1985: Two Skyhawks collided during an opposition pass at Niagara Falls; one pilot ejected safely, one other was killed
12th February 1987: A pilot ejected safely after an engine flame-out during a display practice
23rd January 1990: Two planes collided during a practice display; one pilot ejected safety, the other landed his aircraft, which could fly again
28th October 1999: A pilot and his passenger died when they crashed on arrival to Valdosta
1st December 2004: A pilot was slightly injured when he struck the water, causing catastrophic damage to his aircraft, and ejected
21st April 2007: A pilot was killed when he crashed at the Beaufort Airshow, injuring several spectators
2nd June 2016: A pilot was killed when he crashed his jet after take-off at the Great Tennessee Airshow in Smyrna