The only airworthy MiG-23 in North America crashed today (Sunday 13th August 2023) while performing at Thunder Over Michigan in Ypsilanti.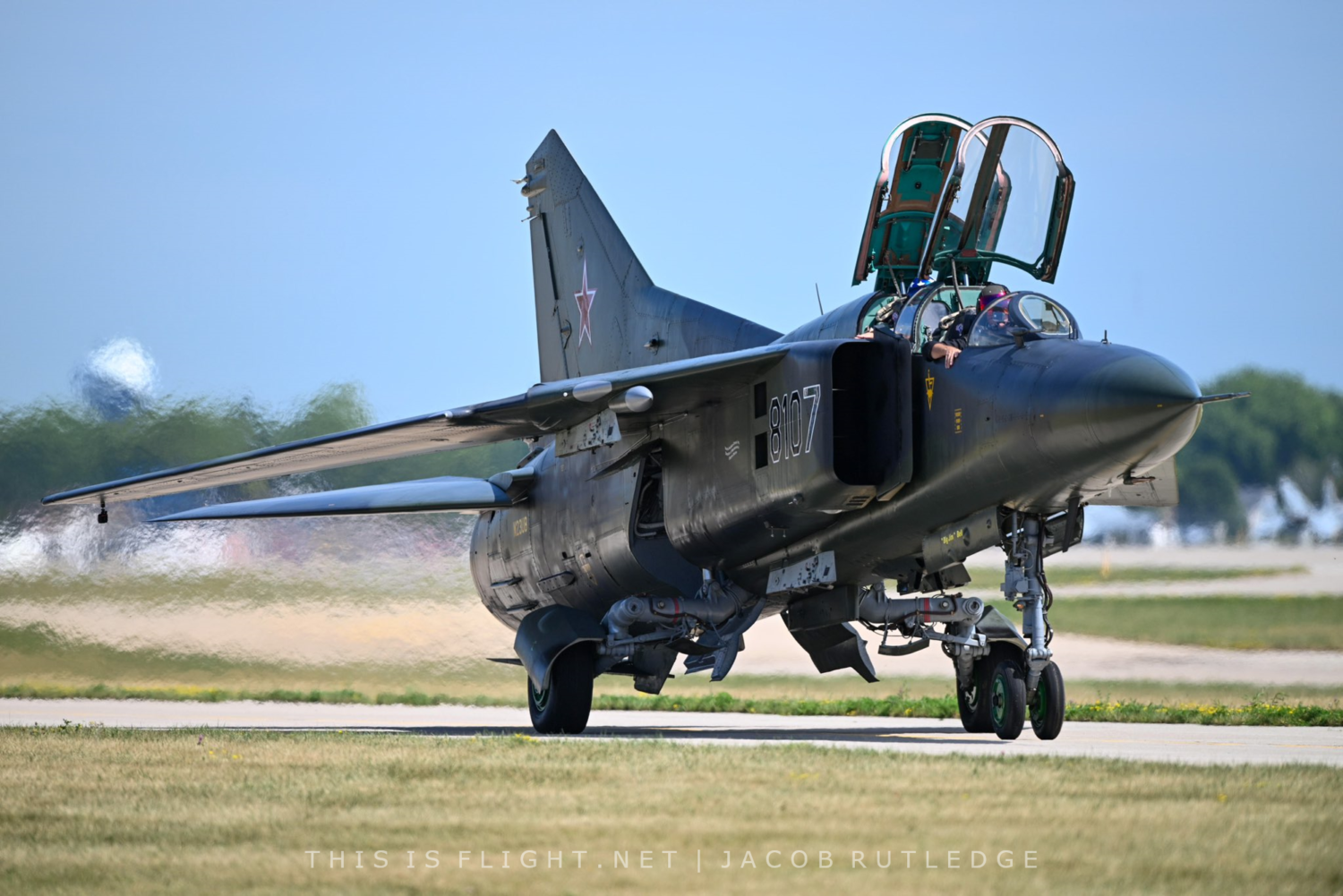 Both pilots ejected and landed under parachute in a nearby lake, according to Fox 2 Detroit. Initially, it was reported that neither of the two crew were injured, but officials have since said that the pilot received serious, but not life-threatening, injuries. A statement by Detroit Metro Airport, where the airshow was held, says that the aircraft itself crashed in the car park of a nearby apartment complex, but there were no injuries on the ground. Several unoccupied vehicles were damaged and the aircraft was completely destroyed.
One apartment building also recieved minor fire damage and residents will need to be temporarily re-homed.
The NTSB has identified a "loss of power" as a potential cause of the accident, but investigations are ongoing. The crew have not been officially identified.
The crash occured during the 25th anniversary edition of Thunder Over Michigan, an annual airshow held to raise funds for the Yankee Air Museum. The event operates as a drive-in event with four ticketed shows across two consecutivev show days; Sunday's crash occured during the last of those four shows. Following the accident, the remainder of the airshow was cancelled, spectators were asked to leave the showground and other airborne aircraft were diverted to nearby airports.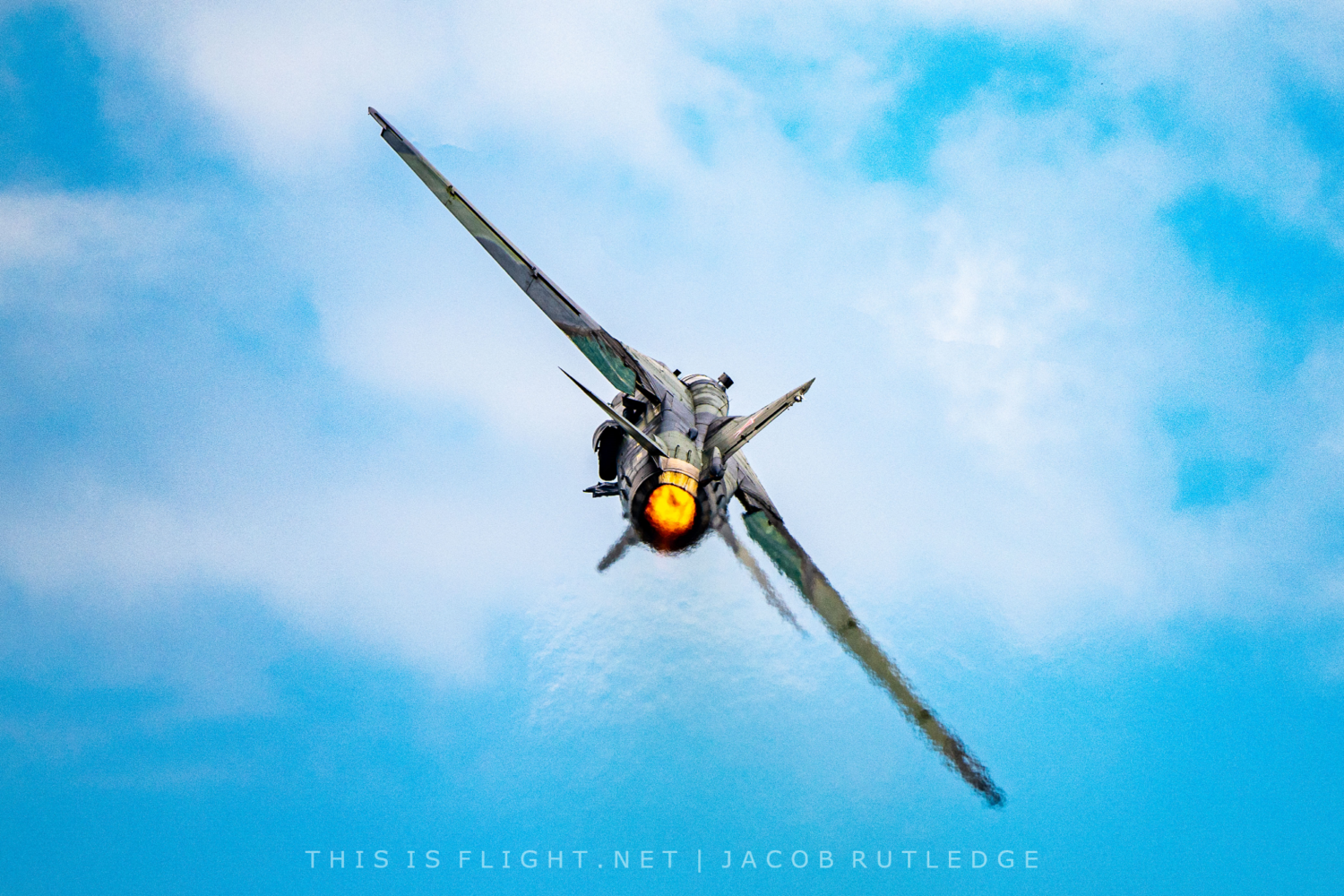 The stricken aircraft was a MiG-23UB "8107" – one of several such jets owned by ex-US Navy pilot, airline captain and classic jet collector Dan Filer. Its restoration was only recently completed, with the jet's airshow debut taking place at Sun 'n Fun earlier this year. Its second airshow appearance was at EAA AirVenture in Oshkosh as part of a large line up of MiGs in the flying display (also including a MiG-29UB and three MiG-17s/Lim-5s), but its participation was curtailed when the cockpit canopy became detatched mid-flight. After repairs, it continued to Thunder Over Michigan, where it flew solo displays and formation passes with a pair of USAF F-35A Lightning IIs.
Filer has said that "8107" is the only airworthy, privately-owned MiG-23 in the world. It was soon due to be joined by a second aircraft, which was also undergoing restoration to flight. In total, Filer's company owned ten MiG-23UB trainers and aimed to restore as many as possible. Most of the fleet, including 8107, is based in Alto, Texas. Filer previously told journalists that "8107" only few "a few times a year" due to its high fuel costs and limited range.
The MiG-23 was designed in the 1960s as an advanced, rugged and reliable single-seat interceptor fighter, analagous to the F-111 Aardvark and JA 37 Viggen, with a top speed of Mach 2.3 and potent Beyond Visual Range Air-to-Air capabilities. Its swing-wing design also gave it good short field performance compared to other aircraft in its class. Other varients were also produced, including specialised ground attack and fighter-bomber versions, as well as MiG-23UB twin-seat trainers like those owned by Filer, with a total of more than 5,000 rolling off the production line. Once operated by over 30 nations, it remains in limited service, mainly with various small African air arms and with the air force of Belarus and the Democratic People's Republic of Korea.
This particular airframe entered service in 1981 with the Czechoslovak Air Force, later transferring to the newly-formed Czech Air Force, until it was withdrawn from service in 1998. It arrived in the United States in 2006 under civilian ownership and was issued a certificate of airworthiness the following year, but the jet was later put into storage and passed through several other owners before being purchased by Dan Filer in 2016.