The Blades are a civilian aerobatic team based at Sywell Aerodrome in the UK, consisting of former members of the RAF Red Arrows. The team made their debut in 2006, flying four Extra 300LPs. Today, they are the UK's most prolific and best-known civilian aerobatic team, and they have occasionally performed further afield, including winning the Formation Aerobatic Championships in China in 2017.
The Blades also take paying passengers on experience flights, field an elite air race team, run an air race training academy, and have trained pilots from Malaysia's national aerobatic team, Krisakti.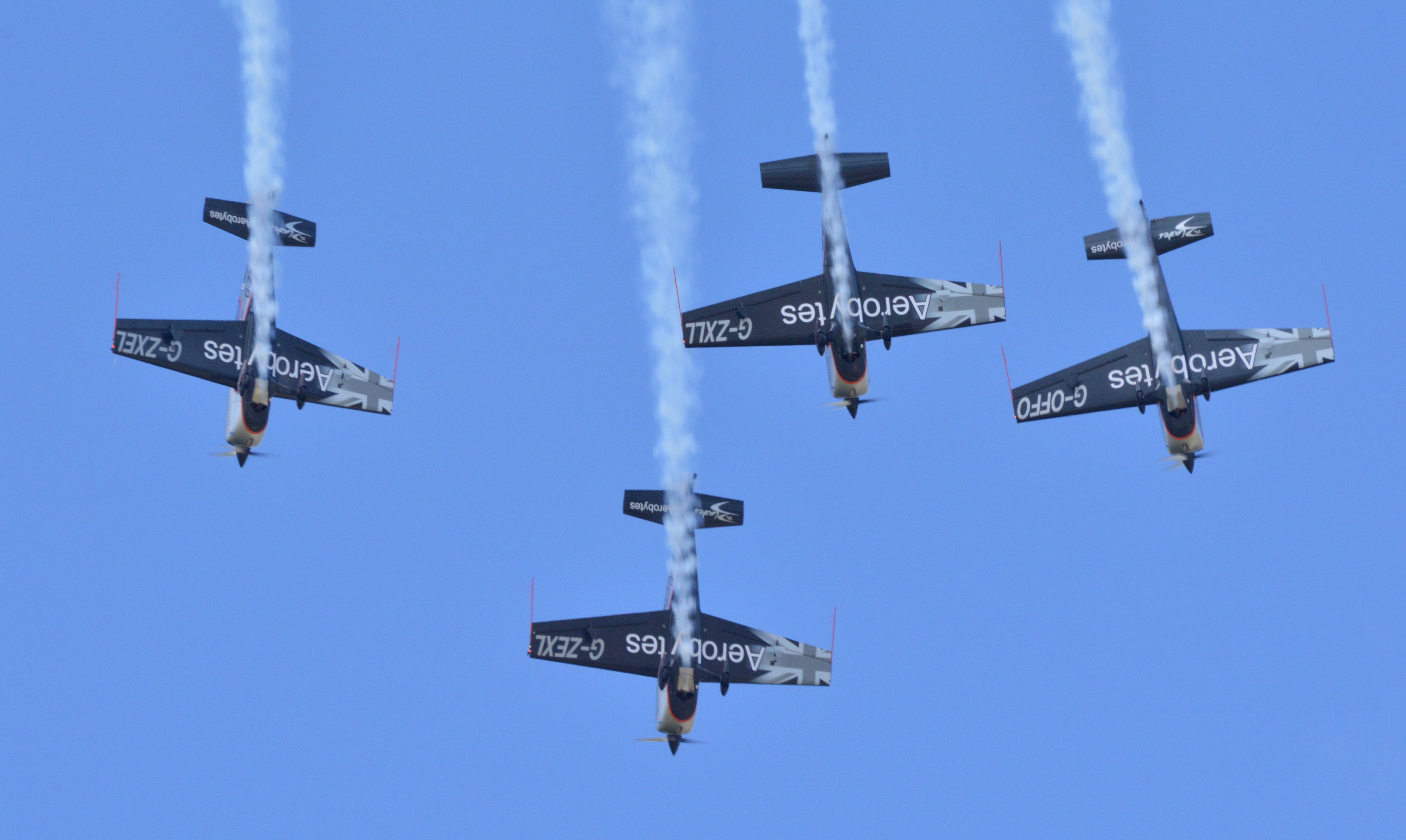 Active: 2006-present
Country:

United Kingdom
Home base: Sywell
Operator: 2Excel Aviation (Private)
Size: 5 aircraft (4 in display)
AIRCRAFT FLOWN
Extra 300LP (2006-present)
Gamebird GB1 (future)
"Going global"
The Blades announced their intention to "go global" in 2019, with plans to spend the "off-season" travelling to locations outside Europe, offering air displays and experience flights. In October and November 2019, they headed to the UAE to offer flights and participate in the Dubai Airshow to trial the new business model. At the same time, also announced that the team would transition to the Gamebird GB1 for the 2020 season, but this was delayed due to the coronavirus pandemic. At the end of the 2021 season, the Blades once again indicated the new Gamebirds would be introduced the following year.
Air race involvement
In addition to their aerobatic team, the Blades are also involved in the Air Race World Championship. Their involvement began in 2018 when Blades pilot Ben Murphy joined the top tier of the competition, which was then known as the Red Bull Air Race. He flew an Edge 540 under the Blades Racing Team banner. Although the Red Bull Air Race collapsed in 2019, the Blades Racing Team is expected to take part in its continuation series, the Air Race World Championship, which will start in 2022.
2Excel Aviation will also be involved in other elements of the Air Race World Championship. The Blades provide aircraft and instructors for Air Race Academy training camps. Their Extra 300Ls are also slated to become the main aircraft used by Aero SR/2 race teams, with 2Excel Aviation remaining responsible for maintaining the planes. They are also expected to be used for aerobatic experience flights at race venues around the world.
Display
The Blades' display is a constant mix of formation, synchronised and solo aerobatics. The Blades specialise in synchronised stall turns and pushovers. Manoeuvres include:
Falling Angels (four-ship split through stall turns and pushovers)
Blades Break (four-ship opposition break)
Spitfire Roll (four aircraft pitch up and roll individually)
Crazy (three-ship formation with varying yaw while solo plane barrel rolls around)
Hammerhead (four-ship stall turns)
Vertical Break (four-ship downwards bomb burst)
Beak-to-Beak Cross (two-ship opposition stall turns)
Mirror Stall Split (two-ship stall turns in mirror formation)
Double Knife Edge Dive (two-ship synchronised tumbles)
Goose and Gatling (three vs. one opposition pass, then two barrel roll around remaining aircraft)