The Red Arrows (official name: Royal Air Force Aerobatic Team) are the official aerobatic team of the UK's Royal Air Force. Flying nine BAE Hawk T.1As, they are considered to be one of the best aerobatic teams in the world. Former members of the Red Arrows have formed The Blades and  advise the Saudi Hawks.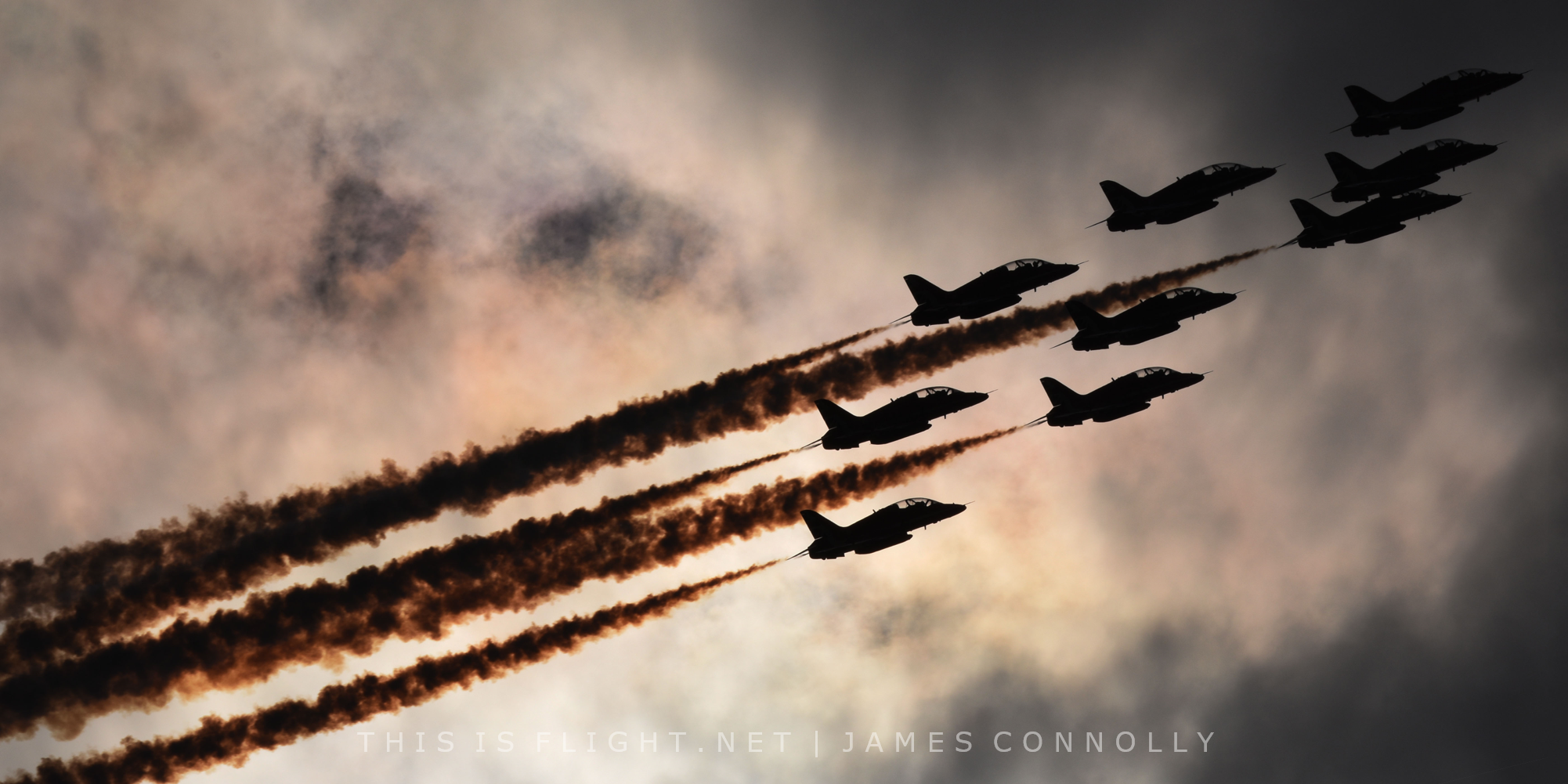 History
The Red Arrows were formed in 1964 as an amalgamation of the RAF's many unofficial aerobatic teams. The colour red is said to be inspired by the Red Pelicans, the arrow symbol from the famed Black Arrows and the team's aircraft, the Folland Gnat, from the Yellowjacks. The team initially flew seven aircraft from 1965, but the spare pilot flew an additional solo display when he was available to do so. The first public display of the Red Arrows was in France, with their debut UK display following at Biggin Hill one week later.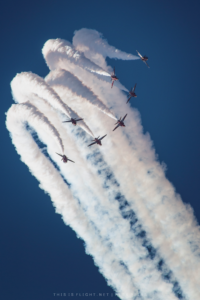 In 1968, the Red Arrows became a nine-ship team. The team undertook their first tour to North America in 1972. They then received their present fleet of Hawk T.1s in 1980. The team's busiest season came in 1995-1996, when they followed their 1995 European season with a world tour through the winter, which lead straight into the 1996 European season. It was the largest tour ever undertaken by a military jet aerobatic team.
Today, the Red Arrows are based at RAF Scampton, although with Scampton due to close, they are set to move to nearby RAF Waddington in 2021 or 2022. They continue to fly the Hawk T.1, which has been retired throughout the rest of the RAF. With no easy replacement, it is expected that the Red Arrows will continue to fly the Hawk T.1 until 2030.
Display
The Red Arrows' display is split into two halves. The first sees all nine aircraft flying loops, rolls and passes in various nine-ship formations. Many of these formations reflect historical anniversaries or topical events that year, for example Spitfire, Lancaster, Apollo and Concorde. The team's signature formations are Big Battle and Short Diamond.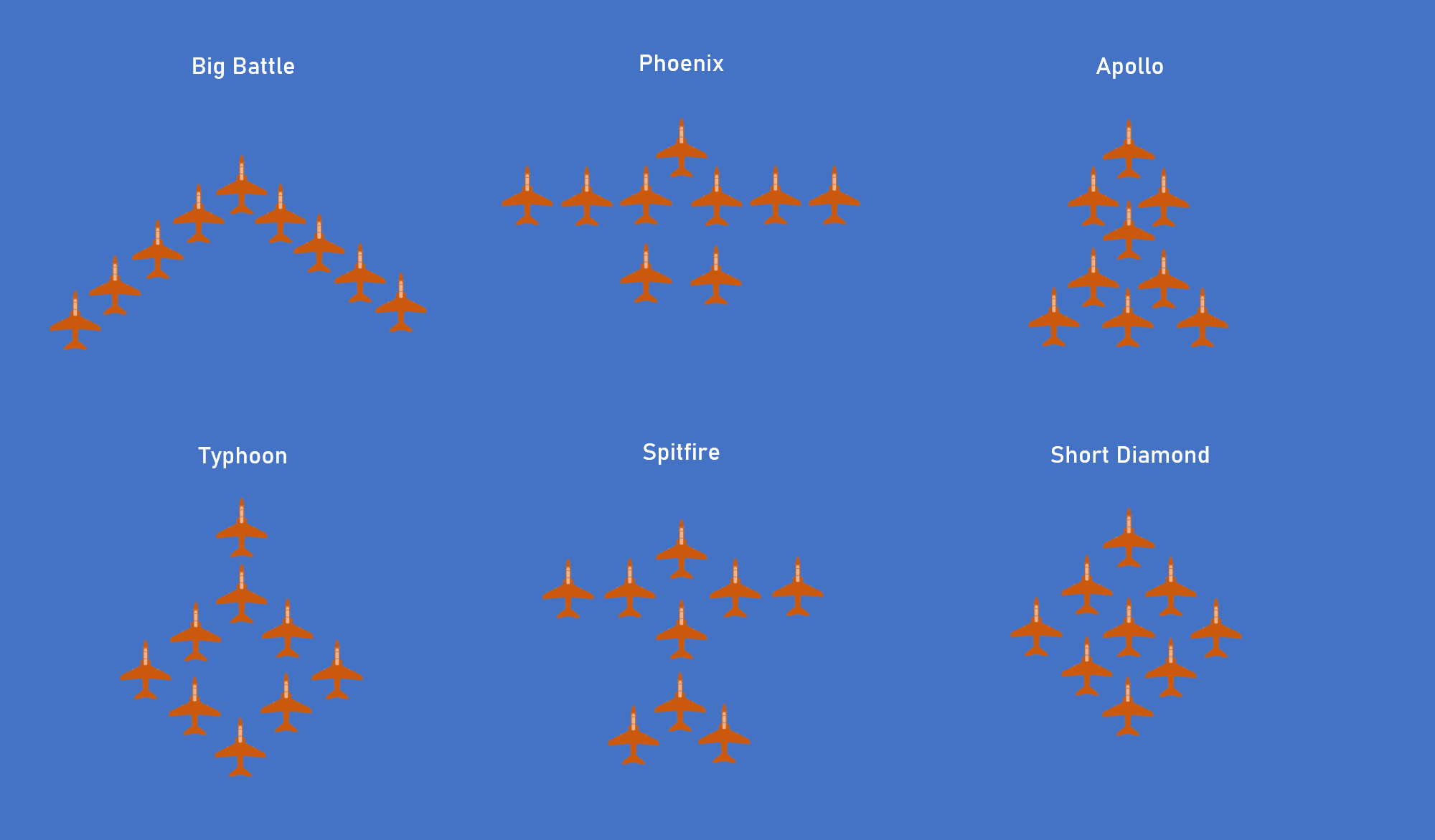 The aircraft then break into smaller groups for the second part of the show, which includes more dynamic manoeuvring by smaller groups of aircraft. Enid (Reds 1-5) typically perform formation aerobatics, while Gypo (Reds 6-9) perform more complex synchronised aerobatics, splits and opposition passes. Within Gypo is the synchro pair, who engage in further opposition manoeuvres.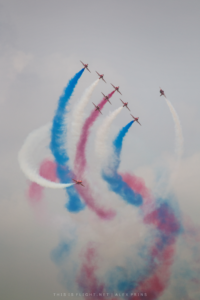 Due to the frequent low cloud base in the UK, the Red Arrows have one of the most complete and entertaining flat shows of any aerobatic team, which can be performed with a cloud base as low as 1,000 feet. A rolling show requires 2,500 feet, and the full show around 6,000 feet. Coloured smoke is used throughout the display, and the routine changes slightly each year. Favourite manoeuvres include:
Big Battle Arrival (crowd rear arrival in Big Battle, loop and change to Short Diamond)
Phoenix Bend (tight turn in Phoenix)
Diamond roll (barrel roll in Short Diamond, with all nine jets emitting smoke)
Tornado (seven-ship turn from the left 35 to the right 45, while two aircraft barrel roll around)
Five-Four Split (nine-ship loop and split into two sections, which then descend and cross)
Detonator (five-ship bomb burst with white smoke, then four-ship opposition break underneath)
Palm Split (seven-ship upwards bomb burst and simultaneous two-ship opposition break)
Gypo Pass (two vs. two opposition pass and rolls)
Goose (five vs. one or two vs. seven opposition pass)
Calypso (two aircraft roll into Mirror formation, then roll into Calpyso, then both roll inverted, then both roll erect)
Revolution (seven or nine-ship twinkle rolls, either performed simultaniously or staggered in two sections)
Carosel (one vs. one opposition 360 degree turns)
Heart (three-ship heart and spear)
Rolling heart (two-ship flat heart, suitable for low cloud)
Vortex (two aircraft barrel roll around a third, before an opposition break)
Twizzles (five-ship pitch-up in echelon, then staggered barrel rolls in trail)
Vertical break (five or seven-ship quarterclover and downwards bomb burst)
Infinity break (five or seven aircraft approach in Vic; the leader pitches up to roll around both sides of the formation, followed by a bomb burst)
Slalom (five-ship orbit in Line Astern, change to Reverse Battle, slalom change to Battle)
Python (five-ship on-crowd and off-crowd barrel rolls in Leader's Benefit)
Corkscrew (two aircraft fly past inverted and two more barrel roll tightly around)
Snake (five or seven aircraft pull at short invervals from line astern into a loop in trail)
Rollbacks (consecutive pairs of tight, matched rolls from the inside to the outside of Battle)
Gypo Break (four-ship synchronised rolls, then a dynamic opposition break)
Twister (turn from the left 45 to the right 45 in Box, while one aircraft barrel rolls around)
Vice-Versa (one vs. one opposition half aileron rolls, in which one starts inverted and rolls erect, while the other starts erect and rolls inverted)
Vixen Break (seven-ship bomb burst, sometimes performed after a loop)
Centenary Pass (2018 season only: three aircraft draw the number "100" in coloured smoke, while the remaining six perform a topside pass underneath)
Spaghetti break (nine-ship downwards bomb burst into the landing pattern)
Typhoon break (conventional break into the landing pattern, sometimes flown following a loop; aircraft peel away at 2 second invervals during a flyby)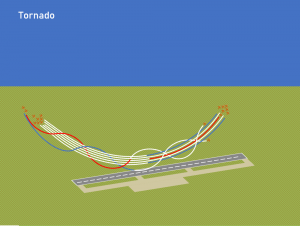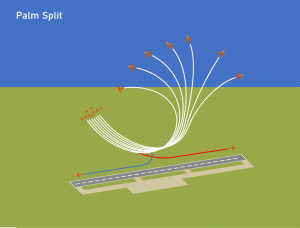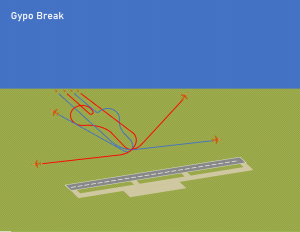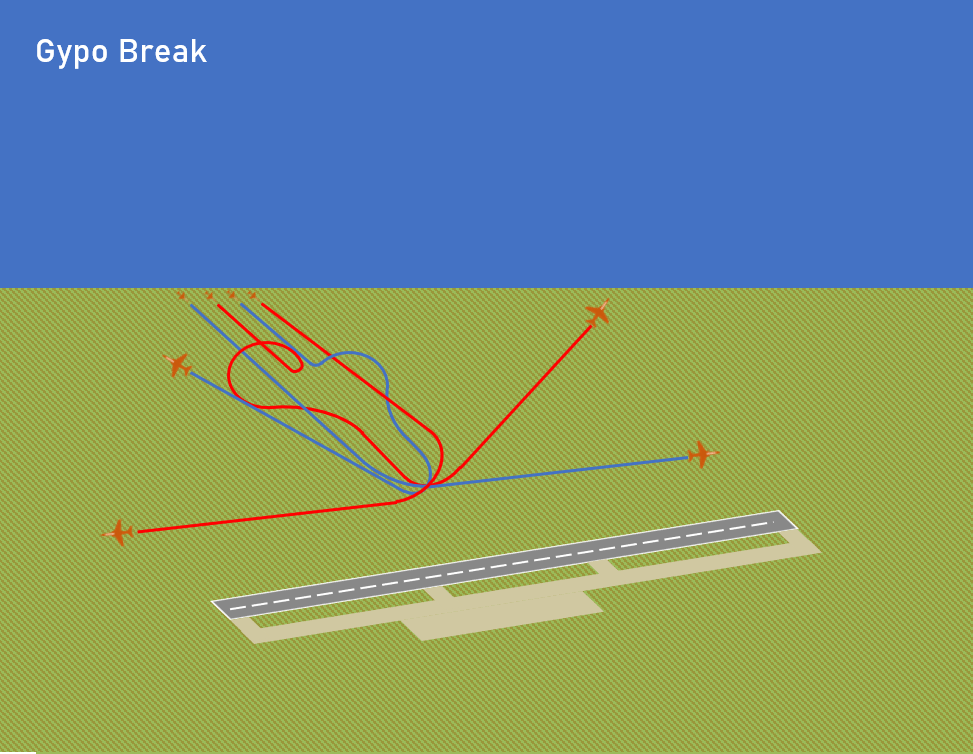 Accidents
26th March 1969: A pilot is killed when his jet hits trees during a practice display
16th December 1969: Two pilots eject following a warning of a fire from air traffic control; both pilots survive, although the warning was intended only for one aircraft
20th January 1971: Two Gnats collide during an opposition pass, killing four
17th May 1980: A jet clips a mast during an airshow at Brighton; the pilot ejects safely
21st March 1984: A Hawk hits the ground while practicing a loop in Cyprus; the pilot is injured but survives
31st August 1984: A Hawk crashes into the sea during a display at Sidmouth; the pilot is rescued
16th November 1987: Two Hawks collide during a training flight; both pilots eject, but one jet hits a house
22nd January 1988: A pilot dies while practicing the Rollbacks at Scampton
24th June 1988: A Hawk crashes and explodes during take off; the pilot ejects safely
17th October 1998: A pilot lands short of the runway at Cranwell and ejects safely
9th September 2003: A jet overruns the runway at Jersey Airport
23rd March 2010: Two Hawks collide during an opposition pass while practicing in Greece; one jet lands safely, the other crashes; the pilot ejects and sustains injuries
20th August 2011: A pilot dies when his jet crashes during arrival procedures at Bournemouth Airport
8th November 2011: A pilot dies when his ejection seat fires by mistake on the ground
20th March 2018: A jet crashes during an emergency landing exercise at RAF Valley; the pilot ejects, but his passenger, an engineer, is killed