The Royal Jordanian Falcons are the national aerobatic team of the Hashimite Kingdom of Jordan. They are a partnership between the Royal Jordanian Air Force, Royal Jordanian Airlines, the Jordanian Royal Household and the City of Aqaba. The team currently fly four Extra 330LXs. Used to spread Jordanian goodwill, and the team embark on a lengthy European tour most summers.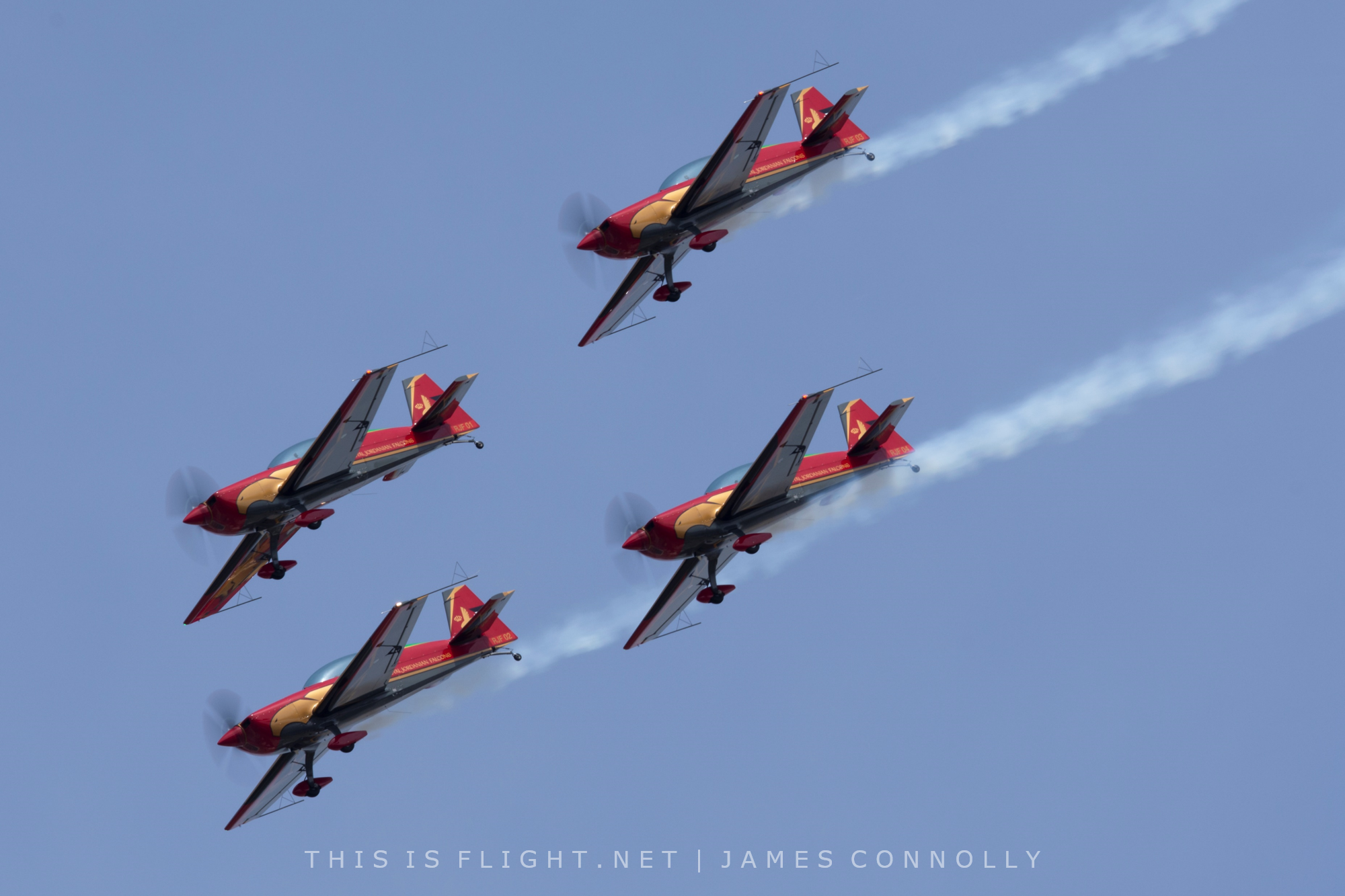 Active: 1976-present
Country:

Hashemite Kingdom of Jordan
Home base: Aqaba
Operator: Air Force & Private (Royal Jordanian Airlines)
Size: 5 aircraft (4 in display)
AIRCRAFT FLOWN
Pitts S-2A Special (1976-1982)
Pitts S-2S Special (1982-1992)
Extra 300 (1992-2007)
Extra 300L (2007-2018)
Extra 330LX (2018-present)
History
The Royal Jordanian Falcons were formed on the orders of King Hussain in 1976. The team was initially formed of American aerobatic pilots Dave Rham and Steve Wolf using two Pitts S-2A Specials. Rham was killed during a display in 1976, but the team continued to grow, adding a third Pitts and changing to four Extra 300s in 1992. These were replaced with Extra 300Ls in 2007 and Extra 330LXs in 2018.
Display
The Royal Jordanian Falcons' display begins with a sequence of four-ship classic formation aerobatics before the solo pilot breaks away from the rest of the formation. Much of the display is then flown as a three-ship and a soloist. The four planes re-join for some more challenging formation aerobatics to end the show. The team is well-known for displaying to distinctive Jordanian music. Manoeuvres include:
Negative G Push (four-ship two-third loop, then three-quarter outside loop)
Hashemite Break (three-ship slow aileron roll and opposition break)
Hammerheads to Corkscrew (three-ship formation stall turns, descent and solo pass while two aircraft barrel roll around)
Line Abreast Loop and Rejoin (three vs. one opposition pass; three-ship pull up into loop in Line Abreast and all four aircraft rejoin on the down-line)
Slow Roll (four-ship slow formation aileron roll in Box)
Concorde Break (four-ship opposition break)
Gallery