The Duluth Airshow has previously been held every other year, but the availability of the Navy's Blue Angels flight team allowed them to be sandwiched in between performances by the Air Force Thunderbirds. The 2016 Duluth airshow featured the Thunderbirds and it has just been announced that they will be back for the 2018 show on July 7 & 8. This year's show was also supposed to feature the Canadian Snowbirds, but they were forced to cancel due to a self-imposed safety stand down.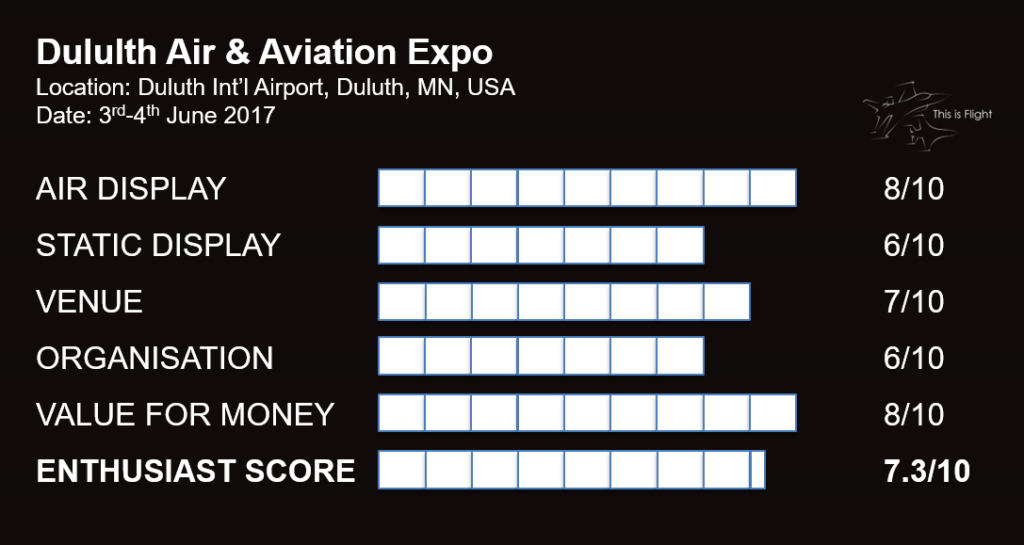 After a long drive, I got to the Duluth airport in time to see most of the performers practice. Space is rather lacking at this airport, so the static displays were also limited. There were several WWll vintage aircraft including a couple of Catalinas in the process of being restored, a nice old Stinson L-5 Sentinal with a victory emblem signifying the "kill" of a Japanese airplane, and trainers the Harvard/SNJ/T6 and the even older BT-13. Modern day airplanes included a Aero L-39 Albatross, T-38 Talon, two F/A-18 Hornets, a C-130 Hercules and C-17 Globemaster III, though only the last is anything near new. Also on display were several Cirrus airplanes. They are built right there in Duluth so there were a couple flying demonstrations of both the original propeller version as well as the newer jet variant.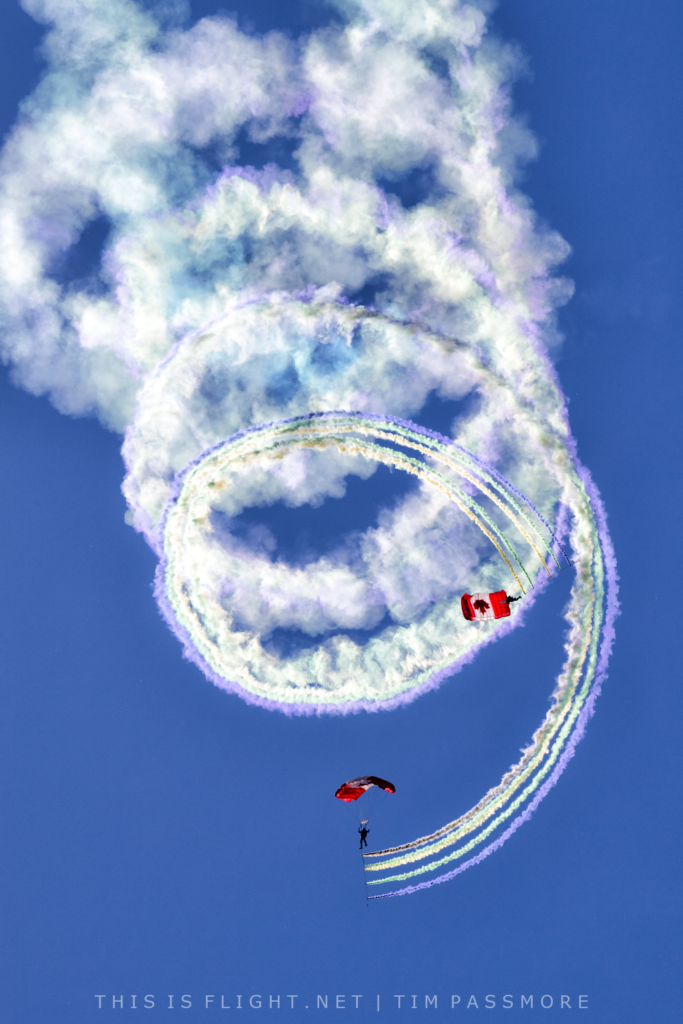 The shows kicked off Saturday and Sunday with an impressive demonstration by the Canadian Forces Skyhawks parachute team. Using various colors of smoke, their jumps were very visually impressive. While the jump team was climbing to altitude, the crowd was treated to afterburner passes by two F-16 Fighting Falcons from the Minnesota Air National Guard 148th fighter wing.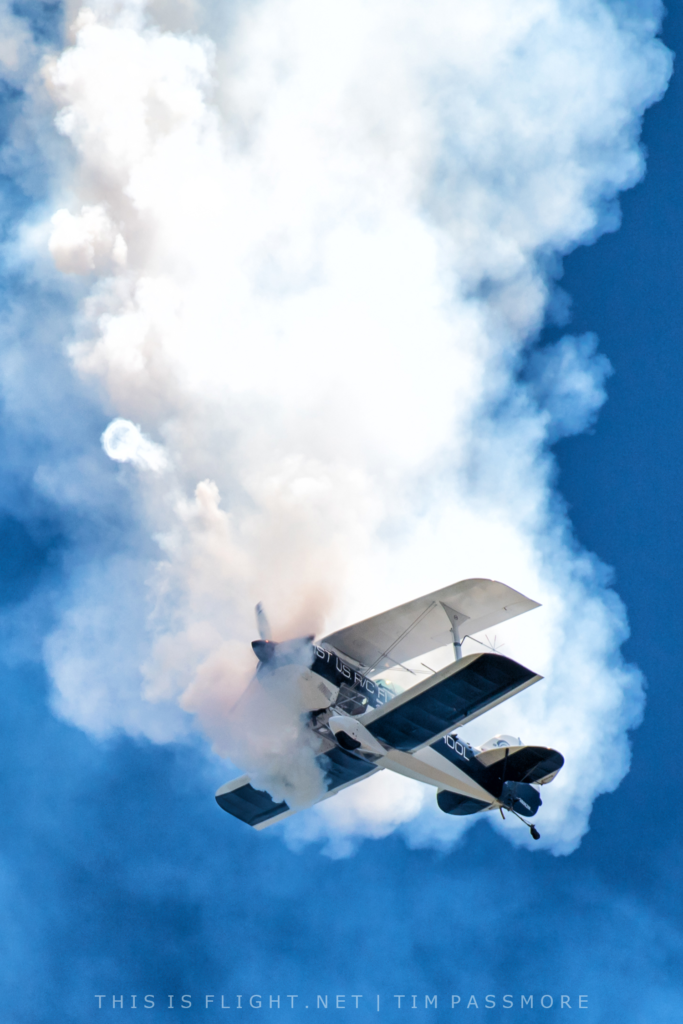 The first aerobatic performer was Dave Scott in his Pitts S1S. He put on a very crisp show that took advantage of flight characteristics of the Pitts. Scott is working through the process of being able to perform at low level and Sunday was his last show at the 750 foot mark; he was approved to move down to 500 feet and sounded quite proud of that afterwards. Scott started out flying RC models and became so proficient at it that he has opened an RC flying school. He attributes his ability in the airplane to his prior experience flying radio control. Another aerobatic performer was Jacquie Warda in her Extra 300. Getting a late start flying, Jacquie didn't begin her solo aerobatic career until she was 50 years old. She put on the full range of aerobatic maneuvers from hammerhead turns and tailslides to sharp aileron rolls.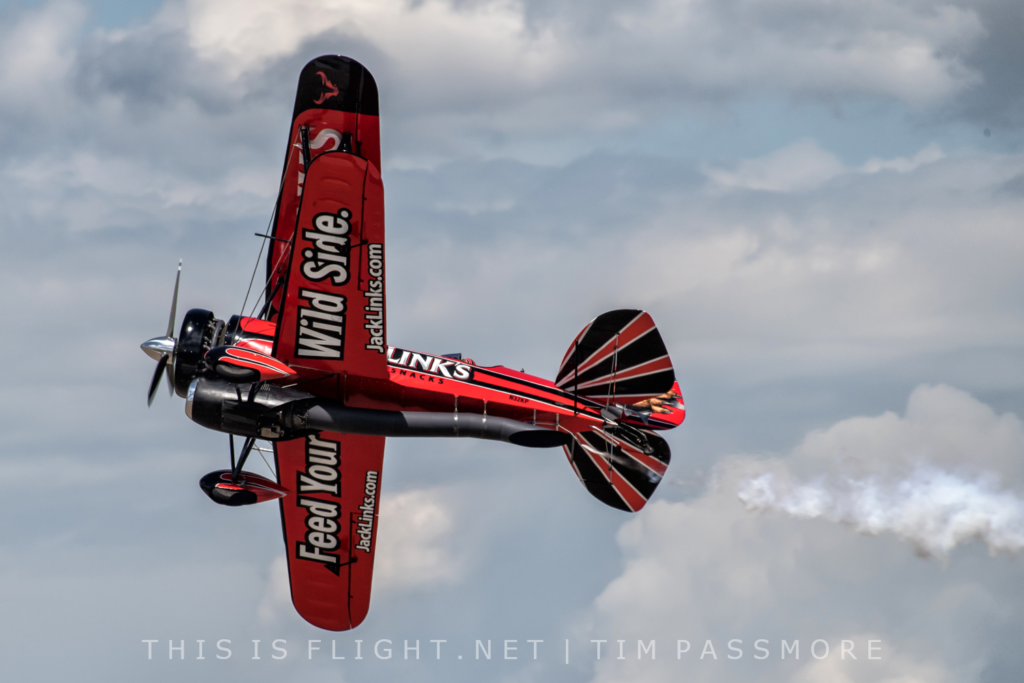 One of the big hits of the show was the Shockwave Jet Truck piloted/driven by Chris Darnell. Chris brought Shockwave out twice each day. The first time was a solo run down the runway in an attempt to hit 300 mph. Top marks for originality have to go to the highly modified 1929 Taperwing Waco of John Klatt, which performed in conjunction with the jet truck on its second run of the day. In addition to his original radial engine, this old bird called "Screaming Sasquatch" sports a General Electric CJ10 jet engine with around 3000 pounds of thrust. Just hearing the hiss of this jet as an old biplane flies over is amazing enough, but to watch him actually hover in place at the end of a climb is hard to believe. Darnell sat on the runway until the Waco roared by above him; the Waco might have a jet engine, but Shockwave has three and easily caught the old biplane both days. Whether or not you are a fan of similar acts, it was a very impressive act visually with fire billowing from the jet engines as well as twin smokestacks.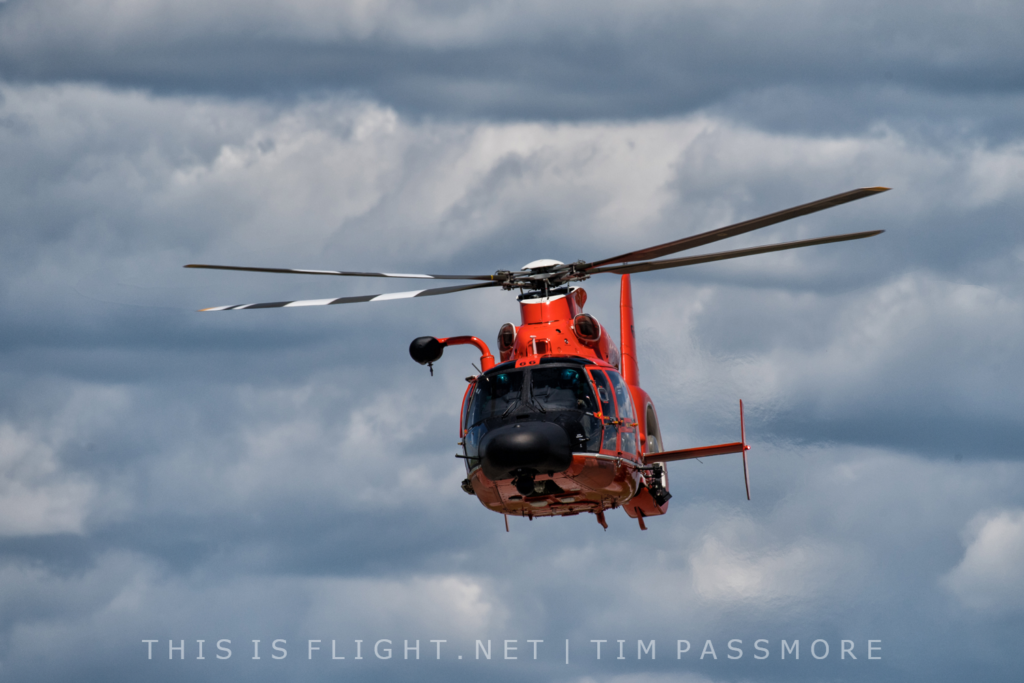 The United States Coast Guard was also on hand to perform a demonstration of a rescue using their Eurocopter HH-65 Dolphin. Hovering over their "victim", a line was lowered to a team member waiting on the ground who was then hoisted aboard the helicopter. Further support from the services came from the US Air Force Heritage Flight performing with an F-35A Lightning II and P-51D Mustang. As well as formation passes, both aircraft also performed individual high-performance passes.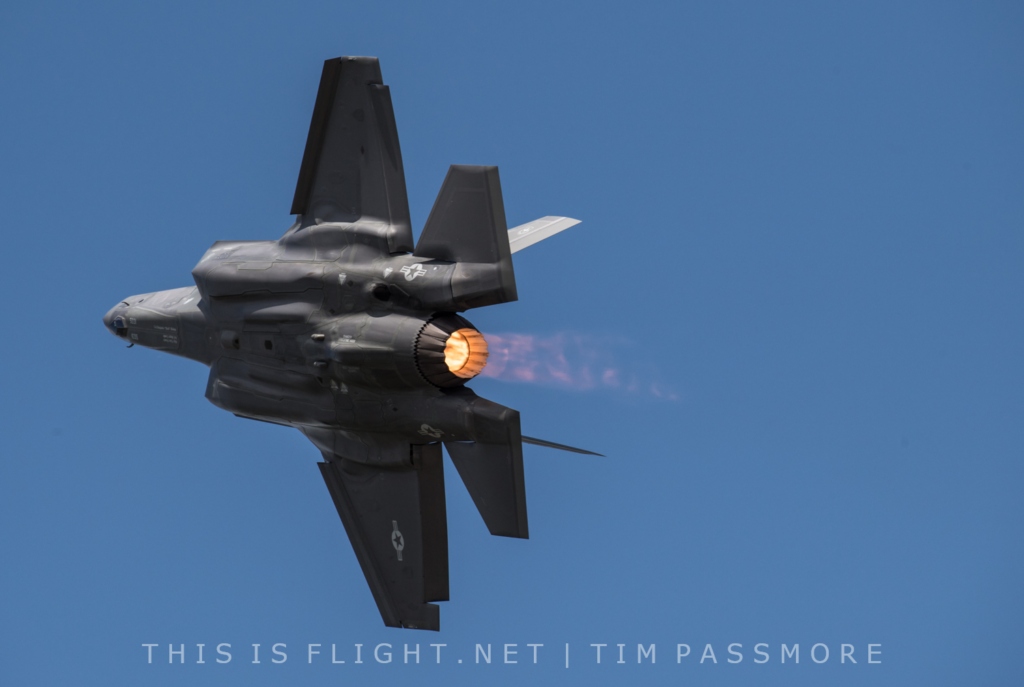 One of my personal favorites was the WWll classic B-25J Miss Mitchell of the Minnesota Wing of the Commemorative Air Force. On Sunday morning, I spoke with one of the crew members and told him my mother had worked in the plant in Kansas City where many of these aircraft were built. During its flights, the show announcer talked at length about Jimmy Doolittle and the raid that bears his name. Another of my favorites was a really nice T-33 Shooting Star dubbed "Ace Maker" by owner/pilot Greg Colyer. Colyer made several passes including slow rolls, zoom climbs, and at least one inverted pass.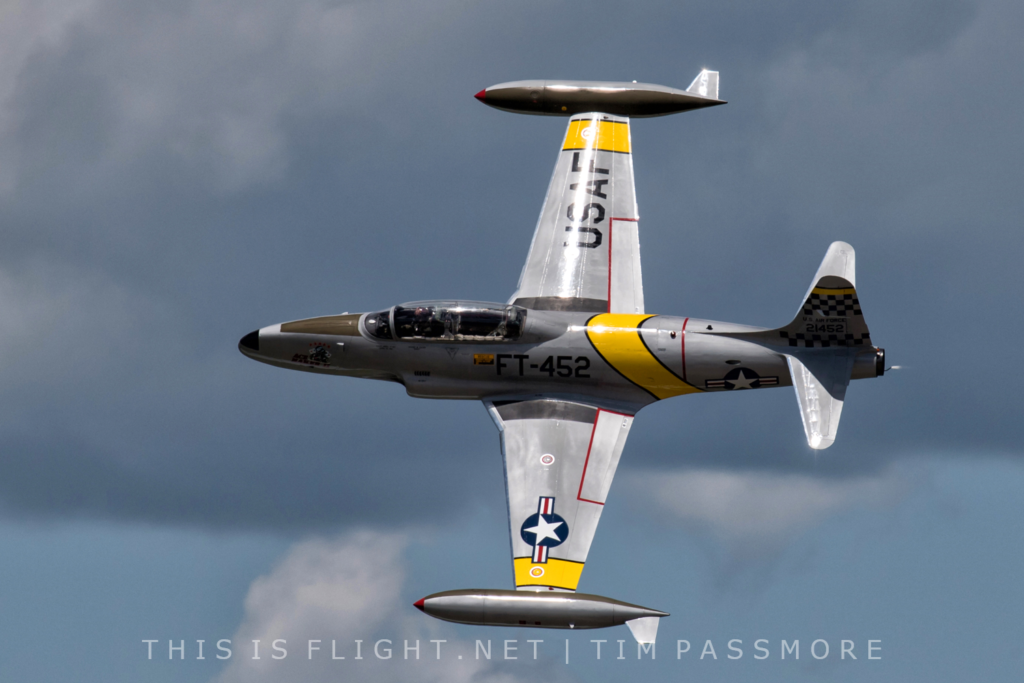 Both days had sufficient weather to allow the Blue Angels to perform their entire high show. One exciting element of a Blue Angels show is the numerous opposing passes executed by the solo pilots, often alternating with maneuvers by the remaining four jets. By the time the Blue Angels came on both days, I had been somehow adopted by a small gang of kids. They were great spotters and saved me a lot of craning my neck trying to keep the planes in view.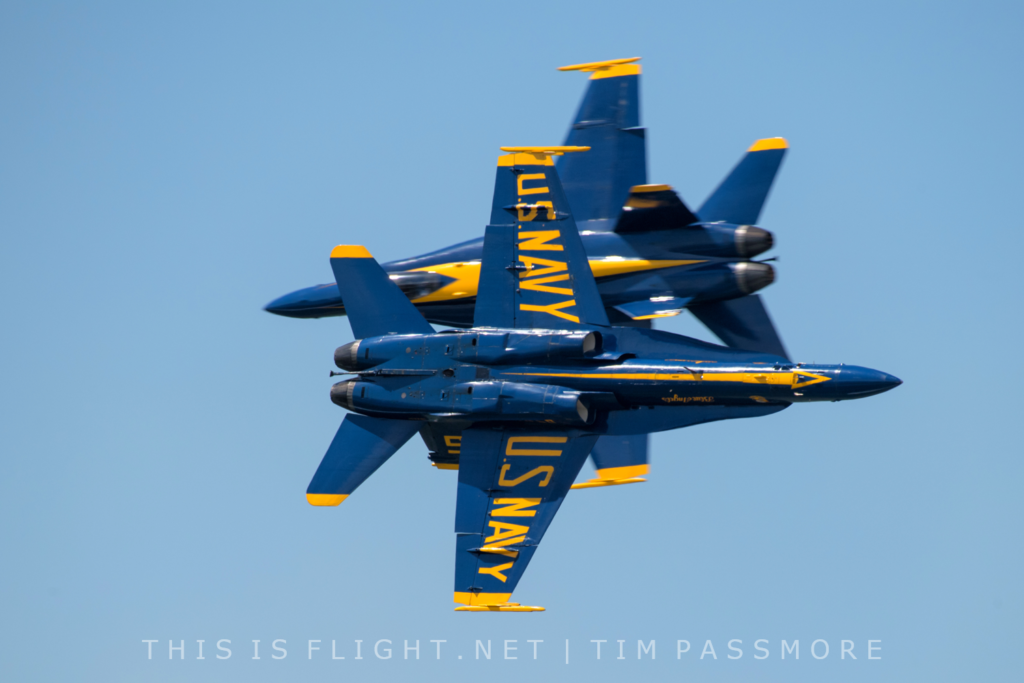 On Saturday, the show was flown with the precision that is usual for a Blue Angels performance. On Sunday there was a strong north wind which appeared to hamper their flying. Formations were not as tight and timing appeared off on maneuvers such as the four plane cross after a high burst. Another time, as the two solo pilots were joining the delta formation as it neared show center, the narrator explained how the formation would do a loop. However, when the number six ship was unable to take up station on time, the formation continued flying straight. The six plane burst and following cross was not even attempted on Sunday. These problems aside, it was still a very enjoyable performance by one of the best flight demonstration teams in the world.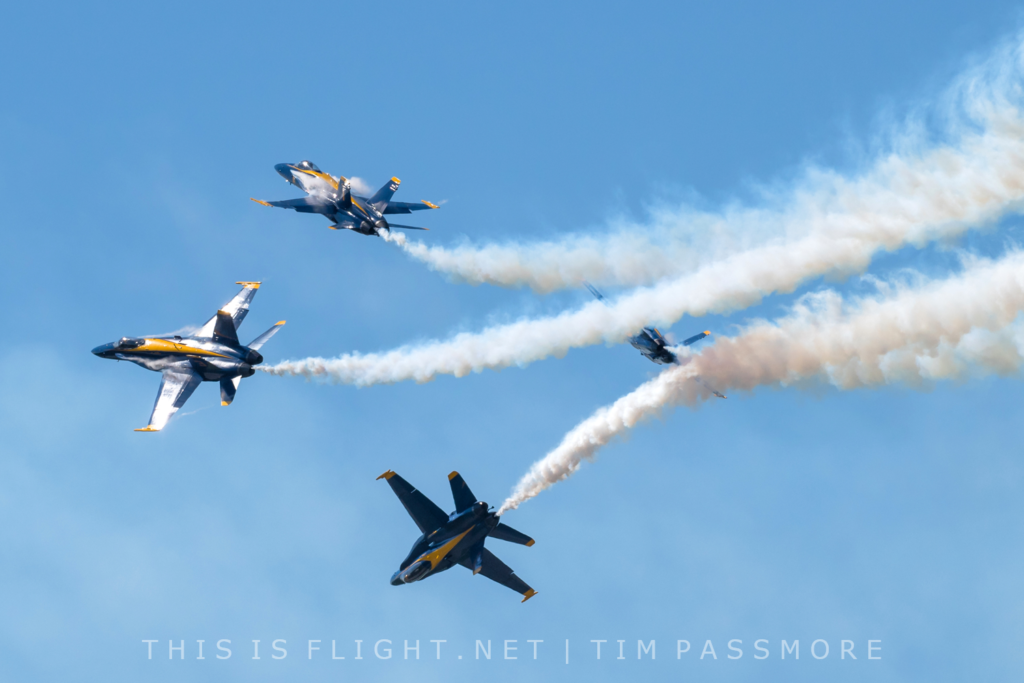 Thank you to Jodi Grayson and the rest of the staff, and a huge thank you to the security guard who found my car keys and turned them in!
---
Tim Passmore is a Vietnam-era veteran of the US Air Force and a lifelong aviation enthusiast. He also covers auto racing and musical events.