WORDS & PHOTOS: CLAUDE LAFRENIÈRE
For the first time in almost six years, the 104th Fighter Wing of the Massachusetts Air National Guard opened its doors to the public on May 13th-14th 2023 for an airshow weekend. Over 70,000 people (45,000 Saturday and 25,000 Sunday) attended the impressive event, which included 18 aerial displays and over 25 static presentations.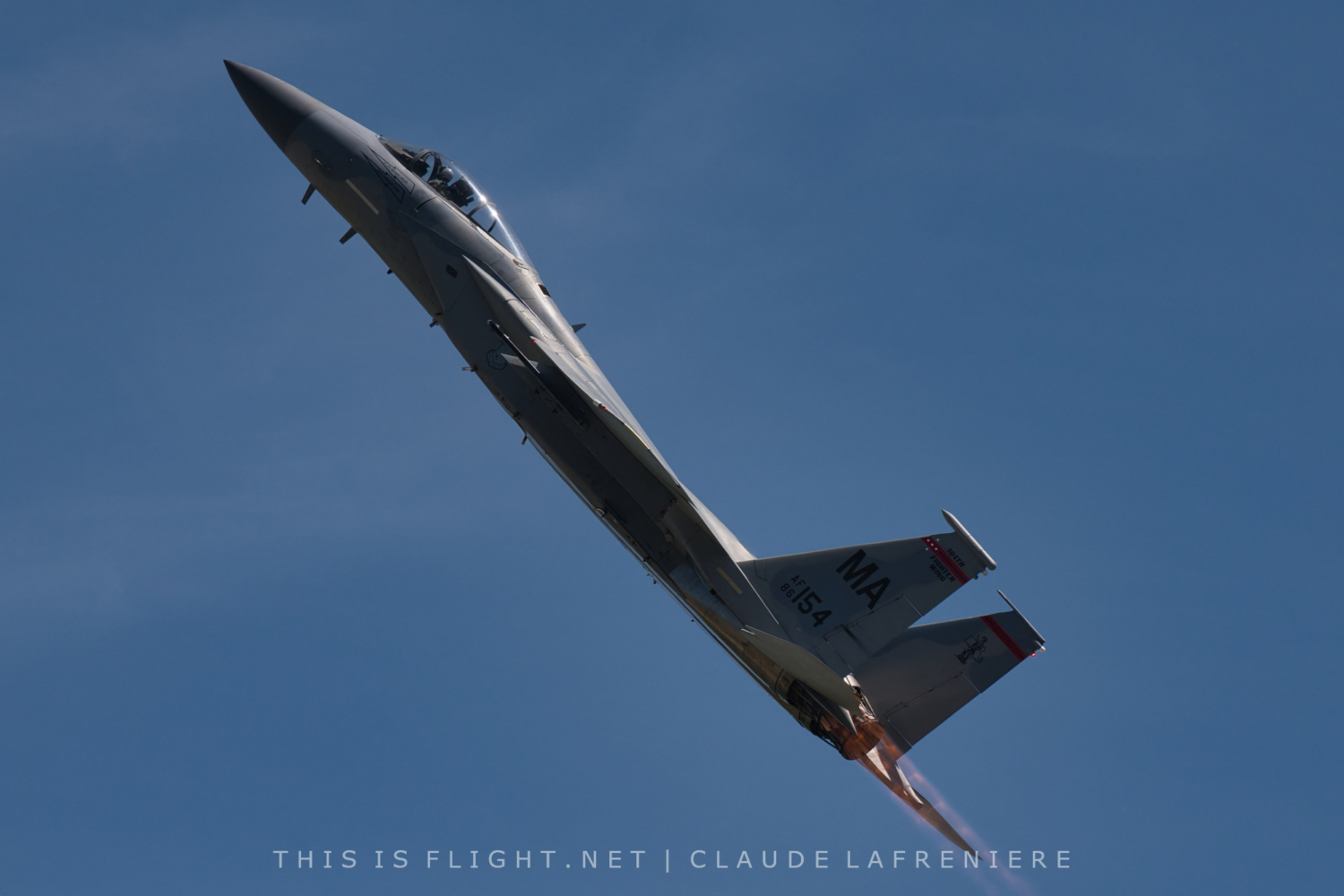 The 104th Fighter Wing, based at Westfield-Barnes Regional Airport since 1946, is a unit of the Massachusetts Air National Guard and provides air sovereignty, identifies unknown aircraft and protects American skies in response to air traffic control alerts. Its F-15C Eagles were the first military response to the attacks of September 11, 2001 in New York. However, the unit's venerable F-15C will soon be replaced by 18 new F-35A Lightning IIs from late 2025 or early 2026, before the next airshow at Westfield is due to be held.
Entrance to the site was free, but $180 tickets were available for privileged access to the VIP Chalet with meals, front row seats and reserved parking. Parking was now paid, with a $20 (standard) or $50 (VIP) fee. This was enforced due to construction around the airport and rising event costs.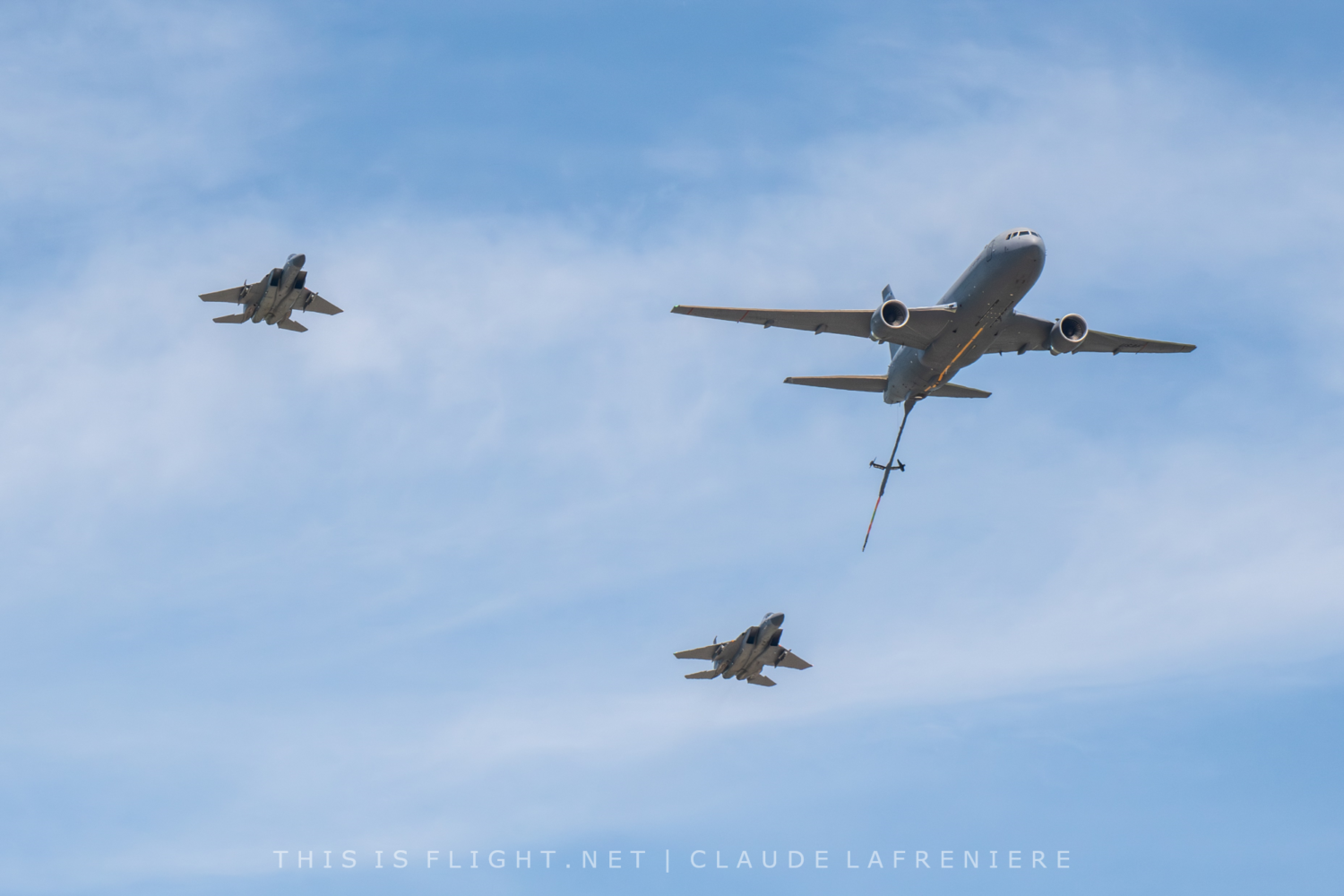 The site of the static displays was very large and extended over two main islands separated by almost 1 km from one end of the site to the other. Especially notable was an exceptionally large contribution from US Air Force Air Mobility Command, further enhanced by the presence of civilian aircraft, warbirds and fast jets. The static park impressed visitors with a themed layout of aircraft, divided into "Helicopter Alley", "Fighter Alley", "Air Force Mobility Command Zone" and a "Warbirds Zone".
From the outset "Helicopter Alley" was visually impressive, with a long line up of helicopters, arranged from largest to the smallest. This included a USMC Sikorsky CH-53E Super Stallion operated by Marine Heavy Helicopter Training Squadron 302 (HMHT-302), four helicopters from the 10th Multipurpose Combat Aviation Brigade (CAB) from Fort Drum, NY, an AH-64 Apache and an AH-64 Apache Longbow, a CH-47F Chinook and a Sikorsky UH-60M Black Hawk (17-20941). This was followed by a Eurocopter UH-72A Lakota (13-72295) and a McDonnell Douglas 369E (NI6002) of Commonwealth of Massachusetts (a derivative of the Hughes MD500).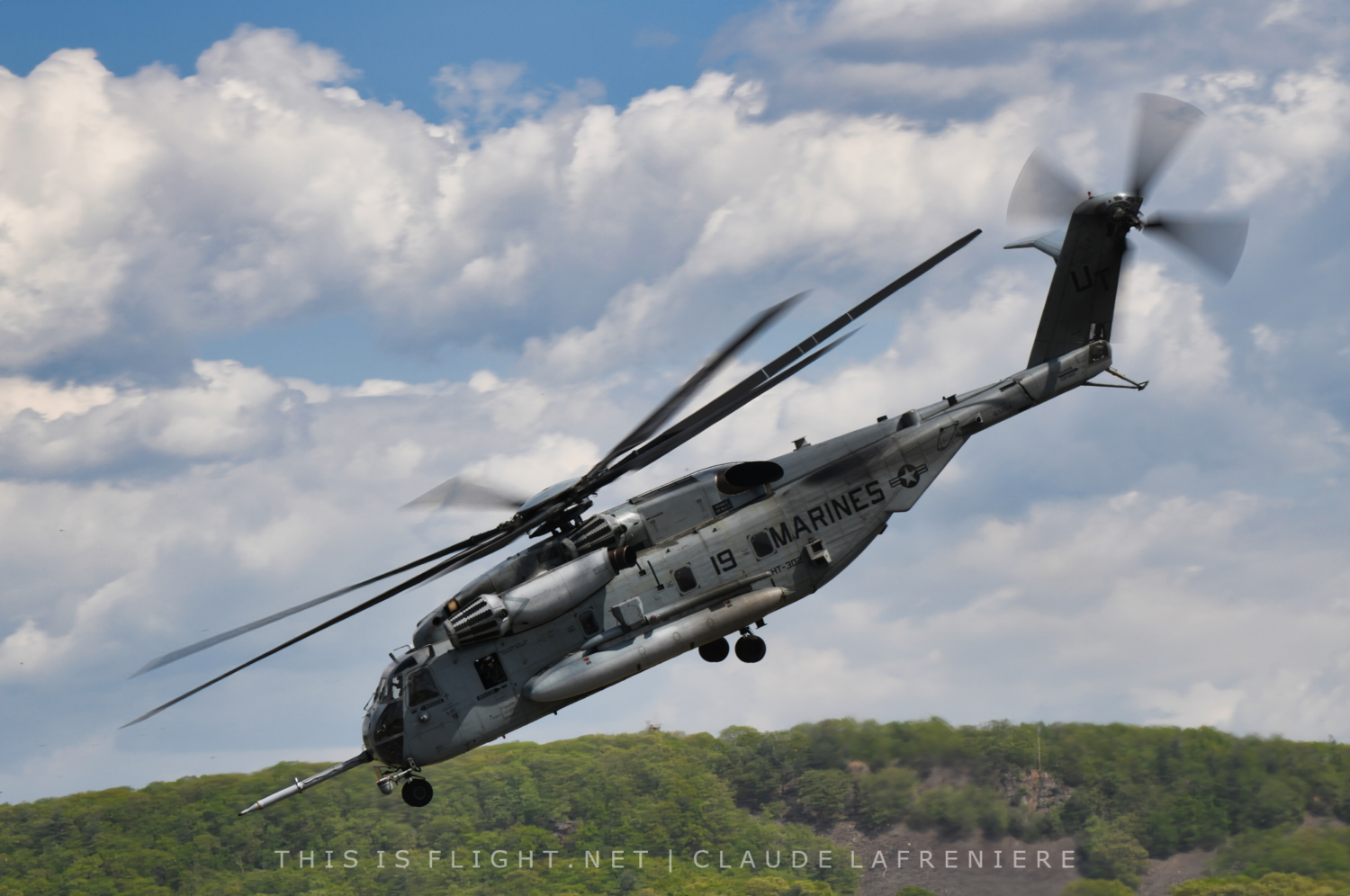 Next to that, the Air Force Mobility Command area added an imposing dimension to the event, with a Lockheed C-130H3 Hercules from Connecticut ANG 103rd Airlift Wing, a Boeing KC-135R Stratotankerfrom Maine ANG, a Boeing KC-46A Pegasus from McConnell AFB's 22nd Air Refueling Wing and a Boeing C-17 Globemaster III of the 3rd Transport Squadron at Dover AFB.
On the other side of the base was "Fighter Alley" which featured most of the American fighter aircraft families except the F-16 Falcon (a last minute cancellation). There were five examples of the McDonnell Douglas F-15C Eagle, two of which bore the green star which identified them as "MiG Killers", having each shot down an Iraqi MiG-23 in combat. The public also got a close look at a Boeing EA-18G Growler from Marine VAQ-129 at NAS Whidbey Island, an A-10C Thunderbolt II from 74th Fighter Squadron at Moody AFB, a Lockheed Martin F-35A Lightning II from the 158th Fighter Squadron at Burlington ANGB and a Lockheed Martin F-22A Raptor from the 1st Fighter Wing at Langley AFB.
In the warbird's aircraft area, the American Airpower Museum presented us with some historic aircraft from its collection: B-25-NA Mitchell "Miss HAP", D18S Twin Beech, SNJ-5 Texan and P-51D Mustangs "Jacqueline" and "Bald Eagle".
The ground display was completed with a US Coast Guard HC-144A Ocean Sentry and an Aero Vodochody L-39ZA Albatros. Additionally, the Wing's hangars were opened to accommodate numerous aviation technology kiosks and feature organizations to support service members and veterans. Additionally, visitors were able to access the armament section, where soldiers practiced arming an F-15C with inert practice ammunition.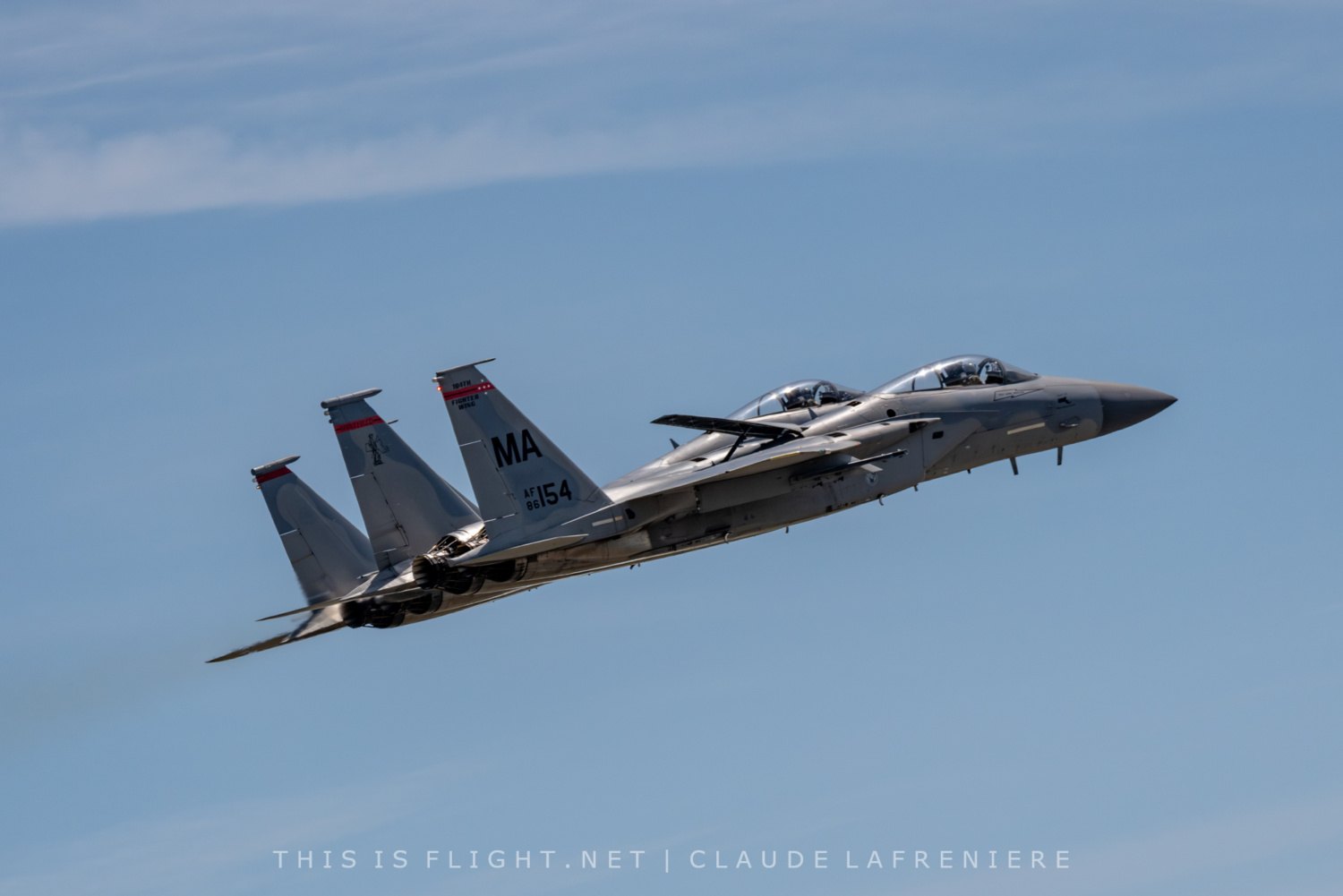 The airshow was notable due to the absence of a major aerobatic squadron, namely the USAF Thunderbirds. After the 2021 edition was canceled due to the pandemic, there were plans to add a US military aerobatic team to the 2023 show, but wing operational constraints and scheduling conflicts with other airshows made it impossible. Nevertheless, the line up was of a very high quality, perhaps spurred on by the absence of a major headline act. The flying display started early at 10:30, with an 18-act line up. Unlike many other air shows, spectators at Barnes ANG base are very close to the action; the runway was about 250 meters from the spectator area, and the taxiway where jets like the F-15Cs taxied after their flight was at some place within 20 meters of the spectators.
The show began with a spotlight on the home wing's jets, which flew a four-ship demonstration. They began with several passes in two, three and four plane formations, then each performed solo maneuvers. Initially, they performed high-speed passes at low altitude, followed by high G-force maneuvers, with steep turns over 90 degrees and full-power climbs with afterburner. Some minutes later, two of them returned to simulate missed approaches and climbs. This is Flight was told by Colonel David "Moon" Halasi-Kun, commanding officer of the 104FW, that it was the first time in more than a decade that any pilot from the squadron had participated in an airshow.
Following the US Army Golden Knights parachute team, who jumped while Rob Holland performed a spiral descent around them with his MXS-RH, the US Marine Corps took centre stage. A CH-53E Super Stallion from HMHT-302 performed an impressive display that included a series of low-altitude passes with sharp turns, followed by hover-stops and lateral flight, demonstrating the surprising maneuverability and stability of this giant helicopter.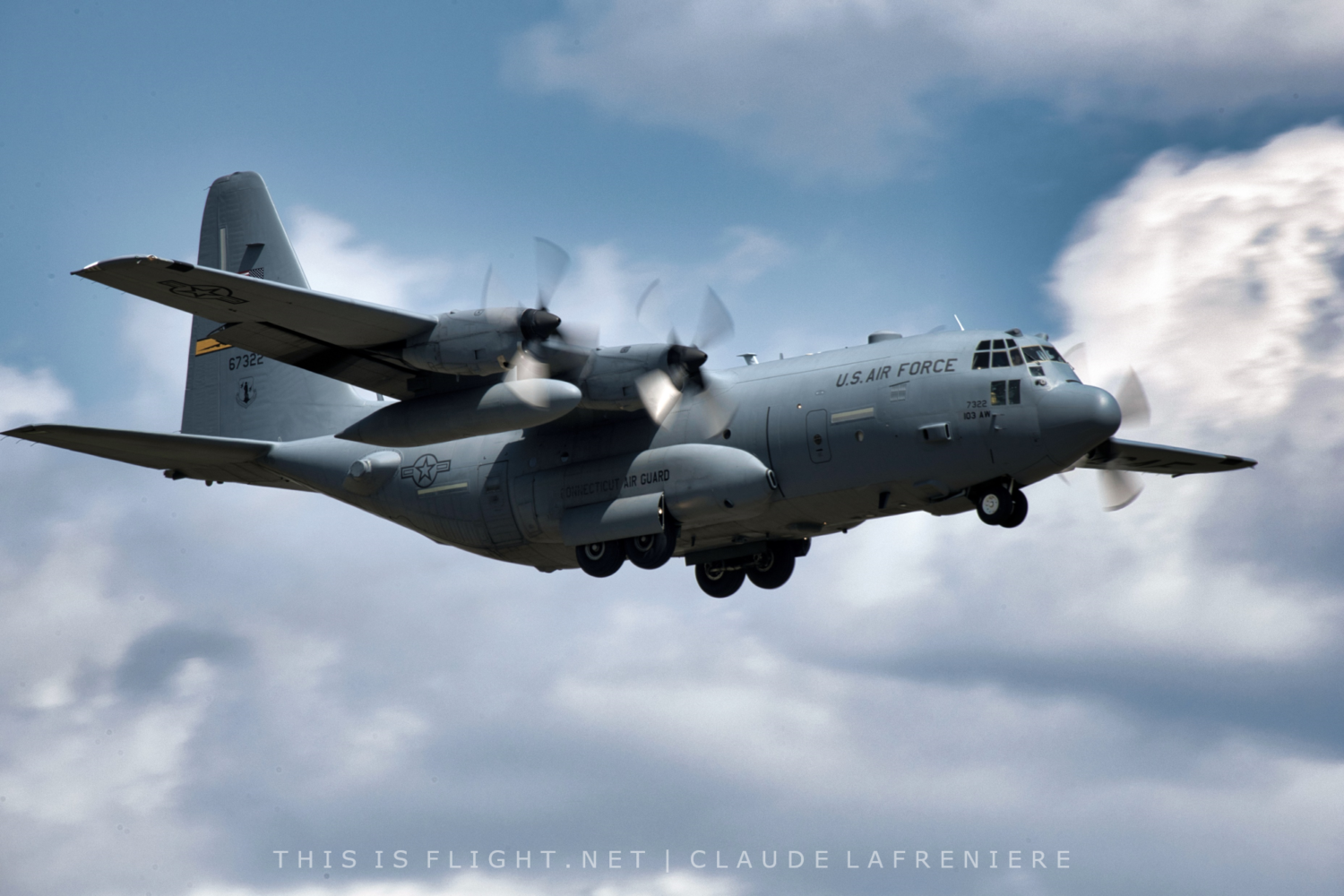 It was then back to the US Air Force to pick up the action, with a C-130J-30 Hercules from nearby Rhode Island ANG making a tactical takeoff and flying several circuits around the runway at low altitude, accentuated by steep turns, before finally make a short tactical landing and reversing along the runway. Next, a KC-46A Pegasus from the 157th Air Refueling Wing, at Pease ANGB, joined the show. The aircraft joined up with two F-15Cs to conduct a simulated aerial refuelling at an altitude of approximately 1,000ft. Minutes later, the two F-15Cs returned to perform several more solo maneuvers. Then, the KC-46 returned for a spectacular maneuver of its own: The aircraft flew over the runway at an extremely low altitude, with landing gear extended, and performed an extremely low missed approach, before climbing back to altitude at full power. This unusual maneuver made a considerable impression and even the announcer was left speechless.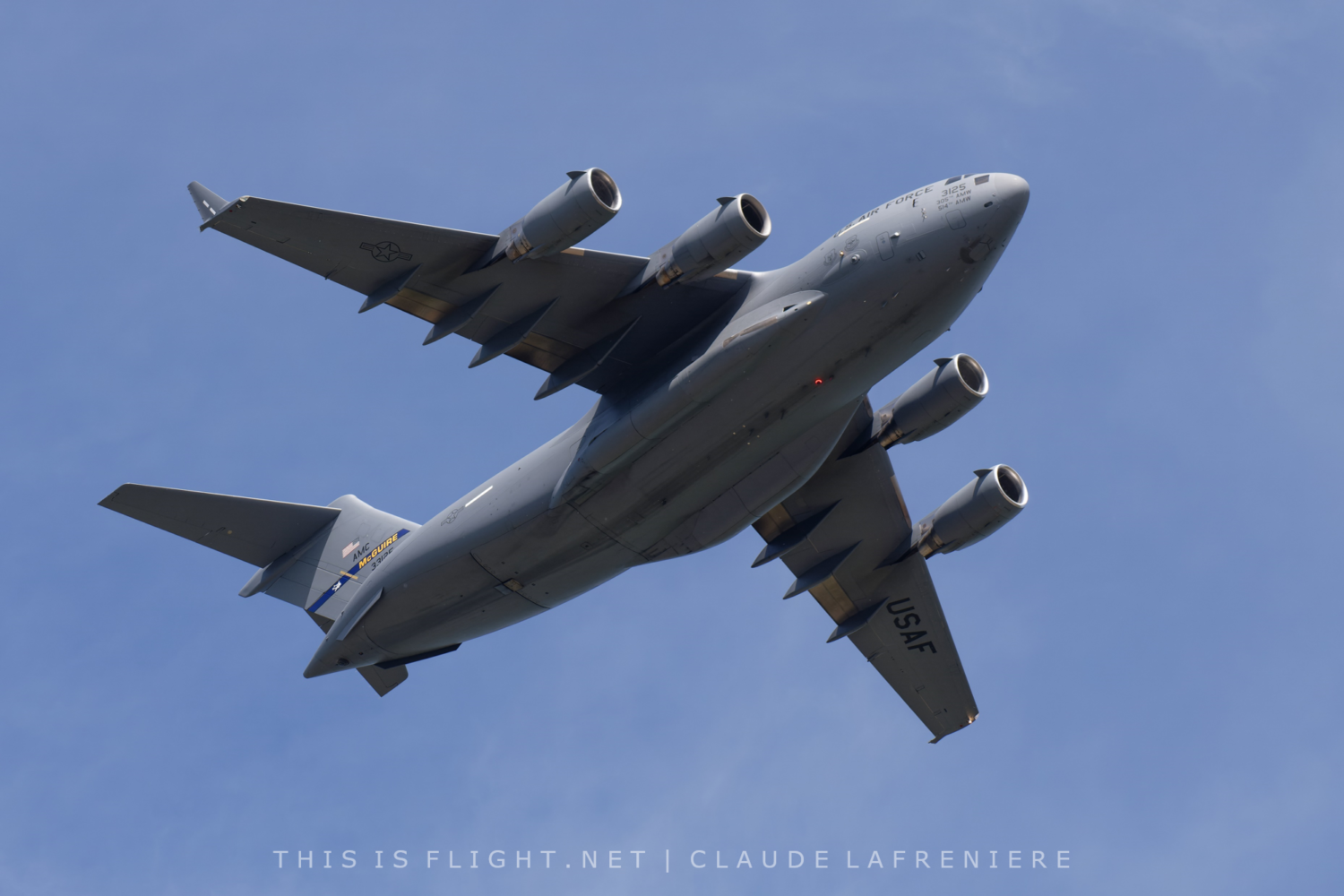 Another large USAF asset was represented in the flying display: a Boeing C-17A Globemaster III from JB McGuire-Dix-Lakehurst performed flypasts at about 1,000ft, followed by a high-power climb.
A highlight of the show, two talented pilots from the 74th Fighter Squadron captivated the audience with a Close Air Support demonstration, featuring two A-10C Thunderbolt IIs. The two jets performed simulated attack runs, their engines rumbling as they made sharp turns and rapid descents, positioning themselves to effectively support the troops in action.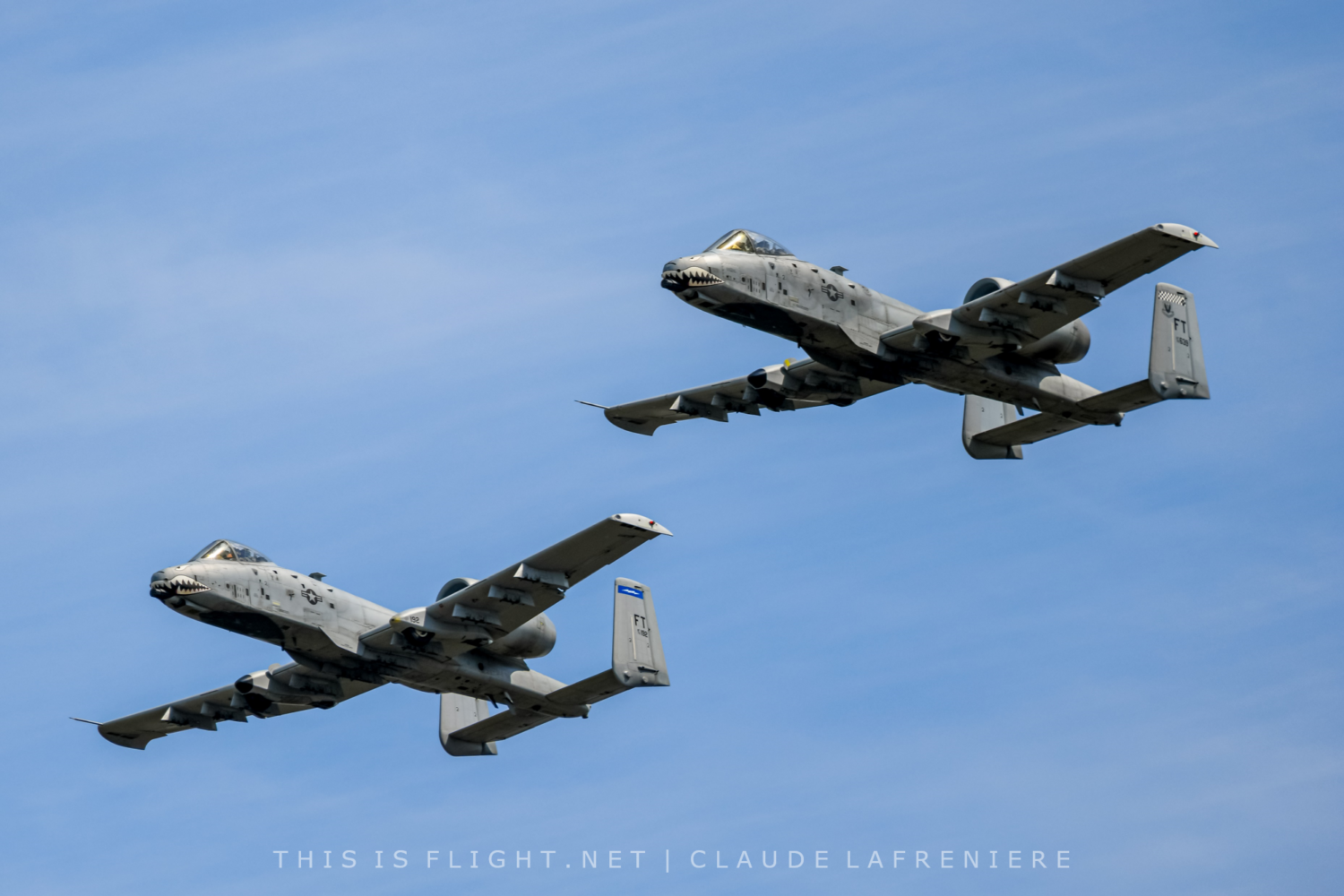 The American Air Power Museum provided two magnificent aircraft for the flying display, which performed formation passes and solo displays. B-25-NA Mitchel "HAP" was joined in flight by the P-51D Mustang "Jacqueline". Two authentic WWII veteran C-47 Skytrains flew through the skies as a reminder of the nostalgia of big, twin piston engine planes: "Placid Lassie" and "Second Chance" carried the "Liberty Jump Team", a parachute display team that commemorate troops who jumped from C-47s. Sadly, the jump itself was canceled due to high winds. Further vintage aviation was provided by CT-133 Silver Star "Ace Maker III".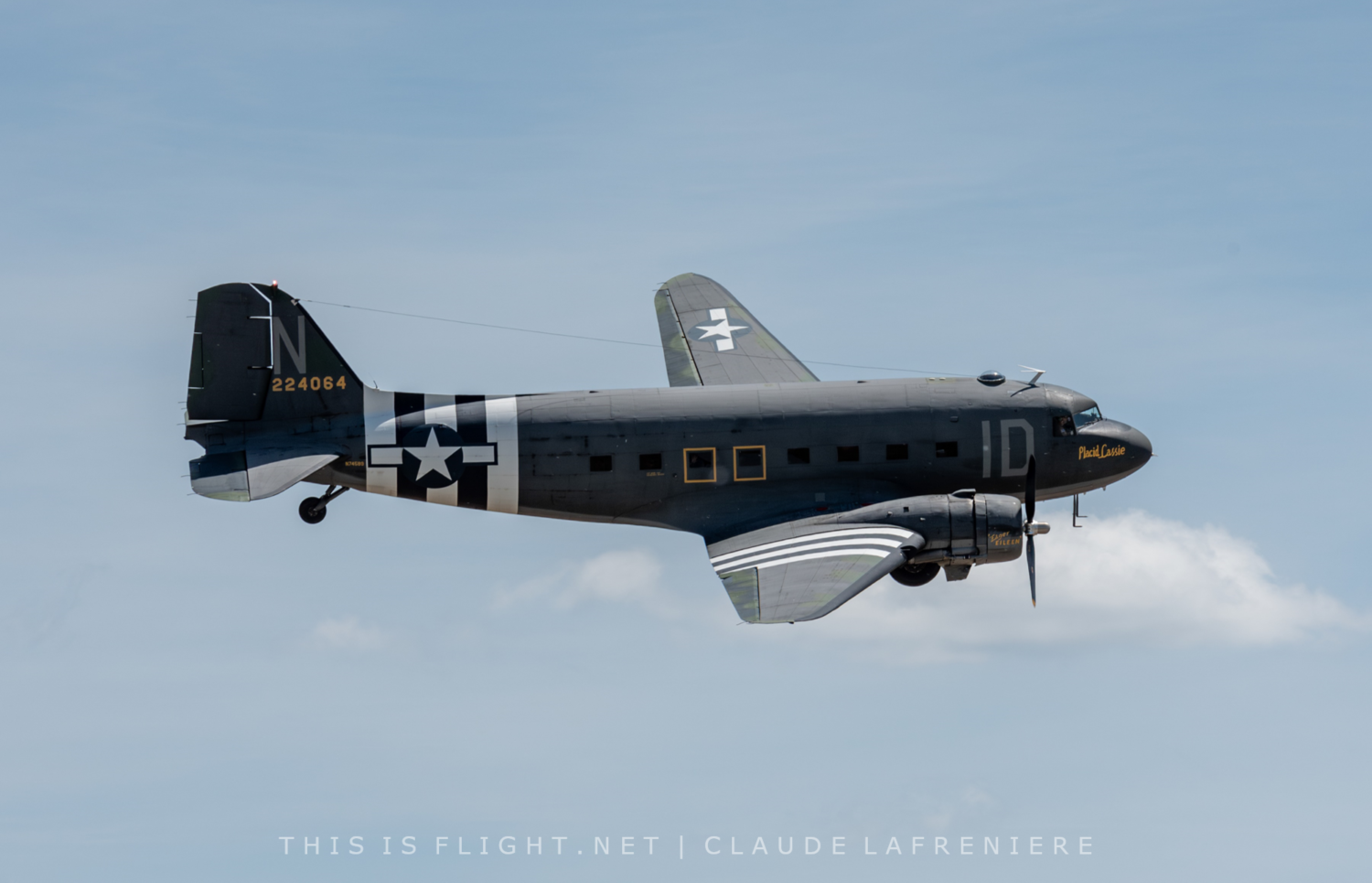 Other civilian performers included Kyle Franklin's Flying Circus, with an entertaining sequence of loops, rolls and other aerobatic tricks in a Piper PA-18A,  Jason Flood in his Pitts S-2C and Rob Holland in his MXS-RH. With 18 years of experience both flying airshows and competing at the highest level, Rob has developed innovative and unparalleled maneuvers, making for an exceptional performance.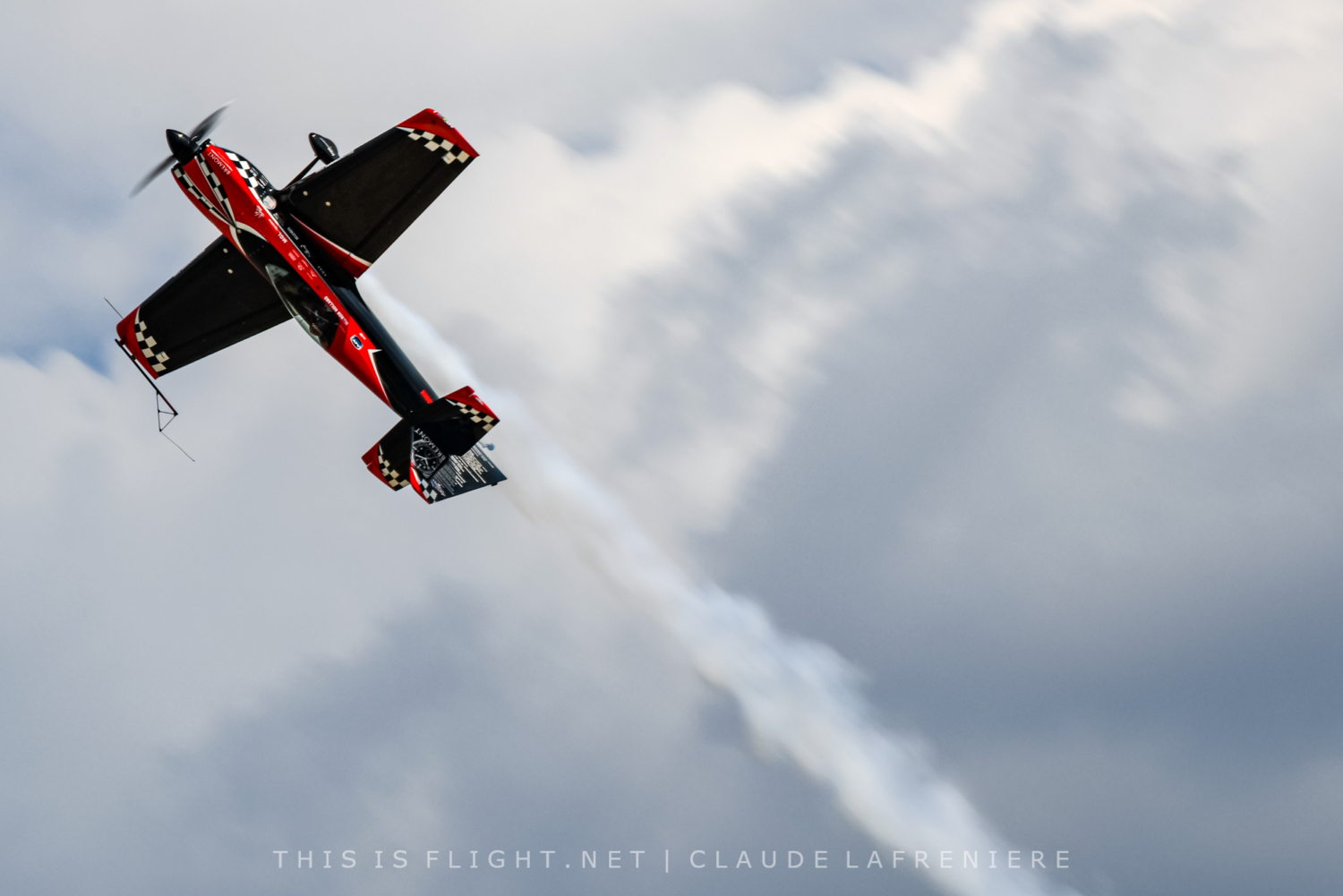 At the end of the program, the long-awaited demonstration of the USAF's F-35A Lightning II attracted a lot of attention, in particular due to the imminent arrival of the F-35A at Westfield ANGB. Pilot Kristin Wolfe, recently promoted to major, has been tasked for the third consecutive year with showcasing the unique aerial capabilities of this fifth-generation multipurpose aircraft. The show ended with a typical Heritage Flight featuring an F-35A and P-51D Mustang "Bald Eagle".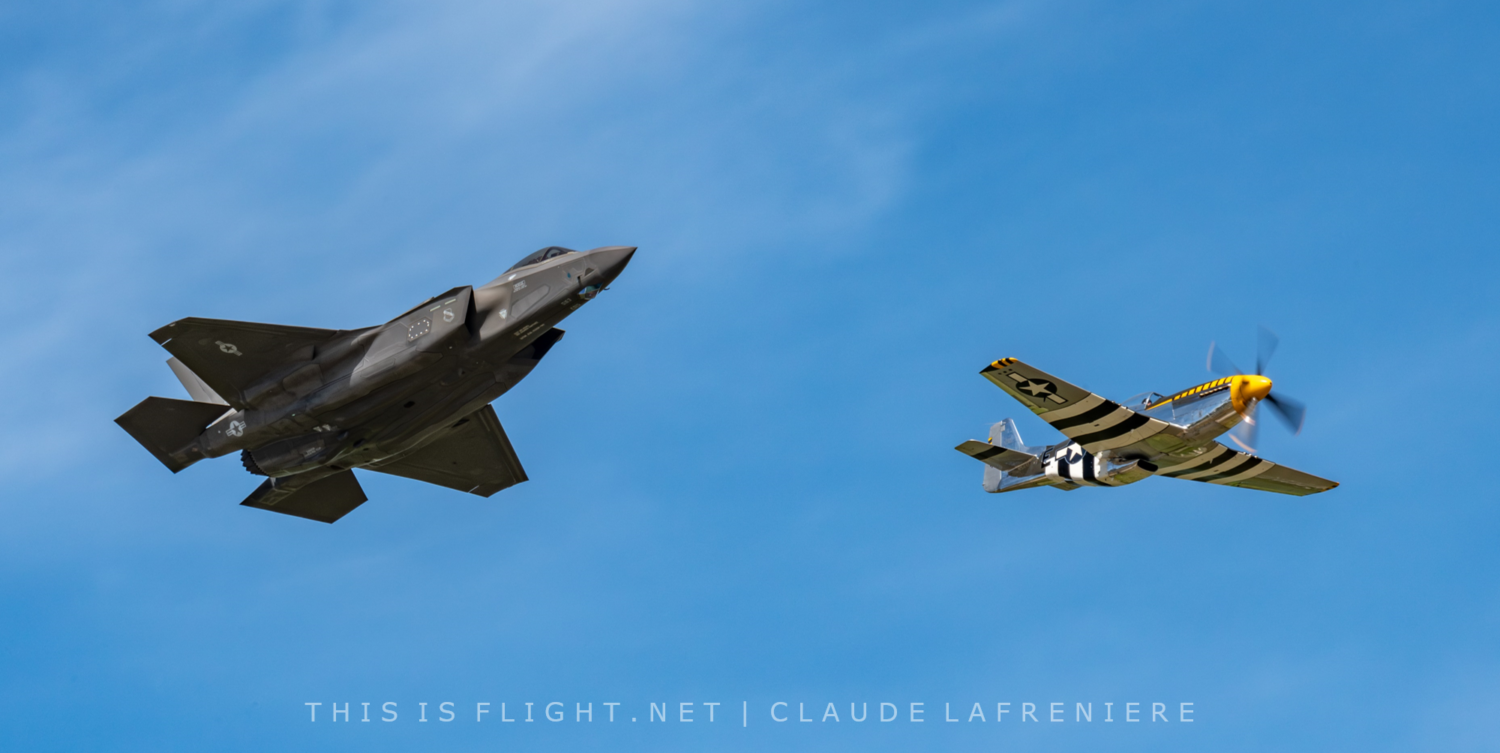 Before concluding, a special mention must be made of the 1st Fighter Wing's F-22A Raptor, which created a sensation on arrival at Westfield–Barnes Airport before taking its place in the static display. Upon arrival, for nearly 10 minutes, the pilot impressed onlookers and photographers by demonstrating the exceptional agility of his aircraft with four missed approaches, each followed by fast climbs or high-G turns on full afterburner. This unexpected performance was a worthy of an airshow demonstration in its own right, and offered an impressive spectacle to all those lucky enough to be present.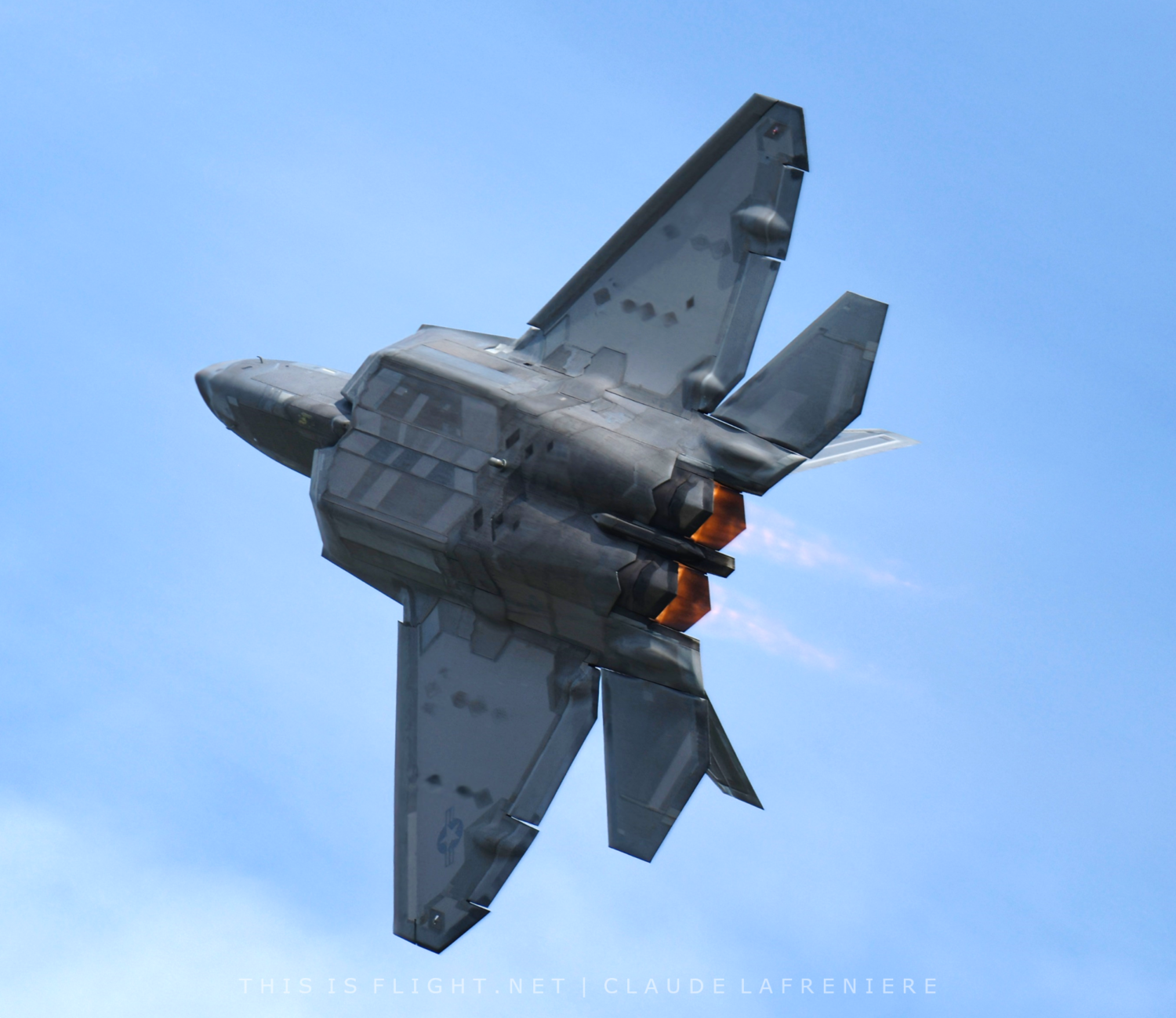 We have often said in This is Flight airshow reviews that the lack of a big jet aerobatic team can bring out the best in an airshow organiser, encouraging them to go above and beyond with non-standard airshow acts; once again, we were pleasantly surprised by the quality of the performances, both on the ground and in the air, at Westfield. Colonel David Halasi-Kun, commander of the 104th Wing, could not hide his pride at the breathtaking results of this memorable weekend. It is still too early to speak of a date for the next edition (which, according to the Colonel, will now take place every five to six years), but it will be one for airshow enthusiasts to watch out for when the event next returns.