WORDS: ADAM LANDAU & ALEX PRINS| PHOTOS: ALEX PRINS
Only very rarely do we return home from an airshow, considering earnestly whether it was the best we have ever attended. Certainly, you would not have expected it to be up for debate after a modestly-sized event held at a grass airfield on a tight budget, while in the grip of a global pandemic. Yet, following the first – and hopefully the last – "Antidote Airshow" at Leszno Airport in Poland, that is exactly the position we found ourselves in.
The Leszno Antidotum Airshow was remarkable for many reasons. The sheer diversity of performers taking part was impressive by any measure, even without any military participation. So, too, was the speed with which the event was thrown together: the show's very existence was announced less than five weeks before the gates opened and the public flooded in. But perhaps what stands out most was the incredible hospitality and relaxed atmosphere for which airshows at Leszno are so well-known, and which has clearly garnered much affection from participants and visitors alike.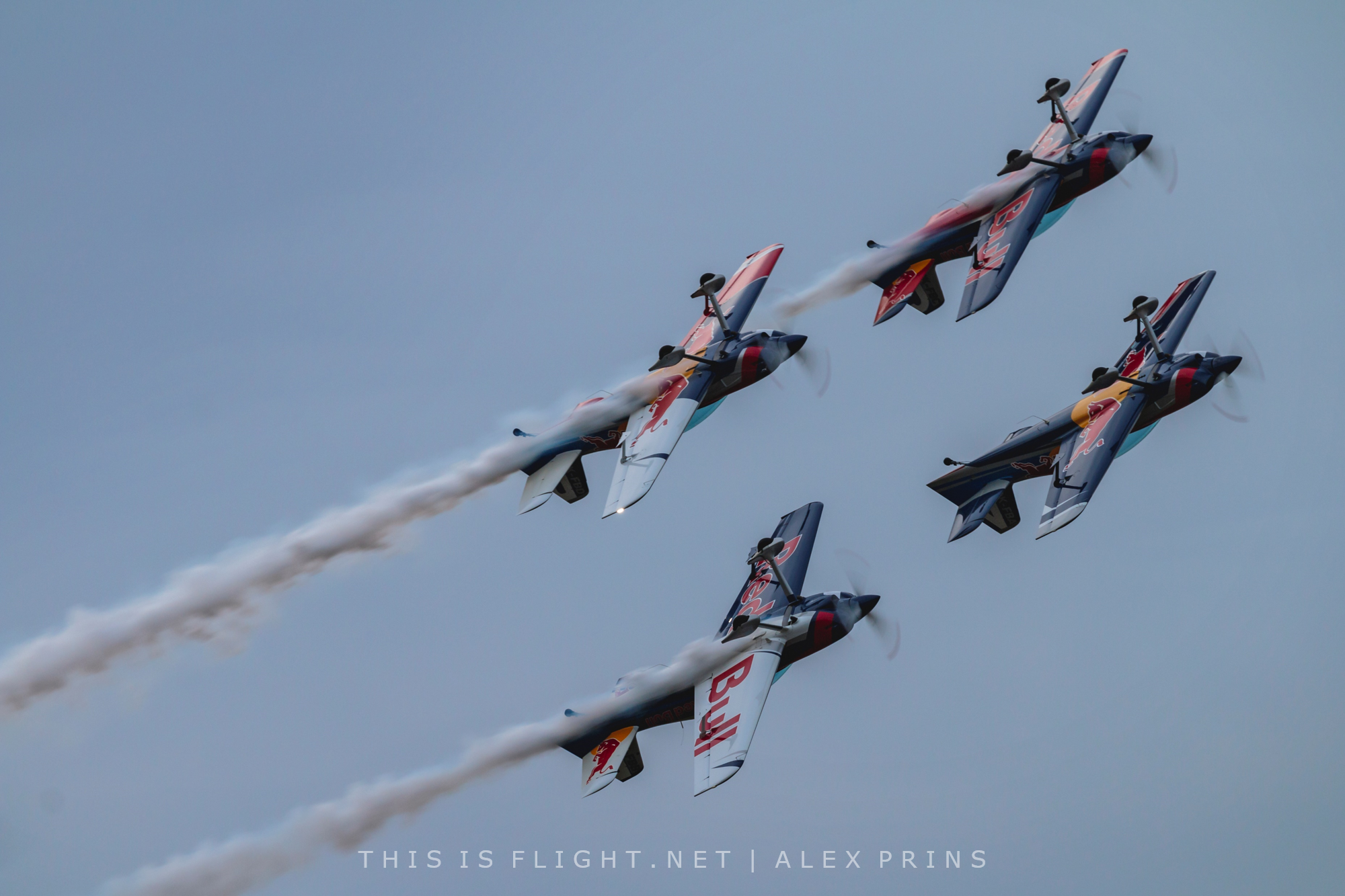 Unlike most airshows, the Antidotum Airshow was purely an evening affair, with the flying display running from 5pm until 9pm, on Friday 28th and Saturday 29th August. This meant that the conventional daytime flying displays flowed seamlessly into a night time pyrotechnic extravaganza, which was certainly the most varied of the many night air displays we have so far attended.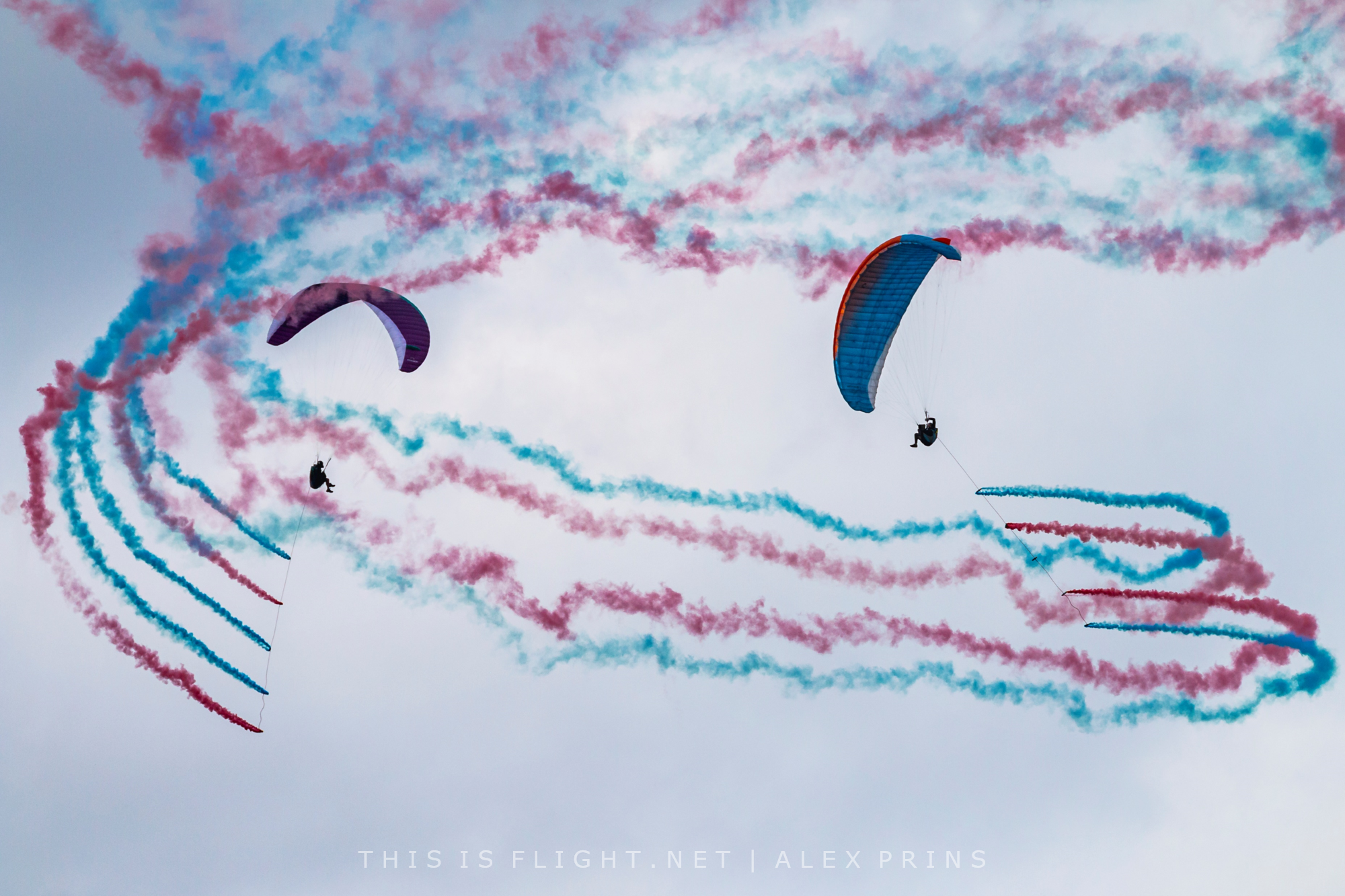 Adding to its unusual time slot, the airshow also benefited from a thoughtful showground layout; food stands and children's activities were discretely positioned towards the back, while the crowdline was almost entirely unobstructed, with virtually none of the hospitality enclosures and tents that blight most other airshows of a similar size. Most notably, there was a 90-degree bend at the western end of the crowdline, which was itself located in the middle of the airfield. This unique layout offered pilots the opportunity to perform glorious sweeping topside passes that even made airshows at Shuttleworth look tame by comparison. Knowing this, the organisers had positioned the Spotters' Enclosure right on the corner, in what probably proved to be the best spot, photographically, on the whole airfield.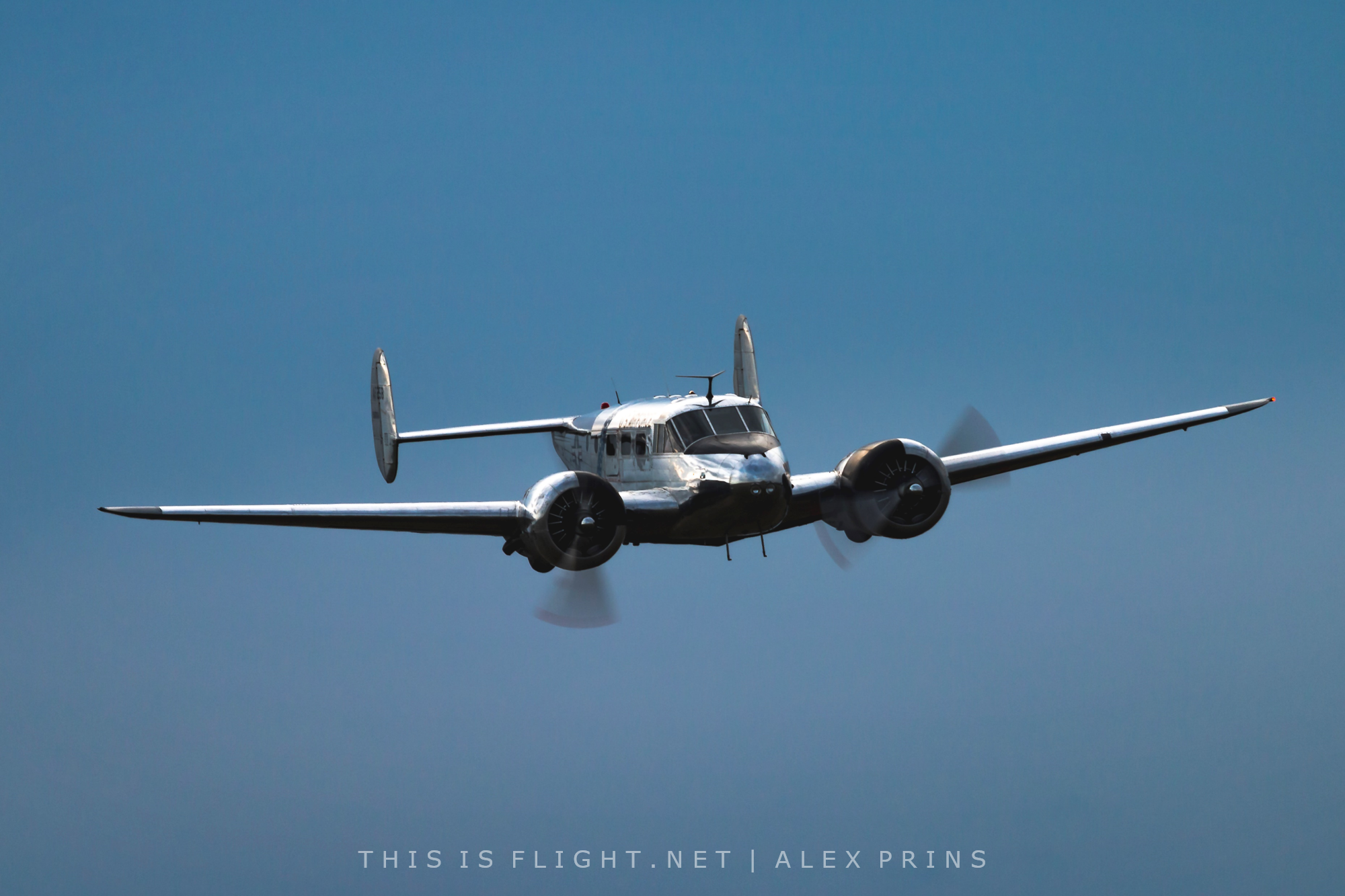 At a glance, the performer list may have looked to be heavily biased towards small and relatively unexciting aircraft, and one could have been forgiven for thinking the show might be lacking in energy. Nothing could have been further from the truth, however, and almost every aircraft at the show, from Pure Aviation's glorious C-45H Expeditor "Southern Comfort" right through to the diminutive Falcon 2000 ultralight, were flown with such vigour and intimacy that they were every bit as engaging and characterful as a heavy warbird or fast jet at a UK airshow.
Of course, it was Polish acts that made up the bulk of the flying display, and several of the performers would have been reasonably familiar to a local audience. Jan Makula, for example, performed a technically-challenging display in the Swift S-1 glider, while both days featured a familiar pairing of Hatz Classic and Tercel ultralight. A further familiar display was flown by Marek Choim, however his Extra 330SC was adorned in a brand new, highly attractive paint scheme, which was demonstrated to great effect in both unlimited daytime displays, with coloured smoke streaming from the wingtips and wheel spats, as well as energetic night displays with pyrotechnics aplenty.
One of the biggest names on Poland's airshow circuit is the Zelazny Aerobatic Group, who brought a trio of Zlin 50s to Leszno this year. Having seen the team's pairs display at the Gdynia AeroBaltic Airshow last year, which was flawlessly executed but contained little to write home about, it was gratifying to see a much fuller aerobatic performance from the three-ship, which included several very creative manoeuvres not seen from other teams. Most notably, this began with a breathtaking opposition take-off, and was concluded with an extremely low altitude formation flyby down the length of the airfield.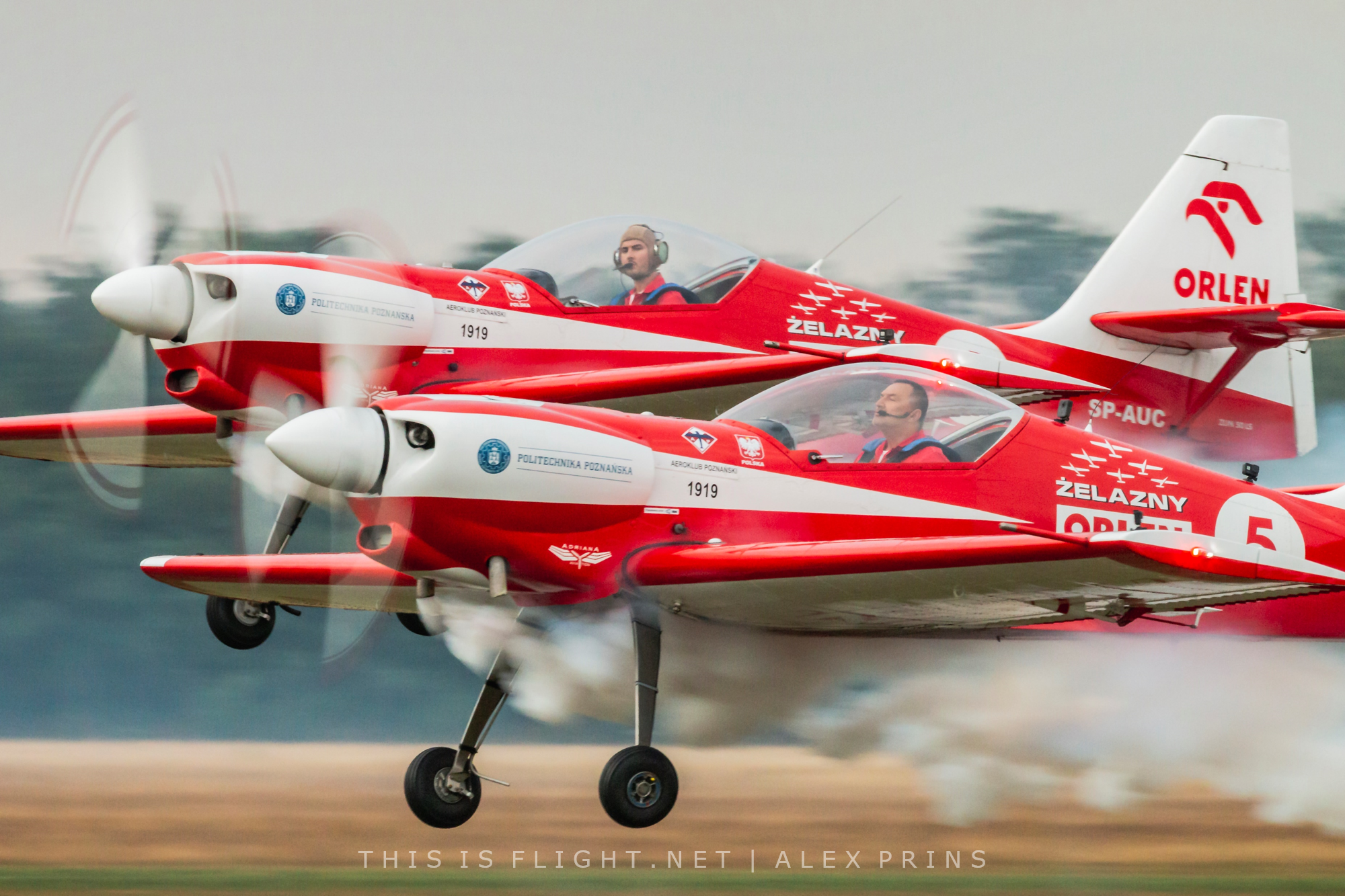 In a boost for an otherwise cash-limited event, the Antidotum Airshow was able to attract the support of Red Bull, and so it was no surprise to see a handful of displays provided by the Austrian energy drink manufacturer. Of these, the Flying Bulls' relatively recently-restored T-28B Trojan, which returned to flight in 2016, was certainly a star attraction. Indeed, Raimund Riedmann's arrival drew the attention of everyone onsite on Friday morning, and one of the organisers was overheard describing how it was this display at the AirPower 2019 airshow in Zeltweg, Austria, that led directly to their engagement with Red Bull in order to bring the Flying Bulls collection to Leszno. Reidmann's effortlessly graceful display was complemented superbly by the aircraft's extraordinary wingtip smoke system, which left trails of writhing vortices long after the aircraft had repositioned for another manoeuvre.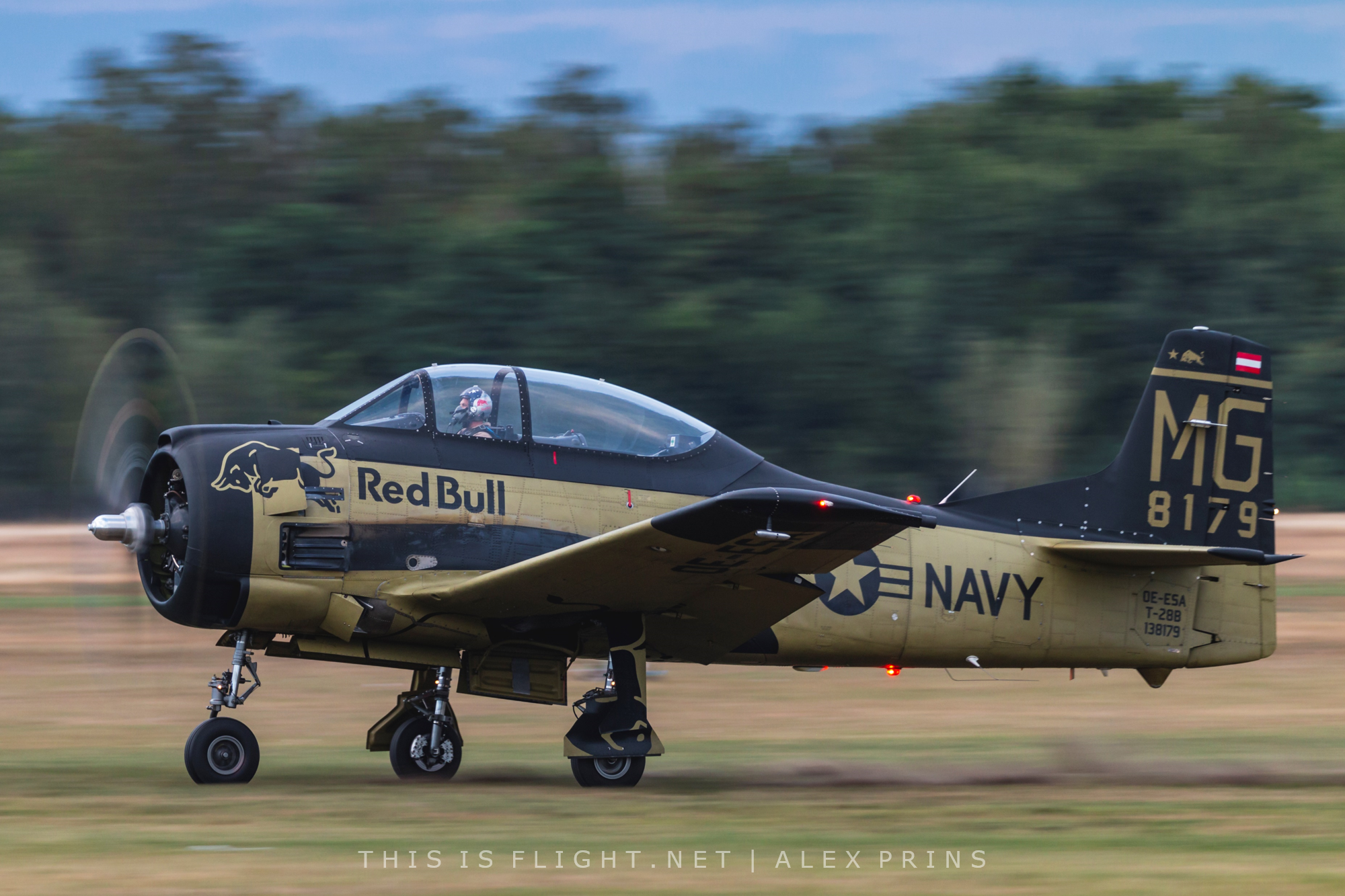 Also from Austria, Red Bull's Team Blanix was an eagerly-anticipated performer, and their aerial ballet with two L-13 Blanik gliders did not disappoint. Starting with an extraordinary synchronised spiral descent, the two unpowered aircraft then joined up in mirror formation, before splitting into a short opposing sequence, and rejoining once again for a series of low orbits over the airfield with coloured smoke and pyrotechnics. Team Blanix, perhaps more than most, benefited from the accompaniment of live music from The Cellos; the band were placed centre-stage (literally!) and ran through a catalogue of adaptations from Metallica and Bruno Mars, through to pared back classical compositions. As the pair of gliders orbited overhead, and the lights of their pyrotechnics lit up their freshly repainted mirror-finish undersides, The Cellos' hauntingly beautiful rendition of a Bach overture combined to produce one of the most perfect single moments at an airshow that the authors have ever been fortunate enough to enjoy.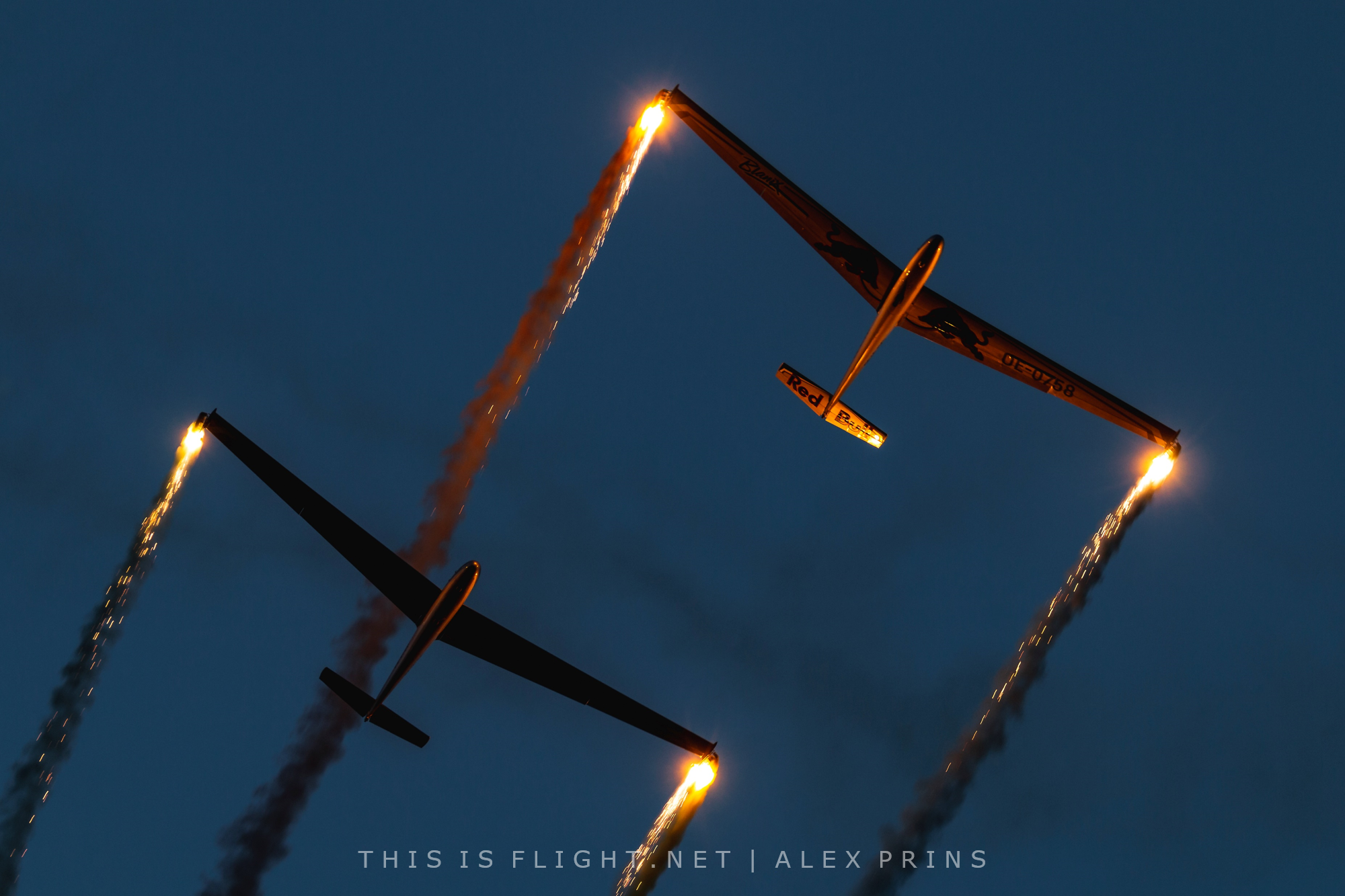 The final Red Bull act was a fantastically stark contrast: the Flying Bulls Aerobatic Team from the Czech Republic, flying four XtremeAir XA-42s. The team specialise in flying negative-G and mirror formation aerobatics, with manoeuvres such as a four-ship inside-outside loop, mirror stall turns and consecutive formation aileron rolls. To quote one of the other display pilots watching their performance: "They make the impossible look easy, and what they do is impossible!" The Flying Bulls Aerobatic Team fulfill a very clever role on the airshow circuit, with enough of a presence to entertain families and children, yet also keeping pilots and enthusiasts thoroughly engaged as they steadily work through what must be one of the most demanding airshow routines around today. This combination was ideal for Leszno, and makes them perfect for events with both sizeable enthusiast and non-enthusiast components in the crowd – airshow organisers take note!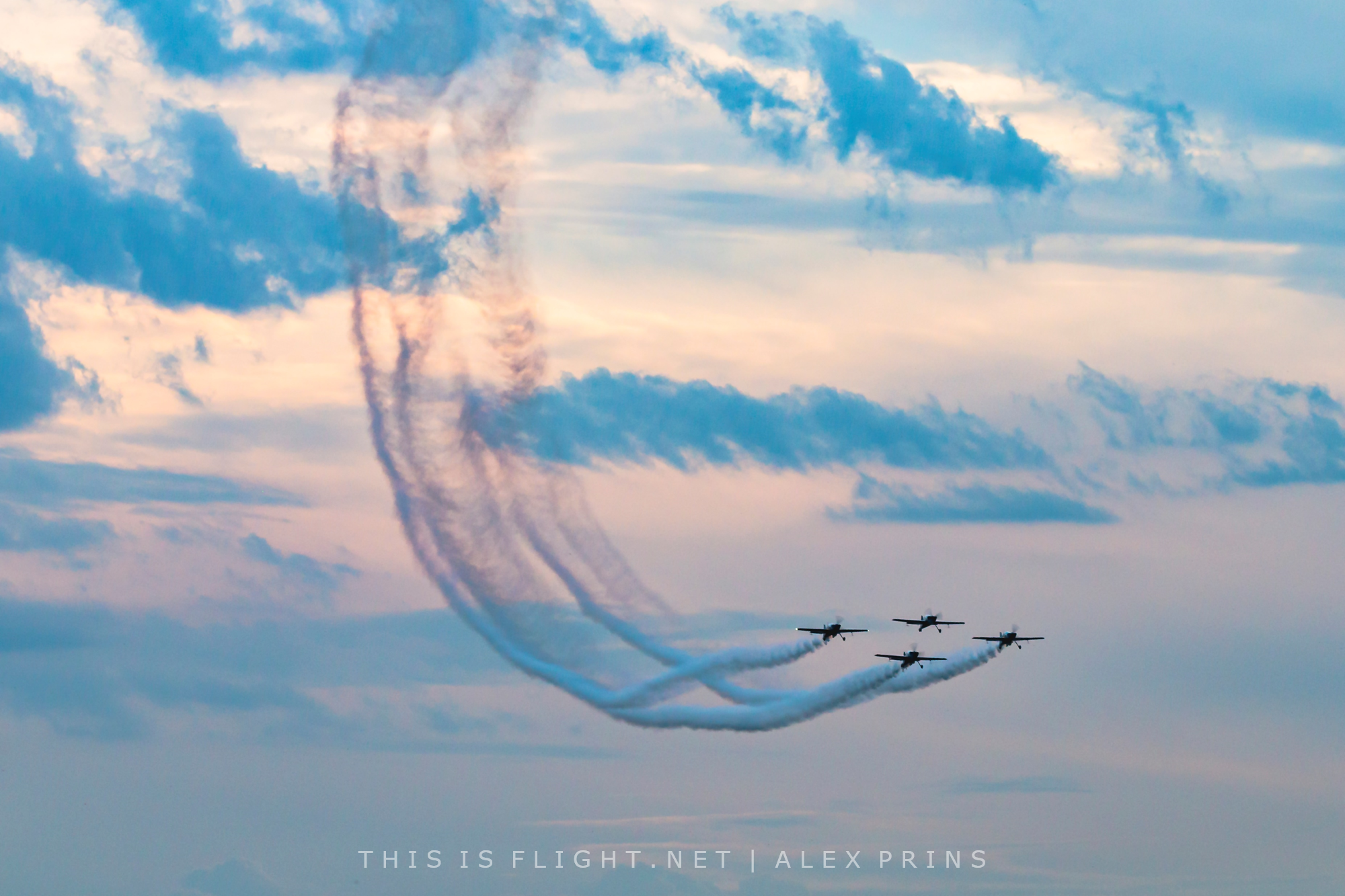 There was only a single jet aircraft at the Antidotum Airshow, but the organising team with their limited budget, would have struggled to make a better choice than Poland's only flying SB Lim-2. This Polish variant of the MiG-15 was first flown under new ownership in December 2019, and after several years' absence was reintroduced onto the airshow circuit at the Antidotum Airshow. Although the first part of the display was notably distant on the Friday, this was much less the case on Saturday, and on both occasions the performance ended with a sequence of very low, very close flybys; on the second day this was accompanied by an explosive wall of fire – another hallmark of Leszno's innovative organising team!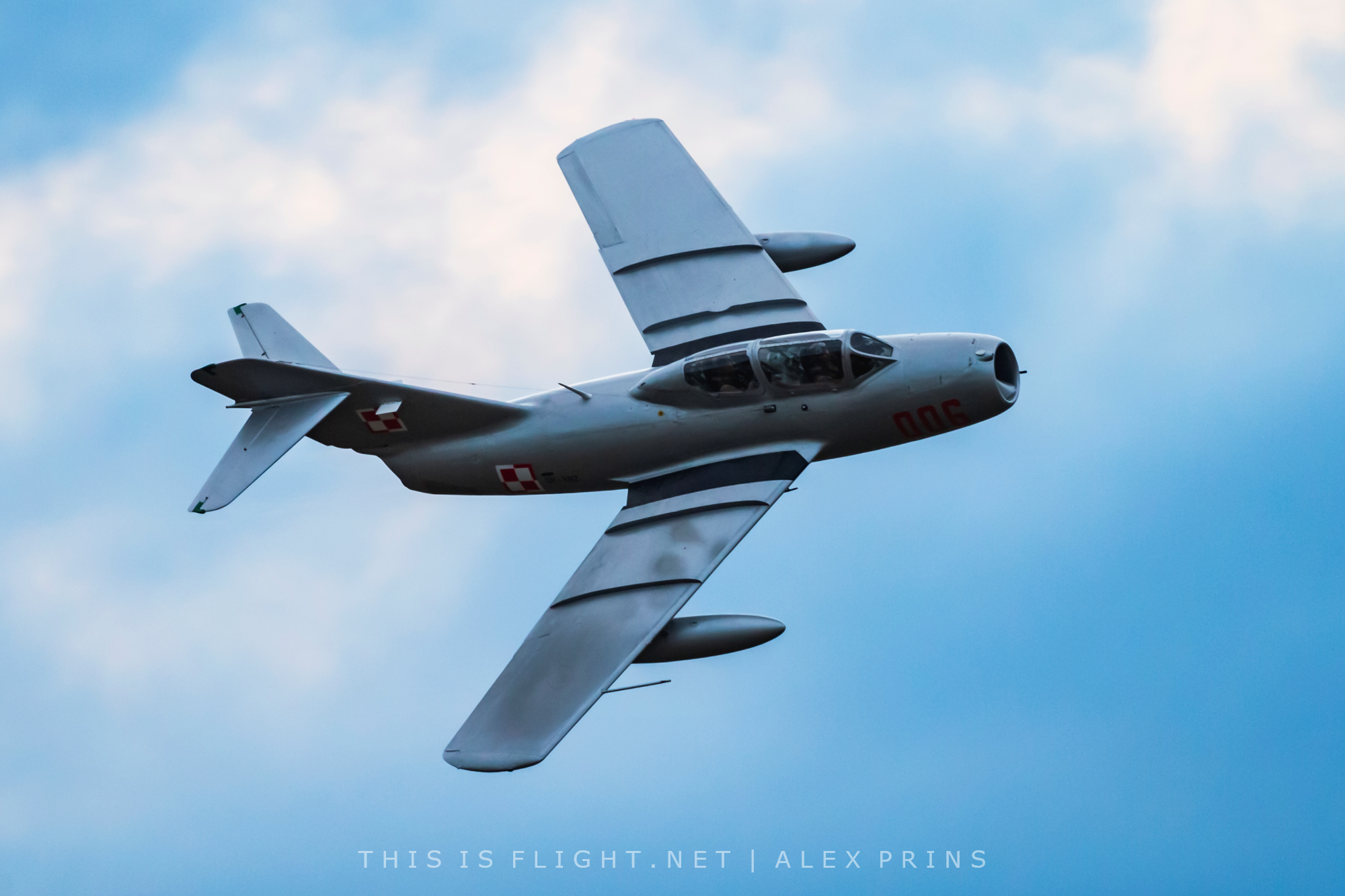 One less conventional act worthy of mention was a pair of ERCO Ercoupe aircraft – one locally-based and one from Germany – flying circuits of the airport just before sunset. Given that neither pilot was a true airshow pilot, this performance was surprisingly absorbing, particularly for the photographers in the crowd, as the aircraft flew low approaches to the runway before banking round the corner of the crowdline in an attractive climbing turn. It just goes to show that simple ideas can sometimes be the best, and that a pilot need not have been flying at airshows for decades in order to complete an enjoyable, and perfectly safe, performance.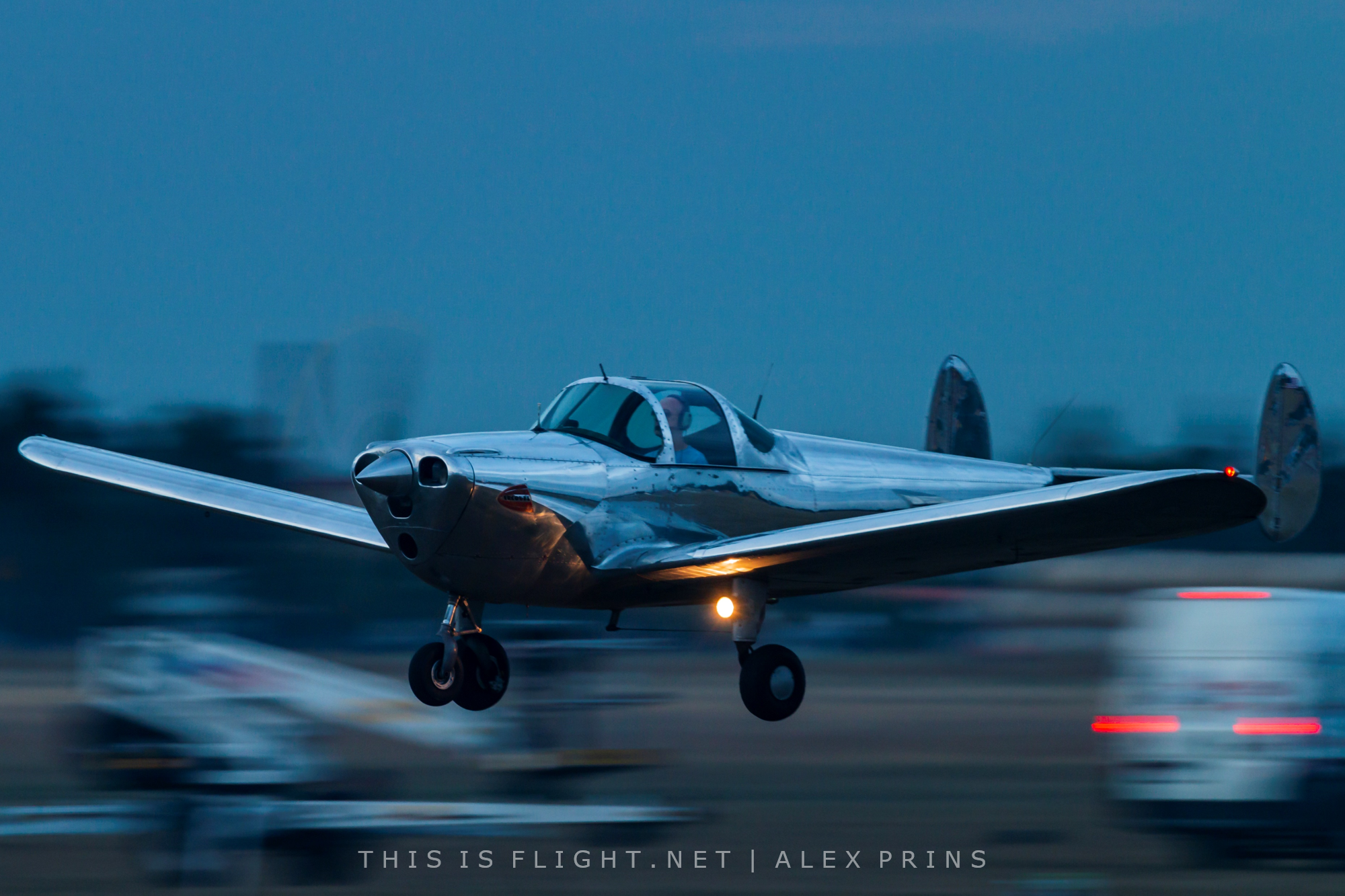 With the sun dipping below the horizon, it was then time for the pyrotechnic displays proper. From the UK, the FireFlies Display Team's performance was polished and among the most accurately-flown of the weekend, even if the team's new paint scheme looked a little plain and corporate. This was followed by Marek Choim, and then the extremely imaginative Flying Dragons paramotor team, whose fireworks and flashing lights were impeccably timed to match their custom-made (and extremely catchy) music. Ending the show with their usual pyrotechnic spectacular was the Aerosparx Display Team, who had gone to the effort of incorporating two impressive topside passes into their final manoeuvre to suit the venue, much to the appreciation of the photographers and spectators in attendance.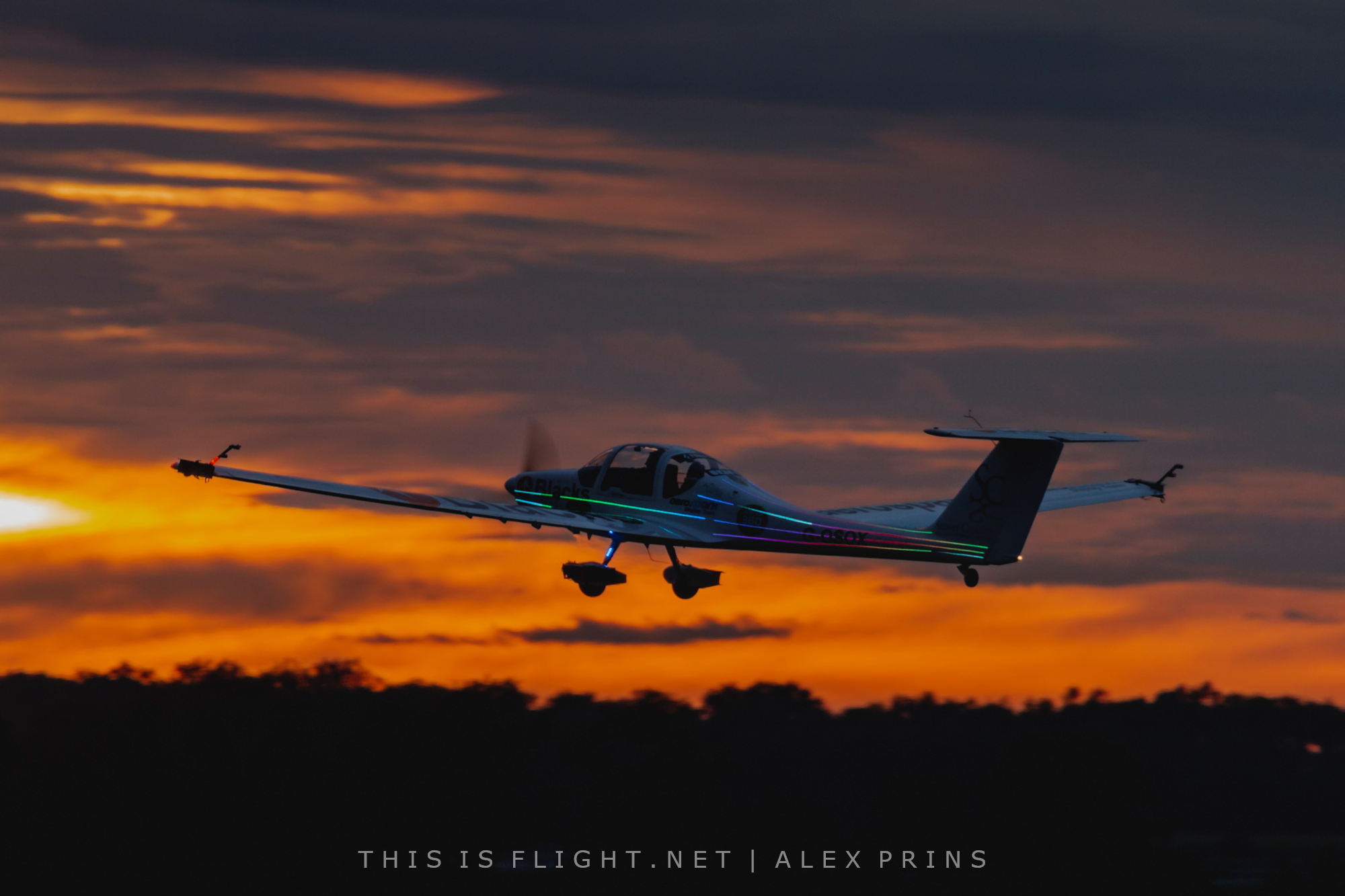 For an airshow with only a single jet act, and nothing in the way of military participation, it may sound odd to consider the Antidotum Airshow to have been the most enjoyable that we have ever attended. Admittedly, our perceptions were perhaps coloured by the incredible hospitality of those that we met; and yes, there was an element of desperation to return to the airshow circuit. However, it was not just us that headed for home feeling this way; it seems almost everyone is left with a similar emotion, even if they can't quite put their finger on why that might be. Quite simply, as Wojciech Sołtysik of the Flying Dragons said on our departure: "Leszno is magic!"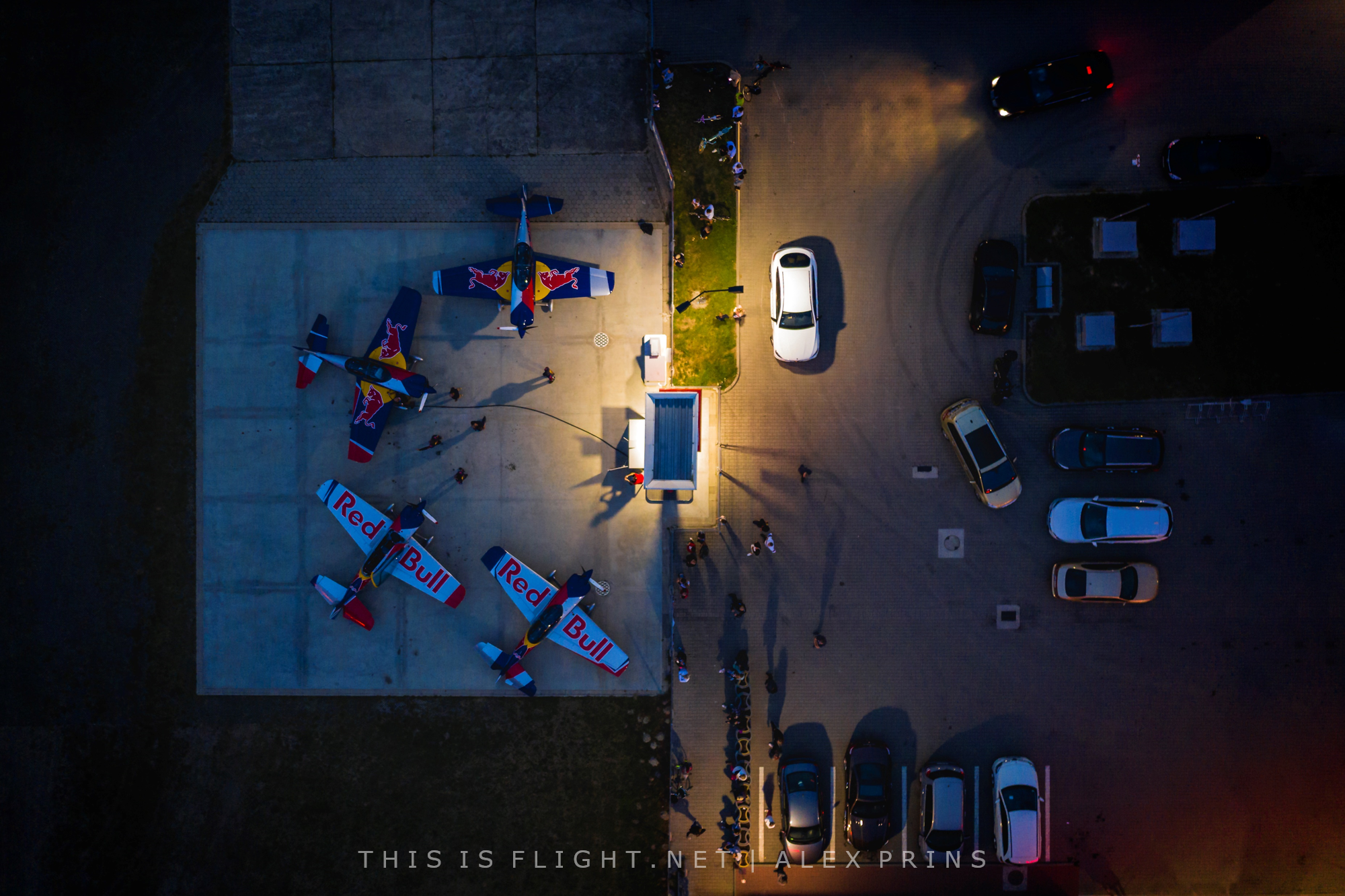 There is something truly special about airshows at Leszno, and perhaps it is simply one of those things which must be experienced to be believed. While it perhaps defied logic and our better judgement, as the roar of the SB Lim-2's final pass died down and the sun began to set, as the live music reached a crescendo and Team Blanix tumbled out of the darkening sky in perfect synchronicity, we were all united by a shared elation, and an unwavering belief that this was the best airshow in the world.