WORDS & PHOTOS: DAVID LEADINGHAM
The Chennault International Airshow occurred this year over Mother's Day weekend at the Chennault International Airport in Lake Charles, Louisiana, about two hours west of the state capital, Baton Rouge. While its runway is the longest runway at any airport between Houston and Cape Canaveral, it hosts no commercial aviation, but provides aviation space for companies such as Northrop Grumman, Citadel Completions, Landlocked Aviation and Million Air. It is named after General Claire Chennault, leader of the famed Flying Tigers squadron of World War II.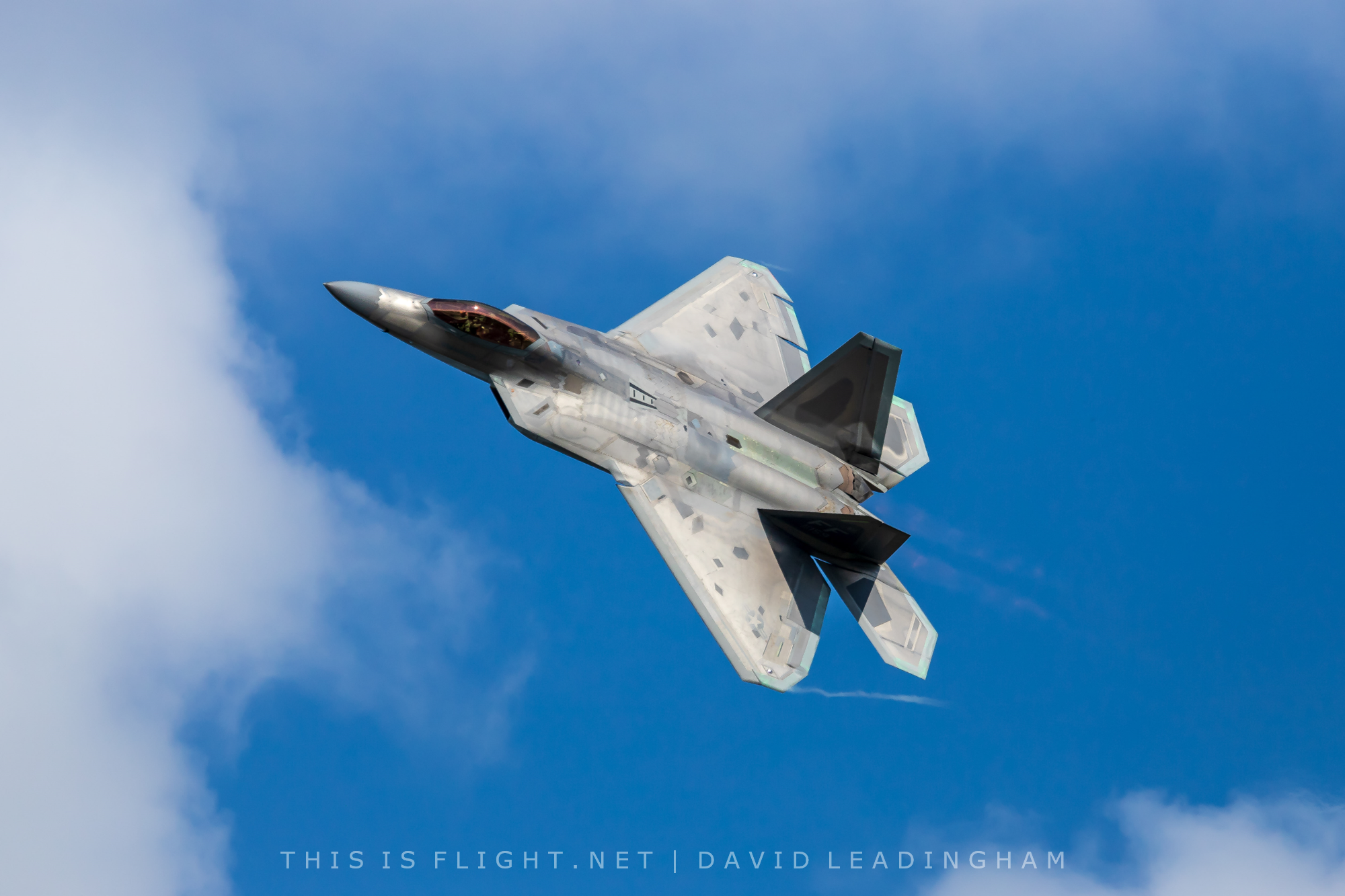 The airshow this year started off with a special twilight show on Friday night, followed by the main show on Saturday and Sunday. Unfortunately, the unpredictable Louisiana weather forced the show to be cancelled on Saturday, but the weather Sunday was great! No rain! Low clouds in the morning did limit some of the performances, but this cleared up in the afternoon.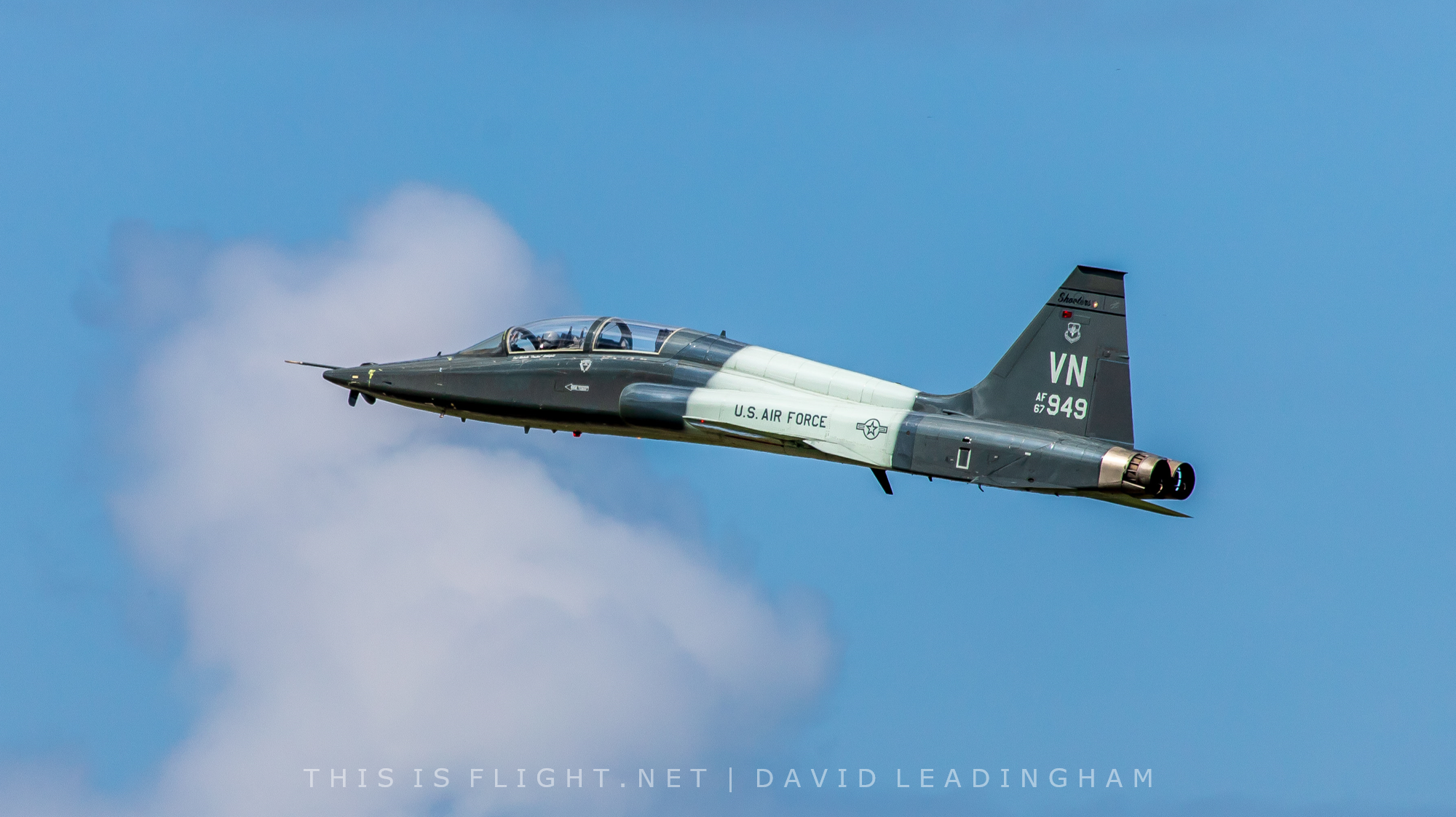 As members of the public came through the gates onto the airshow grounds, they were treated to musical hits of the 1940s sung by the Ladies for Liberty, a singing trio who perform in the style of the Andrews Sisters. The air display itself opened with the Ladies for Liberty singing the US National Anthem while four T-38 Talon jets from the 25th Flying Squadron performed a flyover. I was a little disappointed we didn't get to see more of these jets demonstrating their capabilities.
The Chennault International Air Show had a mix of performers; jets, a helicopter and prop planes, including warbirds and aerobatic performers. It also included the standard jet truck and comedy routines and a BMX demonstration. During the show, guests could take a ride on a helicopter or get behind the wheel of a precision exotic car and drive as fast as they wanted down the runway.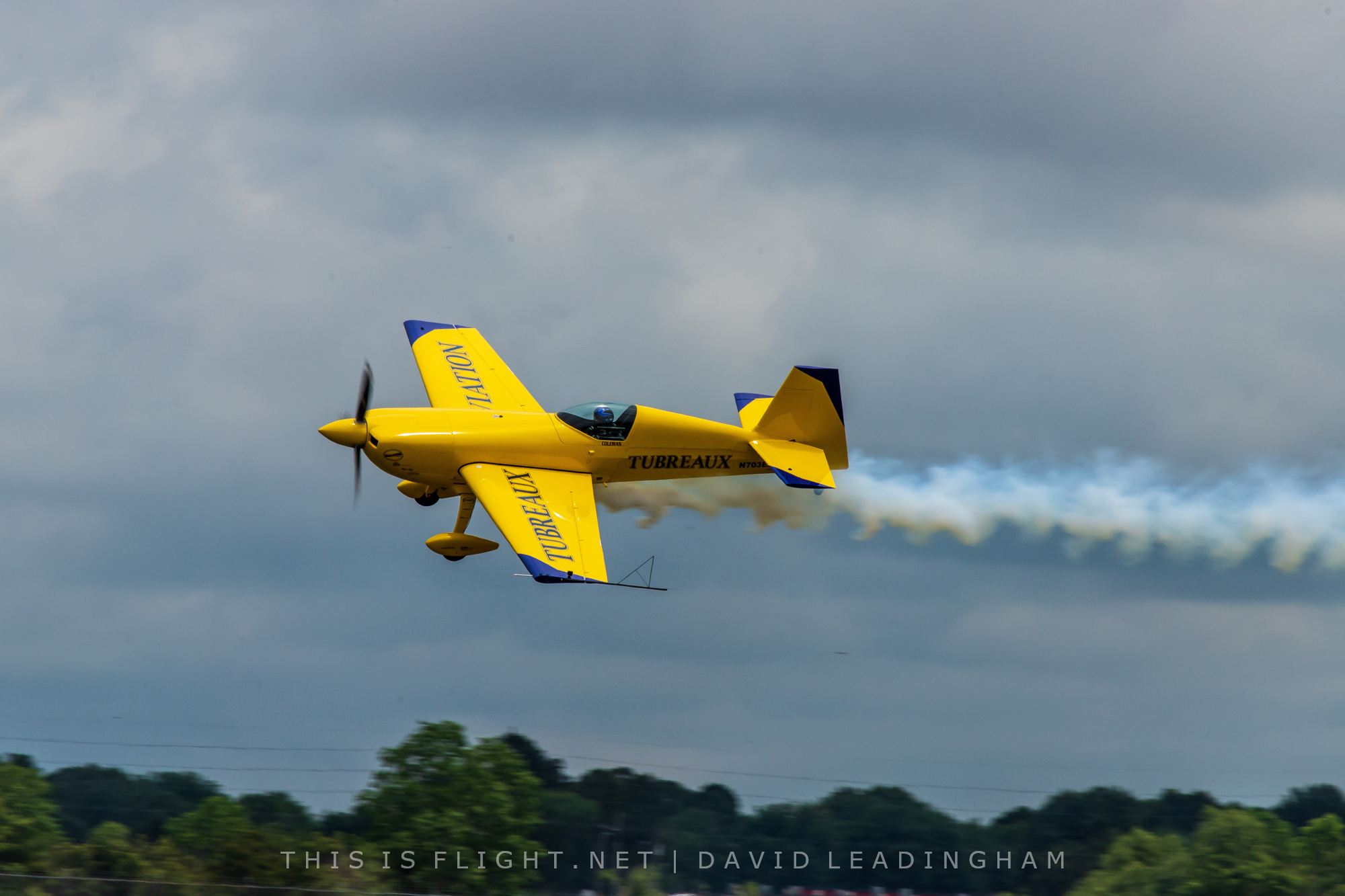 This airshow was a little heavy on the aerobatic acts. Don't get me wrong, I'm not knocking these types of acts – the skills of these pilots and what they can do with their planes is amazing. One of my favorites is Kevin Coleman. A local to Louisiana, Kevin is one of the youngest airshow performers in the world and flies a bright yellow 400 horsepower Extra 300SHP. From a vertical climb, he then tumbles down with twists and turns through his smoke trail to perform awe-inspiring loops and half Cuban eights. Kevin is always a crowd pleaser, especially in his home state. Later on in the show Kevin came out a second time to race a jet powered fire truck.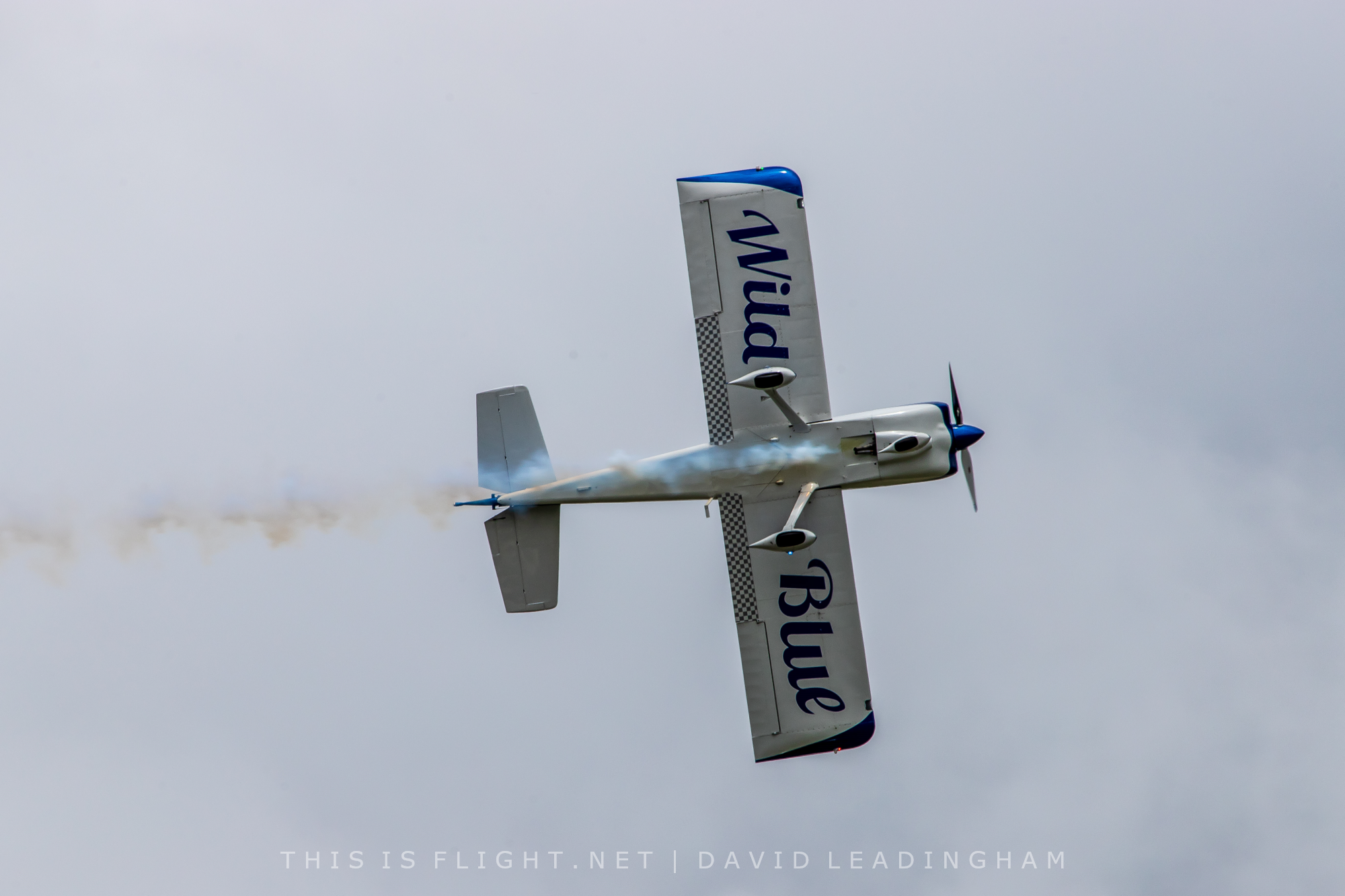 Another aerobatic act at the show was Wild Blue, the "Little RV (RV-8A) who dreams of becoming a fighter jet. Rightfully so because Wild Blue is piloted by another Louisiana native, Lt. Colonel Joshua "Tater" Boudreaux. The performance is narrated by Lunar Sawyer from Airshow 360, with whom This is Flight has teamed up to expand our airshow coverage! As Wild Blue performs various exciting maneuvers, Lunar helps tell Wild Blue's story, hoping to inspire both adults and children.
Jacquie B (Jacquie Warda) is another exciting performer to watch at airshows, flying a two-seat Extra 300L. She has over 3,200 hours of flying time and holds an Ace 1 card which allows her to perform all the way down to the surface. In addition to her exciting routines, when she isn't flying, Jacquie spends her time speaking to schools and other groups, particularly involving women and young girls. "We must give back" says Warda. "Our real job is to educate others of the vast opportunities in the world of aviation and share our passion, and make sure others learn about and experience what we love so much. We must help others get started down the path of achieving their dreams, and by simply giving a ride in an airplane, it works! It's a small gesture but makes a HUGE impact on the lives of many".
Throwing a little something different into the prop plane aerobatic mix, Chennault also saw performances from Greg Koontz. Greg first performed in his Decathlon, a two seat high-wing aircraft that is used in flight training, but it can perform aerobatic maneuvers. Greg certainly demonstrated that here, with inverted passes, loops, half Cuban eights and barrel rolls. Later on in the show, he performed with the Alabama Boys in comedy act. The act starts out with someone on the ramp, who jumps in a Piper Cub, "stealing it" for a joy ride. I'll admit, the first time I saw this act, it fooled me at first. "Grandpa" tries to bring the plane down, firing his rifle at it. To end the performance, Greg lands the plane on the back of a truck as it cruises down runway! Now that's skill.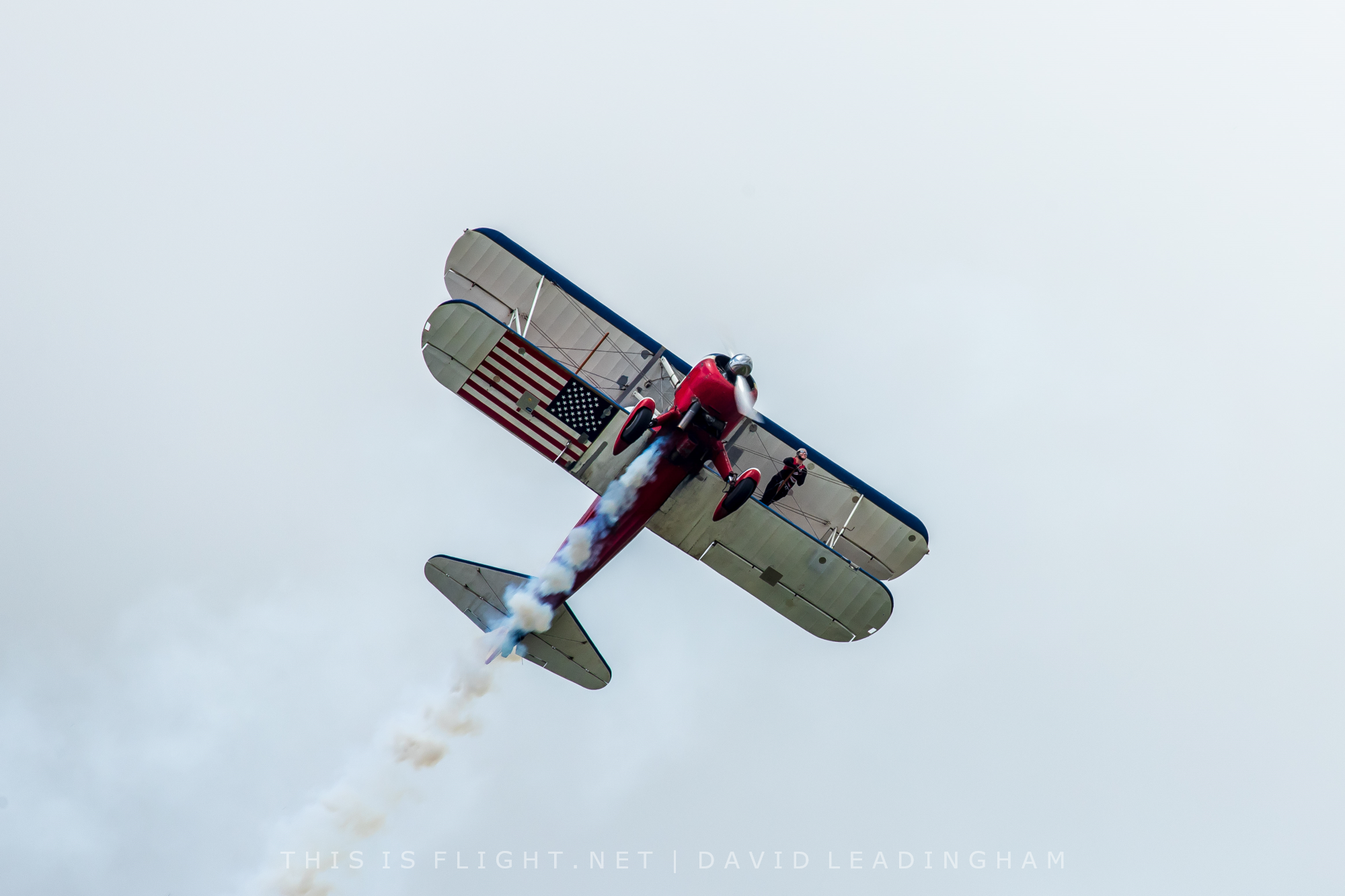 If you want an airshow act that will cause you to repeatedly hold your breath, well then Greg and Ashley Shelton will do just that. Greg flies his Boeing Stearman, putting it through its aerobatic maneuvers – but he does so while his wife, Ashley, walks along the wings of the plane! During the performance, Ashley moves between standing on the top wing to sitting on the lower wing and back, all while Greg is performing loops and rolls. There's a lot of trust in this marriage!
This other aerobatic act was the Red Bull Air Force. For Chennault, the Red Bull Air Force performance included an MBB Bo.105 aerobatic helicopter, the Red Bull Jump Team, and Red Bull aerobatic pilot Kirby Chambliss in the Edge 540. The helicopter performed maneuvers you normally don't see a helicopter doing. Upside down? Yep. Rolls? Yep. All achieved thanks to the Bo.105's unique hingeless rotor system.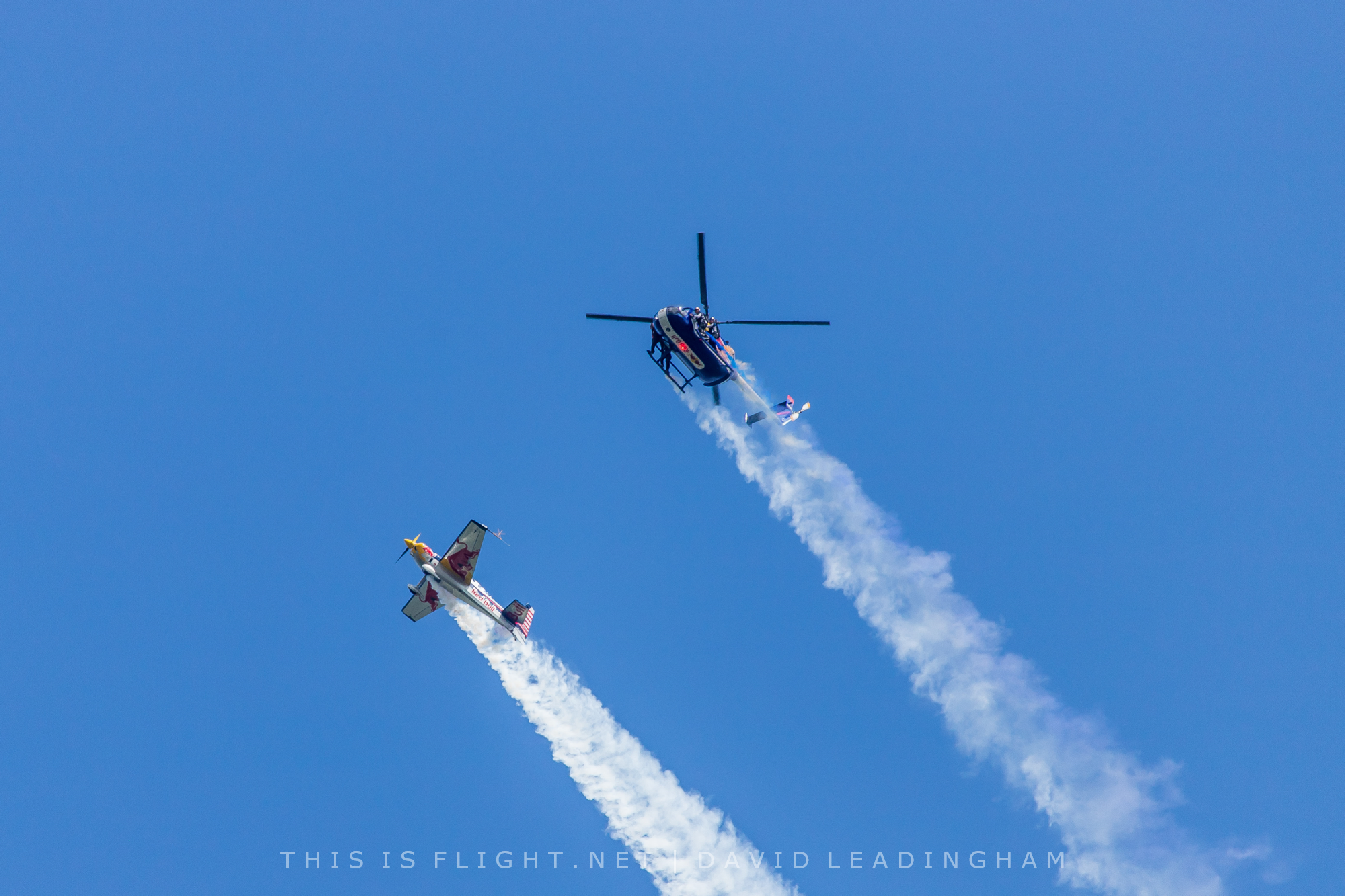 Not your standard when you think of an aerobatic performance, Matt Younkin brought his Beech 18, a plane that was designed for transport, not aerobatics, but Matt flies it beautifully and is one of my favorites to see in air shows, possibly because of the sound alone of its two 450hp Pratt and Whitney R985 engines, but also because of how graceful this plane is in the sky. Matt's signature move is called the "Elephant Waltz" in which he slows the plane down in a dirty pass, flaps extended and gear down, and rocks the plane back and forth almost 90 degrees.
Chennault had a small line-up of warbirds: B-17 Flying Fortress "Texas Raiders" and a P-40 Warhawk. Unfortunately, the P-40 was not able to make it in due to weather conditions. "Texas Raiders" was one of the last 20 B-17s to be built and she is a member of the Commemorative Air Force.
The Chennault International Airshow had one team act performing this year, the Phillips 66 Aerostars. They usually perform with four Extra 300L aircraft, but at this show flew only three planes. The aircraft fly in tight formations, performing loops and barrel rolls, as well as performing opposing maneuvers, crossing paths within mere feet of each other. The team currently has over 80 years of combined flying experience.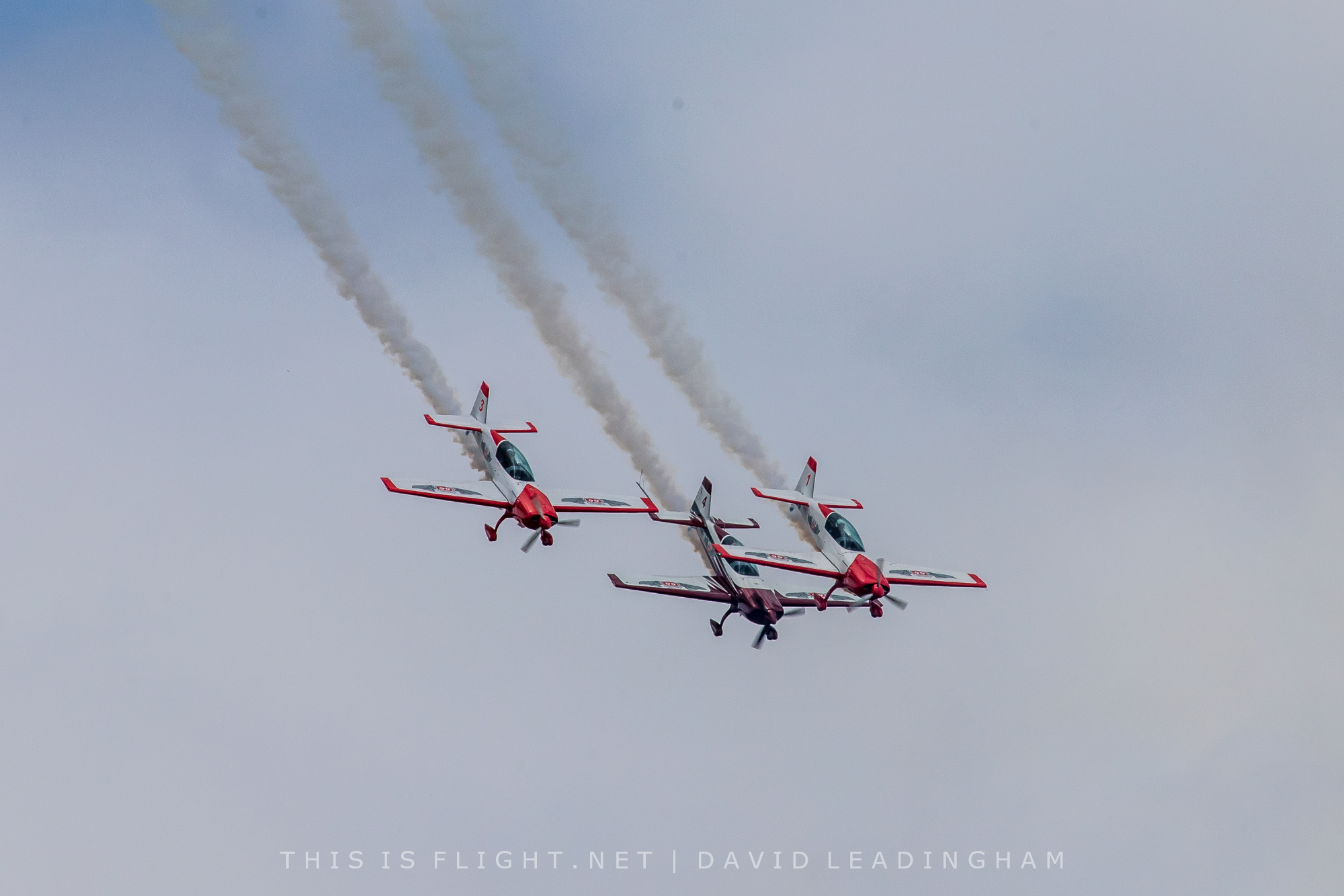 Chennault had two jets performing this year, beginning with airshow favorite Randy Ball. This show, Randy brought his MiG-17F "Fresco" 1611. A Vietnam war era plane, the MiG-17F can reach speeds around 700mph, which Randy demonstrated with his high-speed passes, afterburners on with that signature flame clear to see at the rear of the plane. Randy performs all around the United States and is always exciting to see every single time.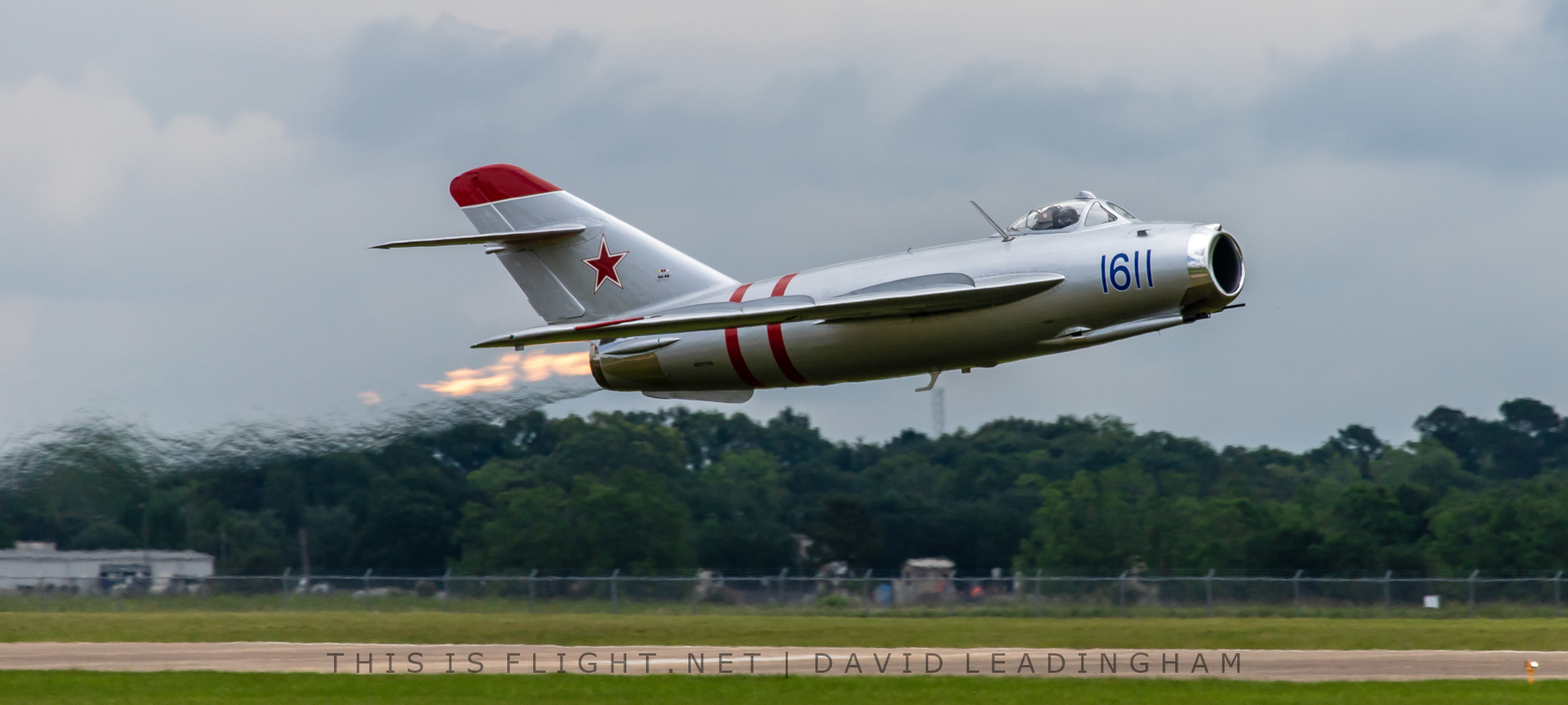 Chennault concluded with its headline act, the F-22A Raptor. The F-22 is one of only two operational fifth generation fighters and is a critical component to the USAF Global Strike Task Force, quickly bringing air dominance at great distances. This F-22 comes to Chennault from Air Combat Command's F-22 Raptor Demonstration team from Langley Air Force Base and is piloted by Major Paul "Loco" Lopez. Maj. Lopez demonstrated some of the capabilities of the F-22, including its excellent maneuverability at high and low speed. However, as the narrator told the crowd, there's a lot that Maj. Lopez can't show us! The F-22 demonstration concluded with a heritage flight, comprising the F-22 and a P-51D Mustang (originally, the P-40 was scheduled to conduct the flight).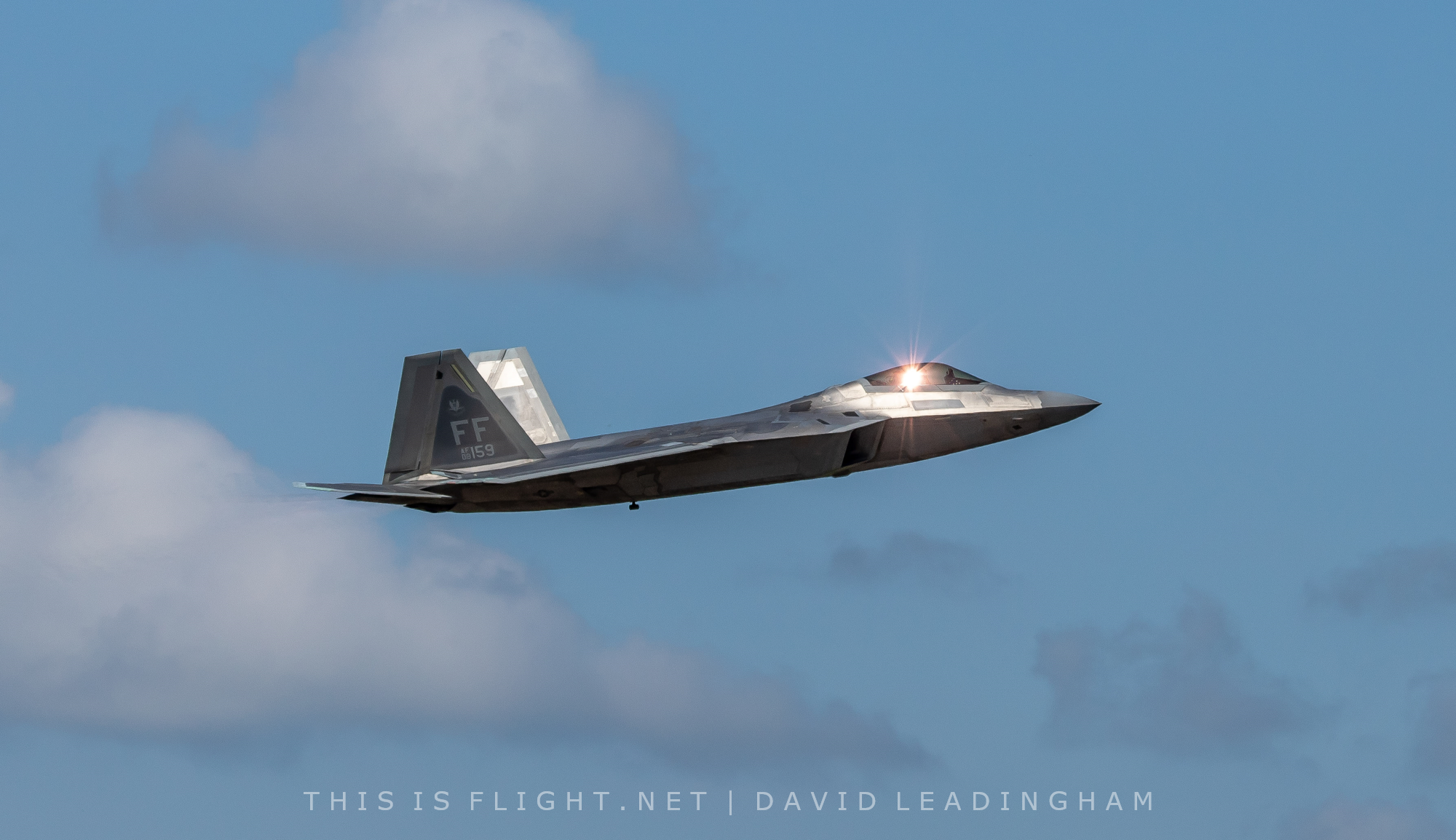 In addition to the flying acts, there was a wide variety of static aircraft on display, from the large B-52 Stratofortress and C-5 Galaxy to F-15 Eagles and an A-10 Warthog. There were also booths from Northrop Grumman, the Air Force and Air National Guard, as well as a hanger with STEM exhibits and activities.
This was my second time attending the Chennault International Air Show, and it has once again been a fun and entertaining show with a good variety of performers. In addition to regular flight line viewing, there are VIP tents and a photo pit – if you are a photography enthusiast, I strongly suggest buying a ticket to the photo pit, which is in a great spot, right on the flight line, with excellent angles for taking all the pictures your memory cards will hold. Cold water and shade are also provided, which is a huge plus always!
I look forward to two years from now for the next one!