The complete sixth series of Airshow Dispatches, comprising ten episodes, is now available free to view on This is Flight. Each episode covers a different airshow from the 2023 season, with every event hand-picked to represent the broadest and most memorable pick of 2023's airshow action. The series travels to seven nations, visiting a mix of familiar favourites, new events and one-off anniversary celebrations; highlights include seeing the F-104 taking part in the Italian Air Force centenary, a historic formation of Me262, MiG-15 and Sabre in Paris, a fond farewell to Poland's MiG-29s and Su-22s, LIMA's remarkable 'Opening Gambit' and 11 military jet aerobatic teams, from China's August 1st to the USA's Blue Angels.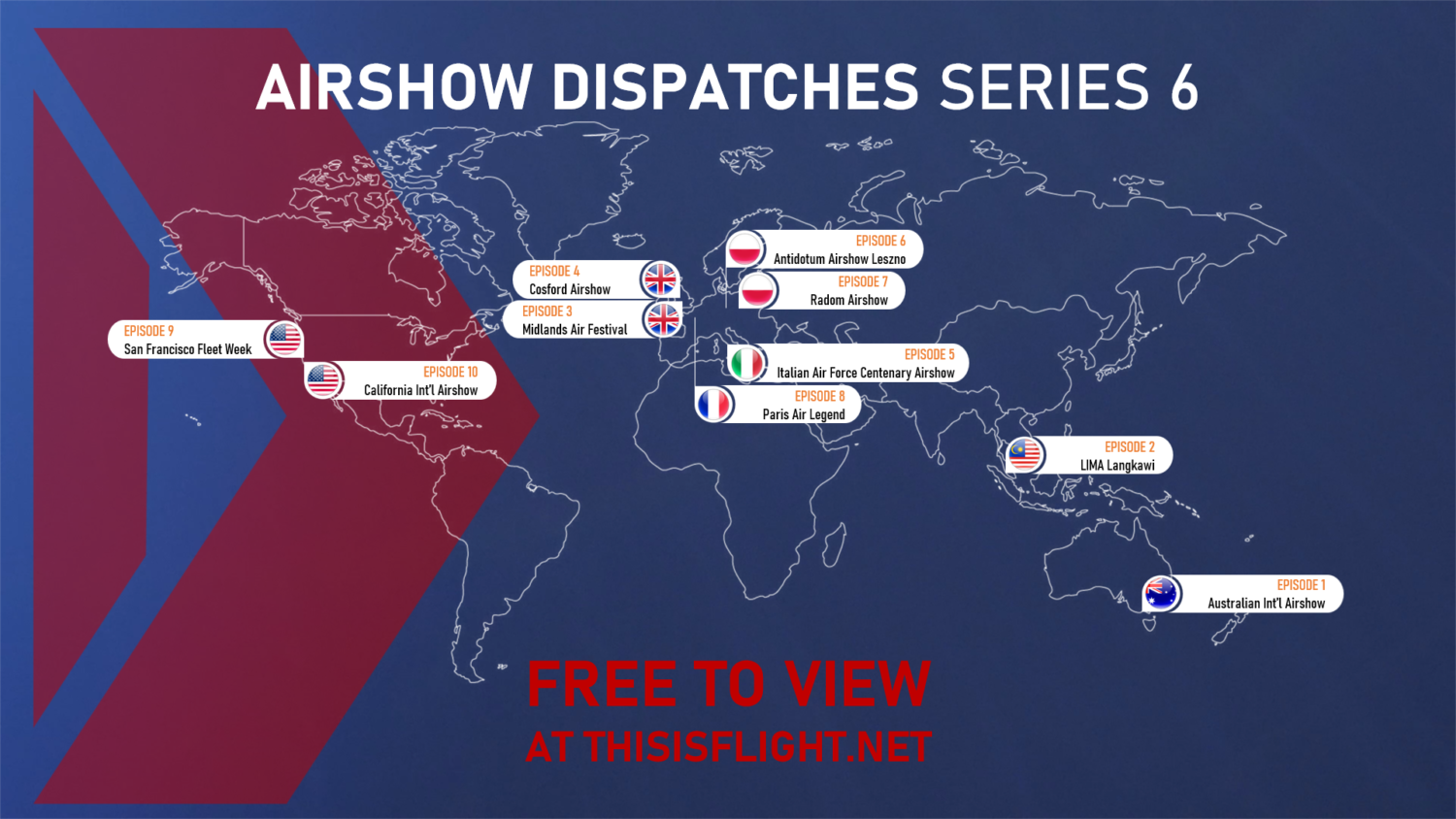 Since 2018, Airshow Dispatches has featured 60 airshows around the world, but the sixth series may be the last in the show's current form. More information about the future of Airshow Dispatches will be published in due course.
---
S05E01: AUSTRALIAN INTERNATIONAL AIRSHOW

[50 minutes]
Avalon returns for the first time since the pandemic, local performers being joined by several high-profile visitors: the USAF F-22, JASDF C-2 and ROKAF Black Eagles. The Royal Australian Air Force showed off most of its inventory, with full solo displays by the Super Hornet and F-35A and an ADF Showcase, which featured more Hornets, as well as the KC-30, P-8 and E-7. 100 Squadron warbirds also participated, including their Canberra TT.18.
---
S05E02: LIMA LANGKAWI

[50 minutes]
Featuring five national aerobatic teams (August 1st, Russian Knights, Al Fursan, Jupiter Aerobatic Team, Black Eagles) and solo displays by Malaysia's F-18s and Su-30s, LIMA is the ultimate showcase of Asian airpower. The highlight is the Royal Malaysian Air Force's outstanding 'Opening Gambit', an unforgettable 7 minute display featuring more than 30 aircraft (Su-30s, F-18s, Hawks, C-130s, A400M, helicopters, trainers and more), complete with plenty of flares.
---
S05E03: MIDLANDS AIR FESTIVAL

[60 minutes]
We returend to the charming annual air, balloon and firework show held in the gardens of the Ragley Hall estate. As well as being the first opportunity of the year to see the Red Arrows and the RAF Typhoon, the organisers also secured a rare Typhoon/Lancaster synchro pair display and civilian rarities such as the Gazelle Squadron, Saab Draken and Bronco.
---
S05E04: RAF COSFORD AIRSHOW

[60 minutes]
The RAF's only airshow of 2023 featured a trio of national aerobatic teams: Red Arrows, Patrouille Suisse and Royal Jordanian Falcons. It also featured flypasts by several rarely-seen RAF assets, including the F-35B, Atlas and Hercules, the latter making its final airshow appearance before retirement.
---
S05E05: ITALIAN AIR FORCE CENTENARY AIRSHOW

[60 minutes]
Truly an airshow for the history books, this event brought together over 100 active Italian AF aircraft and the largest possible variety of former Italian AF warbirds for the flying display. Modern highlights included the Typhoon, C-27, Frecce Tricolori and 87-aircraft Air Parade, while historic highlights included the F-104, DC-6, Horsemen, CA.3 and a FIAT G.91 restored especially for the occasion.
---
S05E06: ANTIDOTUM AIRSHOW LESZNO

[90 minutes]
Wild, ingenious and just plaibn fun, Leszno is quickly making a name for itself as one of the most exciting airshows in Europe. An evening airshow specialising in pyro displays, this year featured more military participation than ever before: highlights included revamped displays by a Polish C-130 and the Swiss PC-7 Team, the rarely-seen German Eurofighter demonstration, Swiss Super Puma, Slovenian PC-9 and Polish F-16 – many of them displaying with flares. Civilian highlights included a Vietnam War re-enactment, crowd favourites Aerosparx, Bo105.pl, Marek Choim and the Flying Dragons, and a very unusual comedy act indeed.
---
S05E07: RADOM AIRSHOW

[90 minutes]
One of the biggest military airshows of the year and the first airshow to be held at Radom since 2018, this was the first chance to see some of Poland's latest procurements (FA-50, AW101, AW139 and S-70) and possibly the last chance to see their outgoing MiG-29, Su-22 and Mi-14 – plus rare full display profiles by the Bielik and C295M. Visiting performers included Belgian, Greek and Danish F-16s, the Czech Gripen and W-3, RAF Typhoon and the Patrouille Suisse. The event also included a night show for the first time, featuring the likes of a pyro-equipped TS-11 and a Su-22 flyby, with the aircraft dropping photo flash flares from its recce pod.
---
S05E08: PARIS AIR LEGEND

[90 minutes]
Featuring 30 piston warbirds, over 10 vintage jets and a large modern military contingent, Air Legend presents an unparalleled chronological look at aviation history from the 1930s to date. Warbird highlights this year included an emotional return to France by a B-17, formation aerobatics by the Flying Bulls, newly-restored P-51 Mustangs and a fantastic three-ship display by an Me262, MiG-15 and Sabre. In their 70th anniversary season, the Patrouille de France were joined by the Fouga Magisters of Patrouille Tranchant, while Rafales were represented by various solo, two- and three-ship tactical displays. A very rare E-2C Hawkeye also featured, and France's secretive DGA participated in its first flying display for several decades with one of their new TBM 940s.
---
S05E09: SAN FRANCISCO FLEET WEEK

[20 minutes]
The Blue Angels looked stunning as they flew low over the bay, their display filmed both from the shoreline and from Alcatraz Island. Other highlights included a United 777 – the only time this year that an airliner flew a full display profile at a North American airshow – and the USMC's F-35B demonstration.
---
S05E10: CALIFORNIA INTERNATIONAL AIRSHOW

[40 minutes]
One of just two North American airshows this year to have a double billing of military jet aerobatic teams, the skies of Salinas were graced by the Snowbirds and Thunderbirds – as well as the US Navy's F-35C demonstration. Airshow legend Kent Pietsch also featured, in one of his final airshow appearances before retirement.