The Langkawi International Maritime & Aerospace Exhibition (LIMA) is one of the most consistently fascinating and high-quality airshows in Asia. With four hours of flying over the public days, featuring an appealing selection of Russian, Asian and European assets, it is easy to see why tens of thousands flock to the Malaysian resort island every other year. But as with all events in the region, information is lacking and aspects of the show's organisation are unpredictable, bordering on bizzare. These are our tips and recommendations to maximise your enjoyment of the show. Click here for a list of participating aircraft.
---
2019 airshow schedule
| | | | |
| --- | --- | --- | --- |
| Time | Event | Access | Location |
| Tuesday 8:00-08:30 | Opening Ceremony air display | Invitation | MIEC |
| Tuesday 10:00-12:00 | Maritime demonstration | Public | RWL |
| Tuesday 12:00-14:30 | Opening flypasts & aerial display | Invitation | MIEC |
| Wednesday 10:00-12:00 | Maritime demonstration | Public | RWL |
| Wednesday 12:30-14:30 | Aerial display | Trade | MIEC |
| Wednesday 17:00-18:00 | Maritime demonstration | Public | RWL |
| Thursday 10:00-12:00 | Maritime demonstration | Public | RWL |
| Thursday 12:30-14:30 | Aerial display | Trade | MIEC |
| Thursday 17:00-18:00 | Maritime demonstration | Public | RWL |
| Friday 10:00-12:00 | Aerial display | Public | MIEC |
| Friday 10:00-12:00 | Maritime demonstration | Public | RWL |
| Friday 14:30-16:30 | Aerial display | Public | MIEC |
| Friday 17:00-18:00 | Maritime demonstration | Public | RWL |
| Saturday 10:00-12:00 | Aerial display | Public | MIEC |
| Saturday 10:00-12:00 | Maritime demonstration | Public | RWL |
| Saturday 14:30-16:30 | Aerial display | Public | MIEC |
| Saturday 17:00-18:00 | Maritime demonstration | Public | RWL |
---
Ticket options
LIMA is split between two sites, with the majority of the flying taking place at the Mahsuri International Exhibition Centre (MIEC) in the international airport. Unlike so many airshows nowadays, there are only three ticket options to enter the MIEC section during LIMA for the general public.
The most common ticket type is a standard one day pass, which is paid for and obtained at the Registration Hall for a bargain price of RM20 (a little under £4 or $5, or a little over €4). Those who register online before the show can take advantage of two further types of tickets with small discounts available: a pre-booked one day pass costs RM15, and a pre-booked two day pass costs RM25.
Visitors must be formally registered before being admitted and may be refused entry if not wearing appropriate attire (long trousers and covered shoes). Allow plenty of time for the registration process (particularly if you have not pre-booked your tickets) and turn up as early as  you can: the first flying displays begin very soon after the gates open and there is additional security screening before you reach the main aerial display viewing area, so you will want to be near the front of the queue.
The maritime displays take place at Resort World Langkawi (RWL) and are free to enter. Displays are only officially staged at RWL during the last two days.
---
Getting there

Langkawi has a small international airport served from destinations around southeast Asia, and even some further afield. Many spectators must fly via Kuala Lumpur, where regular short shuttles to Langkawi are run by Malaysian Airlines, with a flight time of less than an hour.
As public transport is virtually non-existent on Langkawi, renting a car is an easy option – and can be done surprisingly cheaply, even during airshow week. There are a number of low-cost car hire companies based out of the main airport terminal, although pre-booking is strongly recommended during this period.
Parking is available at MIEC, and we used it without major incident during the trade days. On the public days a taxi was used to reach the site, at a very low cost, although leaving at the end of the day was much harder.
Parking in RWL's main car parks, meanwhile, is easy, although some queues may develop after the maritime displays complete.
The airshow run half-hourly free shuttlebuses between MIEC and RWL, and also advertise buses between MIEC and a number of towns and resorts. Even after four days at the show, however, the reviewer was unable to find where or when these buses operated, and so cannot recommend reliance upon this service.
---
Where to stay
Langkawi is busier during LIMA than at any other time, so book hotels well in advance and expect prices to be higher than usual. However, as a resort island, there is sufficient choice that there remains affordable options for most tastes and budgets. Your reviewer stayed at the Sunset Valley Holiday Houses in rural Langkawi, a pleasant 20-30 minute drive to MIEC.
---
At the show
For two reasons, the best photographic opportunities at LIMA come from outside the airport. Firstly, facing northeast, the morning aerial displays at MIEC require spectators on-site to look directly into the sun. Secondly, the most spectacular display of the show is a half-hour one-off demonstration by dozens of fighters and helicopters of the Royal Malaysian Air Force during the opening ceremony at MIEC. This takes place at around 8:00 on the Tuesday, when the show site is open only to VIPs.
Viewing the displays from off-base is not frowned upon in Malaysia (although certain safety risks will, of course, remain). There are several well-established viewing locations around the airport, shown on the below map. Site A (not advised during the show days due to traffic and parking restrictions, but a good spot during rehearsals) lies along the airport perimiter near the local Police Academy on Highway 115. It offers a similar view to inside MIEC, but to the right of show centre. Site B, along the airport perimiter directly opposite MIEC, is particularly popular all week, sitting right underneath the display box at the end of Highway 158. Site C is the most unique, at a hillside viewpoint along Highway 112. While furthest from the airport, this offers a spectacular vantage point looking down at the apron from above. However, this site becomes extremely crowded and parking is very limited – arrive early in the morning to claim a space, and bring a long lens or a pair of binoculars to get closer to the action.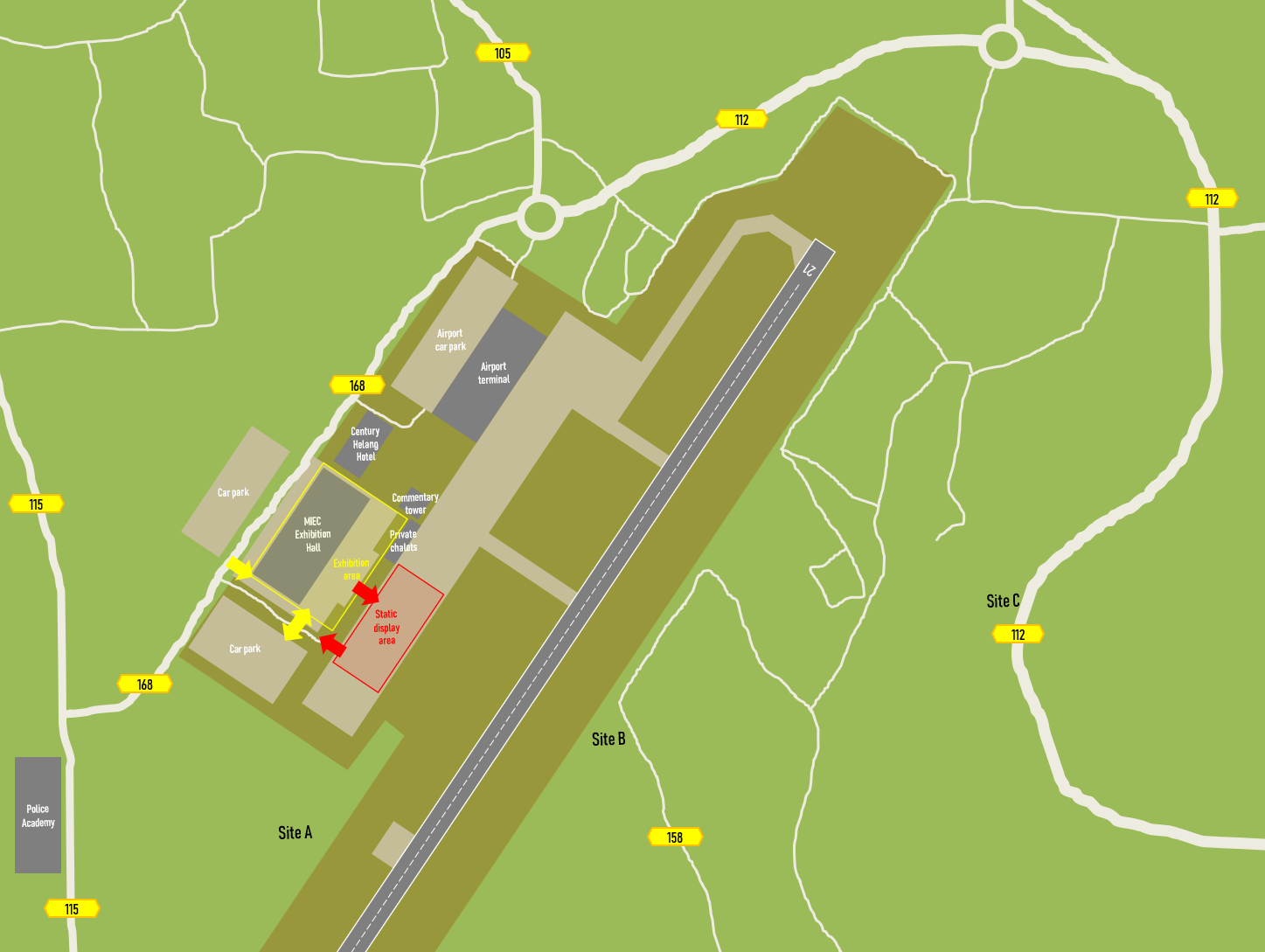 The show site itself offers a good view of the flying with an attractive mountainous backdrop – particularly in the afternoons when lighting is favourable. However, be aware that static aircraft are parked with their tails overhanging the crowdline, so parked aircraft will obscure parts of the view from some positions. Also bear in mind that visitors must pass through additional security screening when heading to the apron to view the static and flying displays. Allow extra time for this, as it can lead to an unexpected 20 minute delay just as you try to catch the start of the action. Disposable water bottles will also be consficated at this point – bring water in a non-disposable bottle as you will be exposed to the tropical heat for some time.
Note that the flying displays at MIEC are usually different on each of the trade days, you can probably expect to see every act fly during the public days. The opening trade day has a slightly lengthened aerial display to accomodate flypasts from the likes of Malaysia Airlines and the US Air Force. The exact flying programme for each day is not usually available in advance, but you may be able to find a paper print out for the day's displays outside the media centre and event organisers' booth in the northwest corner of the exhibition hall. Occasionally a photograph of the schedule is posted to the show's Twitter page as well.
For the maritime displays, the only viewing area is from within RWL. We advise visitors not to arrive too early, as, beyond these brief and photographically-interesting displays, there is little else to do or see at the venue. We arrived at RWL about one hour in advance, just as the car park was reaching capacity.
Above all, treat the official schedule with scepticism. Anything marked on the schedule will happen, but there are often unannounced extras or unexpected twists. The flying and maritime displays, for example, are not the same on each day, and their exact contents is not usually announced in advance. It is also not unknown for single displays to give additional performances outside of the published display times – in 2017, an RMAF F/A-18D Hornet gave a sunset demonstration on the last public day just as the site was due to close, and the maritime displays were staged, unannounced, during one of the trade days, for the benefit of a visiting VIP.
---
Reviewer's summary
LIMA can be downright frustrating at times, but with five full days of flying, clever planning should ensure you see all or most of the performances at the show. Be prepared to be flexible, plan to arrive everywhere early, experiment with different viewing locations and, above all, anticipate the unexpected, but don't be too sore if you find out you missed something. For a week of rare aerobatic teams, exotic jet solos and spectacular set-pieces, the above is surely worth it.