The Imperial War Museum at Duxford is one of the largest and best-known aviation museums in the world, but the airfield is probably best known for its major annual airshows. Although no longer the host of Flying Legends, the museum holds three two-day weekend airshows each year, as well as a number of smaller weekend and weekday events.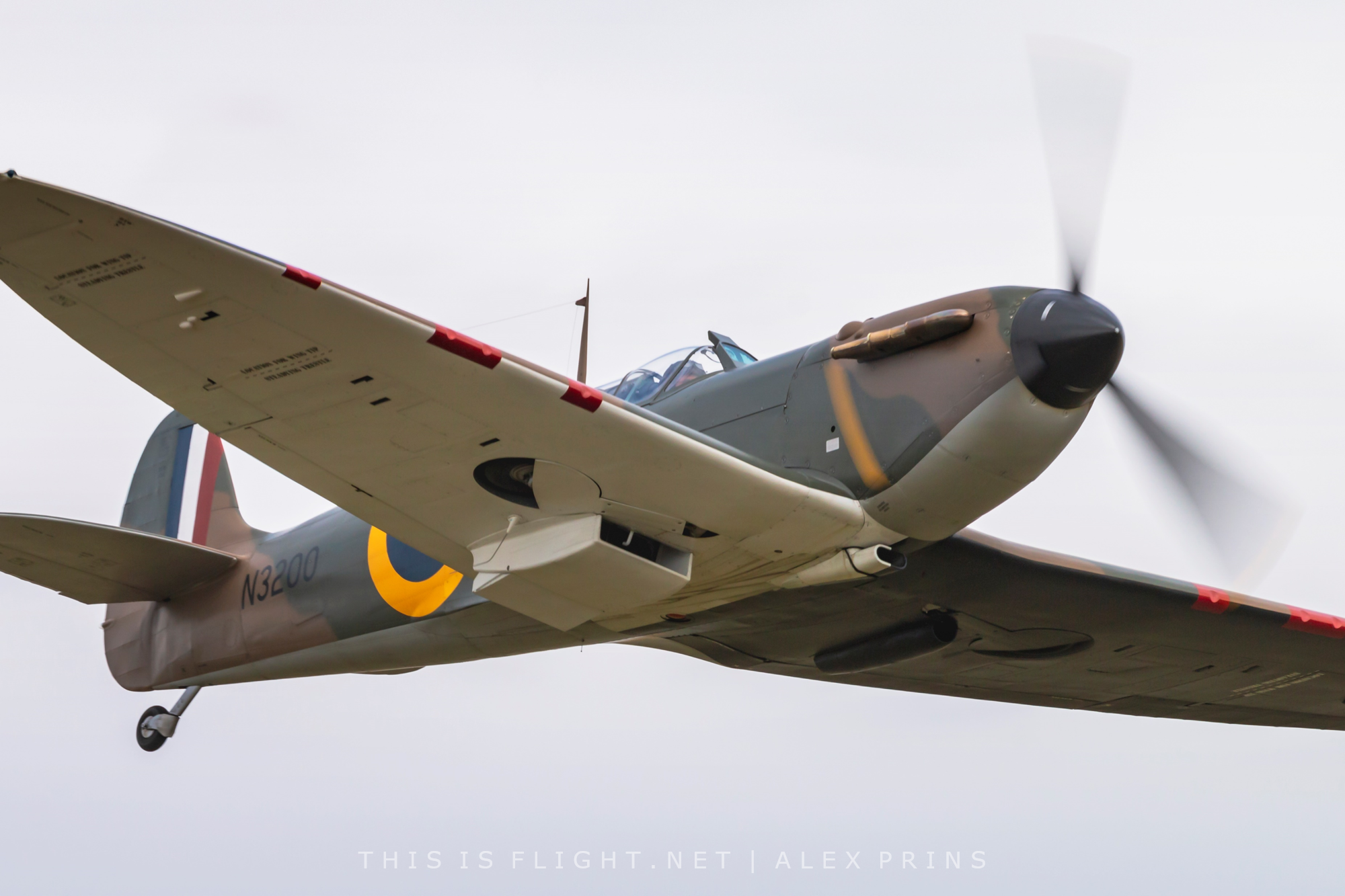 ---
Events at Duxford
Duxford's major weekend airshows typically fall in late May, mid-July and late September. The May airshow, the Duxford Air Festival, features a broad array of civilian displays, as well as several warbirds and military types. The September show has a stronger theme, and usually focusses on the Battle of Britain. The July slot was previously occupied by Flying Legends: the Air Festival will be moved into this slot in 2021, with no major airshow in May that year.
Due to the large crowds and lengthy flying displays (typically running from lunchtime until around 5pm), it is not possible to fully explore the museum on airshow days.
Of the museum's smaller events, of most interest to aviation enthusiasts are Flying Days (formerly known as Showcase Days). These one-day mini-airshows, held several times throughout the year, focus on aircraft based at Duxford, many of which aren't featured in larger airshows. Flying Days attract small crowds, and are designed to allow time to explore the museum, with flying taking place from 1pm-2pm, and again from 3pm-4pm. Flying Days are sometimes held in conjuction with other events, such as classic aircraft fly-ins and general aviation expositions.
---
Ticket options



Standard admission to the Imperial War Museum on non-event days costs £17.85 per adult, or £8.95 per child (under 16). On Flying Days, this increases to £28.50 per adult or £14.25 per child. The Imperial War Museum offers a membership scheme, starting at £60 per year (or £114 annually for families), which includes free unlimited access to its museum sites, including for Flying Days at Duxford; if you plan to visit IWM's paid sites more than three times in a single year (including IWM Duxford, HMS Belfast and the Churchill War Rooms), one-year membership will leave you in pocket. Across a single year, membership will grant you access to up to ten Flying Days as well as airshow practice days, all for less than double the cost of a single standard airshow ticket! Membership will also entitle you to priority booking at some events, discounts in IWM shops, 10% off Duxford Airshow ticket costs and access to a private viewing area during Duxford Airshows.
On Duxford Airshow days, standard airshow tickets cost £36, with a small discount for IWM members and earlybird customers. Children under 16 go free. Three significent upgrade packages or extras are offered:
The Flightline Experience on the airside sections of the airfield allows small groups of visitors to get up close to the performing aircraft, before the start of the aerial display. Costing £5 in addition to airshow admission, this is generally seen to be poor value for money.
The Grandstand Experience promises access to bleacher-style seating near show centre, and costs £15 per person in addition to airshow admission. While guaranteeing an unobstructed view, the grandstand is not located in an area generally favoured by photographers.
Gold Admission includes access to a dedicated marquee near show centre, VIP parking, a free drink, private catering (available at a cost) and admission to the Flightline Experience. Costing £95 for a visitor of any age, Gold Admission is an alternative to purchasing a standard admission ticket and the cost is inclusive of entry to the airshow. Gold Admission is not recommended for photographers, who are asked to stand behind seated guests while in the private enclosure.
Note that, with the exception of Gold Admission, parking is not included in the cost of your ticket on airshow days, and a £5 parking pass is required for each vehicle. Parking is free on Flying Days and non-event days.
All tickets must be purchased in advance and are non-refundable, including in the event of bad weather.
---
Getting there
Most visitors choose to drive to IWM Duxford,which is conveniently located on the junction of the M11 and A505. The airfield is approximately a one-hour drive from north London, 45 minutes from the Luton area, and 20 minutes from Cambridge. Although congestion is to be expected on the A505, especially at the end of an airshow, the event's proximity to the M11 means queues are rarely extreme. On Flying Days, there is no noticable traffic build-up.
Free parking is available in the East Car Park on Flying Days and non-event days, while on airshow days, a £5 car pass is required, which must be purchased in advance. On airshow days, VIP parking is available within the museum site, in and around the East Car Park. Other drivers will be directed into either the North Car Park, from which the museum is accessed via a short walk over a footbridge, the West Car Park across the road from the Land Warfare Museum, and the West Car Park, located on the museum site, behind the American Air Museum (see a map below).
The museum is accessible by public transport, with the nearest train station being Whittlesford Parkway. Whittlesford Parkway is served by half-hourly Greater Anglia services between London and Cambridge, with tickets from London Liverpool Street starting at around £15 and the journey taking just over an hour. From the station, it is a half-hour, 1.5 mile walk to the East Car Park entry gate, all on segregated footpaths, although walkers must cross two M11 slip roads – the most challenging part of the journey! It is uncommon to see visitors making this journey, although our reviewers recommend it.
For those wishing not to walk, free shuttle buses are laid on from Cambridge and Royston railway stations, Royston being served by regular Great Northern services from Kings Cross and somewhat less regular Thameslink trains from St. Pancras International (although both stations are interconnected). Buses pick up passengers from the stations from 8:30am to 1:30pm, and return to the station between 3:30pm and 6:30pm, operating from the East Car Park. This service is both popular and highly reviewed, but we are yet to test it out.
On non-airshow days, except Sundays, the 7A bus can help bridge the gap between Whittlesford Parkway and Duxford, with a journey time of ten minutes. The 132 bus operates from Cambridge Railway Station all week, with a journey time of about half an hour. Both services stop just outside the East Car Park, and operate approximately once every two hours. However, due to the low frequency of these services, we highly recommend driving or walking from Whittlesford Parkway – or, at least, being prepared to do so, if the buses don't show!
---
Where to stay
Duxford is close enough to London that there are an abundance of accomodation options. Those travelling by car will find the journey perfectly doable from London or many Home County towns, such as Bedford or Watford, even on successive airshow days. Similarly, those travelling on public transport can travel to Duxford easily from any town that has good transport links to Cambridge or London Liverpool Street stations. There will, in due course, be a luxury hotel on the airfield, next to the Air & Space Museum, for those who wish to be even closer to the action – but this is likely to charge very high prices on event days.
---
At the show
We have found that the museum hangars take around two hours to explore, or three if you wish to take your time. This is perfect either for a short daytrip, or in conjunction with a Flying Day. Duxford is also a "living museum", with warbird operations and pleasure flights taking place most days, when weather permits. You may also be lucky enough to catch a display practice, so keep an eye on the flightline and be prepared to rush outside if you hear an engine cranking into life. On Flying Days and Duxford Airshow days particularly, the airshow is a hive of activity outside the official flying display times, and it is often enjoyable to sit by the flightline and watch the aircraft movements on offer.
Pleasure flights are available through third party operators most days in the Tiger Moth, Dragon Rapide and a variety of two-seat warbirds – primarily Spitfires. Most visitors will be able to enjoy several classic aircraft movements, even on non-event days. On occasion, visitors may also witness air display practices and other flying activity.
On airshow days, the show site is very busy, and it is not practical to fully explore the museum. We recommend taking a quick look in the Air & Space Museum and the American Air Museum, at the very least, but don't expect to be able to board the aircraft on Airliner Row, for example.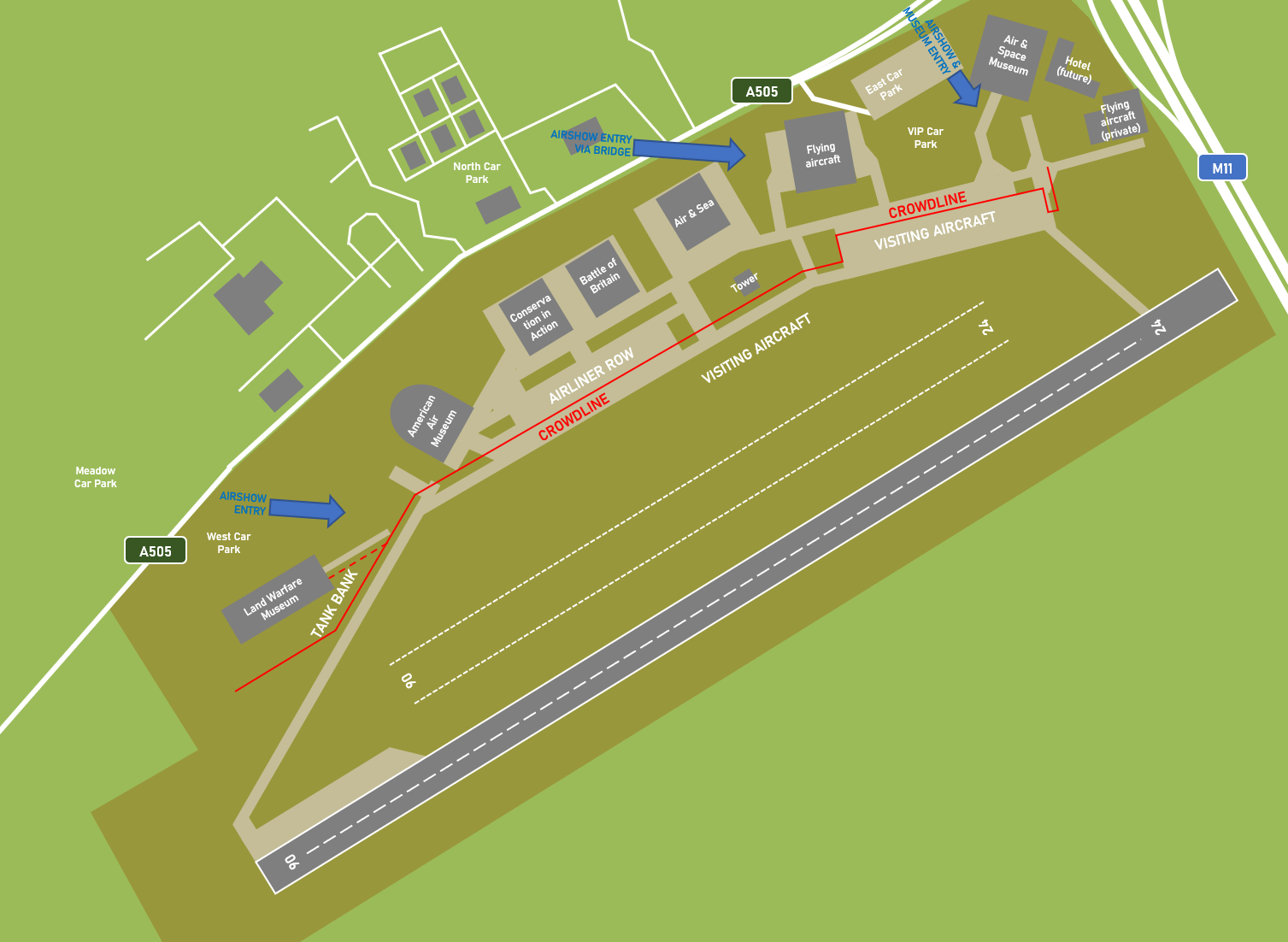 The crowdline at Duxford is reasonably long, and presents several viewing possibilities. Show centre is located by the control tower and hospitality enclosures, near the Air & Sea hangar. While large display teams look best from here, it is not the preferred spot for photographers, who gravitate towards the ends of the crowdline.
The eastern end, near the Air & Space Museum, is a popular spot, as aircraft often perform sweeping topside passes around the hangar. At the opposite end, "Tank Bank", by the Land Warfare Museum, offers an elevated view down the grass runway, making take-offs impressive when made on Runway 24. In times gone by, this was seen as the most desirable spot: as well as sweeping topside passes around the end of the display line, it also offered spectators a chance to get closer than usual to the flying display. However, nowadays, the display line is either moved further from the crowd, or Tank Bank is closed, with an alternative crowdline being imposed (shown in dotted red on the map).
Due to Duxford's orientation, lighting conditions are not generally favourable for photography, but improve towards the end of the afternoon. The distance between the crowd and the display line can also make photography a challenge. This, combined with the high price of entry, may lead some to consider seeking alternative viewing areas outside the airfield. Such activity is strongly discouraged at Duxford, with potential unofficial viewing spots being subject to police patrols.
---
Reviewer's summary
Duxford used to be one of Europe's great airshow franchises, but the loss of Flying Legends,  the "dumbing down" of the May airshow and the reorientation of the crowdline and display line has seen it lose some of its magic in recent years. After several visits, our reviewers have all too often left feeling disappointed, either questioning the value for money offered at the IWM's larger airshows, or bemoaning the unfortunate distance between the crowd and the display lines.
Having said that, it is impossible to deny that Duxford has played host to some of the greatest airshow moments of the last few years, and the exceptional value of its membership packages, for those interested in the museum's Flying Days, is also hard to ignore. For those reasons alone, Duxford is sure to remain high on many airshow enthusiasts' hit-lists for many years to come.