The Snowbirds (official name: 431 Air Demonstration Squadron) are the official aerobatic team of the Royal Canadian Air Force. The team fly nine CT-114 Tutors in their display. The team are based at 15 Wing in Moose Jaw.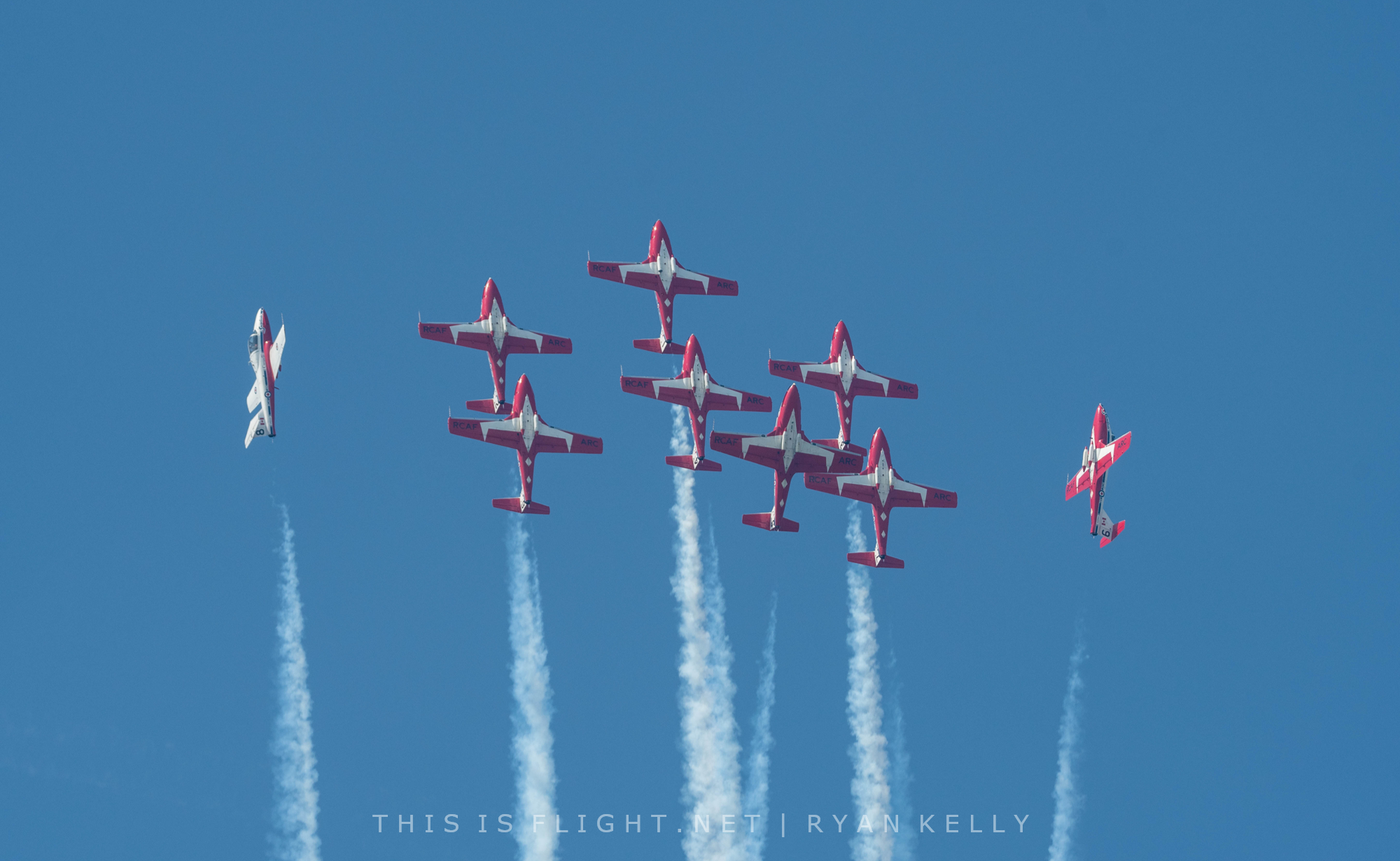 History
The Snowbirds have their roots with 431 Squadron, who were tasked with performing aerial displays with four F-86 Sabres in 1954. In 1970, the RCAF began using four CT-114 Tutors left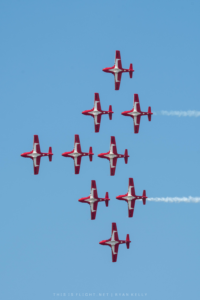 over from the nine-ship Golden Centennaires (a team which performed in 1967 to mark the nation's centenary) for flypasts and small-scale air displays. They had grown into a fully-fledged seven-ship display team by 1971. The team was soon re-named the Snowbirds. The team was formed into its own squadron in 1978 when the 431 Squadron was reactivated and became the Snowbirds.
The CT-114 Tutor has been retired from regular RCAF service, but the Snowbirds will continue flying the type until around 2030 due to the high cost of replacing the fleet. It is not clear what aircraft may replace the Tutor.
Display
The Snowbirds' display changes slightly each year, but it typically begins with several minutes of nine-ship formation aerobatics, following which the team breaks down into smaller groups for more dynamic manoeuvres (typically twos, fours, fives and sevens). The team re-form as a nine-ship towards the end for further formation passes and breaks.

Schedule (2020)
Date
Show
Location
Country
Jun 6-7
Selfridge ANGB Airshow & Open House
Mt. Clemens
USA (MI)
Jun 10
North Bay Armed Forces Day
North Bay
Canada (ON)
Jun 13-14
CFB Borden Armed Forces Day
Borden
Canada (ON)
Jun 17
Snowbirds display
Thompson
Canada (MB)
Snowbirds
Jun 20-21
Manitoba Airshow
Portage la Prairie
Canada (MB)
Jun 24
Aérofête de Beauces
Saint-Georges
Canada (QC)
Jun 27-28
Waterloo Aerofest
Waterloo
Canada (ON)
Jul 4-5
Let Freedom Fly Int'l Airshow
Pierre
USA (SD)
Jul 11-12
Yellowknife Int'l Airshow
Yellowknife
Canada (NT)
Jul 15
Snowbirds display
Whitehorse
Canada (YT)
Jul 18-19
4 Wing Cold Lake Airshow
Cold Lake
Canada (AB)
Jul 23-26
EAA AirVenture
Oshkosh
USA (WI)
Jul 29
Snowbirds display
Vancouver
Canada (BC)
Aug 1-2
Lethbridge Airshow
Lethbridge
Canada (AB)
Aug 5
Rocky Mountain House Airshow
Rocky Mountain House
Canada (AB)
Aug 7-9
Abbotsford Int'l Airshow
Abbotsford
Canada (BC)
Aug 12
Snowbirds fly for CHILD
White Rock
Canada (BC)
Aug 15-16
Edmonton Airshow
Edmonton
Canada (BC)
Aug 29-30
Air Show Atlantic
Debert
Canada (NS)
Sep 2
Brantford Community Charity Airshow
Brantford
Canada (ON)
Sep 5-7
Canadian Int'l Airshow
Toronto
Canada (ON)
Sep 11-13
Airshow London
London
Canada (ON)
Sep 16
Fort Erie Airshow
Fort Erie
Canada (ON)
Sep 19-20
Aero Gatineau-Ottawa
Gatineau
Canada (QC)
Sep 26-27
Festival Aérien Gravity
Mirabel
Canada (QC)
Oct 3-4
California Capital Airshow
Sacramento
USA (CA)
Oct 10-11
Wings Over Houston
Houston
USA (TX)
Accidents
10th June 1972: A pilot died after the two solo jets clipped each other's wings during a display at CFB Trenton
3rd May 1978: A pilot died when his horizontal stabilizer failed and he lost control of the aircraft during a show in Grand Prarie; the ejection was not successful
3rd September 1989: Two jets collided at the Canadian International Airshow, killing one pilot
10th December 1998: A pilot died after a mid-air collision during a training flight at Moose Jaw
21st June 2001: A pilot and passenger ejected after a mid-air collision during a photoshoot; both survived, but the passenger was injured
10th December 2004: A pilot died after two planes collided on a training flight; the pilot of the second jet was thrown from the aircraft and deployed his parachute
18th May 2007: A pilot died when his jet crashed during a training flight at Malstrom AFB
9th October 2008: A pilot and his passenger, a photographer, died when their jet impacted the ground
13th October 2019: A pilot ejects safely from his jet while waiting to display at the Atlanta Airshow
17th May 2019: Snowbirds PAO Jenn Casey dies and another is injured when a CT-114 crashes after take-off from Kamloops