The Saudi Hawks (Arabic: الصقور السعودية/Aṣ-Ṣuqūr) are the official aerobatic team of the Royal Saudi Air Force. They are sometimes incorrectly referred to as the Saudi Falcons, due to an ambiguity with the literal translation of their Arabic name. Founded in 1998 with six Hawk Mk.65s, the team made their debut in 1999 to mark the country's centenary. They made their international debut in Bahrain in 2000. Their first display in Europe came in at AirPower Zeltweg 2011, with several more visits since then. They expanded to seven aircraft in 2014. The team have been trained by former members of the RAF Red Arrows, who fly the same aircraft type.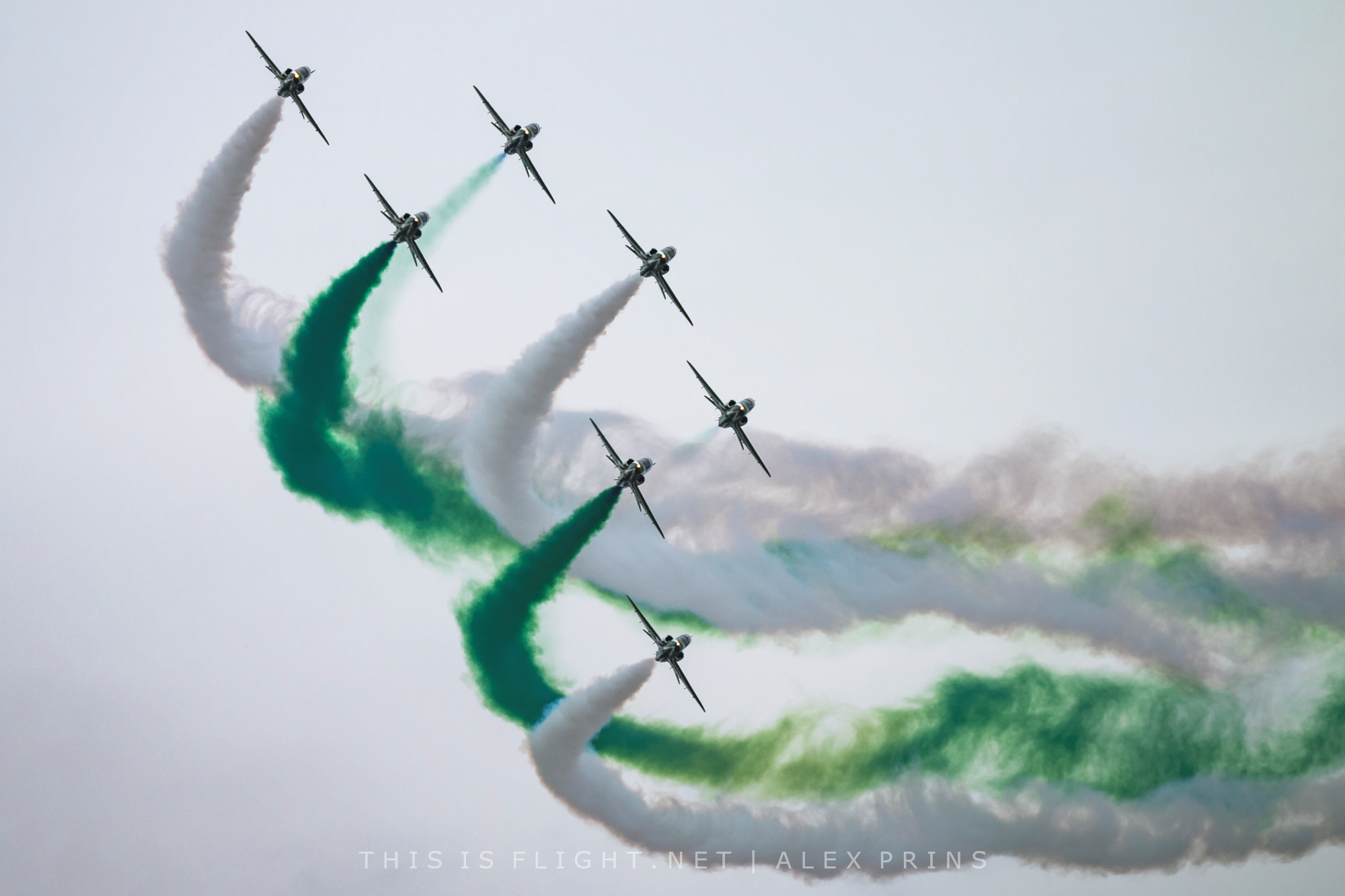 Active: 1998-present
Country:

Kingdom of Saudi Arabia
Home base: King Faisal Air Base (Tabuk)
Operator: Air Force
Size: 8 aircraft (7 in display)
AIRCRAFT FLOWN
Hawk Mk.65A (1998-present)
Display
The Saudi Hawks' display changes from year to year, but is generally is composed of two halves; initially, aircraft perform seven-ship formation aerobatics, followed by more dynamic manoeuvres as a pair and five-ship in the second half of the display. Several manoeuvres strongly resemble those flown by the Red Arrows. Green, red and white smoke is used throughout the display, and, like with the Red Arrows, the display routine changes slightly each year. The team's trademark manoeuvre is when the aircraft use their smoke system to draw the national symbol of Saudi Arabia, a palm tree crossed with two swords.
Gallery