The Red Devils (French: Diables Rouge) are the official aerobatic team of the Belgian Air Component. They fly alongside the air arm's unofficial team, the Thunder Tigers. The Red Devils fly four SIAI-Marchetti SF.260 training aircraft.
First formed in 1957 flying the Hawker Hunter, the team often flew as a nine-ship team but occasionally appeared with up to 25 jets. In 1960, the team recieved the Red Devils name and was scaled back to just four aircraft. It was disbanded three years later.
In 1965, the team was reformed with seven Fouga Magisters, although they performed with formations of just two or three jets in the early 1970s during the oil crisis. They expanded to a six-ship team after the crisis, but were disbanded again in 1977.
The Red Devils were re-formed on the SF.260 in 2011.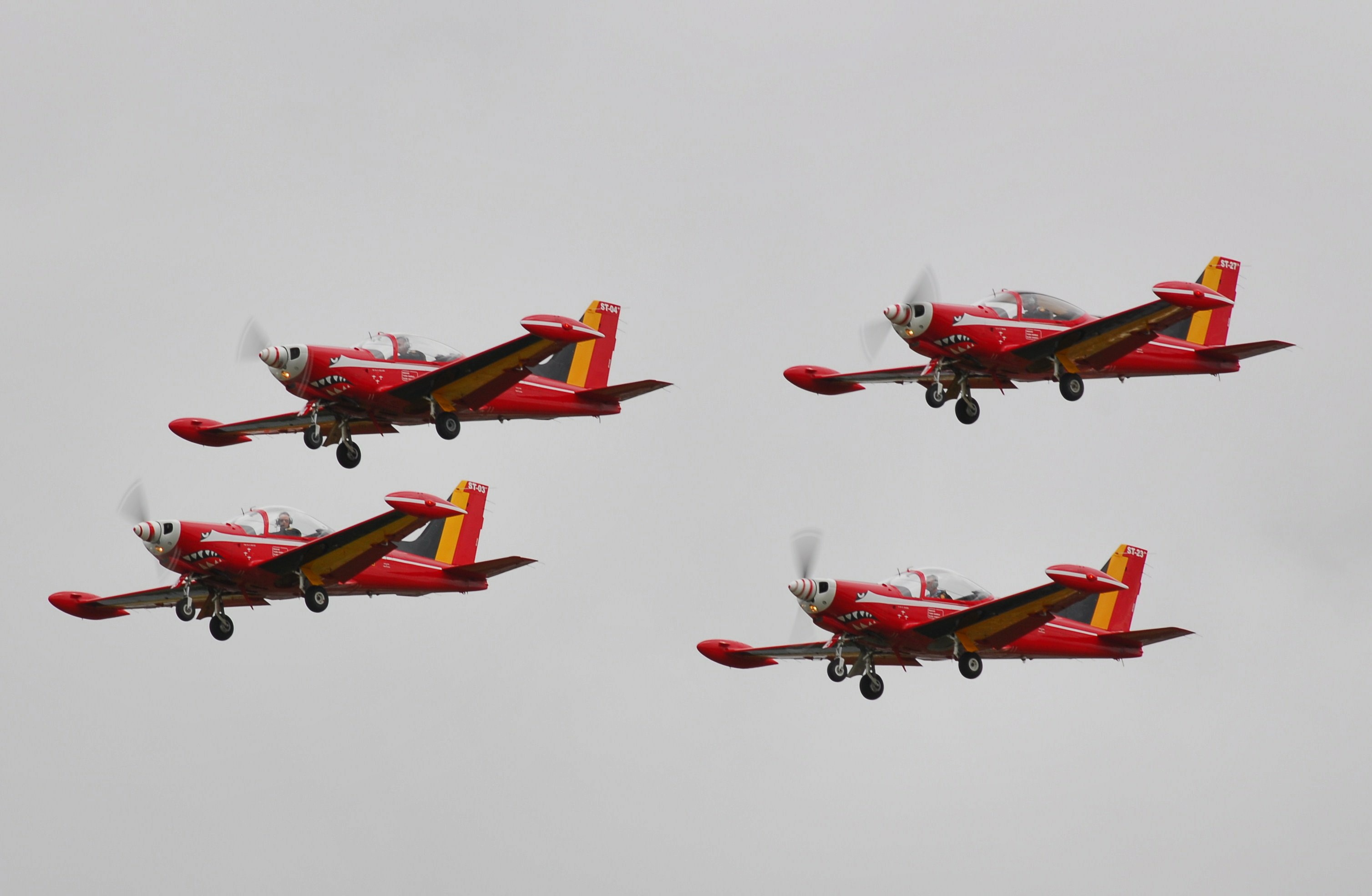 Active: 1957-1963, 1965-1977, 2011-present
Country:

Belgium
Home base: Beauvechain
Operator: Air Component
Size: 4 aircraft (4 in display)
AIRCRAFT FLOWN
Hawker Hunter (1957-1963)
CM.170R Magister (1965-1977)
SF.260 Marchetti (2011-present)
History
Aeroshell was founded in 1984 as the North American Aerobatic Team by Alan Henley and Steve Gustafson. Ben Cunningham also flew with the team. The North American Aerobatic Team added a fourth aircraft in 1996, flown by Gene McNeely, and the following year, Cunningham was replaced by Alan Henley's twin brother, Mark.
The team gained Aeroshell sponsorship in 2001, with a gradual turnover of pilots continuing over the following years. In 2008, Alan Henley was forced to retire after a non-aviation accident and was replaced by Bryan Regan. Jimmy Fordham joined in 2010 as the spare pilot, replacing Gene McNeeley for the 2018 season.
Display
Aeroshell's display consists of classic aerobatics in close formation. Particularly during the second half of the routine, the team break into trail formation for manoeuvres reminiscent of a tailchase. Aeroshell perform their routine during the day and at night, with lights illuminating the propeller and smoke system.
Gallery