Along with Patrulla Aspa, Patrulla Aguila (English: Eagle Patrol) is an aerobatic team of the Spanish Air Force. Founded in 1985, the team traditionally flew seven C-101 Aviojets, known in Spanish service as the E.25 Mirlo.
The Spanish Air Force has sought to replace these with KAI T-50 Golden Eagles in recent years – the aircraft used by the Black Eagles – but the deal failed to materialise. Instead, due to a series of non-airshow accidents involving team pilots and aircraft, followed closely by the Covid-19 pandemic, Patrulla Aguila ceased flying airshows in 2020, but remained active for flypasts at national events.
They returned to airshows in 2023 as a six-ship team; by this time, the Spanish Air Force's C-101s had been retired from the training role and were used exclusively for air display duties.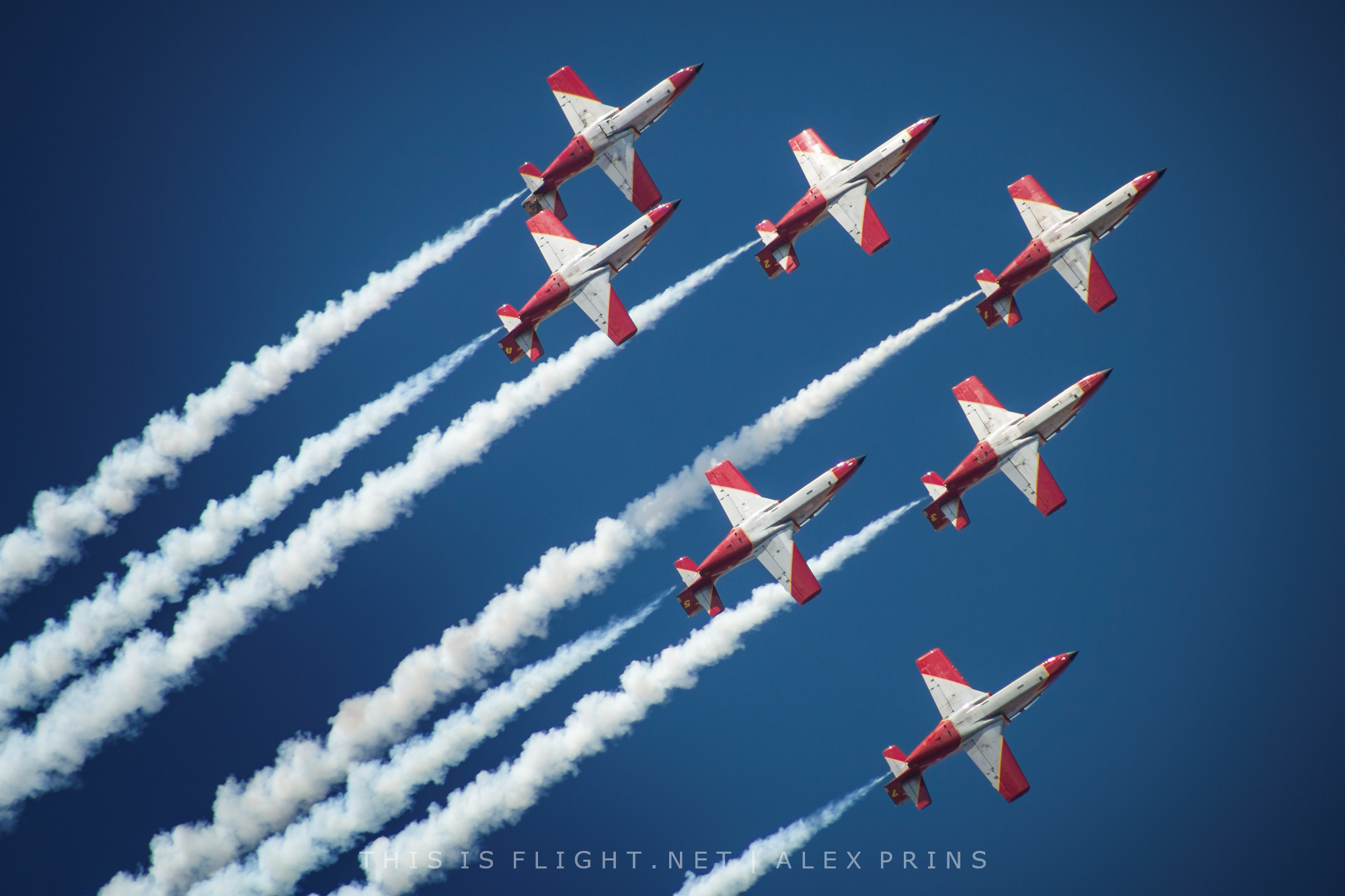 Active: 1985-present
Country:

Spain
Home base: San Javier Air Base
Operator: Air Force
Size: 12 aircraft (6 in display)
AIRCRAFT FLOWN
C-101EB Aviojet (1985-present)
Display
The first half of Patrulla Aguila's display sees all seven aircraft performing formation flypasts and simple aerobatics, before breaking down into smaller groups for the second half. The second half of the show features several versions of the Mirror formation, including a mirror opposition pass, the "flip flip" (slow mirror formation aileron roll) and Plus Ultra, a seven-ship pass with five aircraft erect and two inverted. The display also sees several impressive solo manoeuvres, including a loop with landing gear extended and a tailslide.
The team generates mainly white smoke, but can also produce a limited amount of yellow and red smoke (one additional colour per aircraft). A flypast with coloured smoke is generally flown as the finale of the display.
The team is well-known for its impressive seven-ship formation landings, performed after the show has been completed.
Gallery