The Patrouille Suisse (English: Swiss Patrol) is an aerobatic team of the Swiss Air Force flying six F-5E Tiger IIs. They are the only aerobatic team in western Europe to fly a current font-line fighter aircraft. The Patrouille Suisse, along with the PC-7 TEAM, are one of two Swiss Air Force aerobatic teams, and are well-known for their precise and polished display routine.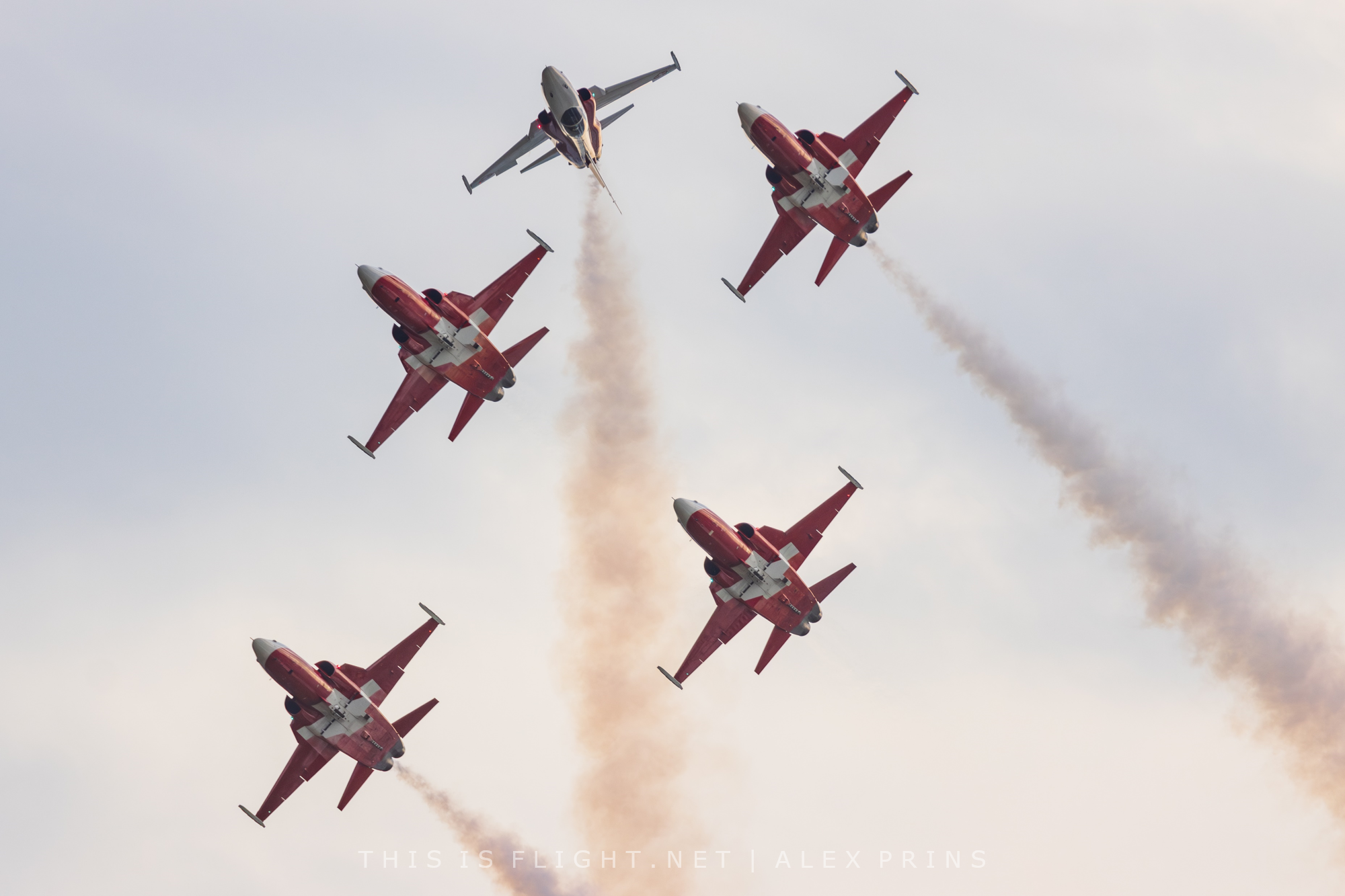 Active: 1964-present
Country:

Switzerland
Home base: Payerne Air Base
Operator: Air Force
Size: 12 aircraft (6 in display)
AIRCRAFT FLOWN
Hawker Hunter (1964-1994)
Dassault Mirage III (1968)
F-5E Tiger II (1994-present)
History
The Patrouille Suisse was founded in 1964, flying four Hawker Hunters. In 1968, the team flew two displays with the Mirage III under the name Patrouille Suisse Mirage, returning to the Hunter thereafter and increasing to five aircraft in 1970.
As a neutral country, the performances of the Patrouille Suisse were strictly limited to Switzerland to begin with, but the team made their international debut at Salon-du-Provence in France in 1978. Although initially using standard Swiss Air Force Hunters, the team's jets were given a bespoke paint scheme in 1991 to mark the country's 700th anniversary.
The team transitioned to the F-5E Tiger II for the 1995 season, adding a smoke system one year later. To mark the Swiss Air Force's 100th anniversary in 2014, the Patrouille Suisse performed a combined 15-ship display with the PC-7 TEAM.
The team's ageing F-5s were due for retirement in 2016, and it was initially planned the JAS-39E Gripen would replace the F-5 fleet and become the aircraft of the Patrouille Suisse. This plan was rejected in a national referendum and it was instead planned to disband the team in 2016. This was later abandoned, and it was planned that the team would switch from five F-5s to four F/A-18C Hornets. This plan has also been shelved. For the time being, the team are continuing to fly the F-5E up until the type's retirement in the late 2020s.
Display
The first half of the Patrouille Suisse's display consists of six-ship formation aerobatics. The two solo pilots then break off, and the remainder of the display alternates between four-ship and two-ship formation aerobatics. While not as sophisticated as many other aerobatic team routines, the team are notable for the precision with which they execute their display. The aircraft then rejoin for five and six-ship flybys, after which the finale is a dramatic bomb burst, with all six aircraft firing flares.
Gallery