The Black Knights was the official aerobatic team of the Republic of Singapore Air Force. Although only actived for a few shows at a time, they were among Asia's best-known aerobatic teams. They last flew in 2015, flying six F-16C Fighting Falcons at the time. There are no plans to revive the unit.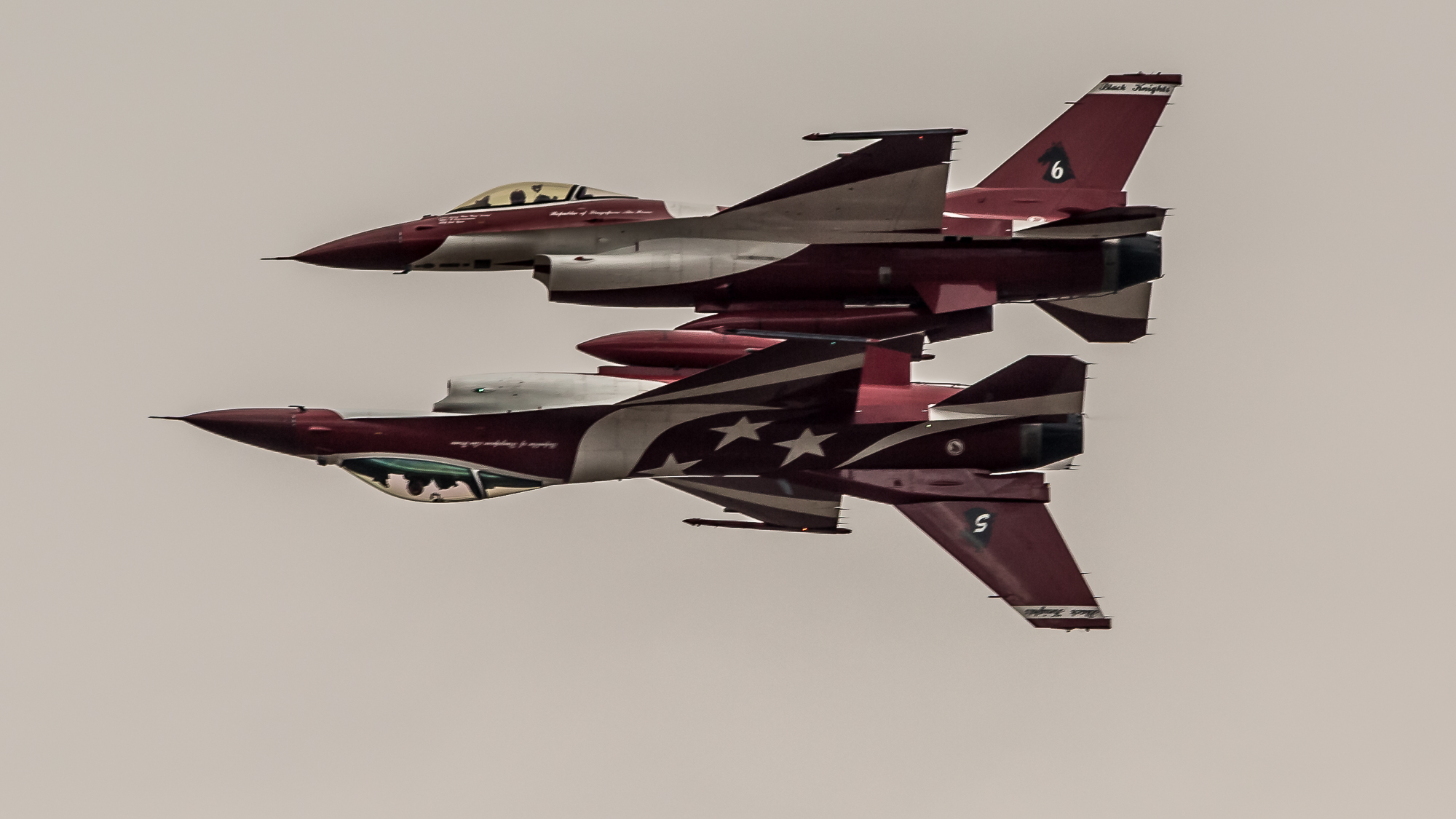 Active: 1973-1990, 1994, 2000, 2008, 2014-2015
Country:

Republic of Singapore
Home base: Tengah Air Base
Operator: Air Force
Size: 7 aircraft (6 in display)
AIRCRAFT FLOWN
Hawker Hunter (1973-1981)
F-5E Tiger II (1981-1989)
A-4SU Super Skyhawk (1990-2000)
F-16A Fighting Falcon (2000)
F-16C Fighting Falcon (2008-2015)
History
The Black Knights were formed in 1973 under the name Osprey Red, flying four Hawker Hunters. The name was changed to Black Knights in 1974 as the original name was not considered aggressive enough. The name is based on the knight in chess, which is considered to be the most aggressive and flexible piece. The team finally made their public debut in 1976.
In 1981, the RSAF set up a second aerobatic team flying five F-5E Tiger IIs, under the name Flying Tigers; following the retirement of the Hunter, the Flying Tigers took on the Black Knights' name and branding.
In 1990 and 1994, they appeared as a six-ship team flying the A-4SU Skyhawk. It had been intended that the Black Knights fly the F-16 when they returned in the year 2000, but too few aircraft had been delivered. The team therefore flew a display comprising four A-4s and two F-16As. The F-16s produced red smoke – the only occasion where the Black Knights used coloured smoke for public displays.
The Black Knights returned in 2008 with six F-16Cs for three performances in Singapore and one in Thailand. Their second stint on the F-16C was in 2014 and 2015, when they flew at two displays in Singapore (including one celebrating the nation's 50th anniversary) as a six-ship team, and two foreign shows (the Australian International Airshow and LIMA) as a two-ship team comprising Black Knights #5 and #6, the team's soloists.
They were temporarily disbanded in the summer of 2015. However, with much of the RSAF's budget now allocated to the F-35, as of 2022, there are no longer any plans to re-activate the Black Knights in the future.
Display
The Black Knights' 2008-2015 display began with all six jets performing a bomb burst to split into individual elements, following which the two solo pilots perform a sequence of opposition manoeuvres. The jets then re-join for several minutes of formation aerobatics before splitting down again for more dynamic solo, two-ship and four-ship manoeuvres. This included the Double Inverted Wrap – the Black Knights were the only team in the world to attempt such a manoeuvre in fly-by-wire aircraft. All six aircraft reformed for the final few manoeuvres of the display. Highlights include:
Opening Curtain (six-ship downwards bomb burst)
Classic Hit (one vs. one opposition pass)
Aileron Crossover (one vs. one opposition aileron rolls)
Line Abreast Loop to Diamond Twist Cut (four-ship line abreast loop with formation change to diamond, and sneak pass by soloist)
Criss-cross (four-ship opposition break, followed by two-ship opposition Derry turns by the soloists)
Palm Split (four-ship upwards bomb burst)
Calypso (two-ship belly-to-belly mirror formation)
Mirror (two-ship canopy-to-canopy mirror formation)
Twinkle Rolls (four-ship simultaneous aileron rolls)
Double Heart (two simultaneous hearts, one inside the other)
Seashell (four aircraft pitch up and peel off for individual barrel rolls towards the crowd)
Way of the Dragon (four aircraft pitch up at short intervals for tight barrel rolls)
Double Inverted Wrap (two aircraft fly inverted, two more barrel roll around them)
Twist and Shout (two pairs of rollbacks in a six-ship Delta formation)
Salute to the Nation (five-ship bomb burst, followed by a spiral climb with flares by the soloist)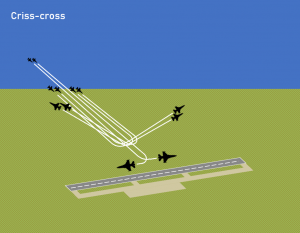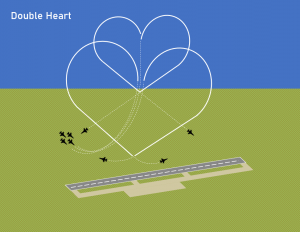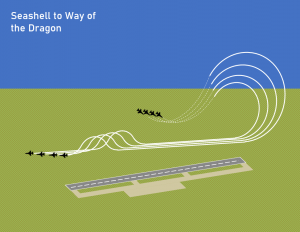 Gallery