August 1st (Chinese: Ba Yi) are the main aerobatic team of China's People's Liberation Army Air Force. They are named after the date of the founding of the PLAAF, 1st August 1927. As of 2020, the team fly six Chengdu J-10 fighters in their display, and are the only Chinese aerobatic team to have displayed abroad.
History
August 1st were formed in 1962 flying the Shenyang J-5, the Chinese license-built version of the MiG-17, later upgrading to the Chengdu J-7 and finally the Chengdu J-10 in 2009. The team's debut on the J-10 was in 2010. Initially after the upgrade, the team used white smokewinders on each wingtip to generate smoke. These were soon replaced with purple, orange and red coloured smokewinders. Since 2017, the team have used a conventional smoke system, producing white, red, yellow, green and blue smoke.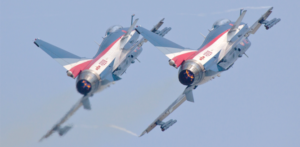 Since upgrading to the J-10, August 1st have performed internationally several times. The international debut came at MAKS in Russia in 2013. In 2015, August 1st displayed in Thailand and at LIMA in Malaysia. Their biggest international shows to date was the Dubai Airshow in 2017 and the Singapore Airshow 2020; they have also performed in Pakistan in 2017 and 2019.
Accidents
June 1997: Three aircraft crashed during a training flight in Tianjin
15th September 1998: An aircraft crashed near Shanghai
14th July 2009: An aircraft crashed at Yang Cun Air Base while practicing for National Day
12th November 2016: Two aircraft collided during a training flight in Hebei Provence. China's first female J-10 pilot, Yu Xu, was killed in the accident.