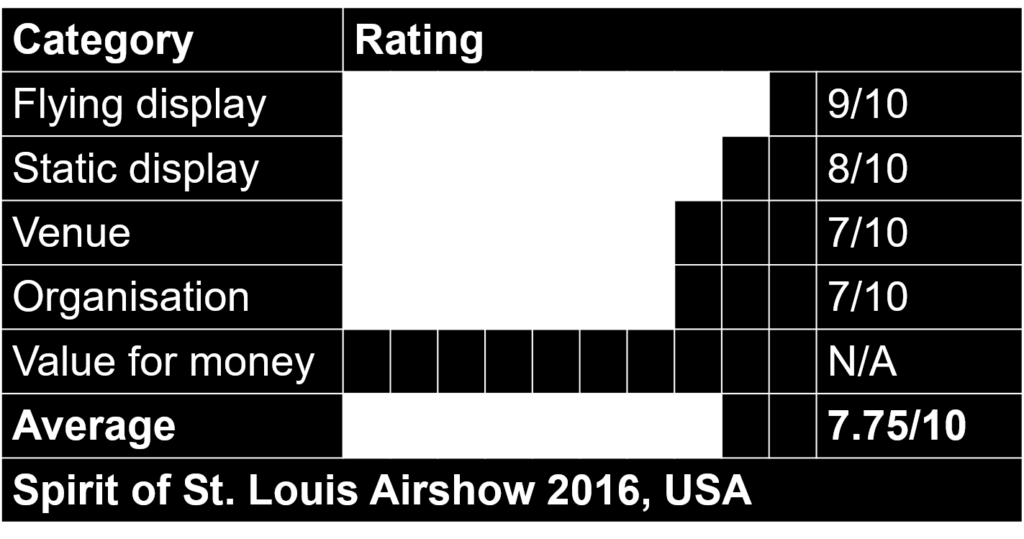 2016 brought back the Spirit of St Louis Airshow and STEM Expo after the last show in 2014. Arriving late too pick up my Credentials on Thursday, I had to wait till Friday to get them, missing all the day's arrivals with the exception of two A­-10 Warthogs from Kansas City and the 757 flying test bed from Boeing.
On Friday morning, while waiting to collect my media pass from organizer Mark Sutherland, a C­17 Globemaster III from the New York ANG Stewart AFB landed and then backed into its parking space. About 15 minutes later a KC­-135R Stratotanker from the Illinois ANG Scott AFB landed, shutting down on the runway being towed into position. Besides the three heavies the only other statics were the A-­10s and a F/A­-18E from VFA­122. Before the TFR kicked in a couple T­-45 Goshawks from NAS Meridian, Mississippi, came in, as well as a EA­-18G Growler test plane from Boeing with only about 7 hours flight time.
Friday's practices included the RCAF CF-­18 Hornet, RCAF Snowbirds, Vlado Lenoch in his P-­51D Mustang, USAF F-­22 and then the Heritage Flight with a P-51D, a Grumman F4U Corsair, Skip Stewart and finally the Blue Angels. After practices were over a USN P­-8A Poseidon from VP­16 NAS Jacksonville landed, followed by the F-­4 Phantom from Holloman AFB, which had to perform a number of passes to reduce his fuel load before landing. Next came HC­-144A Ocean Sentry in Coast Guard centennial colors from Mobile, Alabama, as well as MH-60 and MH-65 helicopters, also from the Coast Guard. The final arrival was a pair of two Beechcraft T-6 Texan IIs from TAW6 NAS Pensacola.
Saturday morning started bright and early on the airfield, with some of the fighters having been moved to make the show site more crowd-friendly. Besides the military aircraft, all the warbirds that performed in the fying display were also put on static, alongside a Beech 18 and P-­38 Scatt III which were on static only. After walking the static display I headed to show center again and got my spot and waited for the flying to begin. A weather front had moved through the night before so the temperature was 47°F (8°C) with a windchill of 39°F (4°C), so it was a very cold airshow.
The flying began with the TBM Avenger, AD­5 Skyraider and T-­6 Texan doing multiple passes. The Avenger stayed high, but Eric Downing put the Skyraider through its paces, taking her down low and doing some great pull ups. After that was the national anthem, followed by a single flypast from a B-­1B Lancer from Ellsworth AFB, South Dakota.
The Heavy and Medium bombers were next, including the B­-29 Superfortress "FiFi", B­-17 Flying Fortress "Texas Raiders" and B-­25 Mitchell "Show Me". The B-25 performed some notably low passes over the runway. After that, a complete change of pace, with the Canadian CF­-18 in its gorgeous 2016 paint scheme. As well as exciting high speed passes, he also knew how to bank the aircraft, allowing the crowd to get the perfect shot of his scheme.
The Snowbirds continued the Canadian part of the show with their graceful routine, starting with all nine aircraft in formation and ending with more dynamic crosses and breaks in their CT-114 Tutor aircraft.
Vlado Lenoch was next in his P-51D Mustang; he didloops and rolls and showed what the Mustang could do, as well as several low high speed passes by the crowd. After Vlado's act he left the show area so the USAF F-­22 could perform its amazing display. The F-­22s used were from Tyndall AFB in Florida.
The F-­22 joined up with the Mustang and did a wonderful Heritage Flight, which always gives me chills. They landed, and the F4U Corsair took off, but he had to hold off his demo so the B-­2 "Spirit of New York" from Whiteman AFB Missouri could do its three passes. After the final pass the Corsair came diving in for a wonderful aerobatic routine.
Skip Stewart took off and did his high-paced crazy routine, at one point he was flying low over the Golf Course on the other side of the show box! The Blue Angels were next to end the day, with C-130 "Fat Albert" opening the show with a low transition to steep climb takeoff, and then several passes. He did his Combat landing and ended his roll at the end of the runway, backing up and turning around.
The Diamond Formation took off first with a half Cuban 8. Number 5 was next with a dirty roll on take-off, followed finally by number 6 with a high-G pull into a split-S. During the show, the Diamond and Solo pilots alternate, with constant action.
The Spirit of St Louis Airshow and STEM Expo presented by Boeing was a great show and had a wonderful static display, as well as varied flying including two fast jets and two jet teams: I will be back for the next airshow at St. Louis in two years. I would like to thank Mark Sutherland and the state of Missouri for their wonderful hospitality – everyone was nice up there and made some wonderful friends.
---
Nathan Thompson is a professional flight planner from Texas. Wings Over Houston is his regular event, but he travels to several airshows across the US each year.