Small town airshows.  There's something about small town airshows. I've attended a few and the Greenwood Airshow was no different.  No big name demo teams – in fact, there were no jets at this air show at all.  Just good old fashioned prop planes.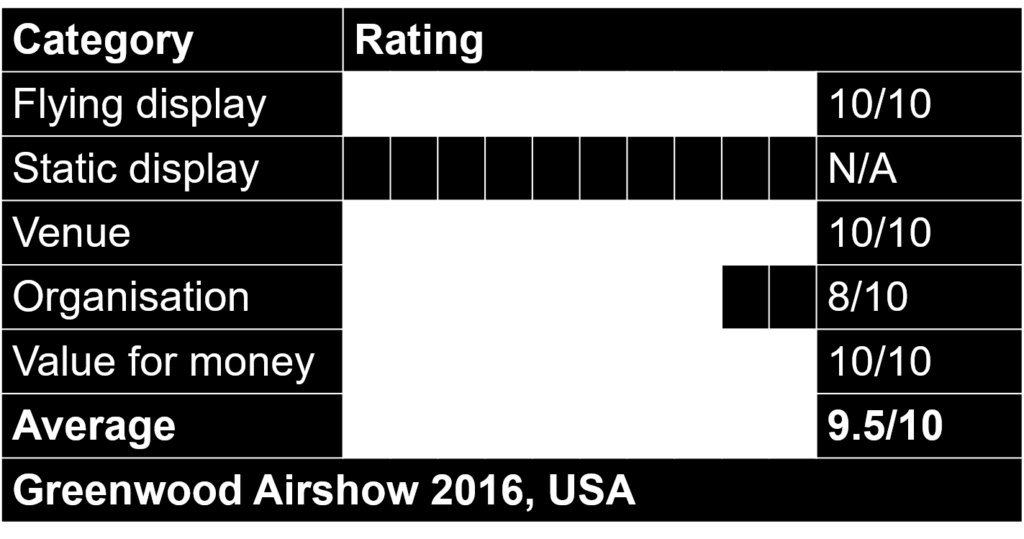 This was the fourth year for the Greenwood Airshow with an estimated attendance of about 4,000 after a hiatus of about fifteen years.   The airshow was held at the Greenwood-Leflore Airport in Greenwood, MS.  The Greenwood-Leflore Airport was originally built by the U.S. Army Air Corps as a Basic Flying Training facility and was the home to the 7th Basic Flying Training Group.  Greenwood Army Air Field was home to a contingent of eighteen Women Army Service Pilots (WASPs).  The original Mission of GAAF was Basic Flight Training and the base was home to several hundred Consolidated Vultee BT-13 and BT-15 aircraft.  The field also saw training in other aircraft such as AT-6 Texans and other fighters such as the P-51, P-47, P-63 and P-38.  The field also saw more than twenty C-47s based there.
The airshow opened at ten in the morning with an antique car show, airplane and helicopter rides around the airport, NASCAR demo as well as live music and an arm wrestling competition.  Not something you get to see at the larger airshows!
The flying demonstration began around noon with Taxi Skydiver, Nick Raines dropping in as Aeroshell circled the jumper with smoke on while the national anthem played, sung by Nicki Morgan and Connie Black, over the loud speakers. 
Normally when Aeroshell is performing at an airshow, they open up with a "teaser" of their upcoming performance later in the day.  This show, though, Aeroshell performed a special flyby with a missing man formation in honor of Capt. Jeff Kuss, Blue Angel no. 6, who was killed in a crash the week before.
Once Aeroshell recovered their aircraft, Greg Koontz in his Super Decathlon took to the skies in his solo performance.  As he takes off, he rolls his plane right and down the show center line.  Other maneuvers included a barnstorming loop, vertical rolls, a hammerhead turn and slow aileron rolls.  Greg also owns and operates his very own B&B at Sky Country Lodge in north Alabama where he trains students in aerobatic flight.  Greg has been an airshow performer since 1976.  Greg Koontz ended his excited routine with an inverted pass over the runway, while cutting a ribbon with his plane! 
Wayne Roberts was up next in his Extra 330LX.  Wayne Roberts grew up in Mississippi.  65 years old, Wayne earned his pilot's license in 1977.  He has over 4,500 hours flight time in over thirty different aircraft!  Today, he also competes in Unlimited level aerobatic competitions.  The 330LX is a high performance monoplane with an AEIO 580 engine, which can deliver over 330 horsepower and can approach speeds of 270 mph! 
Mac McNeer then took to the skies in his T-28 Trojan.  The T-28 was used by the United States Air Force and United States Navy beginning in the 1950s.  The U.S. Navy version seen flown here is powered by a 1,425hp Wright radial engine with a three blade propeller.  The U.S. Navy continued to use the T-28 as a trainer well into the early 1980s.  The type also served in southeast Asia when the Air Force and Navy discovered their fast jets were not that effective in close air support, so they went back to civilian pilots who had purchased T-28s and bought them back to refit them for military use.  Mac demonstrated the capabilities of the T-28 through loops, aileron rolls, barrel rolls and climbs.  Since the plane was a Navy version, Mac demonstrated a flyby with the tail hook extended, for a carrier landing.  Along with the P-51 Mustang, the T-28 Trojan is one my favorite warbirds.  Having had the chance to fly in one myself several years ago, I also love seeing one of them flying in an airshow.
What?  More warbirds?!?!?  Next up was the F4U Corsair and P-51D Mustang formation and solo flights.  The F4U Corsair is powered by a 2,000hp 18 cylinder Pratt & Whitney R-2800 Double Wasp radial with a 13 foot, three bladed propeller.  The F4U was flown by Dave Folk.  One feature of the F4U is the bent wings
The P-51D Mustang flown by Jeff Linebaugh is the Commemorative Air Forces' P-51 "Gunfighter" which was built in Inglewood, CA and put into USAAF in March, 1945.  Gunfighter was shipped to England where it was assigned to the famous "Mighty Eight" Air Force.  It is powered by a Packard built Rolls-Royce Merlin engine putting out 1,490hp with a top speed over 400 mph.  The pilot, Jeff Linebaugh, began flying before he was 13.  After graduation from college he joined the USAF, serving for eight years.  He is currently a Boeing 757 captain.  The P-51 Mustang, the sweet sound of victory!
Both the solo and formation flights of these two planes were certainly exciting to see, especially for someone like myself who would take an old warbird over a jet any day!
The next act was all rock 'n roll, and something I have never seen at an airshow before:  pilot Will Allen not only flies his Pitts Special in a thrilling, high energy aerobatic performance, but he ALSO sings!  A combination aerial display and rock concert.  Will Allen, "Rock 'n Roll Airshow Man" uses state of the art equipment that allows him to sing live to his custom written soundtrack.  He starts off with an inverted left spin, looking for his "horn section" at show center!  Will was born in Alaska and started flying at 19.  In addition to flying in airshows, he competes in the advanced category or aerobatics and is a flying instructor.  He writes, arranges and records in his own home recording studio.  Will flies a Pitts Special, an icon in the world of aerobatics.  It is powered by a Lycoming AEIO-540, 240hp, 6-cylinder engine.
Another airshow first for me was the next act.  Gene Soucy in his famed airplane, the Showcat.  It is the first agricultural aircraft ever used in an airshow.  It is a converted cropsrayer.  The modifications included removing the hopper and adding a two seat cockpit.  The fuselage was redesigned to give it a sleeker look, the wings were clipped to improve the roll rate and smaller tires were installed.  The plane is equipped with a wing rider stand, wingtip smoke system and a pyrotechnic system for night time performances. It is powered by a Pratt & Whitney 985 engine.
Gene Soucy began flying airshows in 1968 and has appeared in every major airshow in North America.  He is a former member of the record setting Eagles Aerobatic Flight Team.  He has won more awards than any other active airshow pilot.
Sitting just at show center is a 1946 Piper J3 Cub.  Oh no, someone's stealing the plane!  Some guy named Clem Cleaver demands a flight lesson.  He climbs into the Piper Cub and takes off in it!  It's very obvious, this guy doesn't know how to fly that well.  The plane climbs and dips, almost missing the row of trees on the other side of the runway.  The announcer tries to convince him to land the plane, which he almost does several times.  One time the plane starts to tilt to one side and the audience thinks the plane is about to crash on the runways.  Well here comes old grandpa, with a rifle!  And shoots a tire off the plane!  What is going on here?  Where is airport security?  Oh don't worry, it's Greg Koontz, playing the part of ole Clem Cleaver.  Greg clearly demonstrates his skill in flying this plane.  The act ends with Greg landing the Piper on top of a moving truck racing down the runway!
The P-51 and F4U took to the air again performing more maneuvers and flybys,  providing perfect opportunities for the photographers in the crowd before the final act, the Aeroshell Team in their North American AT-6 Texans.  The T-6 Texan was the primary training platform for all U.S. Airmen in World War II.  Powered by Pratt & Whitney R-1340 AN-1 engines that give the T-6 its distinctive sound.   
Aeroshell has been performing for over twenty-five years at airshows all over North America.  The team currently consists of Alan Henley, Mark Henley, Gene McNeely, Steve Gustafson, Jimmy Fordham and Bryan Regan.  Though only four pilots fly at a time.
Aeroshell thrilled the crowd with tight formation flying.  They began the performance with a diamond formation barrel roll.  Two ships approach show center in an opposing loop!  Other maneuvers included the bomb burst, avalanche and the Switch Blade!  The combination of clouds and sun made for some spectacular views of their performance.  The team comes in with a wheels up barrel roll for landing! 
Aeroshell is by far my favorite non military airshow aerobatic team and it's always a thrill to see them perform and listen to that sound that only comes from the T-6 Texan. Before landing though, the Aeroshell team takes on the Flashfire Jet Truck in a race to the finish down the runway.
Aside from the performing aircraft, there were no static displays.  But with everything else to see and do, they certainly weren't missed.  Having been to several small town airshows, once again, I wasn't disappointed.  I could sit and watch old warbirds and prop planes fly all day, and the Greenwood airshow definitely provided enough to briefly satisfy my addiction to planes.  Yes, I'm one of those that will look skyward every time a plane flies overhead.  
---
David Leadingham is based in Louisiana, USA. You can see more of his work at Leadingham Photography.