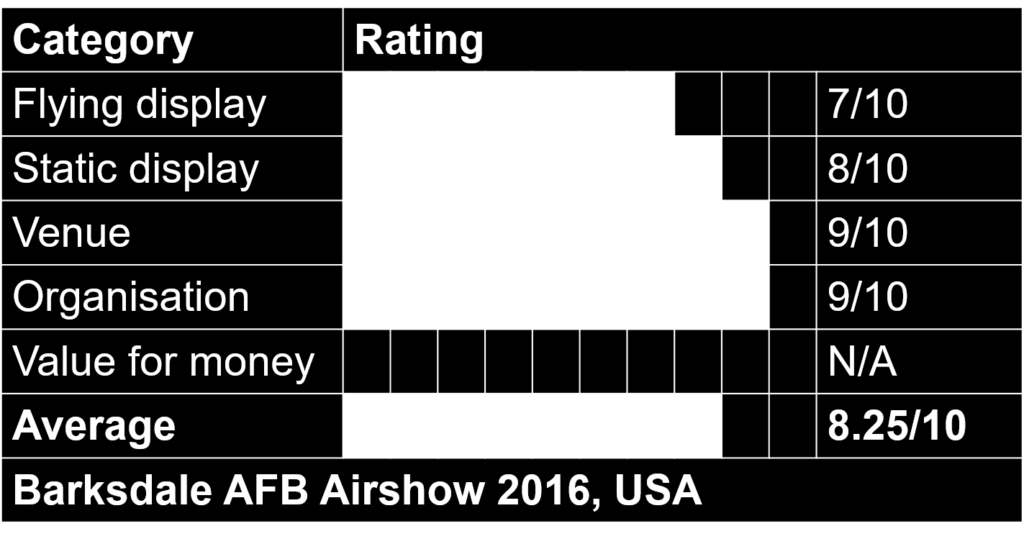 Barksdale Air Force Base in Bossier City, Louisiana is home to the largest contingent of B-52 Stratofortress bombers in the world, so it makes sense that the B-52 played a prominent role in the Defenders of Liberty 2016 show. There were three B-52s on static display (one with the bomb bay doors open), a row of them parked on the flight line, including one marking show center, and several more parked just to the right of the flight line, as well as flyovers. They even had a B-52 make several passes Sunday morning to check the ceiling before the show could start.
The show opened with a flyby and photo passes from a Buff accompanied by a B-29 – more about her later. The show included a good mix of vintage and current military craft along with civilian flying. This show also featured plenty of local talent including David Leedom flying a Pitts. He flew B-52s while in the United States Air Force and was based at Barksdale. His performance on Saturday was somewhat limited by low clouds, but on Sunday after the show was delayed for an hour to allow the clouds to clear a bit he was able to do his entire routine. The Pitts made slow and graceful loops, rolls, and spins and he finished with an inverted wing wave.
Jeremy Holt is a flight instructor on the B-52 at Barksdale, but for the show he flew a modified Skybolt. In his routine he performed a lomcovak, one of my favorite maneuvers that I haven't seen in a show in years. Sometimes it's nice to see the old school moves.
Greg Colyer flew a T-33 Shooting Star. Along with the usual aerobatic maneuvers he did an impressive high-speed pass and an inverted pass just off the deck. I gave the audience a sense of what a Thunderbirds show might have been like back in the 1950s when they flew T-33s.
Scott "Scooter" Yoak flew a beautifully restored P-51 Mustang. He performed an inside barrel roll Air Force Style and the announcer explained that the Navy does it outside. He did a spot on 16 point hesitation roll and a pentagon hesitation roll representing the five branches of the US military.
Local phenom Kevin Coleman is just twenty-five years old and is currently tied for the lead in the Red Bull Air Races Challenger Class. He flew his Extra 300 which he describes as an RC plane at full scale. His opening was a 10 revolution snap roll and he ended with a Harrier hover that was a big crowd pleaser. Current US Aerobatics champ Rob Holland really impressed with a display so packed that the announcer didn't even bother to try to describe it. He is the first to win three consecutive World Freestyle titles and it's no wonder. He puts more into a show than anyone I have ever seen, including moves like an inside forward flip and an inside tumble that nobody else performs.
The Canadian military parachute team, the Skyhawks put on a great demonstration. They have a large team and do a variety of tandem and three man maneuvers. They added a nice touch dropping in with both the Canadian and American flags. They also had a nice nod to Louisiana using Mardi Gras colored smoke (purple, gold and green) in their candy cane routine. Upon landing they headed into the crowd to repack their chutes and answer questions from the crowd.
Bombers of all types were center stage throughout the show. Along with the B-52s there was a sneak attack from a B-2 Spirit stealth that flew in on Saturday and was on static display on Sunday. A B1-B Lancer that flew a few passes on both days as well as one on static display. The static displays included several aircraft that were open for tours such as a C-17 Globemaster, a CV-22 Osprey, KC-135 Stratotanker and a C-130J Hercules. Smaller aircraft were grouped together in multiple T-45 Goshawks and other Air Force training craft.
The highlight of all the bombers was FiFi, the only flying B-29 left in the world. She was rescued from the boneyard in 1971 and lovingly restored by the Commemorative Air Force from the Vintage Flight Museum in Fort Worth, Texas. The sound of her engines reminded me of all the old WWII movies like Twelve O'Clock High. What an amazing experience to see her flying so gracefully. FiFi and the Buff were supposed to have been joined by a B-17, but it didn't make it to the show. Two other acts, a MiG-17 and a T-37 that were on the program were also missing.
The show closed each day with the featured act- the United States Air Force Air Demonstration Squadron, the Thunderbirds in F-16 Fighting Falcons. I have seen them many times over the years and I have to say this was one of their tightest and most action-packed shows. Sunday was especially well done with extra maneuvers they didn't have on Saturday. Thunderbirds 1, 2, 3 and 4 started the show with a diamond loop followed by Thunderbird 5 taking off into an immediate 360 degree vertical roll and Thunderbird 6 flying a split S, and that's just take-off!
Many maneuvers are performed in the Thunderbird Diamond including rolls, loops and passes demonstrating the training and precision of Air Force pilots. Solo moves, like the knife-edge pass, inverted pass, and opposing moves like the crossover passes and mirror image Calypso pass are meant to highlight the maximum capabilities of the F-16.
In every show they include at least one sneak attack where one of the solo pilots flies low and from behind the crowd while they are watching Thunderbirds 1 through 4 perform another maneuver demonstrating the tactical surprise capabilities of the aircraft. I have learned to expect it so they didn't get me with it..the first time. On Saturday they did it twice and on Sunday three times. Also included in every show is the Delta pass which honors local service members who have died. This year they honored two members of the Navy Seal Team 6 from Louisiana. Another signature move is the low bomb burst followed by a four-way crossover at show center. The show ended with a final delta pass into a starburst.
---
Jennifer Shields (text) and David Leadingham (photos) are based in Louisiana, USA. You can see more of David's work at Leadingham Photography.