WORDS & PHOTOS: JACOB RUTLEDGE

Thunder over Louisville holds true to its name. With a heavy jet presence, two F-35 Lighting II demonstration teams and a world-class fireworks show, it was easy to find something to get excited about, even after having attended the show for decades. For this review, I'm going to detail some highlights, but maybe more importantly, provide some tips and tricks so you can decide if this show is for you.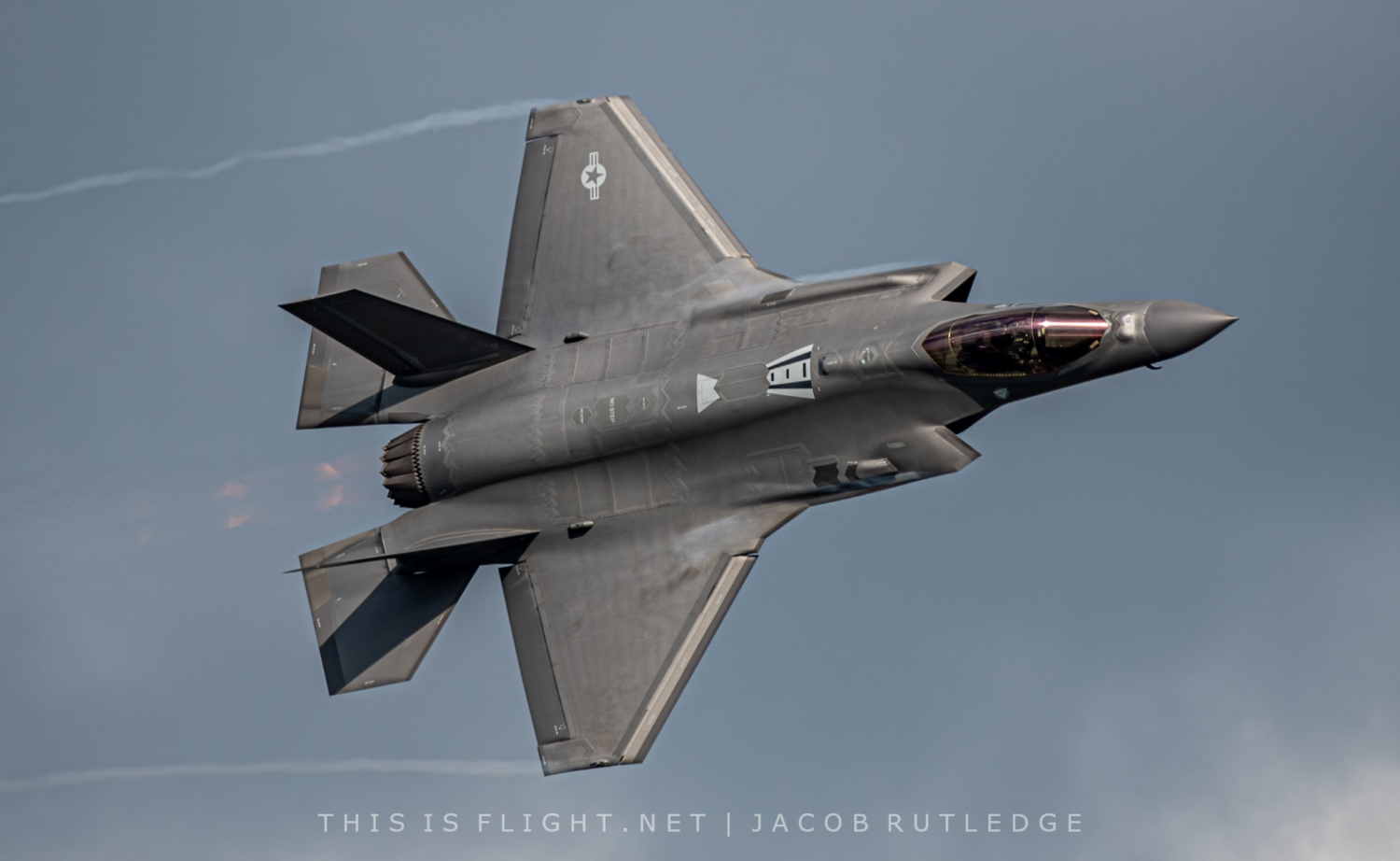 The show officially starts at 3pm and ends once the fireworks are complete around 10pm. The airshow itself features an unusual mix of parade-style flypasts and demonstrations; you'll see many aircraft fly through the box that you wouldn't see at other airshows – or, at least, aircraft that would normally only participate on static display. For the most part, you'll get at least two passes from most aircraft, most often from left to right if you are standing on the Indiana side of the river or right to left if you are on the Kentucky side of the river.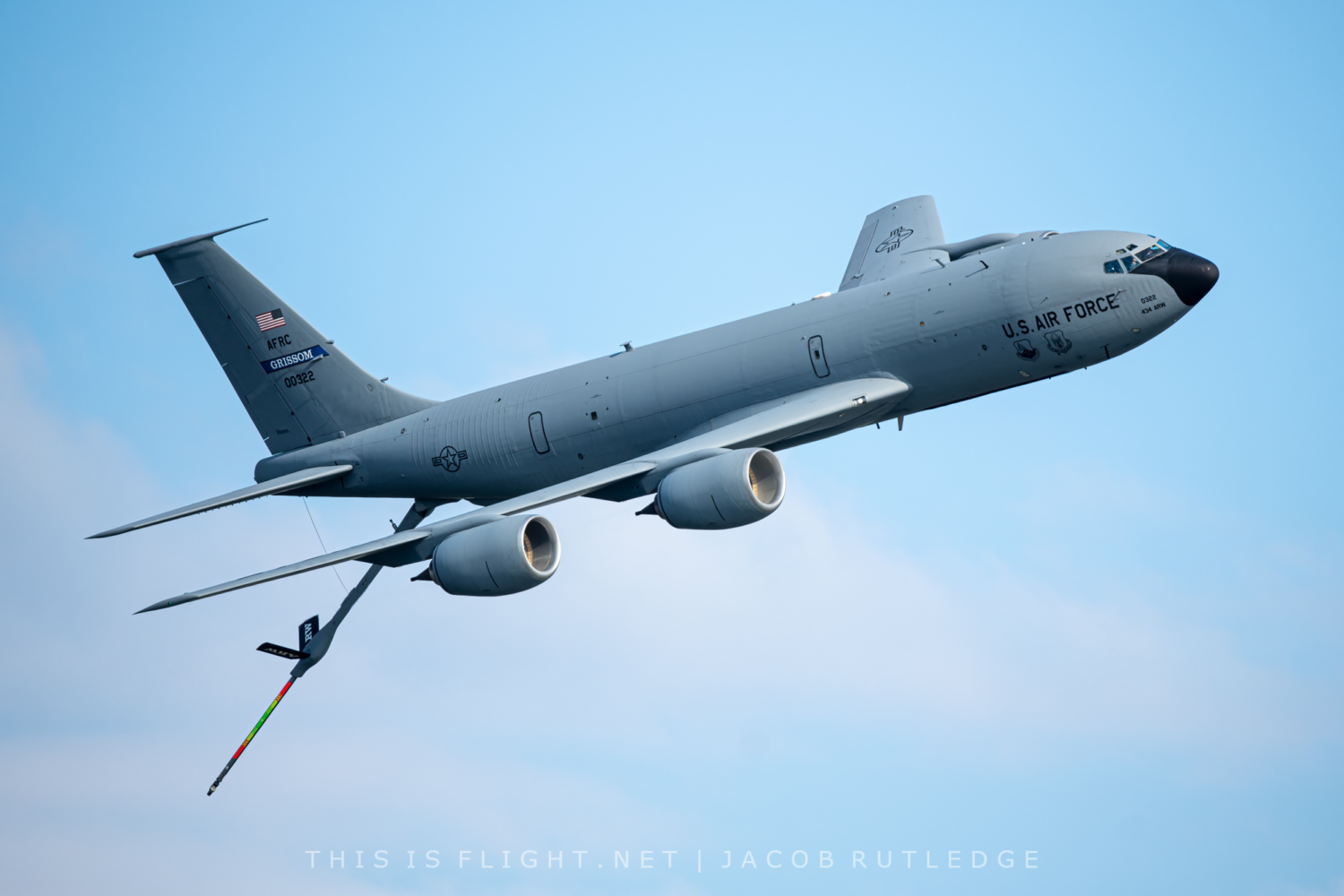 The airshow and fireworks happen over the Ohio River. The aerobatic box is large and the audience can choose to watch from either the Kentucky or Indiana side. There are pros and cons to each: from the Indiana side, you will see more topsides of aircraft as they bank in front of the Louisville skyline. The down side is that the Indiana side is slightly backlit. Most photographers will immediately reject a backlit option, but with modern camera sensors and a little time spent making tweaks in editing software, the aircraft topsides are worth it. It is also hard to pass up an opportunity to photograph low-flying aircraft against a skyline – there are very few other major airshows worldwide that offer this kind of opportunity.
The Kentucky side offers a slightly front-lit lighting opportunity, but you are not getting aircraft topsides. As a casual observer, it also seemed that many aircraft flew slightly further away from the Kentucky side, perhaps avoiding the downtown area.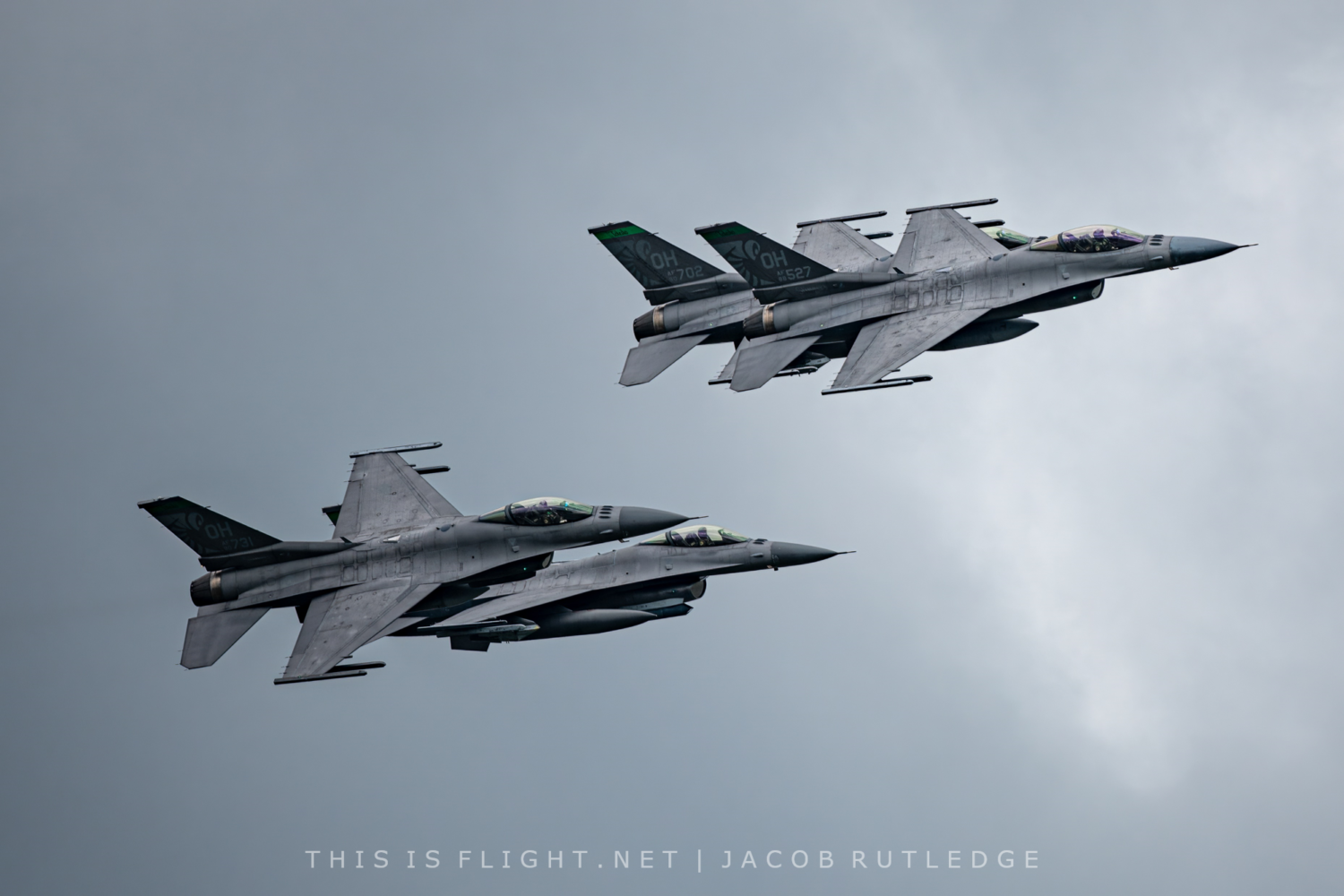 The show started with a formation of four F-16C Fighting Falcons from the 180th FW out of Toledo ANGB, OH. It was a great way to get the crowd's attention, with the quartet making multiple formation passes each in a different direction through the box. They completed their time in the box an individual fast pass from each jet in front of the crowd.
The U.S. Army Golden Knights were up next. The winds were quite gusty but they performed as you expect an elite demonstration team to. On target. They also executed a nighttime demo with flares that was also fun to watch.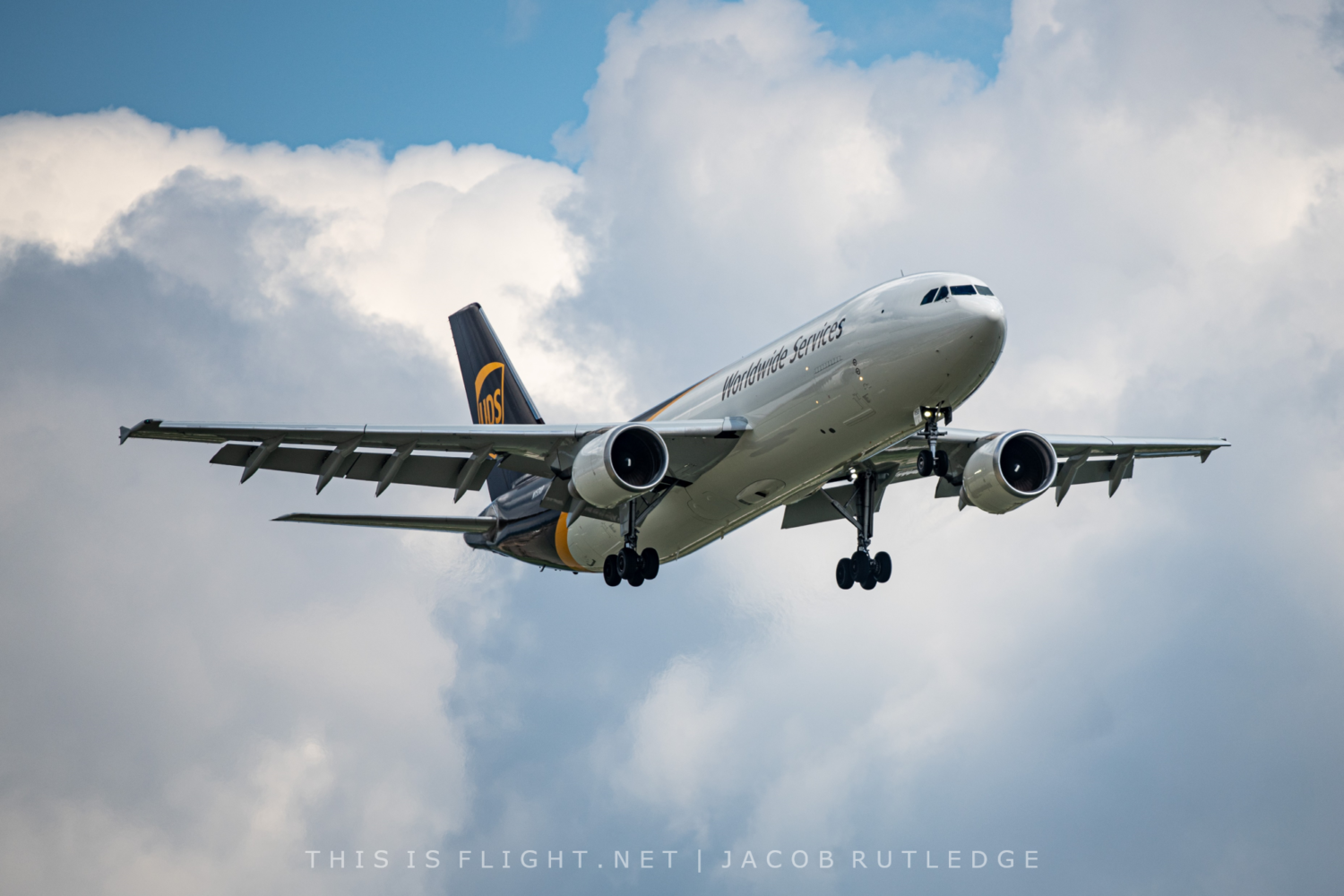 UPS Airlines is a major, long-time sponsor of Thunder Over Louisville. This year, they brought an aircraft down the show line that had never performed at Thunder before: the Airbus A300. UPS Airlines showcased the A300 as a nod to all of the employees that helped support the recently-completed cockpit upgrade that will keep the type flying in UPS service for many years to come. Given the recent MD-11F retirement news, we'd love to see the MD-11F get a pass or two in front of the skyline at next year's Thunder before it sets off into the sunset.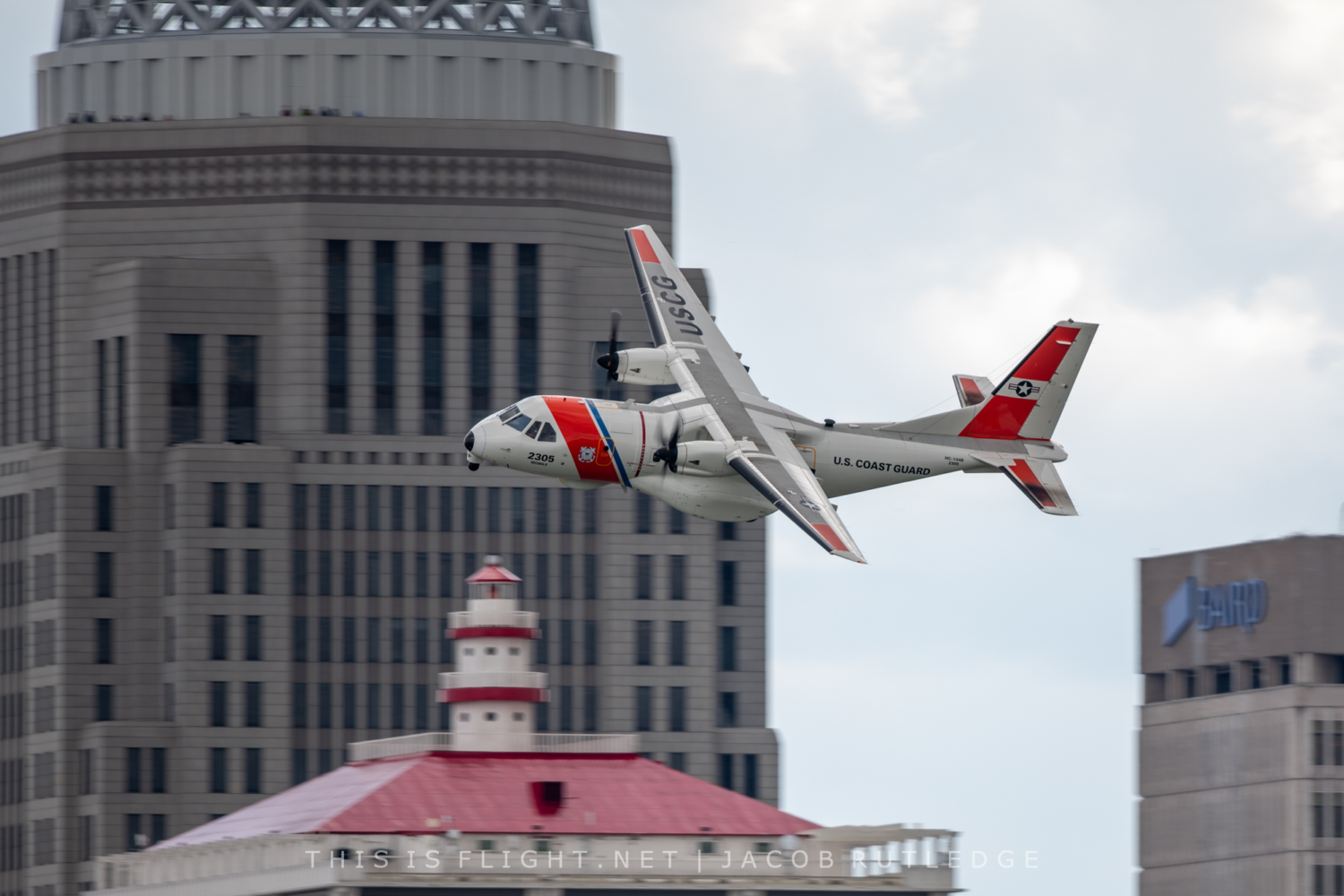 A US Coast Guard HC-144 Ocean Sentry from Mobile, AL (perhaps better known to an international audience as the Airbus CN-235), then made several very low passes in front of the crowd, its white and orange livery popping against any backdrop. In Louisville, we don't often see Coast Guard aircraft, so this was a treat.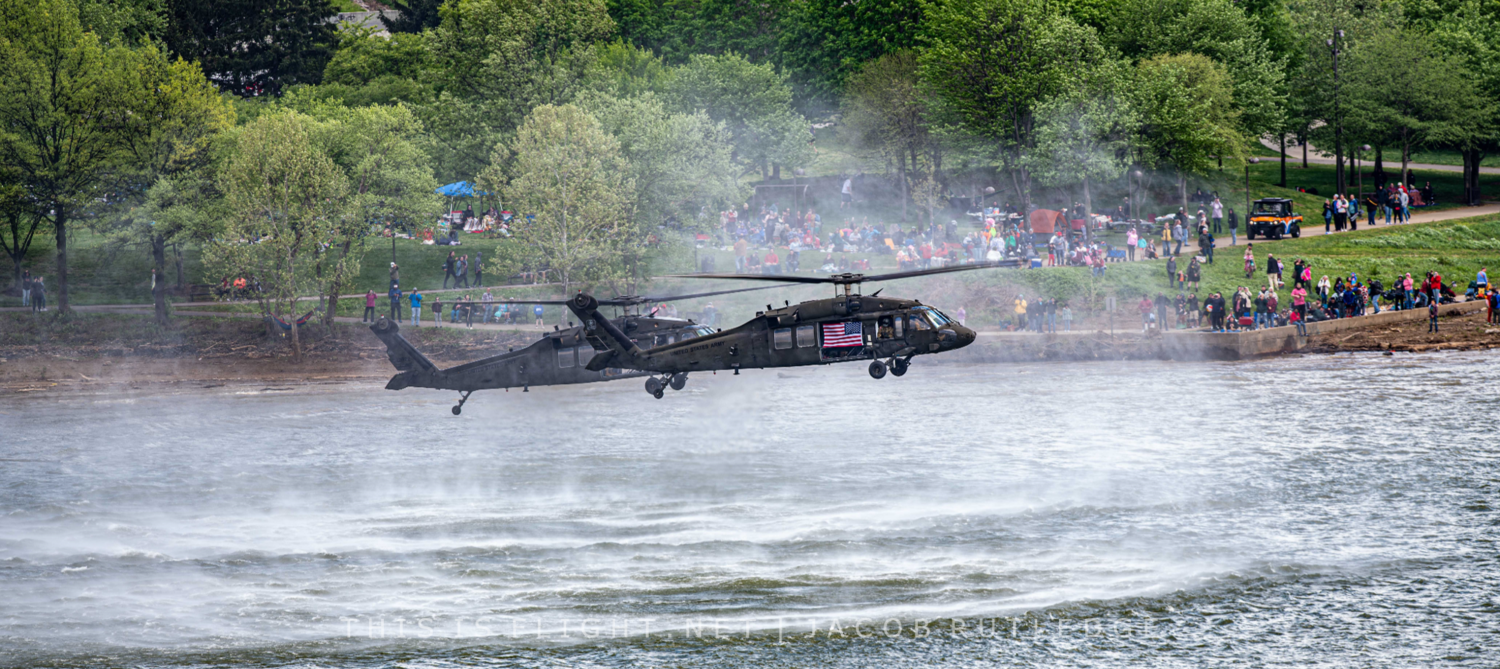 Two UH-60 Blackhawks from the 8th Battalion, 229th Aviation Regiment out of Fort Knox KY engaged the crowd on both shores for several minutes. Fort Knox is a short drive from Louisville, but although it's close, seeing Blackhawks up close and down low is rare. I, along with the crowds, really enjoy it when the helos spend time down low working the shoreline. Next came a pair of CT-155 Hawks from 4 Wing of the Royal Canadian Air Force, based at Cold Lake, Alberta. The RCAF is a long-time supporter of Thunder Over Louisville, but this year's contribution was slightly smaller than usual, and it was a shame only to see the jets making a single brief fly-through.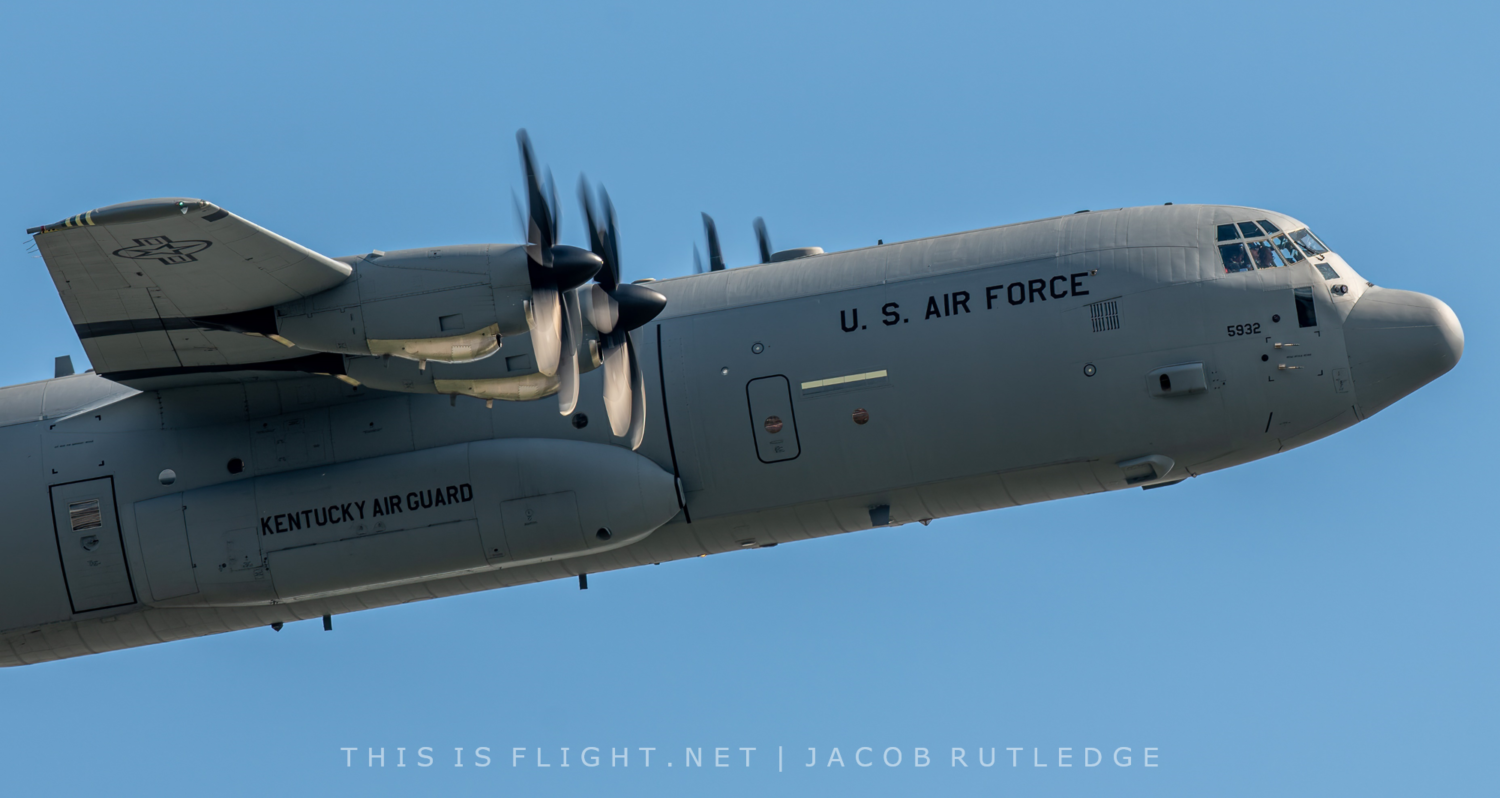 The Kentucky Air National Guard 123rd Airlift Wing provided a pair of C-130J-30 Super Hercules for the 123rd Special Tactics Squadron Parachute Team to jump from. An interesting note is that the 123rd jumpers elected to land in the river. Following the jump, the C-130Js made additional passes through the box.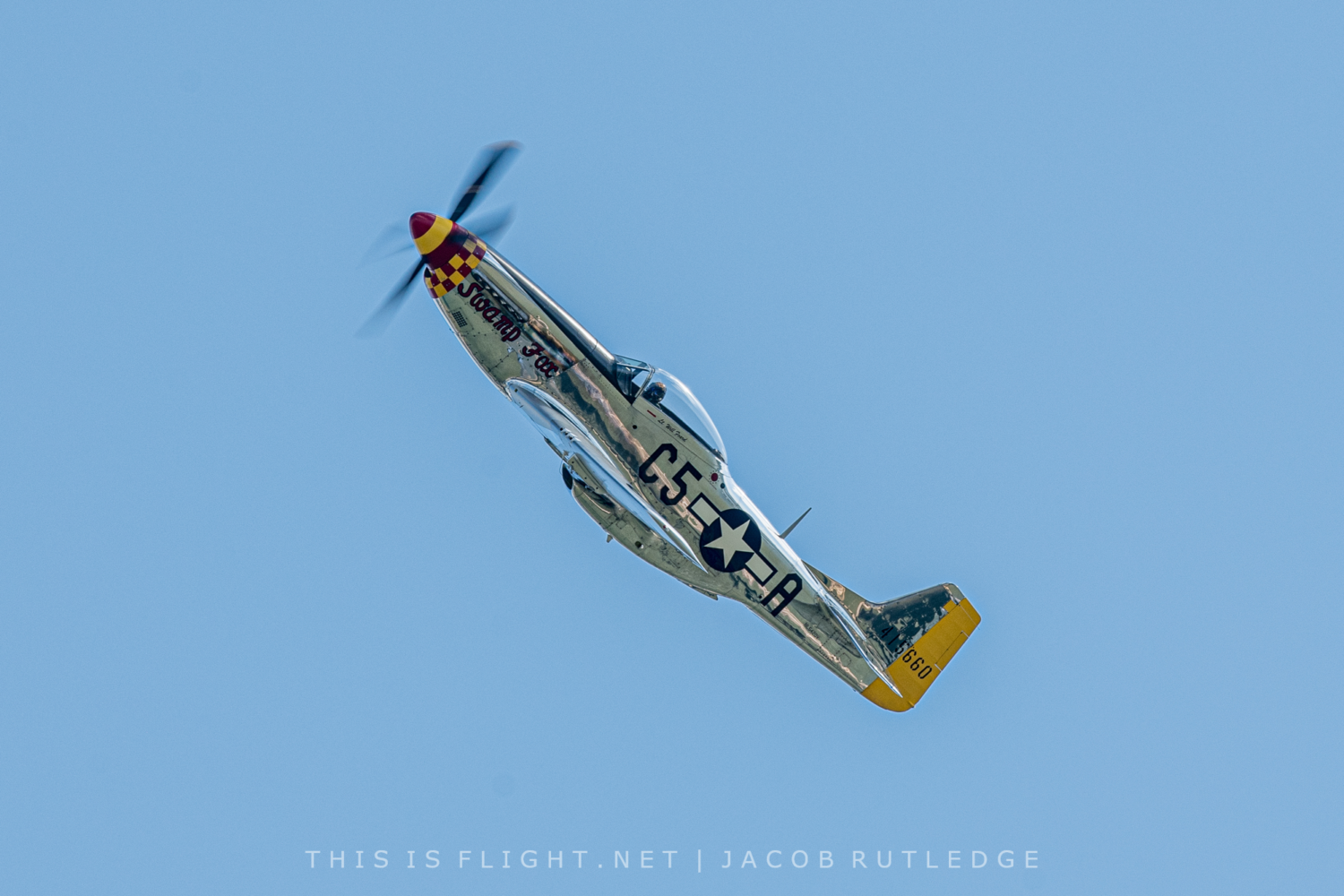 P-51D "Swamp Fox" entered the box with a very sporty demonstration. It proved a tricky subject to photograph; the P-51 is relatively small compared to other aircraft the participated in Thunder Over Louisville, and the aerobatic box is unusually large compared to a typical airshow; next year, I'll likely add a teleconverter to my lens for any aircraft of this kind of size.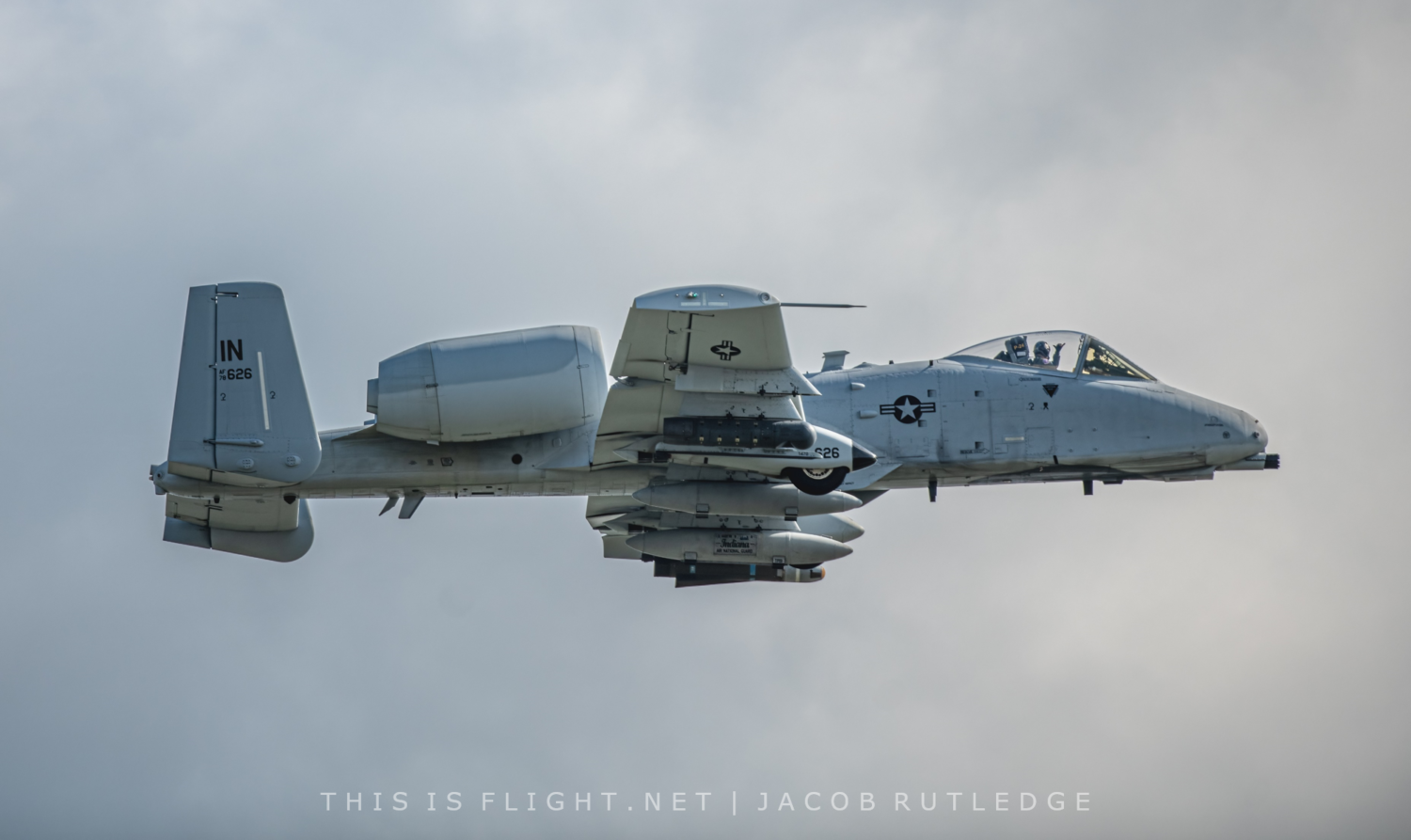 The 122nd Fighter Wing out of Ft. Wayne, IN, sent two A-10C Thunderbolt IIs to support the Thunder Over Louisville line up. A-10s are a treat as is, but one of the two was very special: a special heritage livery revealed in 2021, which made a handful of airshow appearances, but I had written off seeing it in person at this point. Someone asked me before the show if I thought we would see it at the show. I responded that I thought it was unlikely because if it was in town, we would certainly know about it by now. Not only did I get to see it in person, I got to see it fly. I've talked about how Thunder Over Louisville will surprise you; this was one of those surprises.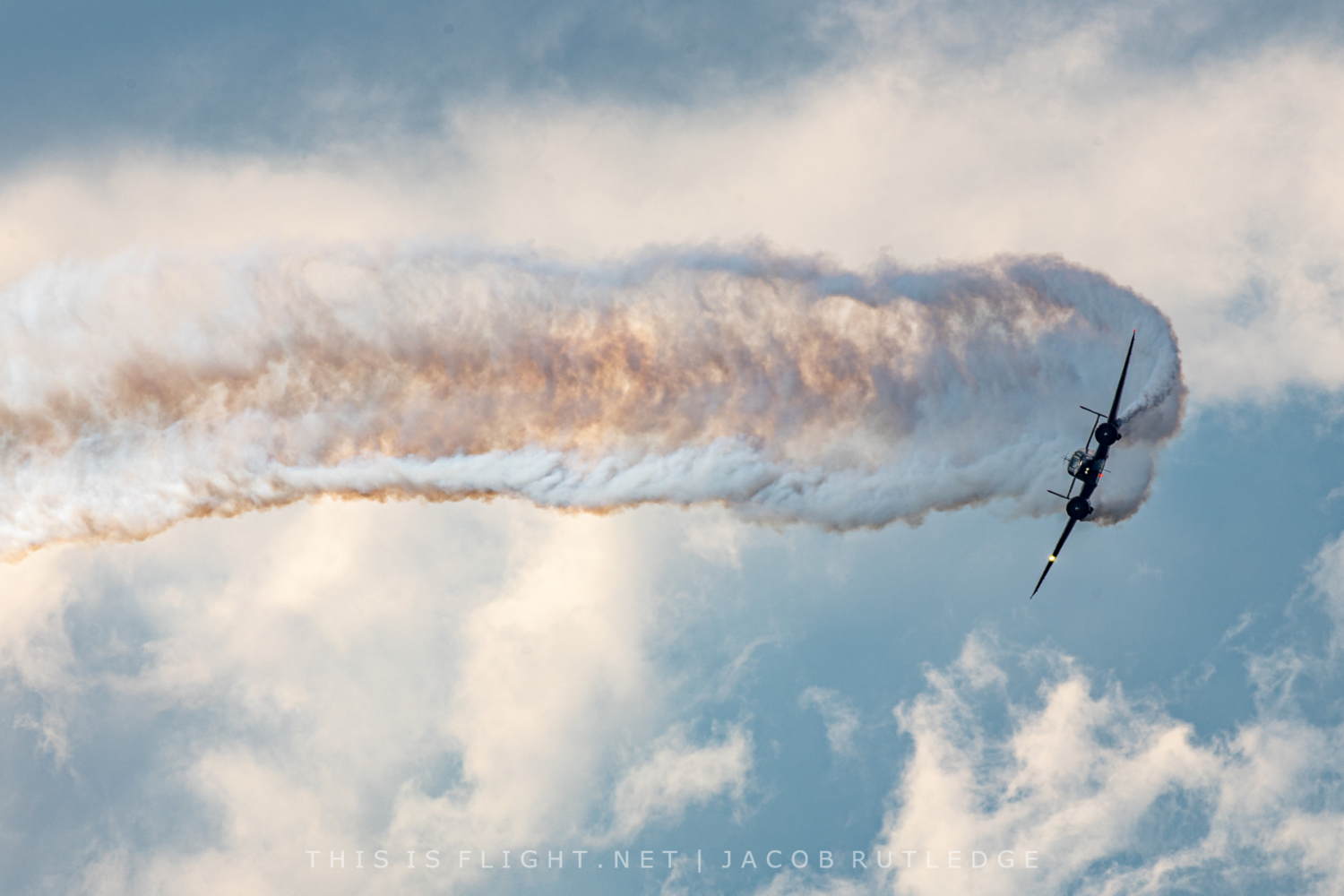 Matt Younkin executed two demonstrations in his Twin Beech, the first occurring right as the light was starting to soften as the sun was lower on the horizon. Matt is an award-winning pilot and the maneuvers he can pull off in the Beech 18 are nothing short of stunning. If you haven't seen Matt in action, make sure to attend a show he is performing in. The day and night shows are equally captivating.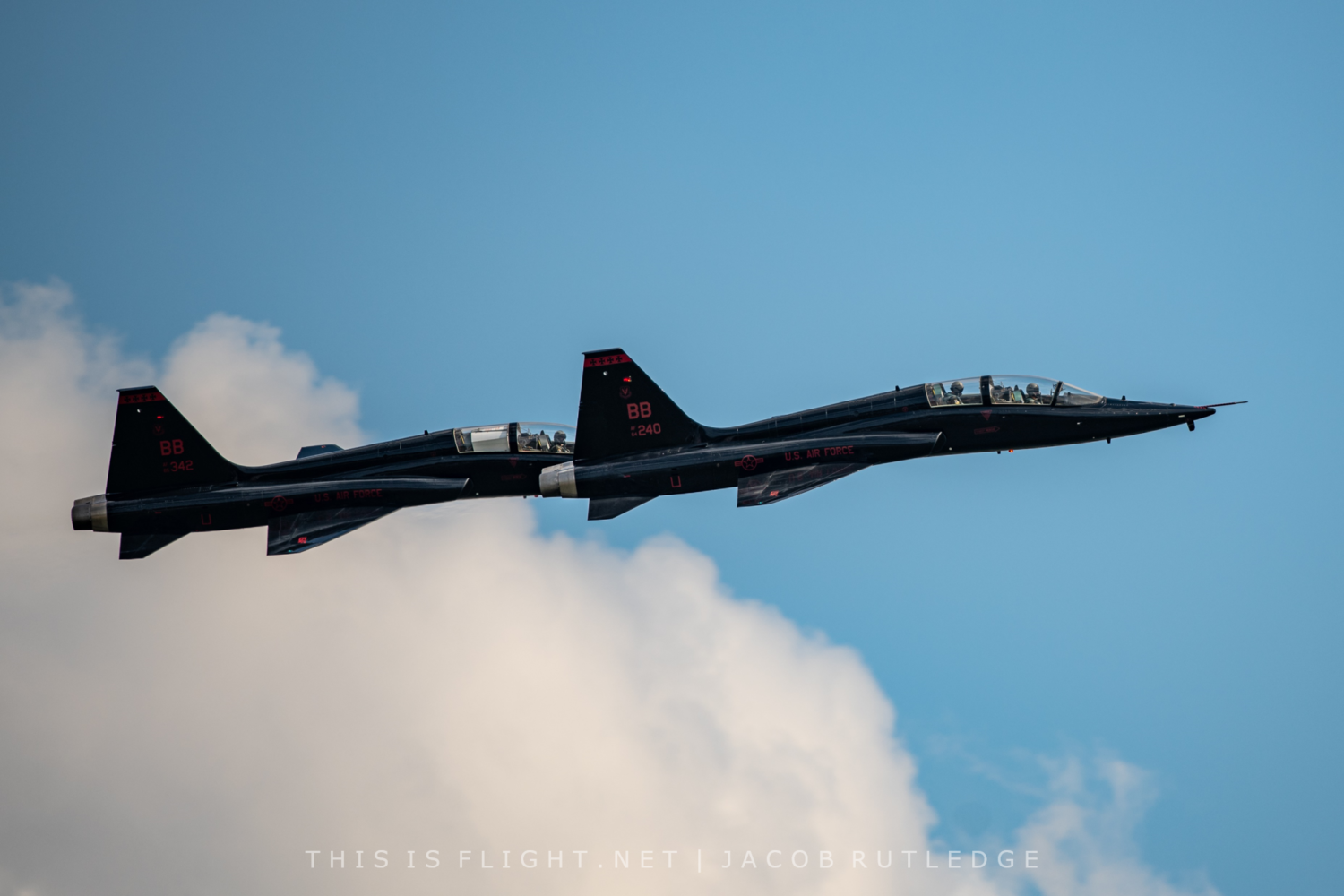 A strong wind cleared the smoke from Matt's demo and two T-38A Talons from Beale AFB, CA, made a tight formation pass which made for a great picture – although, like the Hawks, this is another aircraft I would have loved to see making a second or third run through the box. Next up, a C-17 Globemaster III from the 167th Airlift Wing, Shepherd Field ANGB, Martinsburg, WV flew two passes at a dramatic bank angle. A complete contrast followed, with local pilot Nick Coleman flying his Waco Taperwing through an energetic aerobatic demonstration – an aircraft at the complete opposite end of the size spectrum.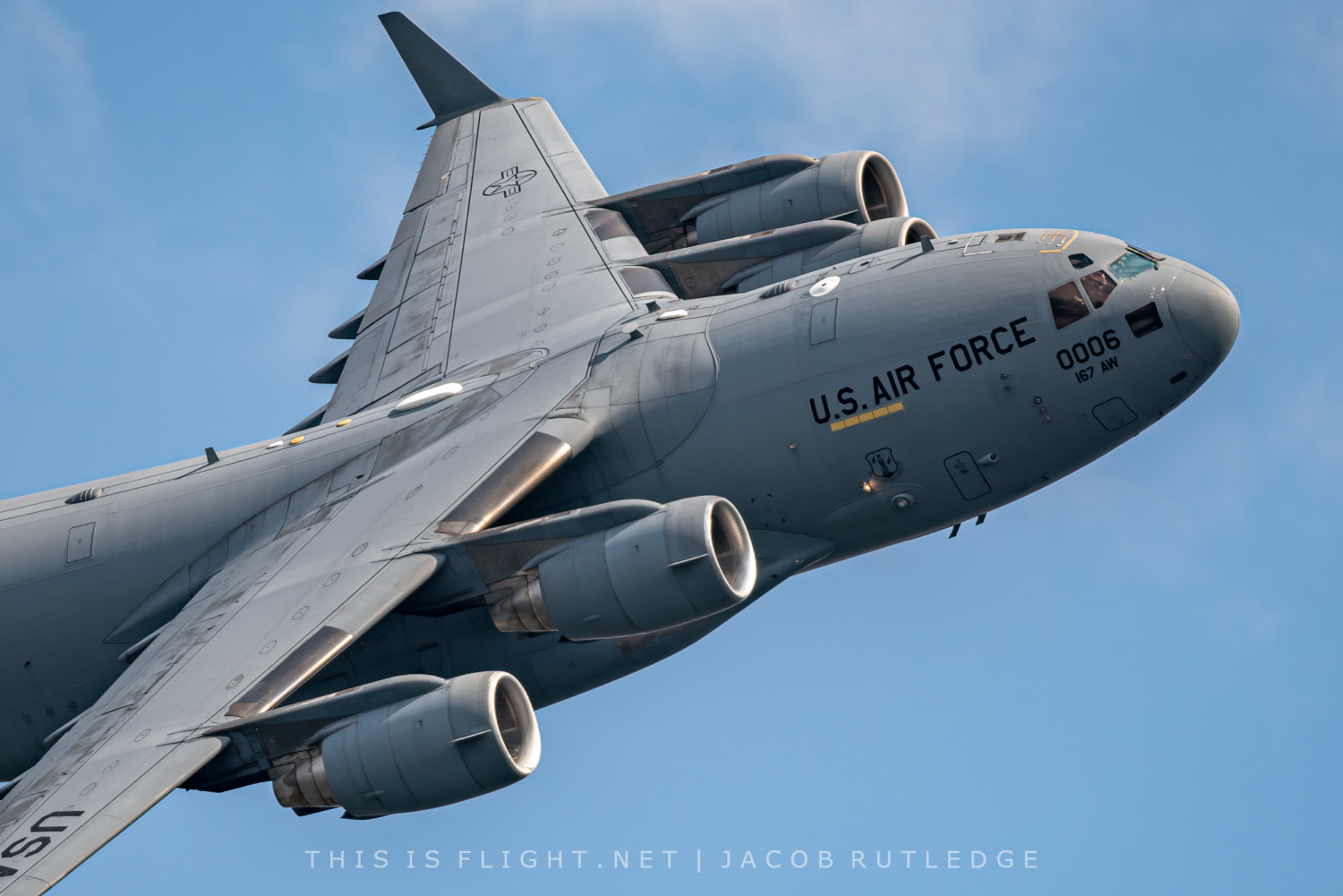 One of the standout highlights of the show was the USAF F-35A Demo Team from Hill AFB, UT. The F-35 first appeared at Thunder Over Louisville in 2017 as part of a Heritage Flight. At the time, the full demo profile was not approved; we saw several formation passes and fast passes but nothing like the full demo profile we saw in 2023. This was also my first F-35A demonstration, and it left me in awe. In another first for me and for the show, Maj. Kristin "Beo" Wolfe also deployed flares at numerous points during the show. Once the demonstration profile was complete Beo joined up with P-51D Swap Fox for a Heritage Flight.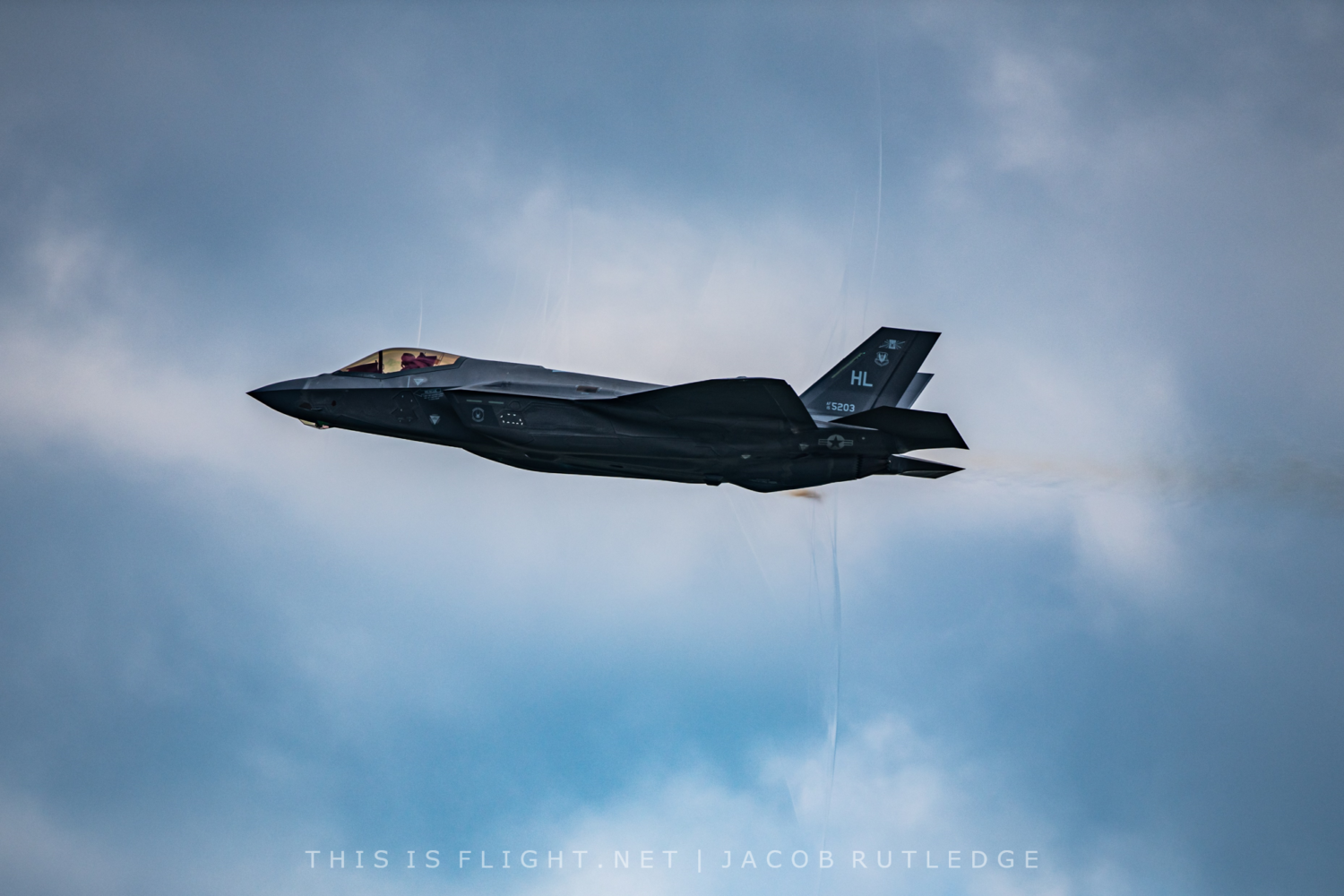 2022 saw the Thunder Over Louisville debut for the KC-46A Pegasus from Joint Base McGuire-Dix-Lakehurst AFB, PA. I was happy to see it back again this year, followed by a representative of the previous generation of USAF tankers, a KC-135R Stratotanker from the 70th ARS out of Grissom ARB, IN.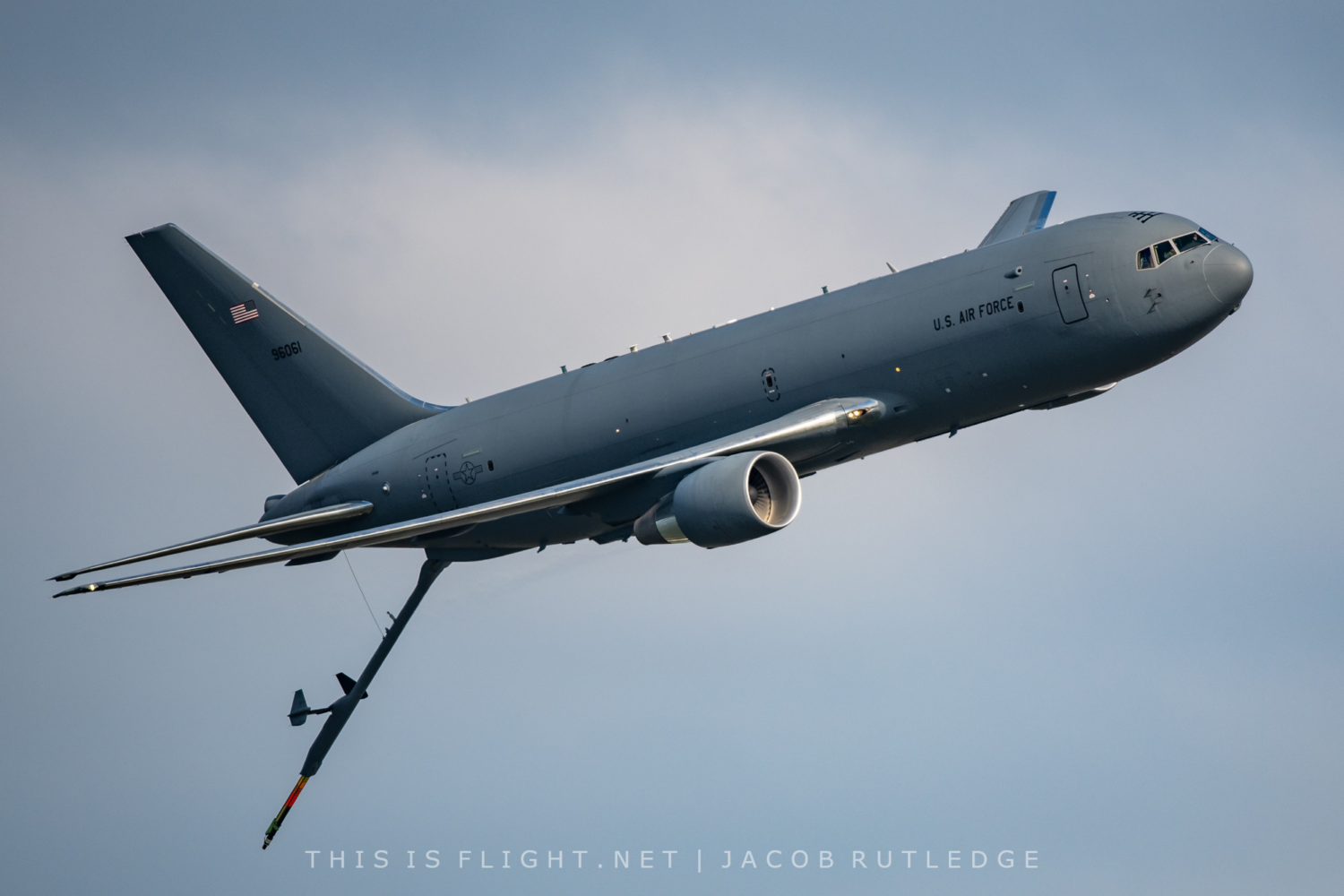 Up next, the KC Flight Formation Team from Kansas City, MO, consisting of nine Van's RVs – the team did a nice job of keeping the formation tight in windy conditions. They were followed by the first of several contributions from the US Navy, starting with a pair of E-2C Hawkeyes from NAS Norfolk, VA, which made one pass down the river. I was happy to see them, but would have loved another pass or two. I suspect they were heading home from a training mission, as they appeared to climb east until out of sight after their pass through the box.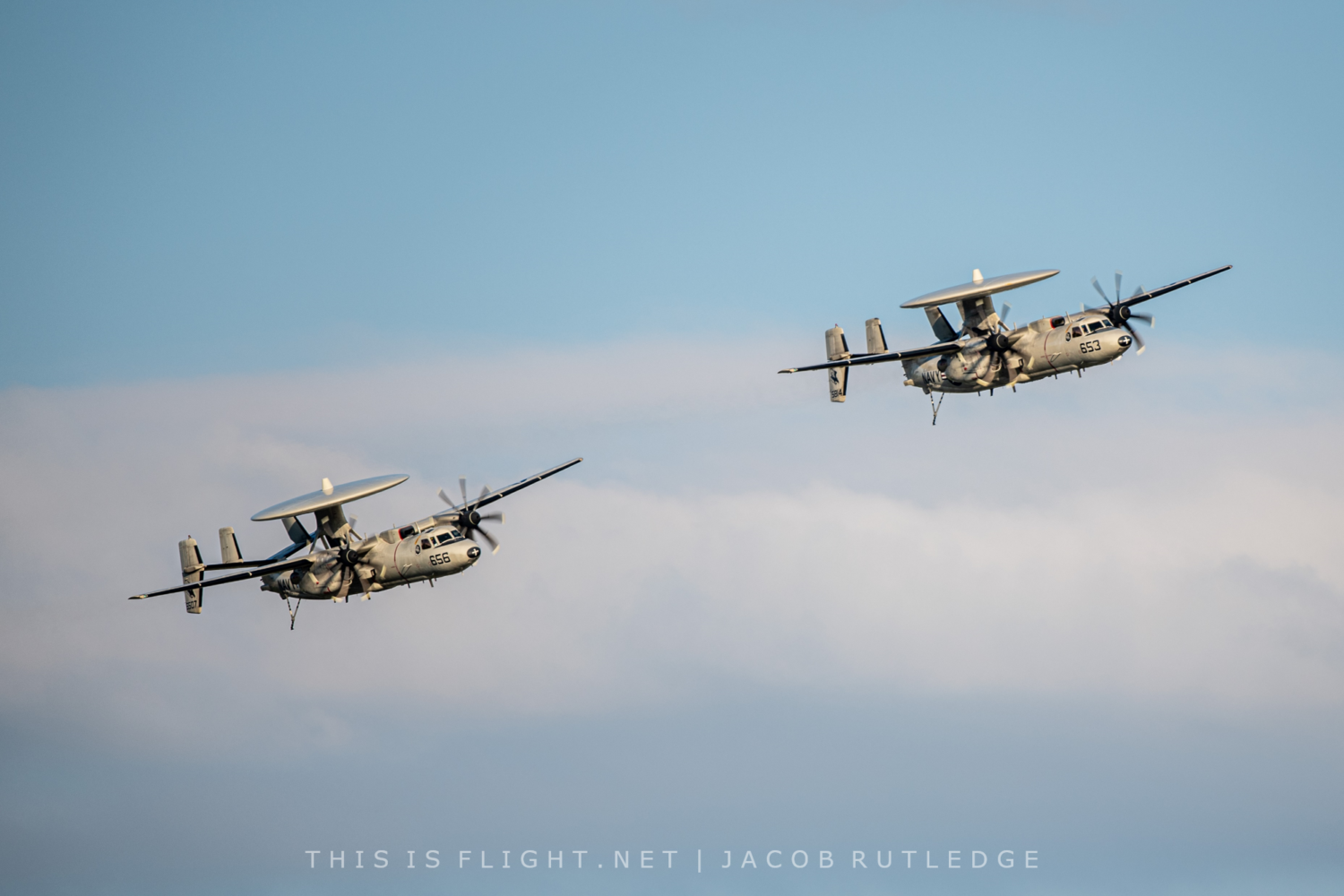 What the E-2s lacked, a P-8A Poseidon from US Navy Air Test and Evaluation Squadron 1, NAS Patuxent River, MD, more than made up for. I counted at least four passes, including several with the weapons bay door open. Another observation was how quiet the aircraft was; while I have no idea what the thrust levers were set to as they made their passes, the aircraft was once of the quietest jets I have ever heard.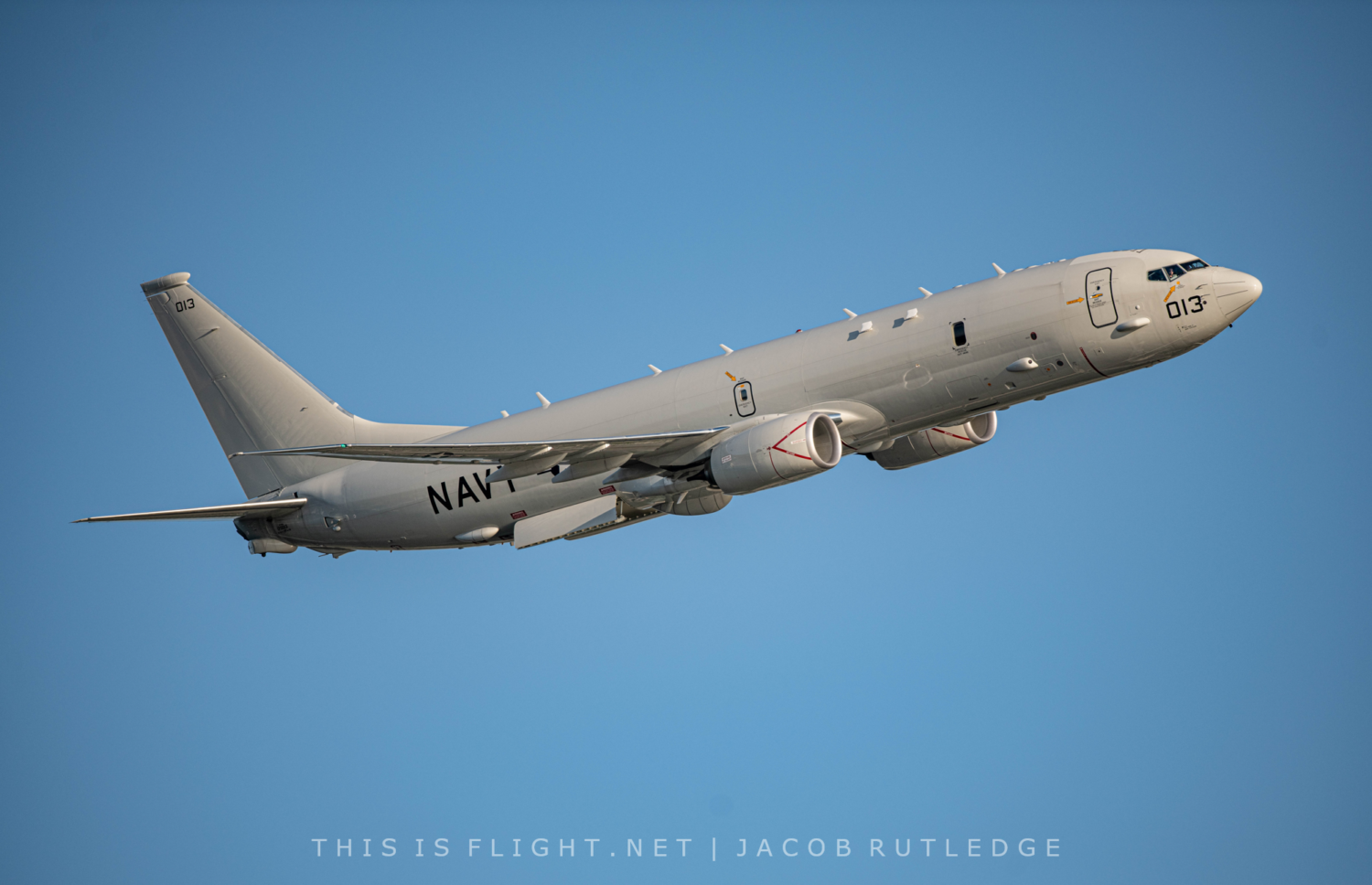 At this point in the show, we are about an hour from sunset. It's been great so far, but it's about to get even better. The Navy EA-18 Growler Demo Team from Naval Air Station Whidbey Island, WA executed one of my favorite demonstrations of the day. With two of them working the box, the demo is quite dynamic, and on several occasions, they flew directly over my head, making for some very unique photo opportunities.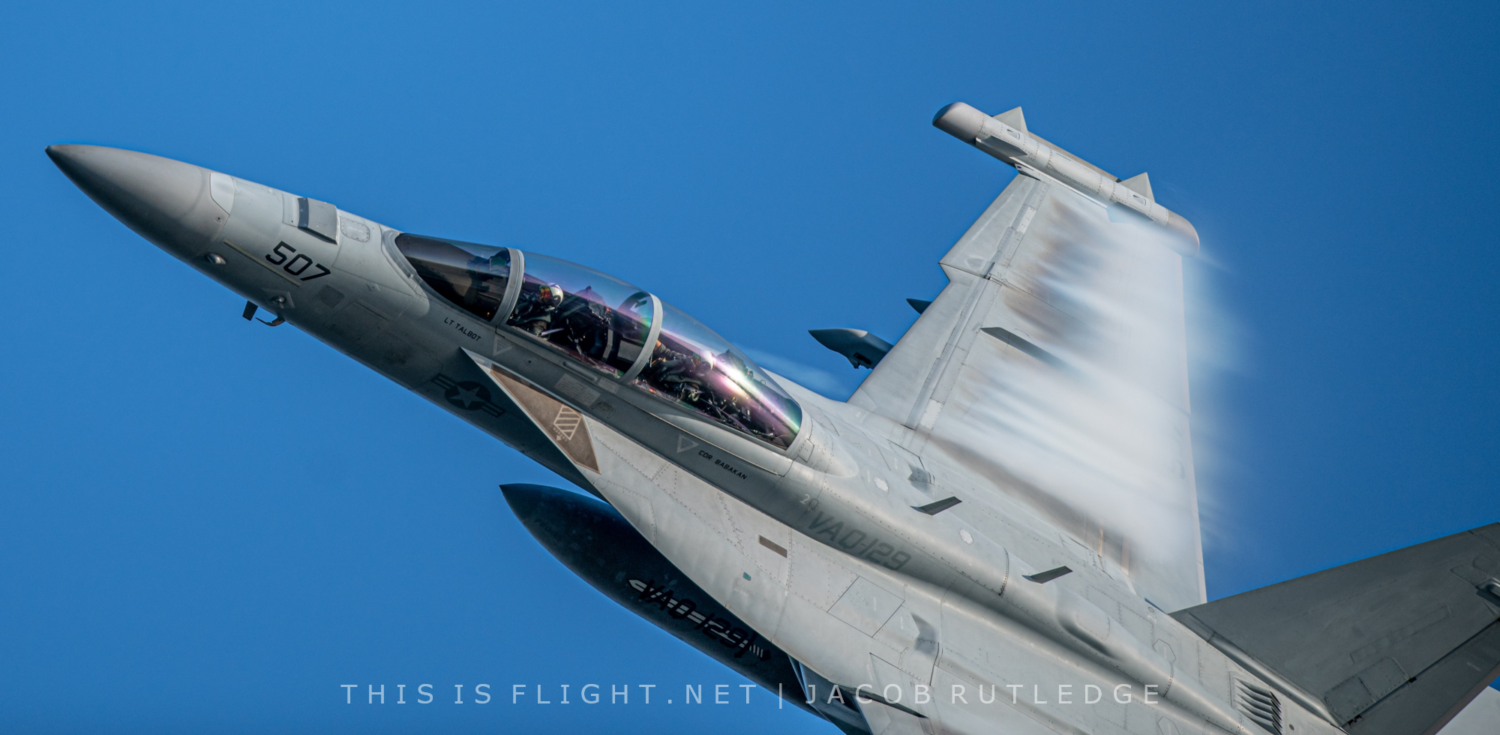 The last US Navy display, and our second Lightning II demonstration of the day, came from the F-35C Demonstration Team from NAS Lemoore, CA. Following its demonstration, the F-35C joined up with an F4U Corsair for a Legacy Flight. Sadly, we didn't get any solo passes from the F4U, and neither did one of the Growlers join the formation, as it had done on practice day. While still a great sight, this felt like a missed opportunity to better showcase the Corsair and to see all three aircraft types in formation.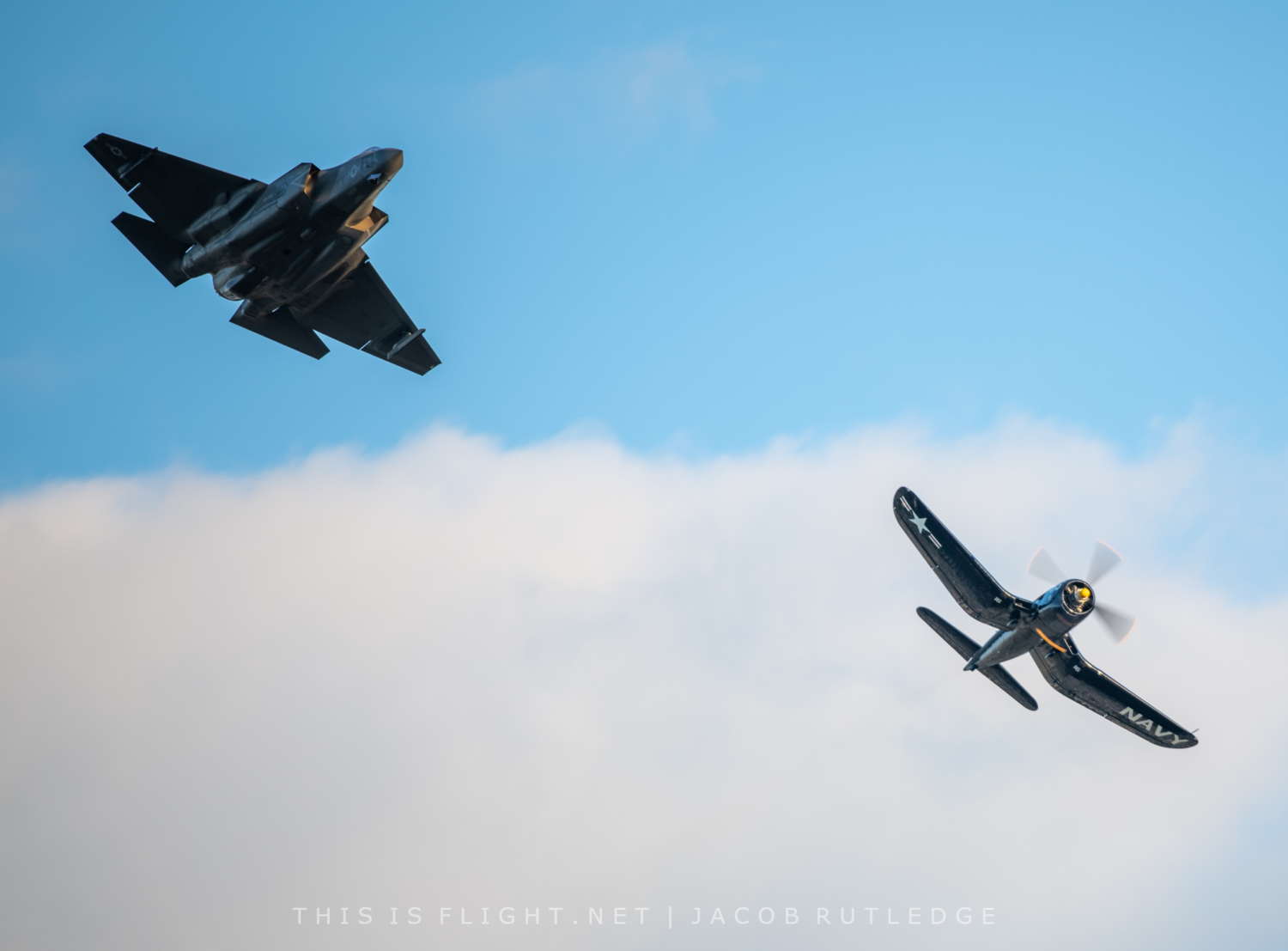 Two local teams flew next, starting with a trio of Yak-52s from Bowman Field in Louisville, which made two passes through the box in opposite directions. Then, another Louisville team, Smoke On Aviation, flying a group of Van's RVs, took to the sky minutes before sunset. Many locals have seen them flying around town over the years but likely didn't know they were a local formation team, including myself. It was great to put a name to the team at Thunder and see them in full formation.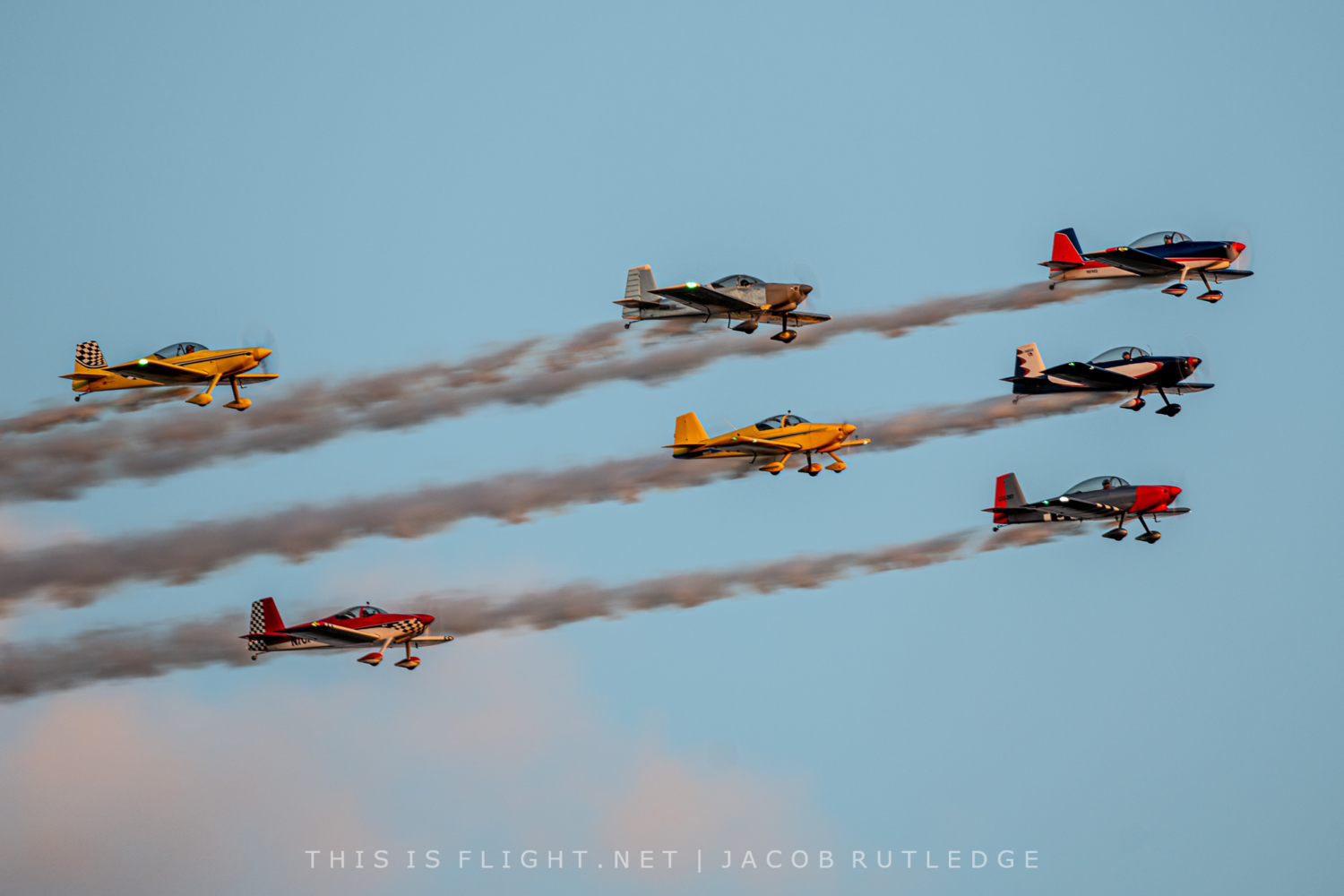 Last year saw the Thunder Over Louisville debut of a night time drone show, which occurred well behind the Indiana crowd and distant from those on the Kentucky side – although still visible. This year, the show was moved just outside the aerobatic box and over the Ohio River, so that both sides had an equally good vantage point. The show was a hit, drawing a great reaction from the crowd, and will hopefully become a regular feature.
Last but not least, the fireworks. Lasting for 30 minutes, the show is launched from two barges and a bridge, and really is something to experience.

Are you ready to attend your first Thunder Over Louisville? This is far from a definitive guide, but the following will set you in the right direction.
It's a big show – not just in terms of duration, but also in terms of its attendance, with over 800,000 spectators. While that sounds like a lot of people – and it is – there is plenty of space for everyone. Park as far away as you are comfortable walking on your way out, or plan on sticking around for a while to let the traffic dissipate. If you are not local, book a hotel near show centre, and simply walk back after the show.
From a photography perspective, it's a tricky show to photograph. You are going to experience direct sunlight, golden hour, blue hour, and night all in the same show. Be prepared to make adjustments. If you are able, bring a wide lens and a tripod for the fireworks.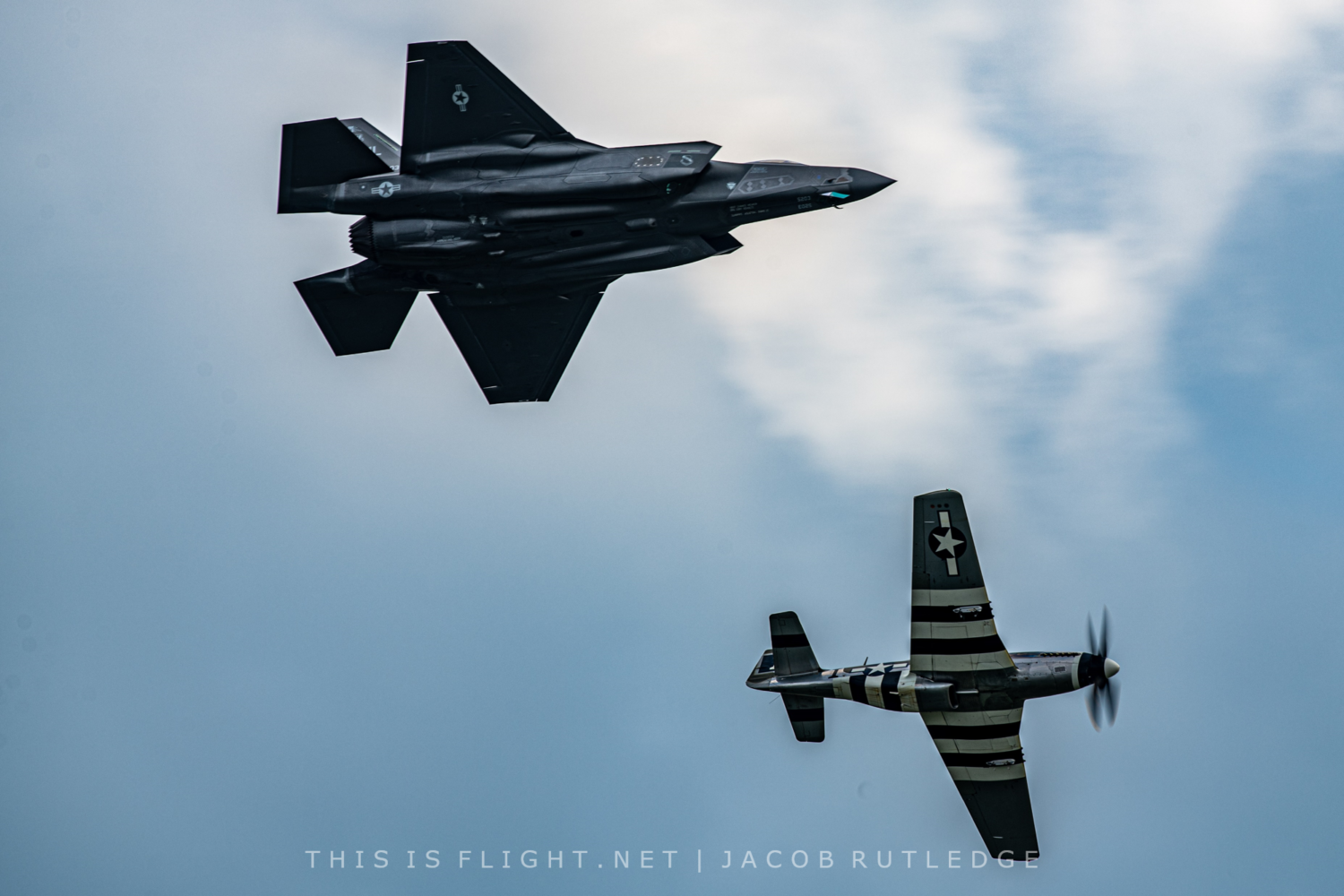 It is also worth attending practice day, if you are able. Practice day at Thunder is always held on the Friday before the main show. It is like a bonus airshow, but you have to be patient. This year, the practice box was open from 11am to 5pm. The action is a little slower, not everything will fly, and you won't find a published schedule – but if you are willing to wait it out, you may see things during practice day that you won't see during the show. For the most part, it's just another normal day in the city, so you will not be dealing with airshow crowds or parking woes. I'll generally photograph practice day from the Kentucky side and the actual airshow from the Indiana side.
I left out the best part: All of this is free. While plenty of paid seating exists, the show is entirely free. You're not going to find a better deal.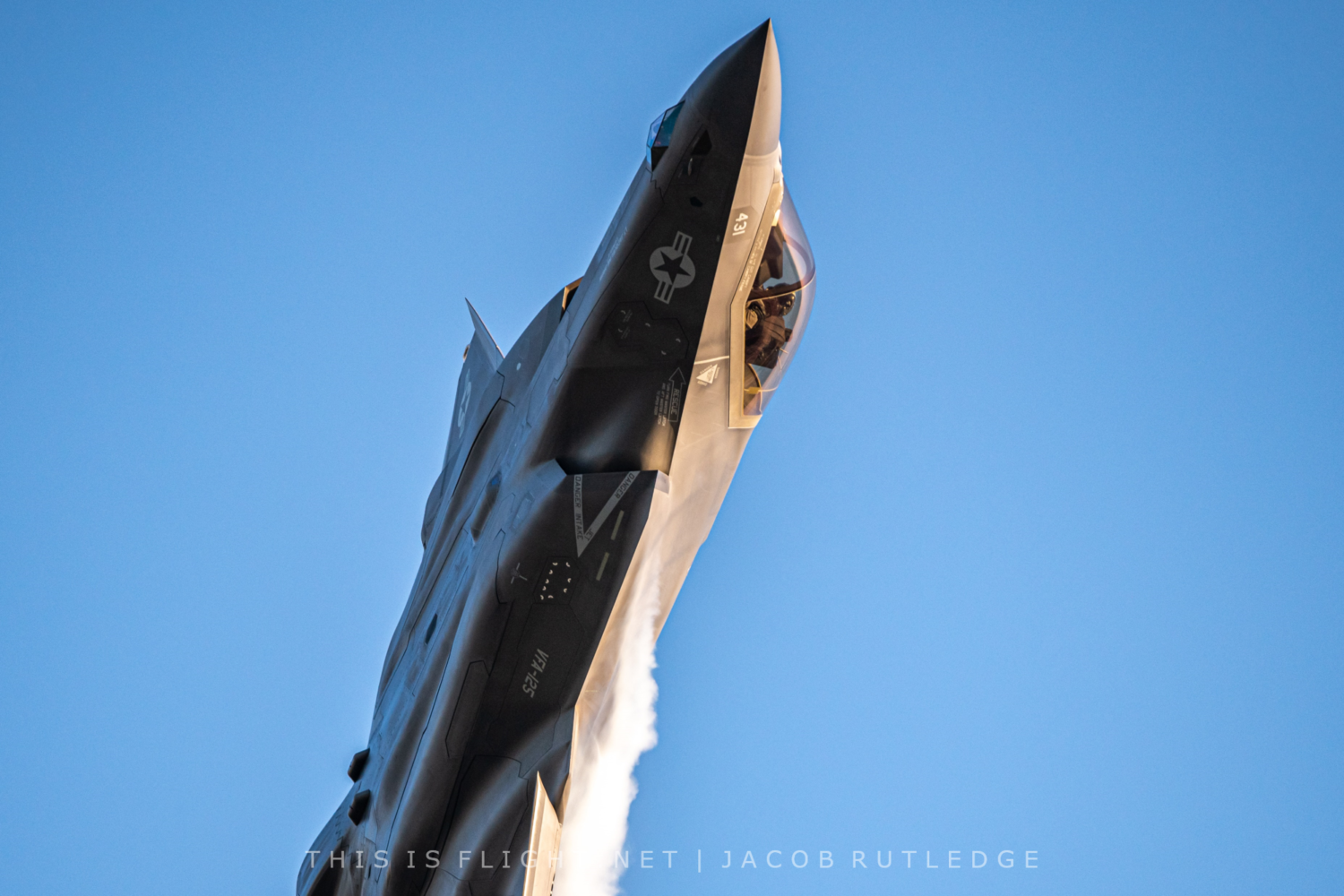 Thunder Over Louisville is one of my favorite airshows, but it takes a little bit of work to take it all in. Don't let that scare you. I had a couple of friends come in from out of town that had never experienced Thunder Over Louisville. The best quote to sum it up is "I've never experienced anything like it."
Views for the show were provided courtesy of the Sheraton Louisville Riverside Hotel.