WORDS AND PHOTOS: JACOB RUTLEDGE
2020 was a difficult year at best, and I am being generous. Life was upended, relatives and friends were lost, and life as we know it likely changed forever. Thunder Over Louisville is usually not only the first airshow on my calendar, it is also my "home" airshow. I've attended every year except for where major life events caused conflicts; it is part of my and many – if not most – Louisvillians' normal life, and one which was sadly absent last year.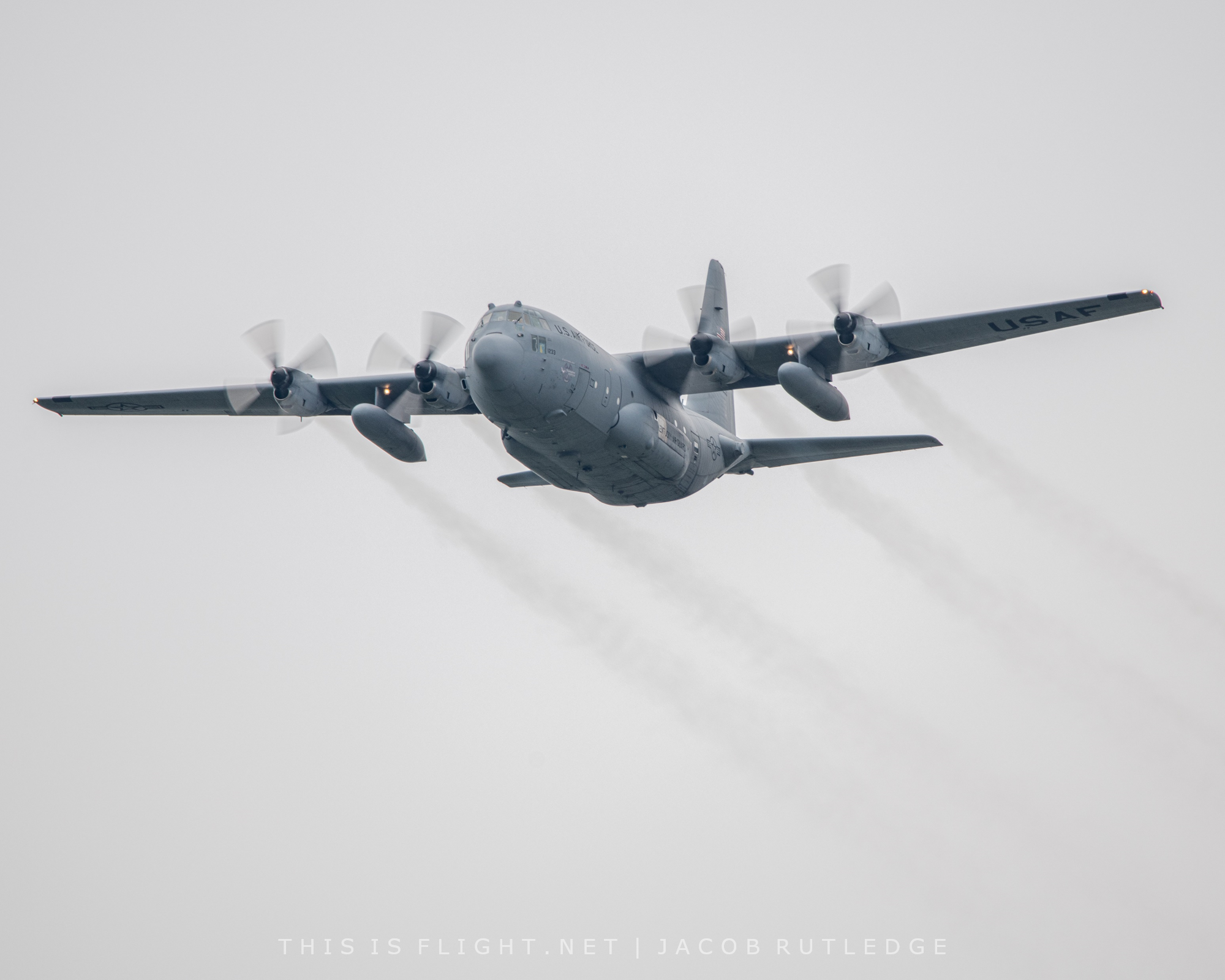 Words cannot explain the excitement I felt when the 2021 Thunder Over Louisville airshow and fireworks announcement was released. The US had just experienced peak Covid numbers and the pandemic at last appeared to be on the decline. While details were scarce and we knew things would be different, Louisville had something to look forward to.
This year's airshow was a made for TV event. Louisvillians were asked not to gather around the airport or risk putting the event in a situation where it may need to cancel. Up until a week before the show, details remained unknown, including the location. Firework shows, originally planned to take place at five secretive sites around the city, were scaled back to just three locations because the sites had been leaked and people were making plans to gather. There is a public safety angle here too. Keep in mind that Thunder Over Louisville is one of the largest fireworks shows in North America; this is not your backyard fireworks display.
The fact that the airshow was not open to the public made good media coverage more important than ever, and This is Flight was fortunate to be able to watch the show at Bowman Field (rather than the more usual venue along the Ohio River against the backdrop of the Louisville skyline). The air display was scheduled from 4pm until 6pm – less than a third of the time scheduled in a "normal" year, but the organizers were able to pack in much of what I would have expected at a regular edition of Thunder, with the exception of military jet demo teams. While these teams are a huge draw, Bowman Field had only been granted a Class 3 aerobatic box and one-mile TFR (Temporary Flight Restriction) – too small for most formation teams and military demonstrations.
Regardless of the previous year and events leading up to this point, Thunder Over Louisville airshow always surprises. If there is one airshow that I caution you not to judge by it's cover (or, in this case, the published schedule), it's this one. There is always a surprise or two, but this year was chalked full of aircraft not on the official schedule. That is not always a bad thing; I find the older I get, the fewer good surprises come my way, so you're not going to hear me complain about surprise additional airshow performers.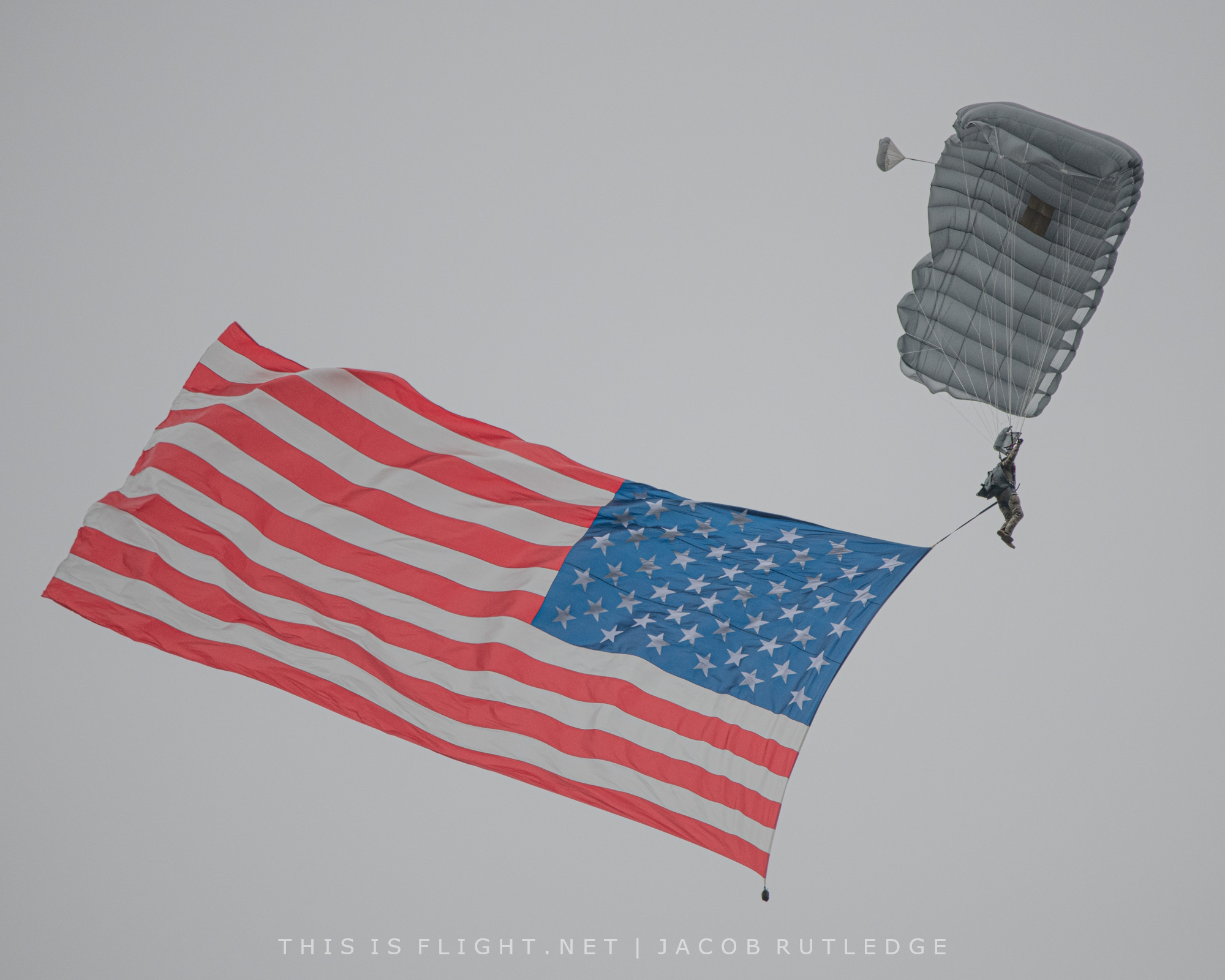 The show started exactly on time with the traditional paratrooper jump, with a Kentucky Air National Guard C-130H Hercules acting as the jump-ship. The original plan was for a High Altitude Low Opening (HALO) jump, but it appeared the low ceilings prevented the team from jumping at high altitude, resulting in a lower jump altitude and immediate parachute deployment. At the Air Boss' request, the C-130 then returned for a high speed pass.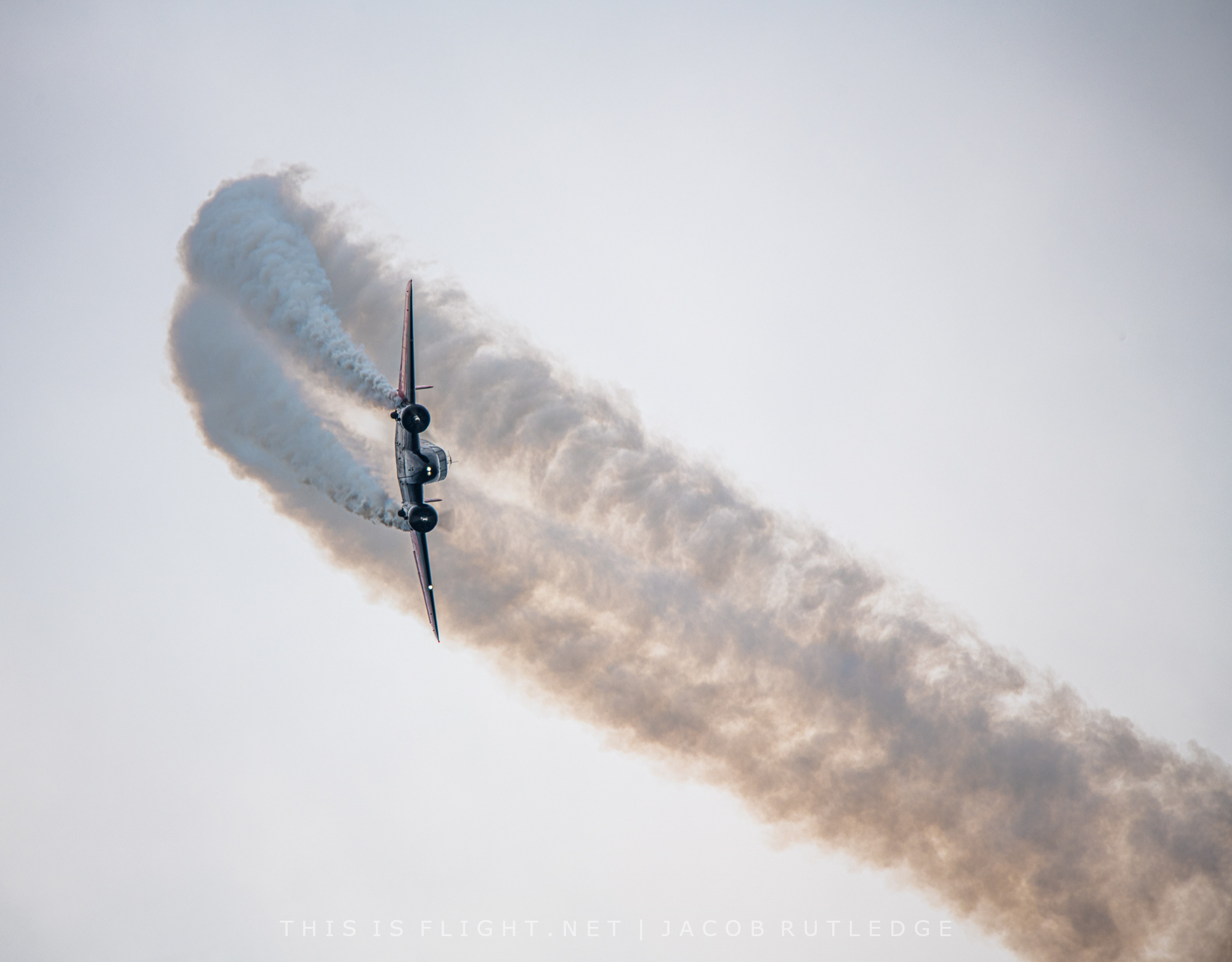 There were many differences outside of what a "normal" Thunder Over Louisville looks like, even affecting some of Thunder's more regular performers. While I love the unique cityscape backdrop that Thunder Over Louisville typically provides, it doesn't afford a view into what is going on at the airport(s) hosting the performing aircraft. Matt Younkin was able to take full advantage of the new venue in his Twin Beech; his flying style takes advantage of every inch of the aerobatic box available to him, and with Bowman Field as the backdrop, Matt laid down numerous trails of smoke tens of food off the runway. There is a reason Matt earned the Art Scholl Memorial Award for Showmanship in 2020.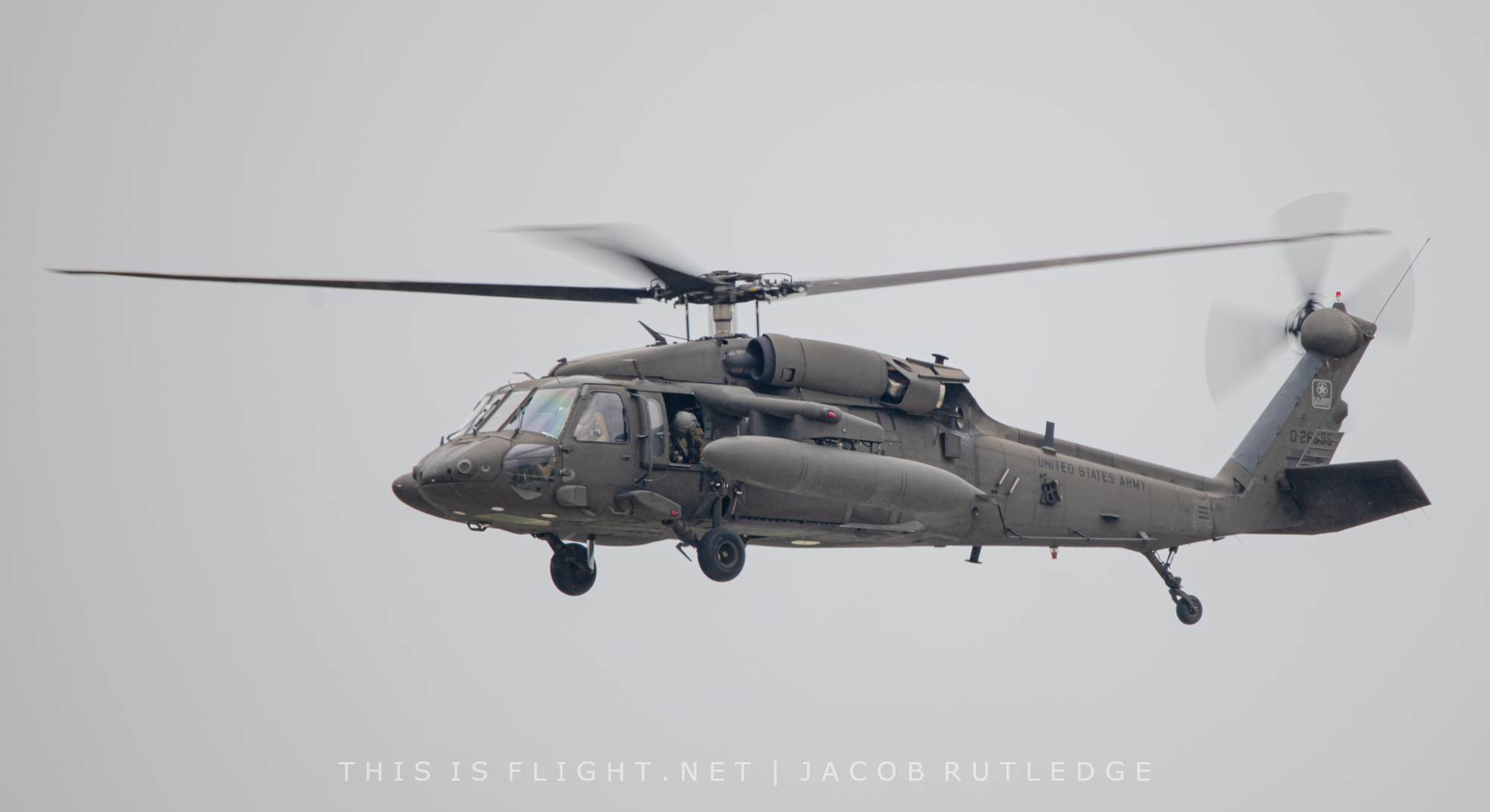 After Matt's Twin Beech demonstration, the US Army Reserve 8th Battalion, 229th Aviation Regiment based in Fort Knox brought two UH-60 Black Hawk helicopters to show center for a flyby. Following up the Blackhawk passes were a pair of CH-47 Chinook medium lift helicopters simulating a cargo drop under the cover of two AH-64D Apache Longbow attack helicopters. Louisville sees C-130 traffic from the Kentucky Air National Guard based at Louisville Muhammad Ali International Airport (KSDF) on a daily basis, but it's not often we get to see the Blackhawks, Chinooks, or Apaches based at Fort Knox just over 20 miles away.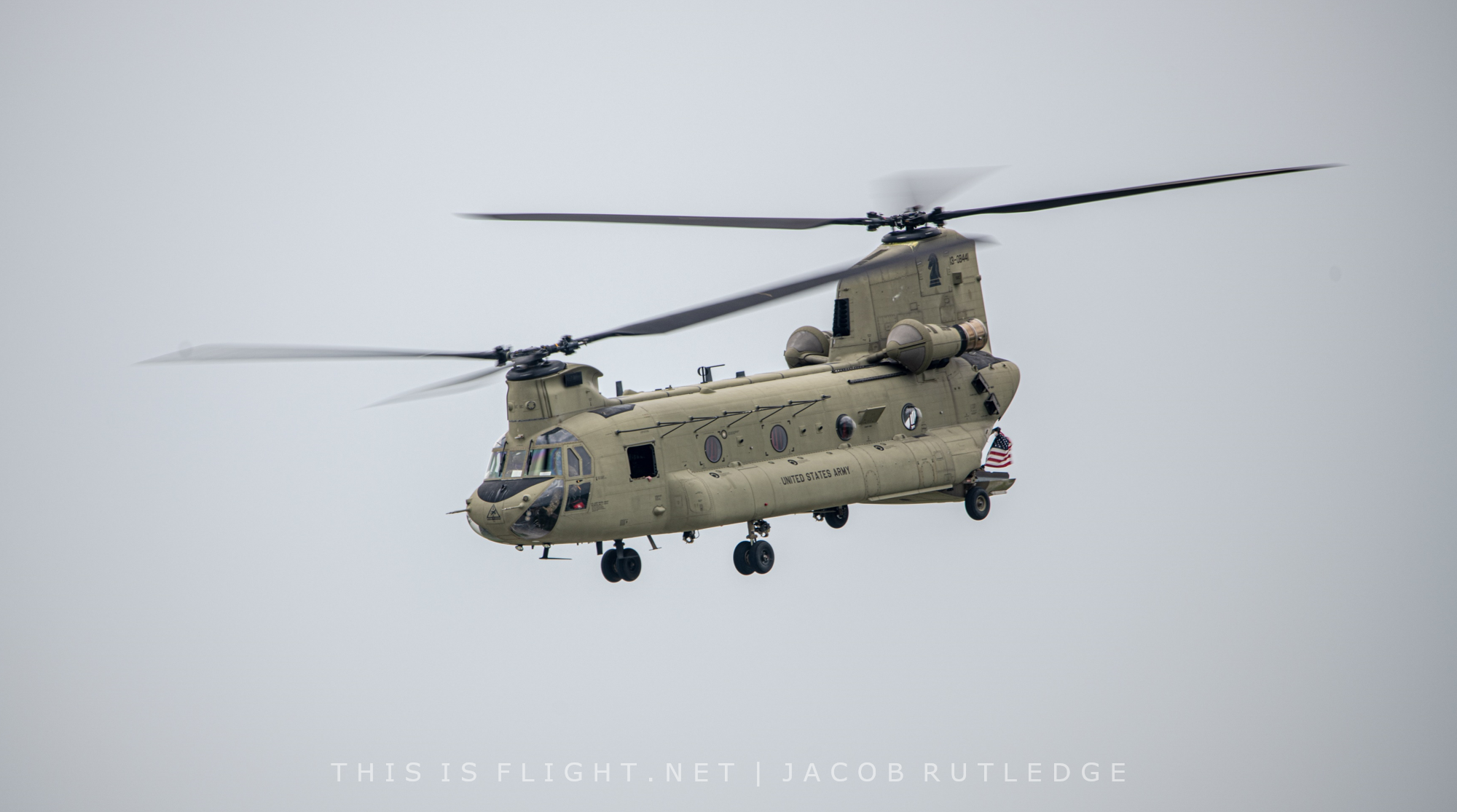 Next up, the TBM-3E Avenger maintained and flown by members of the Commemorative Air Force took control of the air box. The Avenger is a large machine compared to other fighters of its time, and had a great presence in the sky, giving spectators the opportunity to enjoy multiple flat but moderately low passes.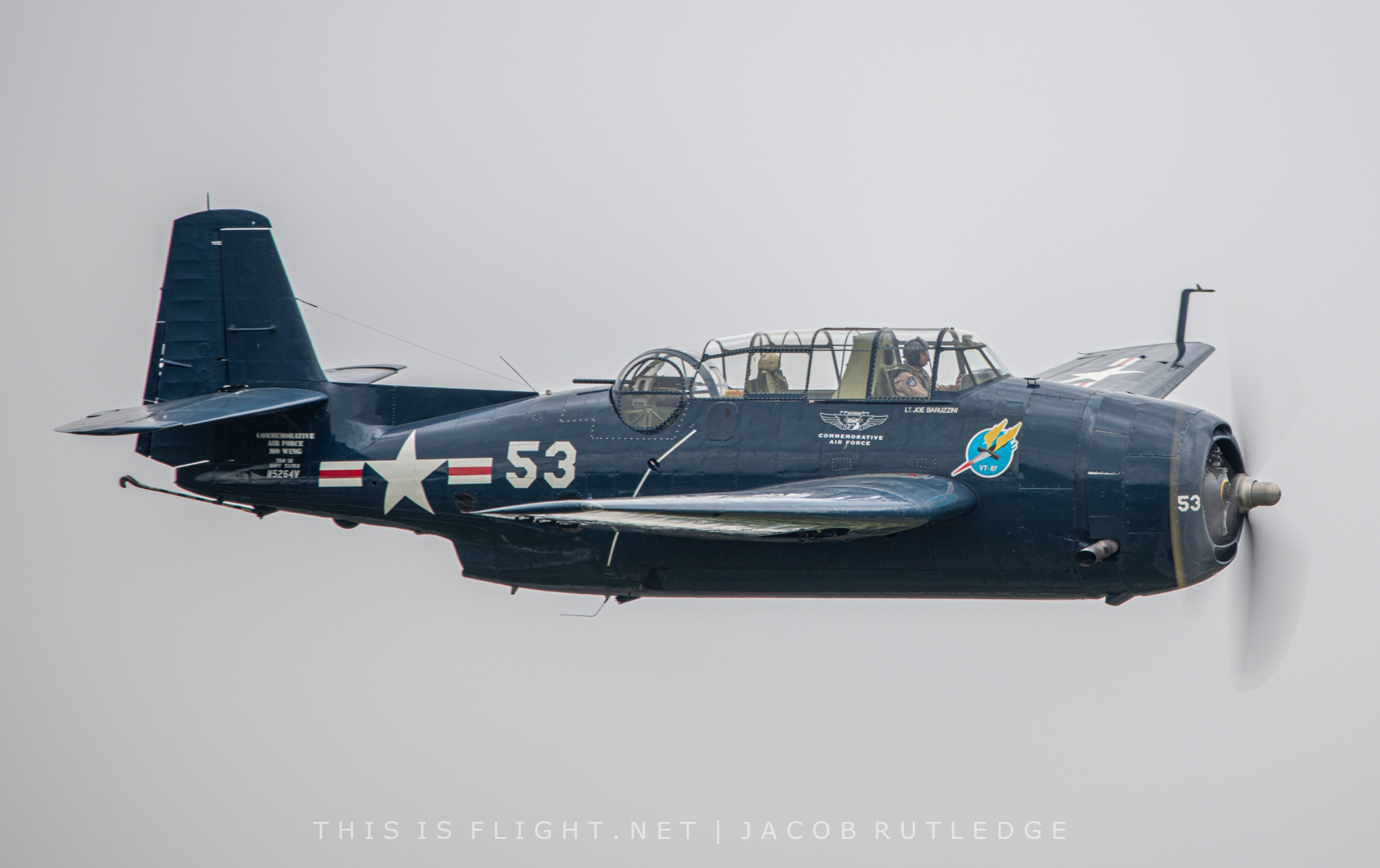 At the same time, a US Air Force C-17A Globemaster III based out of Wright-Patterson Air Force Base had been holding in the distance waiting for it's time to shine. The opportunity arrived once the TBM avenger was back on the ground. While the C-17 is always an incredible sight, it seems like we never get to see enough of it: in previous years we generally got to see both a dirty pass and clean high speed pass, but this year we only saw one flat pass. It was at that point I remember how difficult it is to get a decent image of a dark aircraft in a low light, overcast sky – especially amid the light drizzle that occurred during the second half of the show. Thunder over Louisville always presents a challenging mix of lighting conditions and I'm admittedly out of practice, but I found the passes of C-130s and a KC-135 later in the show difficult to photograph.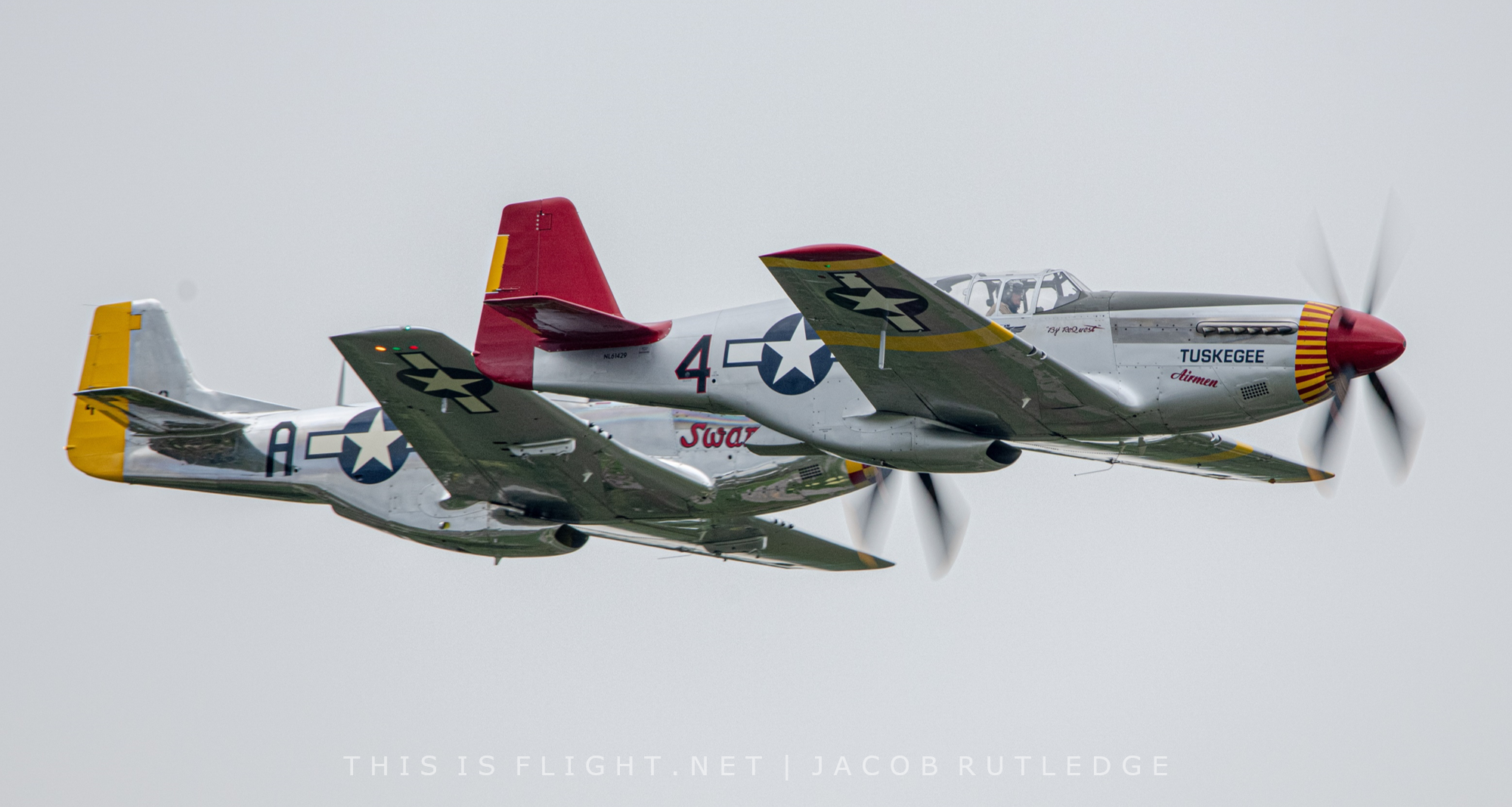 Regardless of the prevailing light situation, the next act consisted of two incredibly photographic aircraft in the form of P-51D Mustang "Swamp Fox" and P-51C Mustang "Tuskegee Airmen". The contrasting color schemes made it easier for the camera, and me, to make the appropriate adjustments and get back in the game. I have seen "Swamp Fox" at Thunder Over Louisville before and had felt in the past like it needed more time in the show. This year, both Mustangs provided the audience with ample opportunity to view these flying pieces of history, starting with solo flat passes and finally some formation flying.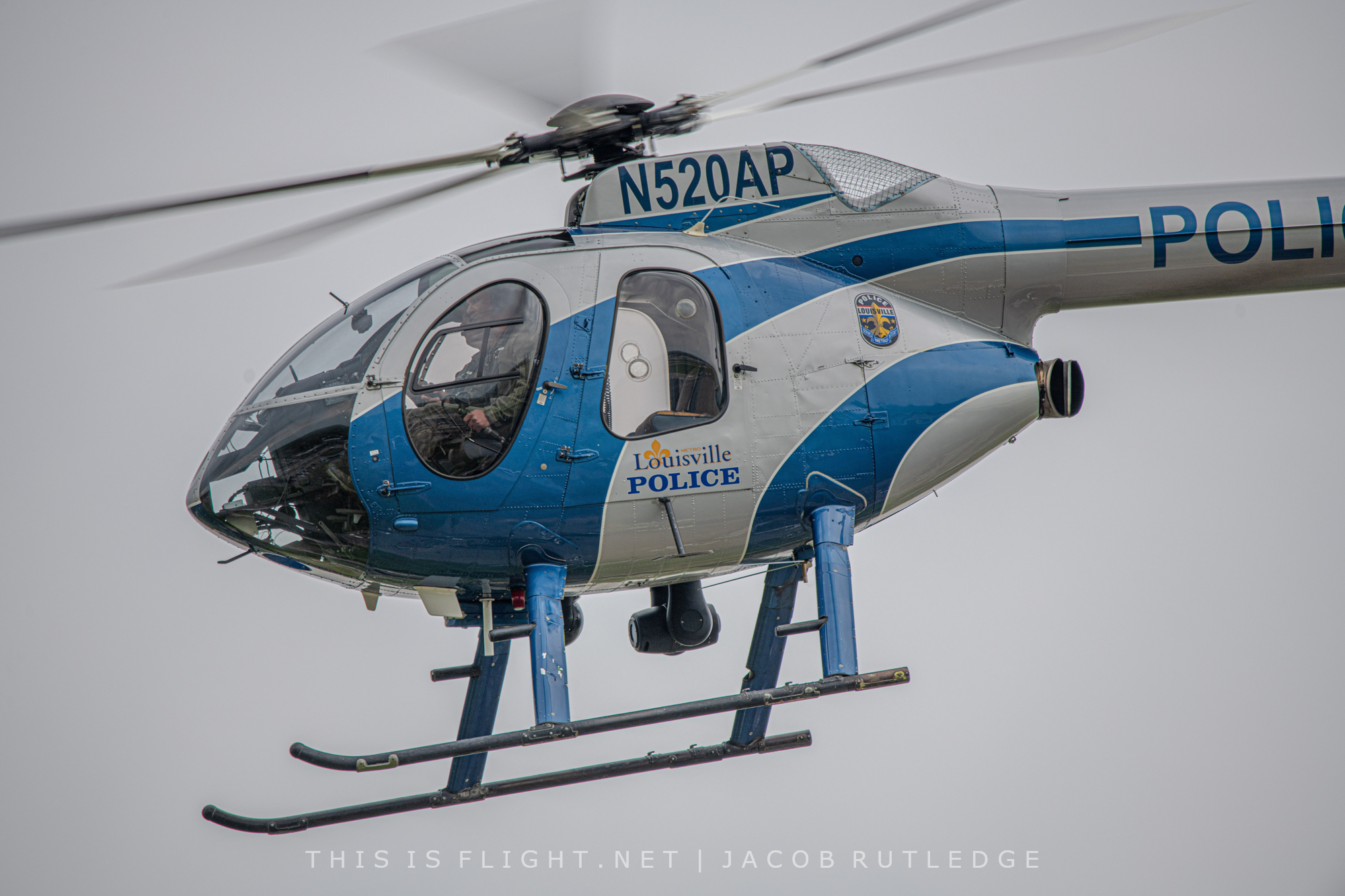 In a surprise, at least to me, the KYANG brought back three C-130Hs for two passes over the field. This time they flew not only down Runway 24 (which was the prevailing direction for large jet passes), but also down Runway 15, likely giving many surrounding residents a welcome surprise. Another locally based aircraft, the Louisville Metro Police Department MD-250N, then made several passes around the airfield demonstrating its maneuverability and speed. This was followed by another local act: Nick Coleman in his Swick-T Craft, completing his aerobatic routine against a muted sky. Nick's aircraft has a wonderful white and red paint scheme that really pops against a blue sky. Today didn't provide the best visual conditions, but I enjoyed the aerobatic routine nonetheless.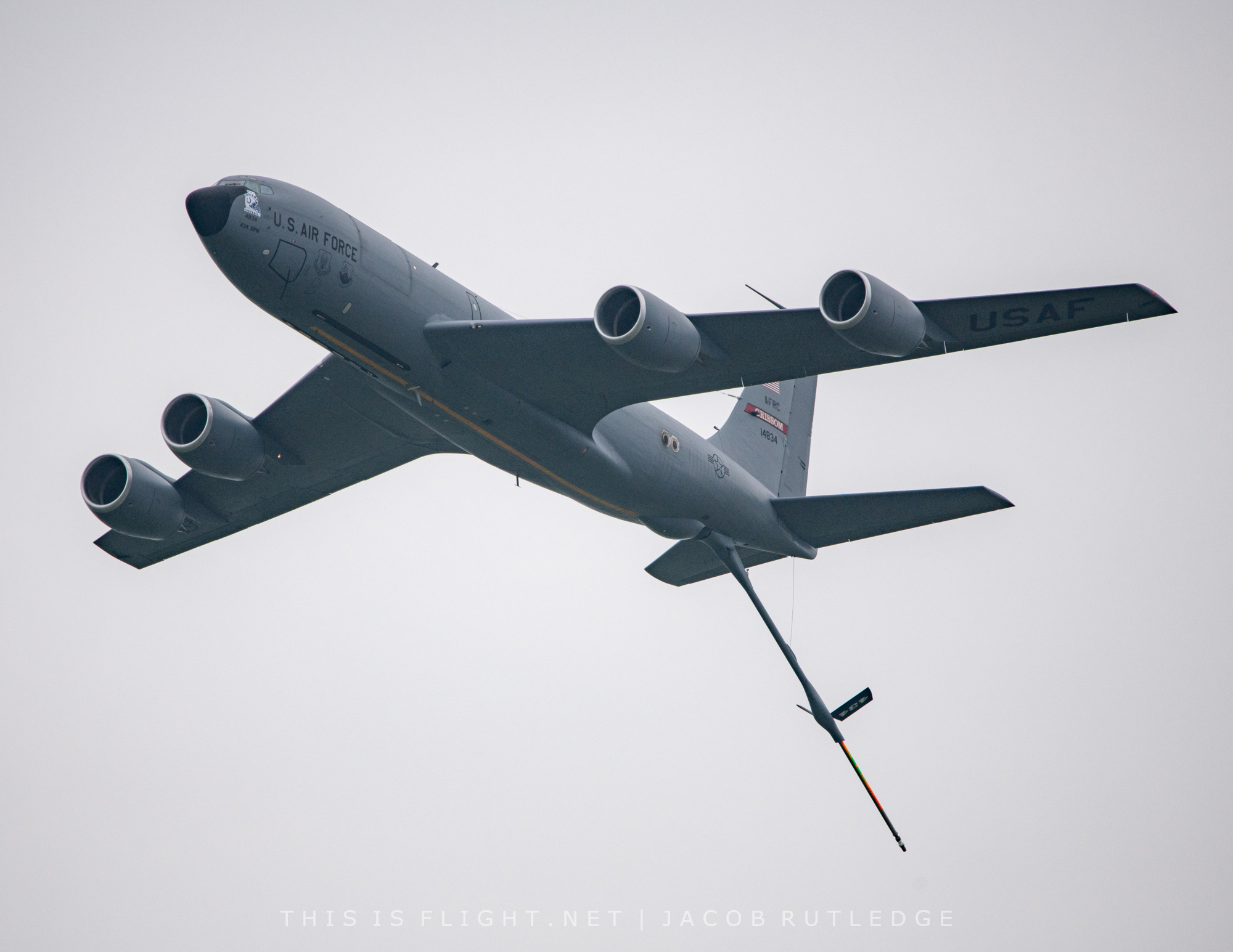 The US Air Force took center stage next, with a KC-135R Stratrotanker out of Grissom Air Reserve Base provided the audience with two passes.  The first pass demonstrated the aircraft in refuelling configuration with the refuelling boom extended and the second a pass with the aircraft cleaned up. It was followed in very quick succession a formation of two T-38 Talons out of  Columbus Air Force Base followed by a four-ship formation of T-6 Texan IIs of our Sheppard Air Force – three of these six aircraft wearing heritage paint schemes. These are two other aircraft that are staples of Thunder over Louisville but we never seem to get enough of: one pass and they are gone. I am thankful they visit, but would like to see them spend a little more time in the box so spectators to see and experience these critical training aircraft.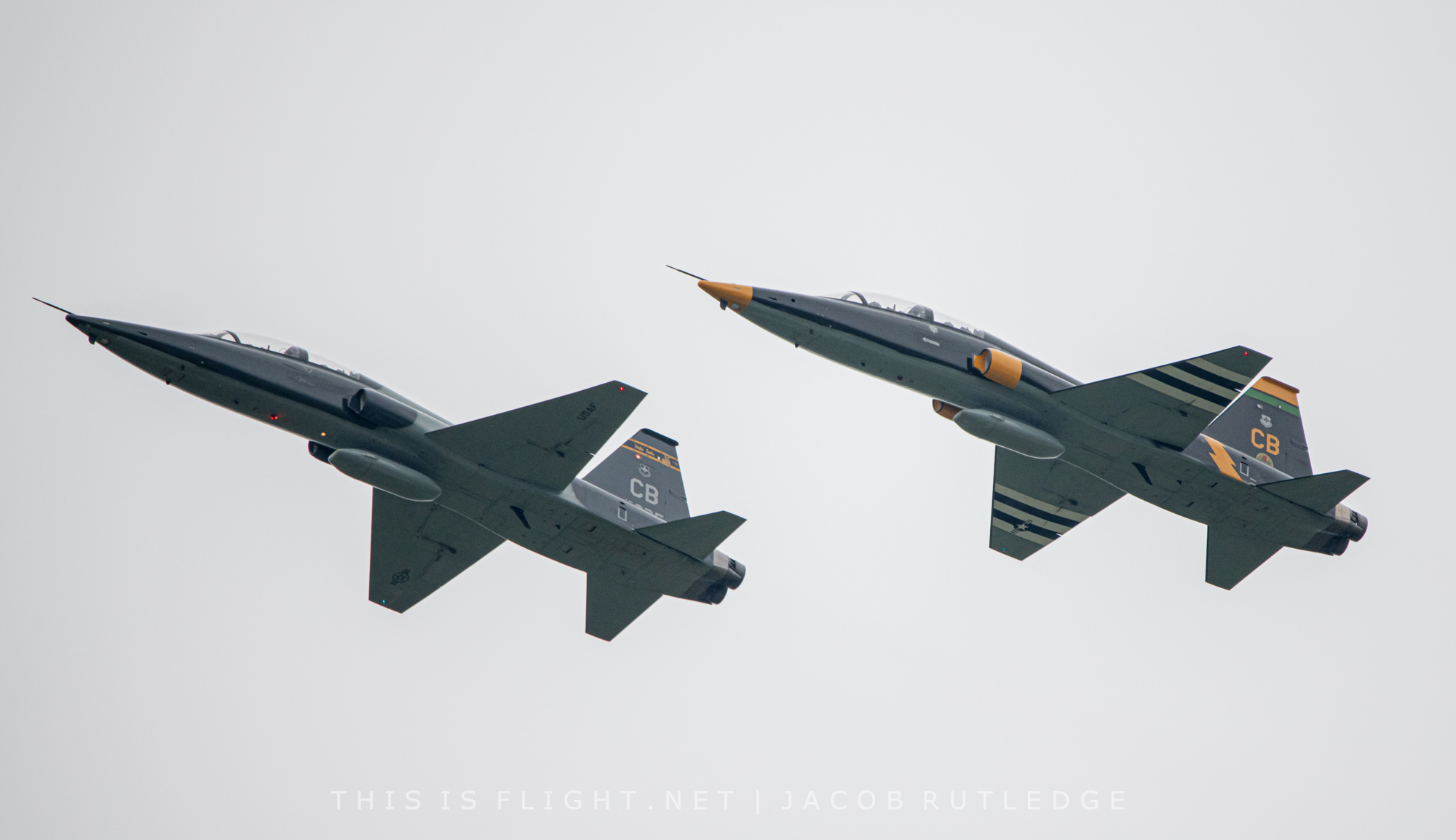 One takeaway from any Thunder Over Louisville airshow is the local talent on display, and people with ties to the show that come back year on year to help put on a successful display. One of those locals was Lee Leet, who tragically passed away unexpectedly in early March at the age of 53, shocking the community. Lee's Short Tucano in Royal Air Force colours was a staple during Thunder Over Louisville since 2013. In a fitting tribute, the man who trained Lee how to fly the Tucano took to the skies in Lee's plane in what may be the last time Lee's aircraft graces the skies during a Thunder Over Louisville airshow.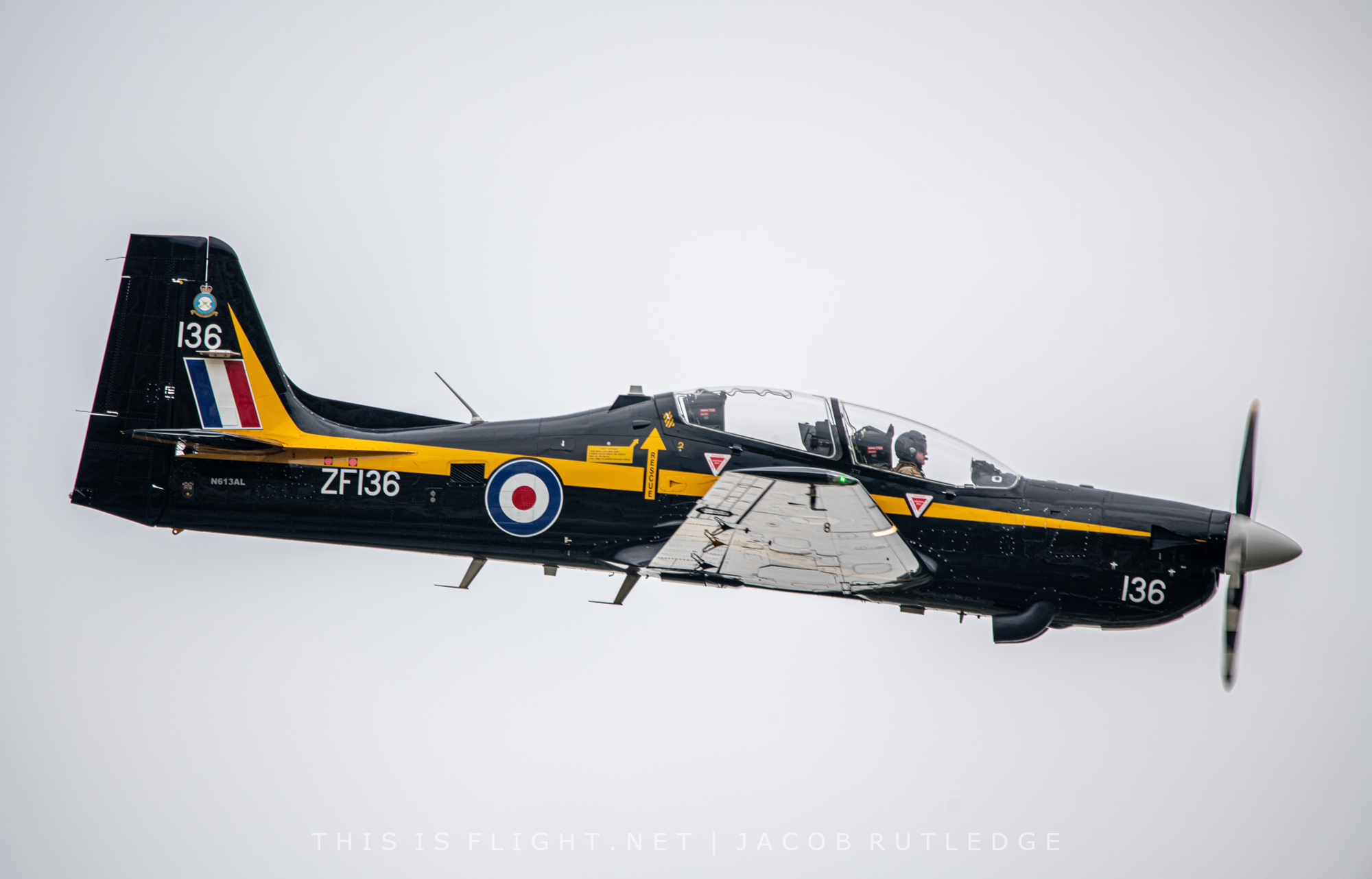 To round out the end of the show, Thunder Over Louisville Sponsor UPS brought one of its Boeing 767-300 freighters, its brown and gold paint scheme standing out exceptionally well against the overcast sky. While the UPS 767 has made previous appearances at Thunder Over Louisville, this flight made for another first, as it was flown by the first all-black Thunder Over Louisville airshow crew.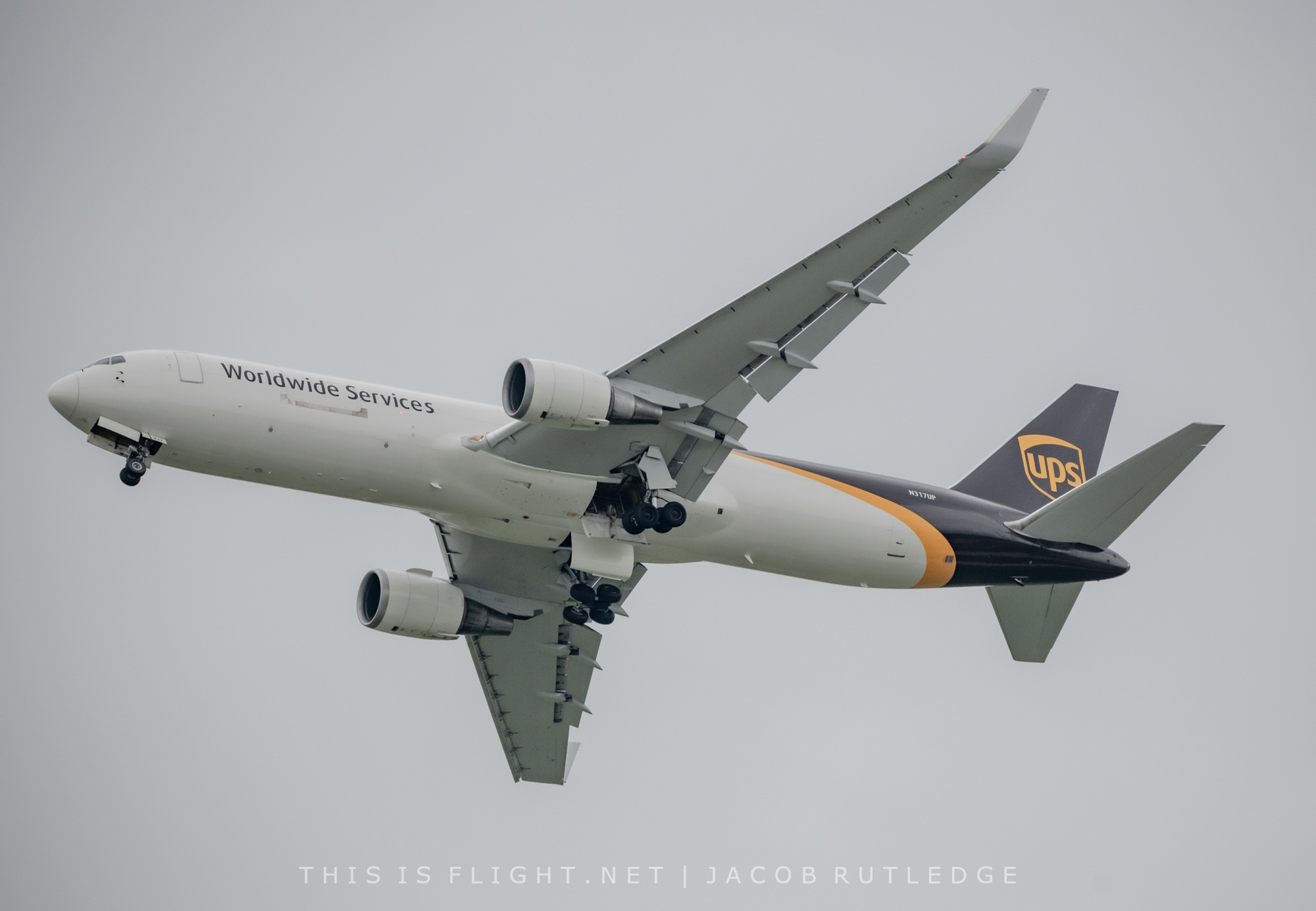 Although the event was created for a TV audience, some members of the community still got to enjoy many of the larger aircraft repositioning passes in person. I know many of my friends and family enjoyed seeing the Chinooks, C-17 and 767 flying low around the city. While things are not quite back to normal yet, the organizers did the best they could given hosting the full scale Thunder Over Louisville event attracts up to 750,000 spectators. I would like to thank the organizers, staff, volunteers and pilots for bringing back a little bit of normalcy into our lives, and I am looking forward to a full scale Thunder Over Louisville back on the waterfront, hopefully, in 2022!