Newly-christened as the Royal Navy International Air Day for 2019, in an attempt to attract further participation by foreign naval air arms and maritime aircraft, the former Yeovilton Air Day continued its tradition of delivering a unique and unrivalled spectacle. Following the sad demise of RNAS Culdrose Air Day, the annual event in Somerset is now the Royal Navy's sole remaining military airshow, providing the general public with an opportunity to explore the Fleet Air Arm's ongoing operational commitments, in the UK and overseas.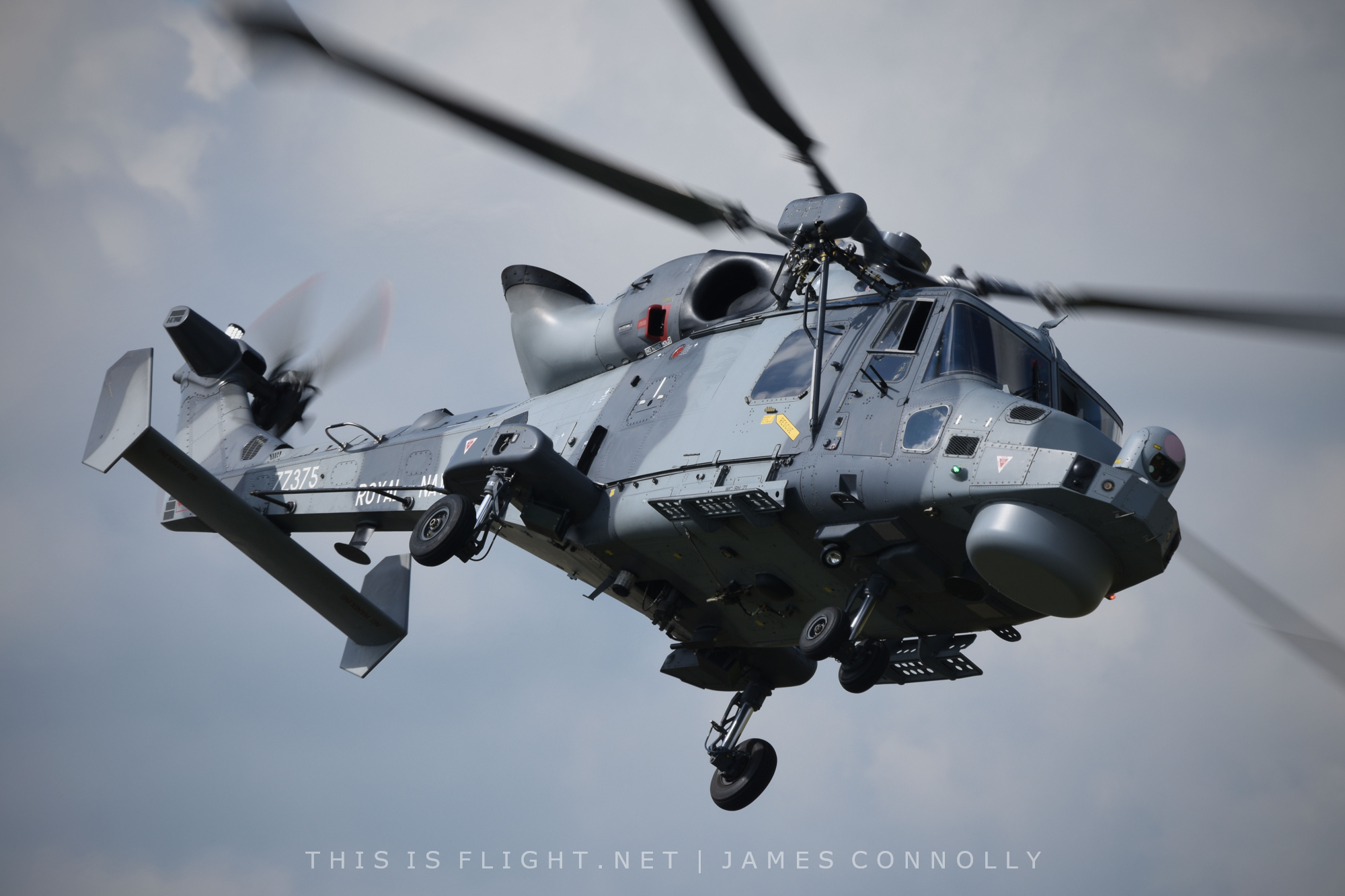 The last eighteen months have proved to be an exciting period for the Fleet Air Arm. In Autumn last year, the F-35B Lightning completed an extensive eight-week programme of First of Class Flight Trials on board HMS Queen Elizabeth, which encompassed a total of 85 flight sorties, 202 ski-jump short take-offs, and 186 vertical landings. The WESTLANT19 deployment, scheduled to commence in the latter part of this year, will witness F-35Bs embarking on the carrier once again for continued flight trials and evaluation, in the pursuit of Initial Operating Capability Maritime – IOC(M) – by December 2020. The Commando Helicopter Force is also heavily involved in this renaissance period of British naval aviation following the recent acquisition of the upgraded Merlin HC4 variant, heralding a new breed of 'junglie' helicopters at RNAS Yeovilton.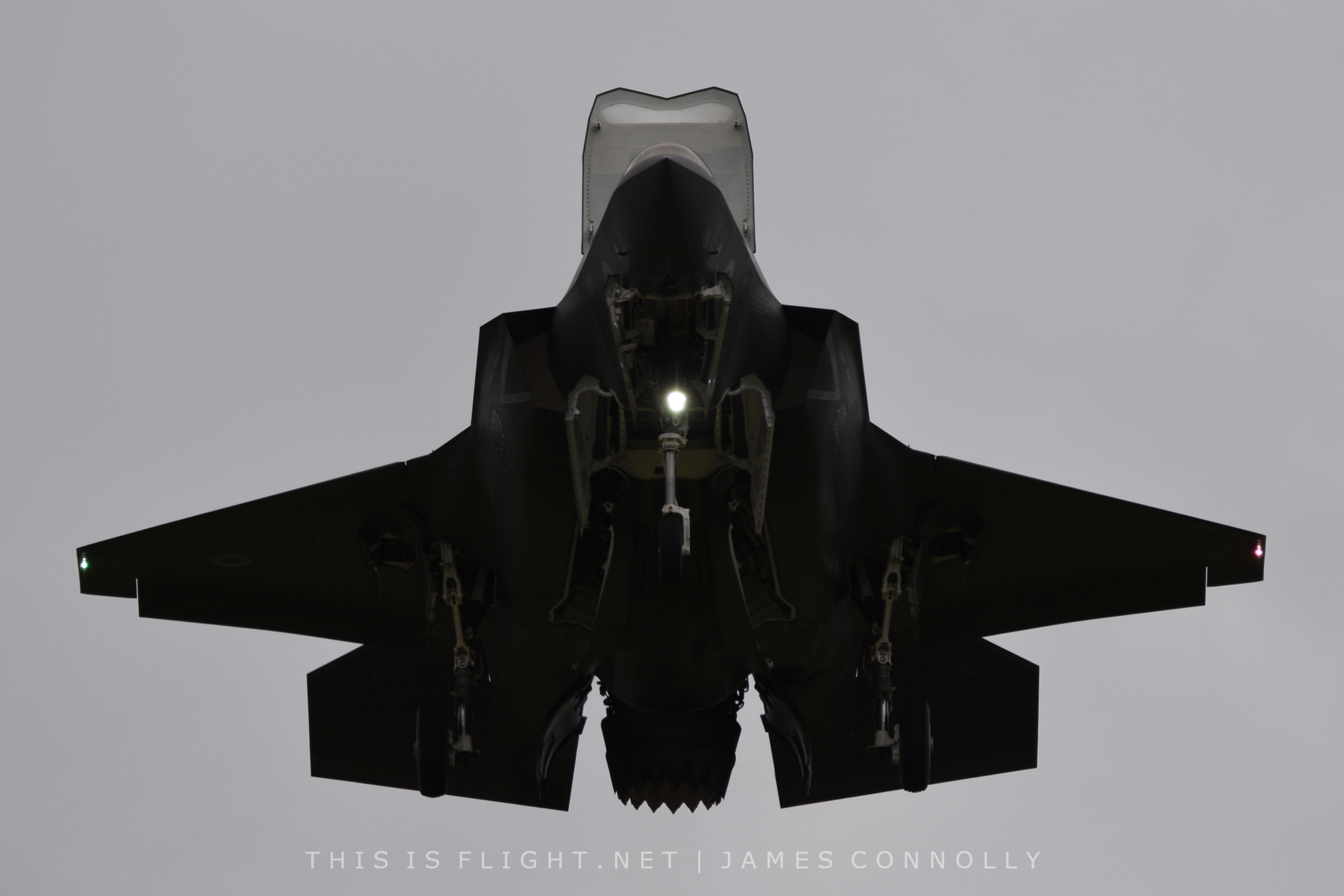 It was appropriate, therefore, that visitors were given a glimpse into this new, developing chapter of air power at sea. From RAF Marham, the Lockheed Martin F-35B Lightning II made its first appearance at the show, providing two flypasts before coming into a hover at crowd-centre; whilst only a fleeting performance, it is hoped that the aircraft will become a regular sight at Air Day in years to come.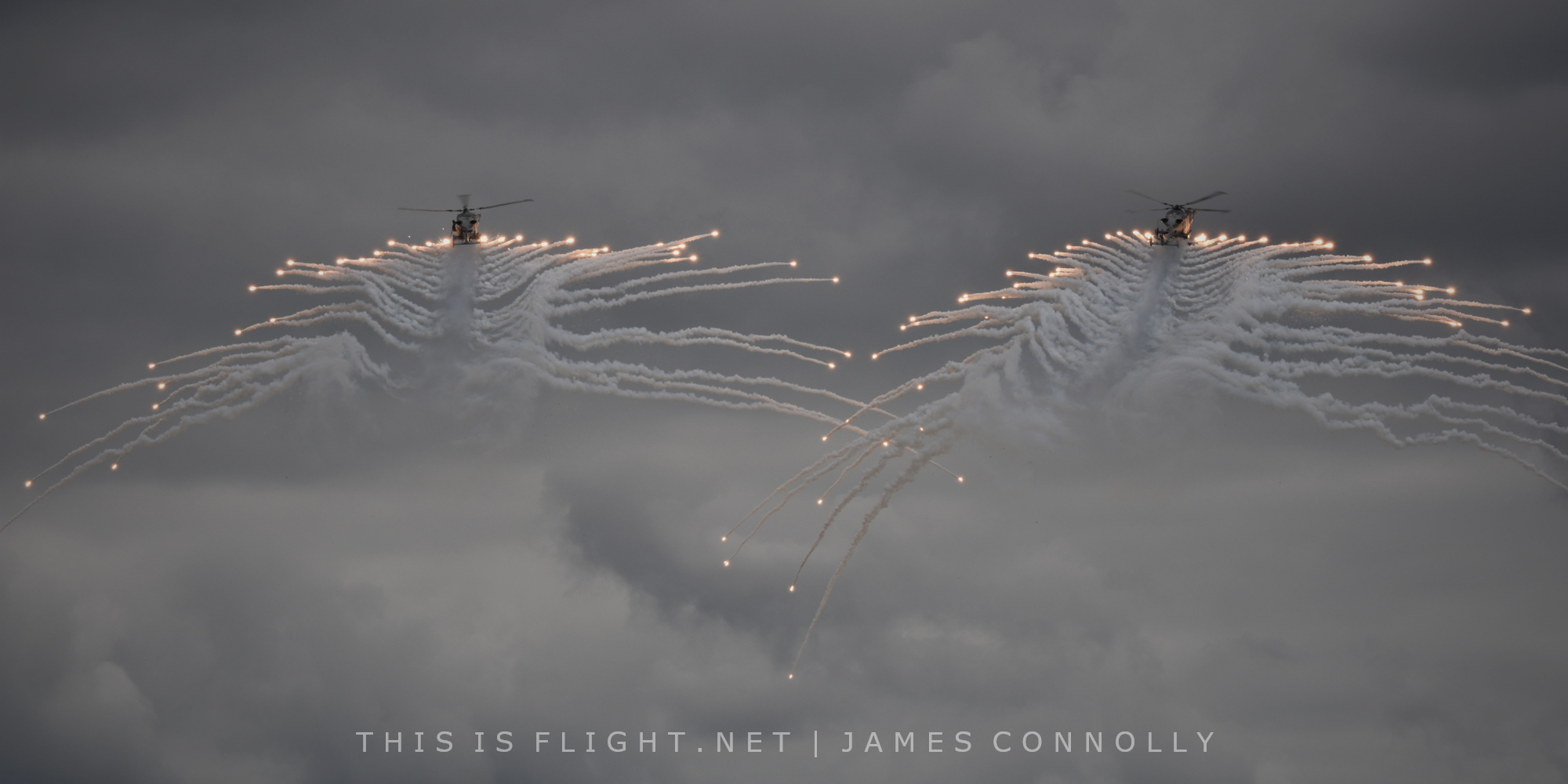 Given that RNAS Yeovilton is home to a handful of frontline helicopter squadrons, it was unsurprising that Air Day once again featured a heavy presence of rotary action, both on the ground and in the air. This year's Maritime Role Demonstration involved a Leonardo Merlin HM.2 from 824NAS, carrying out a Search and Rescue scenario, whilst two Leonardo Wildcat HMA.2s demonstrated their ability to insert troops into confined combat environments. Meanwhile, the Royal Navy Black Cats made their return to the airshow circuit for 2019, albeit with only a solo Wildcat, although the team do intend on working towards a two-ship display for next season. The show also celebrated the Fleet Air Arm's bygone era with a number of historic aircraft types, including spirited displays from Anglian Warbird's North American AT-6C Texan and Navy Wings' Hawker Sea Fury T.20.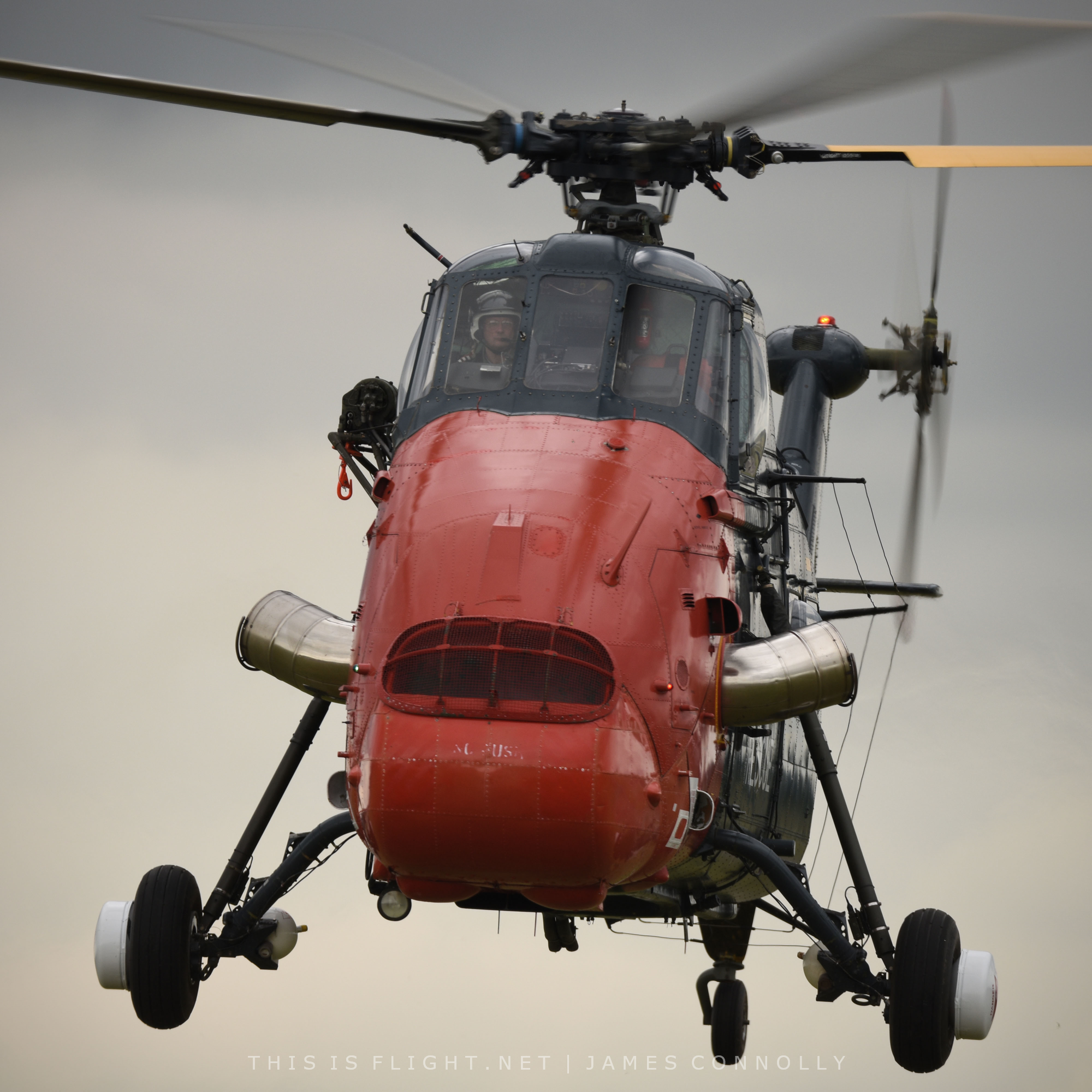 In recent years, it has become tradition for the Air Day organisers to open the show with a unique and memorable formation, as witnessed in 2018 with a farewell flypast for the venerable Sea King ASaC7 "Bagger". This year, the flying programme was opened by a 'Balbo' formation of various current and former rotary types, with Historic Helicopters' newly-restored Westland Wessex HU.5 leading a pair of Westland Wasp HAS.1s, two Leonardo Wildcats HMA.2s and a Leonardo Merlin HM.2. On completion of the flypast, XT761, the UK's sole remaining airworthy example of the Wessex, performed its first public display since undergoing a remarkable restoration at Chard, providing one of this year's undoubted highlights. Although resplendent in Royal Navy Search and Rescue colours, this airframe also served in the junglie assault role, making its appearance at RNAS Yeovilton Air Day even more fitting. Following the recent acquisition of a third Wessex, and a potential return to airworthiness for their Sea King HC4 and HAR3, Andrew Whitehouse's impressive collection is a potent reminder of how the classic helicopter scene is alive and flourishing more so than ever.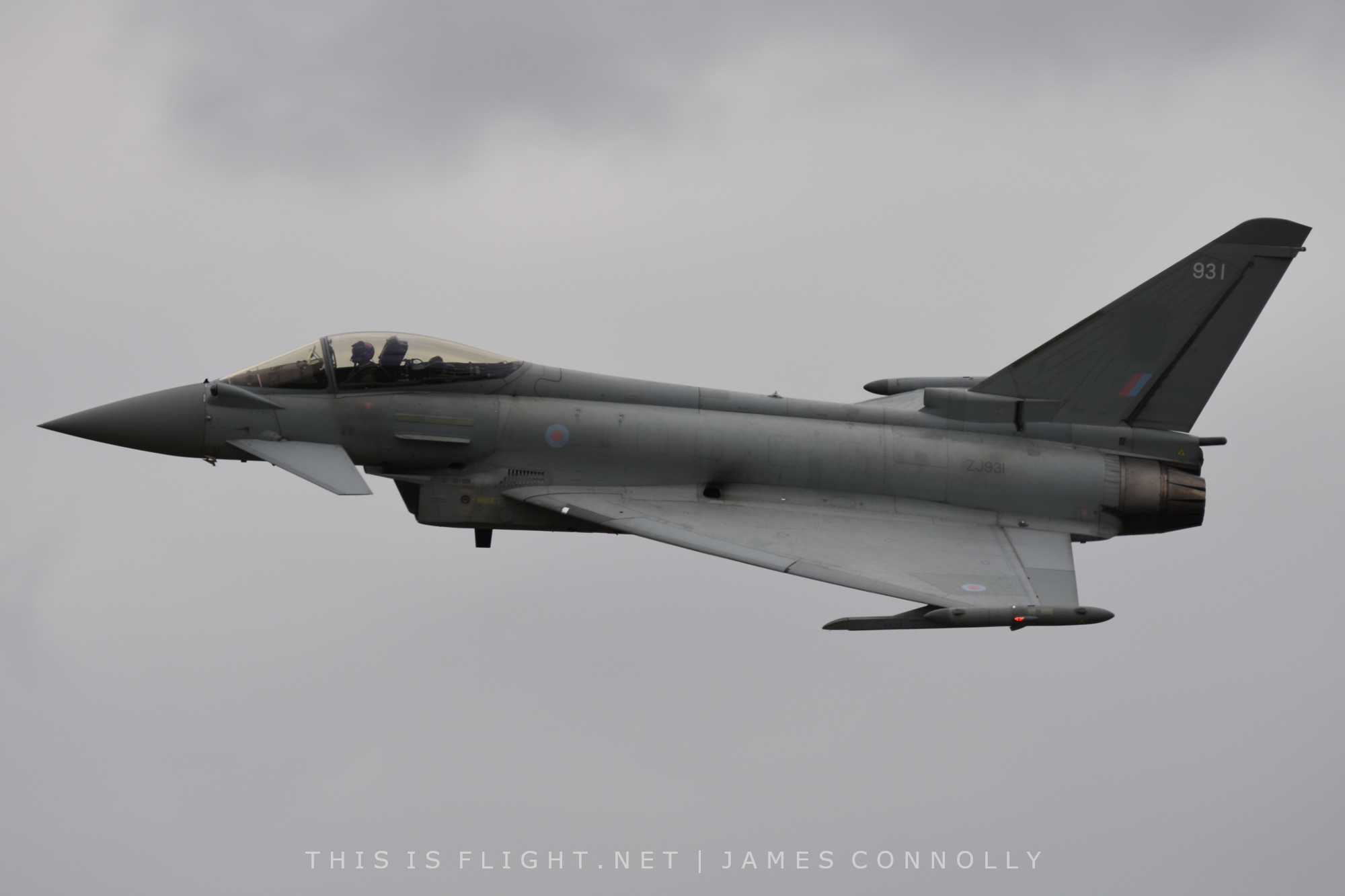 Meanwhile, the Royal Air Force continued their poor record of providing very little support towards Air Day. The number of RAF aircraft on the ground at Air Day has declined dramatically in recent years, and this was exacerbated in 2019 with the junior service providing only one aircraft for the static display. The contribution to the flying display was, however, marginally improved, with displays from the Eurofighter Typhoon FGR.4, Red Arrows, Shorts Tucano T.1 and the Battle of Britain Memorial Flight. The Army Air Corps also contributed to the show with an explosive demonstration from the Agusta Westland Apache AH.1, whilst the Historic Army Aircraft Flight provided a four-ship routine with their Westland Scout AH.1, Agusta/Bell Sioux AH.1, de Havilland Canada Beaver AL.1 and Taylorcraft Auster AOP.9.
This year's Air Day also featured a number of maritime patrol aircraft from overseas, representing the Fleet Air Arm's cooperation and interoperability with foreign air arms. Noteworthy participants included static examples of an Italian Air Force Leonardo P-72A, a Royal Canadian Air Force Lockheed CP-140 Aroura, and a rather striking Piaggio P180M Avanti from the Italian Navy. Sparking considerable attention amongst enthusiasts, this incredibly rare appearance at a UK airshow from the Italian Navy highlights Air Day's continuing ability to attract some mouth-watering rarities. The Qatari Air Force also made a commendable contribution to this year's static display with a Lockheed Martin C-130J-30 Hercules II and Boeing C-17A Globemaster; the latter aircraft, adorned in its attractive Amiri Flight colours, took home the award for best fixed-wing static display.
Whilst the show did bring together some incredibly rare participants, this year did suffer from a number of late cancellations in the build-up to the show, leaving notable gaps in the static display. The late withdrawal of two US Navy F/A-18E Super Hornets, a pair of Martin Baker Meteor T.7s, and a Lithuanian Air Force MI-8UTV, proved to be the biggest disappointments for many. The Lithuanian Air Force had also planned to make their debut in a UK flying display with an L-39C Albatross, but alas, the Baltic air arm were forced to withdraw the aircraft due to an ongoing technical issue with their small fleet of aircraft.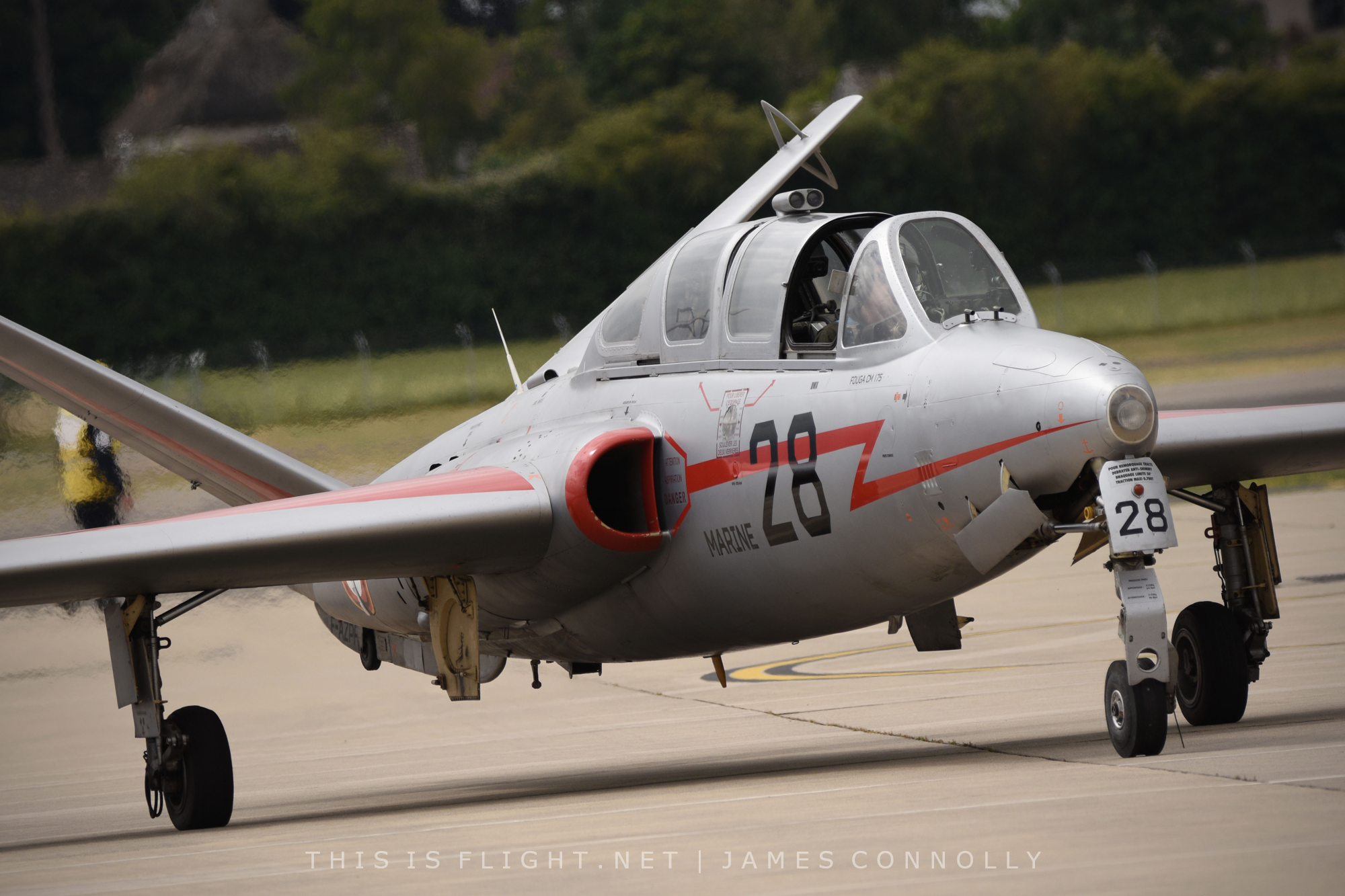 After many years of continued support towards the show, this year also witnessed the notable absence of the French Navy due to the unfortunate clash with Bastille Day. There remained, nonetheless, an element of French naval aviation, with a trio of French classic types providing another highlight of Air Day 2019, albeit on paper. Both the Fouga CM175 Zéphyr and Morane-Saulnier MS760 Paris returned to the show for a second consecutive year, alongside the much-anticipated Breguet Br.1040 Alizé which made its debut appearance at a UK airshow under civilian ownership. Whilst this formidable carrier-borne machine was an impressive sight to behold over the Somerset skies, its distant display failed to inspire the Yeovilton crowds. Other civilian items included a three-ship display from The Blades Aerobatic Team, Rich Goodwin's Pitts S2-S and NWMAS's BAC Strikemaster Mk.82a pair.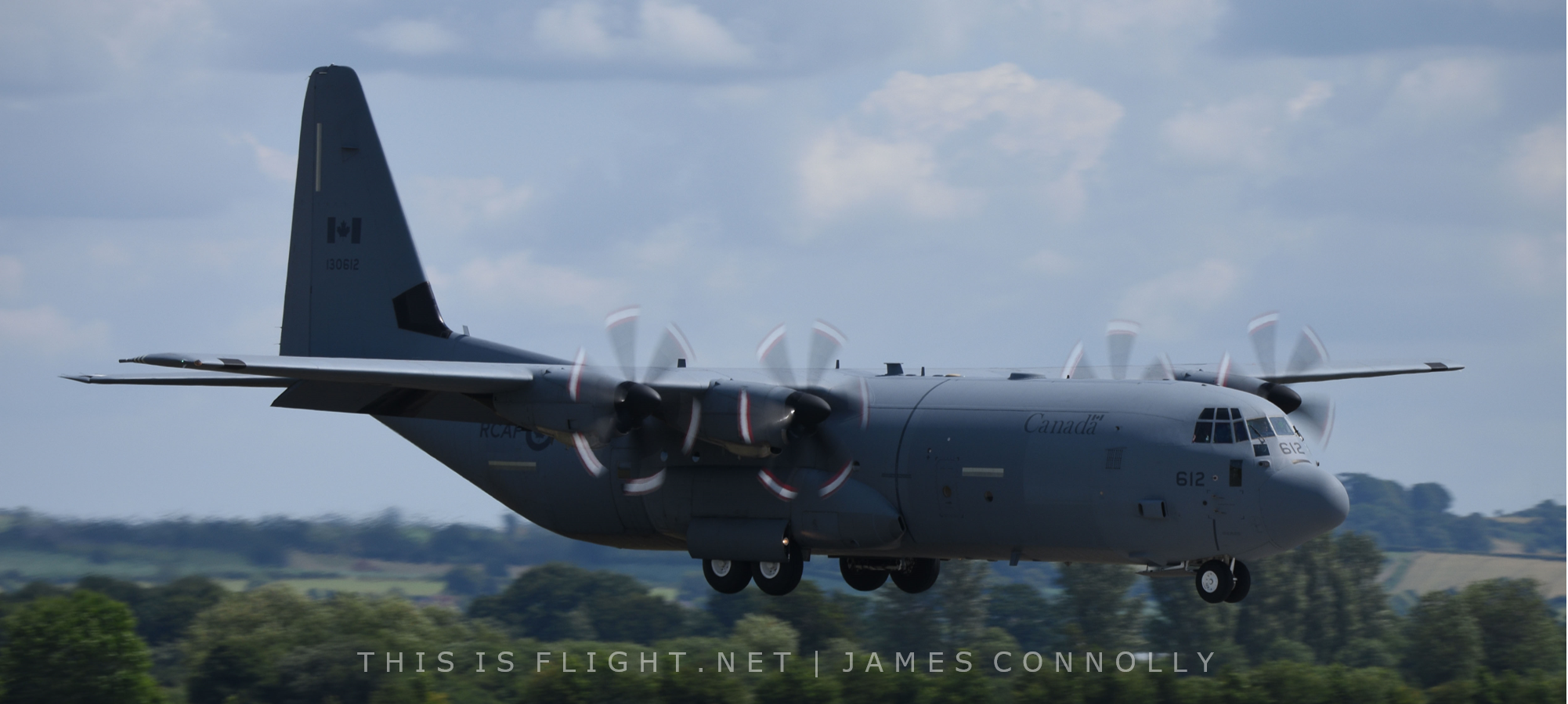 Following their superb contribution to last year's show, the Royal Canadian Air Force retuned to Air Day with a rare flying display from a Lockheed Martin CC-130J-30 Hercules II. Despite being relegated from a tactical demonstration to only a number of flypasts, the aircraft did perform some impressive manoeuvres, including steep approaches, a topside pass and a reverse taxi along the runway. The Belgian Air Component's Lockheed Martin F-16AM Fighting Falcon, a regular favourite at UK airshows, gave another flare-laden display, whilst the Hellenic Air Force's Beechcraft T-6A Texan II of Demo Team Daedalus made its UK debut with a dynamic solo routine.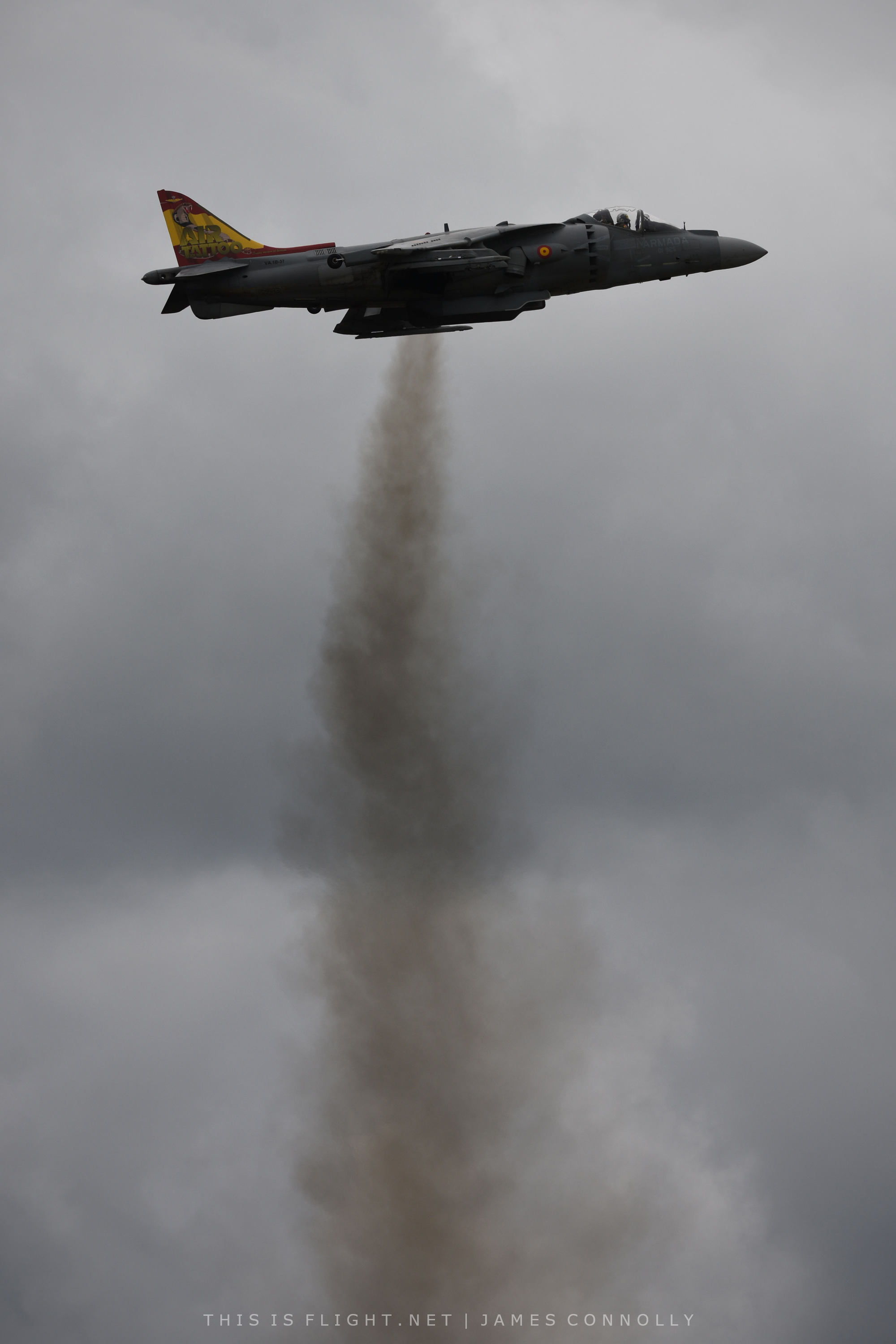 It was, however, the nostalgic sight and sound of the Spanish Navy's McDonnell Douglas EAV-8B Harrier II+ that proved to be the highlight of the afternoon's flying display, performing at an airfield that was once home to Royal Navy's fleet of Sea Harriers. The aircraft gave a number of passes at varying speeds, before demonstrating the aircraft's Short Take-Off and Vertical Landing (STOVL) capability along the crowdline.
In typical Air Day fashion, the show was closed with the legendary Commando Assault Finale, which once again demonstrated the combined force of the Royal Marines and the Commando Helicopter Force. Incorporating the use of flares and pyrotechnics, this explosive climax is a unique spectacle that cannot be witnessed at any other UK airshow. This year's showpiece included a few notable changes, including the addition of more helicopters, the first public flying display in the UK by a Leonardo Merlin HC.4, and the rather entertaining appearance of the Jet Man. Whilst Gravity's Jet Man, designed and flown by former Royal Marine Richard Browning, might have contributed very little to the finale's storyline, it did bring a significant cheer and applause from the Air Day crowd.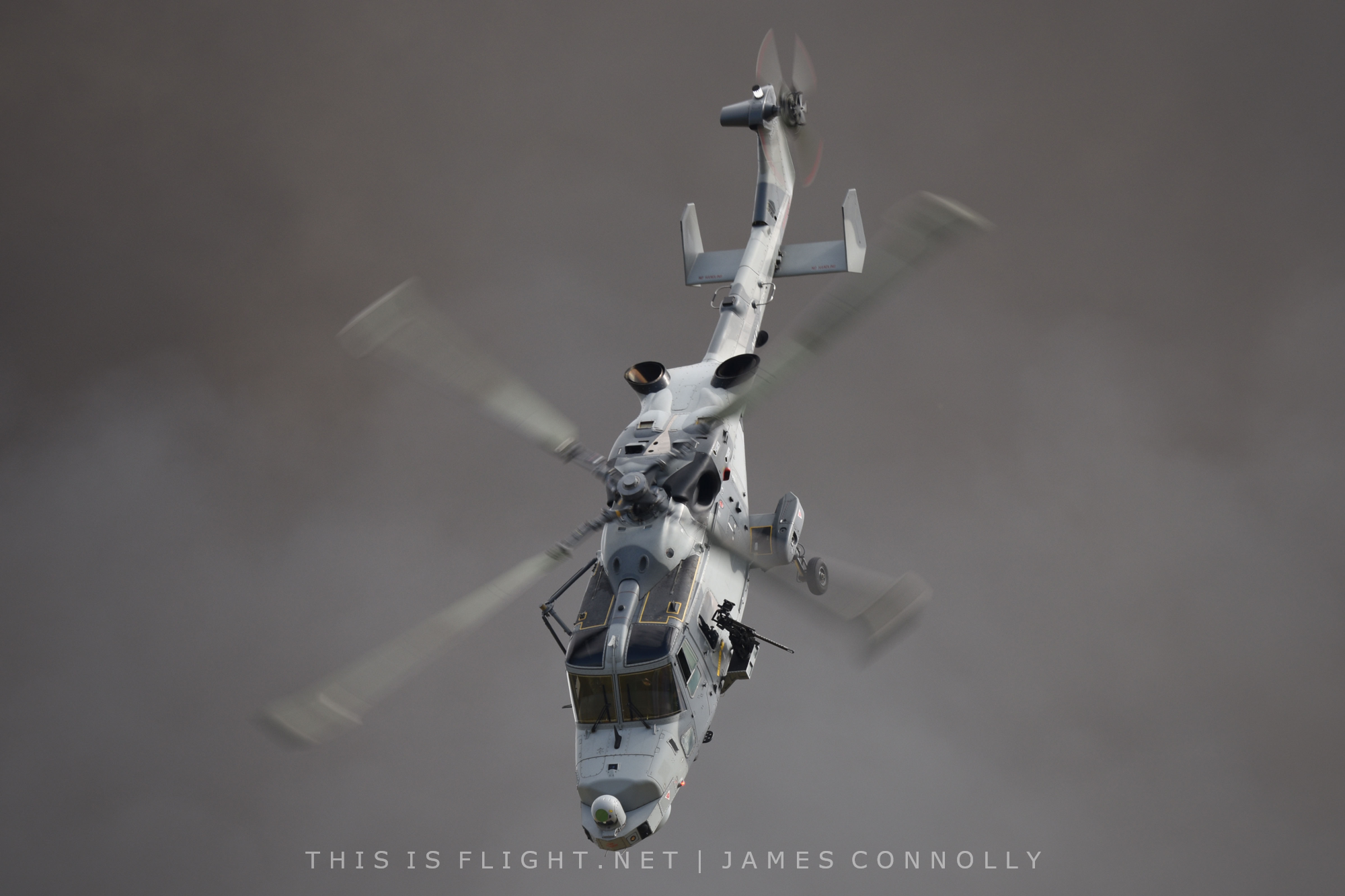 Once again, the Royal Navy International Air Day proved to be another outstanding affair, producing a truly diverse and varied line-up of aircraft, and boasting a number of significant debuts. Once seen as a warm-up act to the Royal International Air Tattoo, Air Day has grown into its own unique event, becoming one of the most eagerly anticipated fixtures on the European airshow calendar.