WORDS: ADAM LANDAU & ALEX PRINS | IMAGES: ALEX PRINS
With Polish Air Force types such as the Sukhoi Su-22 and MiG-29 facing imminent retirement, the International Air Show Radom was rightly anticipated as a swansong for these Soviet-era stalwarts of Europe, and visitors flocked from across the continent for the chance to see probably their final airshow appearance in Poland. The stage had been set for an extravagant curtain call, but the reality was a little more off-Broadway; expectations were raised then dashed, as one of Europe's premier airshows made its first post-COVID appearance with a line-up that would not be unfamiliar to any mid-level Polish airshow, bolstered by a few fast jets from Western Europe. When combined with ferocious temperatures that were criminally mishandled on Saturday especially, most of the show's public feedback rightly reflected widespread dissatisfaction for all elements of the organisation, save for the actual flying.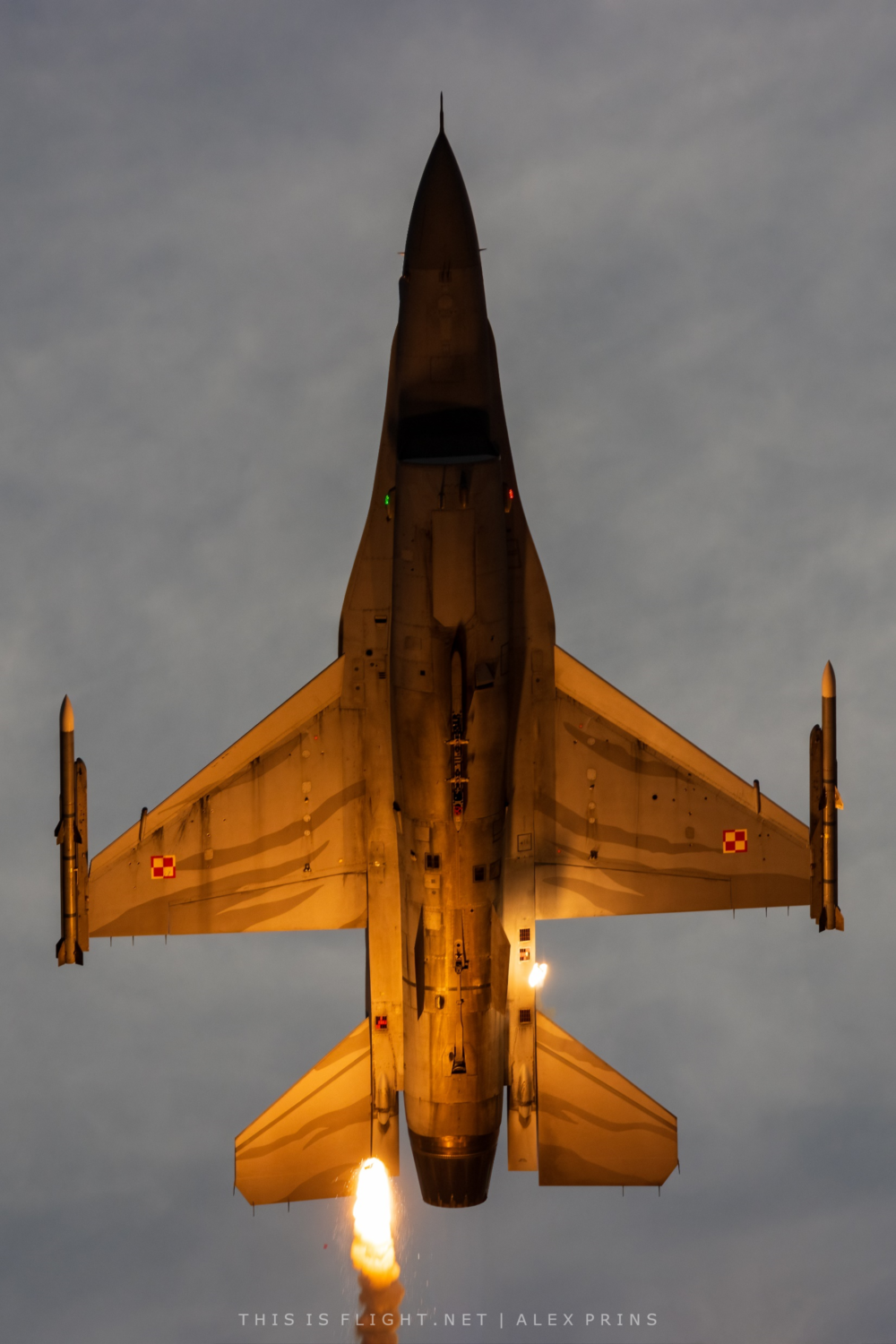 Saturday's 12-hour flying display began with a period of historic aviation. This included a DHC-1 Chipmunk and T-6 Harvard, Stephen Stead's P-51D Mustang "Little Rebel", and rare appearances by a Polish-built RWD-5 and RWD-8. Despite the latter being one of Poland's most produced aircraft, no original aircraft remain in an airworthy condition, and Jarosław Rozwód's replica was only recently completed, so it was a notable addition to an otherwise unremarkable opening two hours. This lighter segment was a canny way to fulfil a full twelve hours of flying, as the commencing address and Air Parade was not until 12pm noon. Each of the vintage aircraft were objectively well-flown, but felt out of place at such a large venue; granted it would not reach a capacity crowd until mid-afternoon however, and there would surely have been more complaints had some of the more high-profile visiting displays been scheduled for before one o'clock.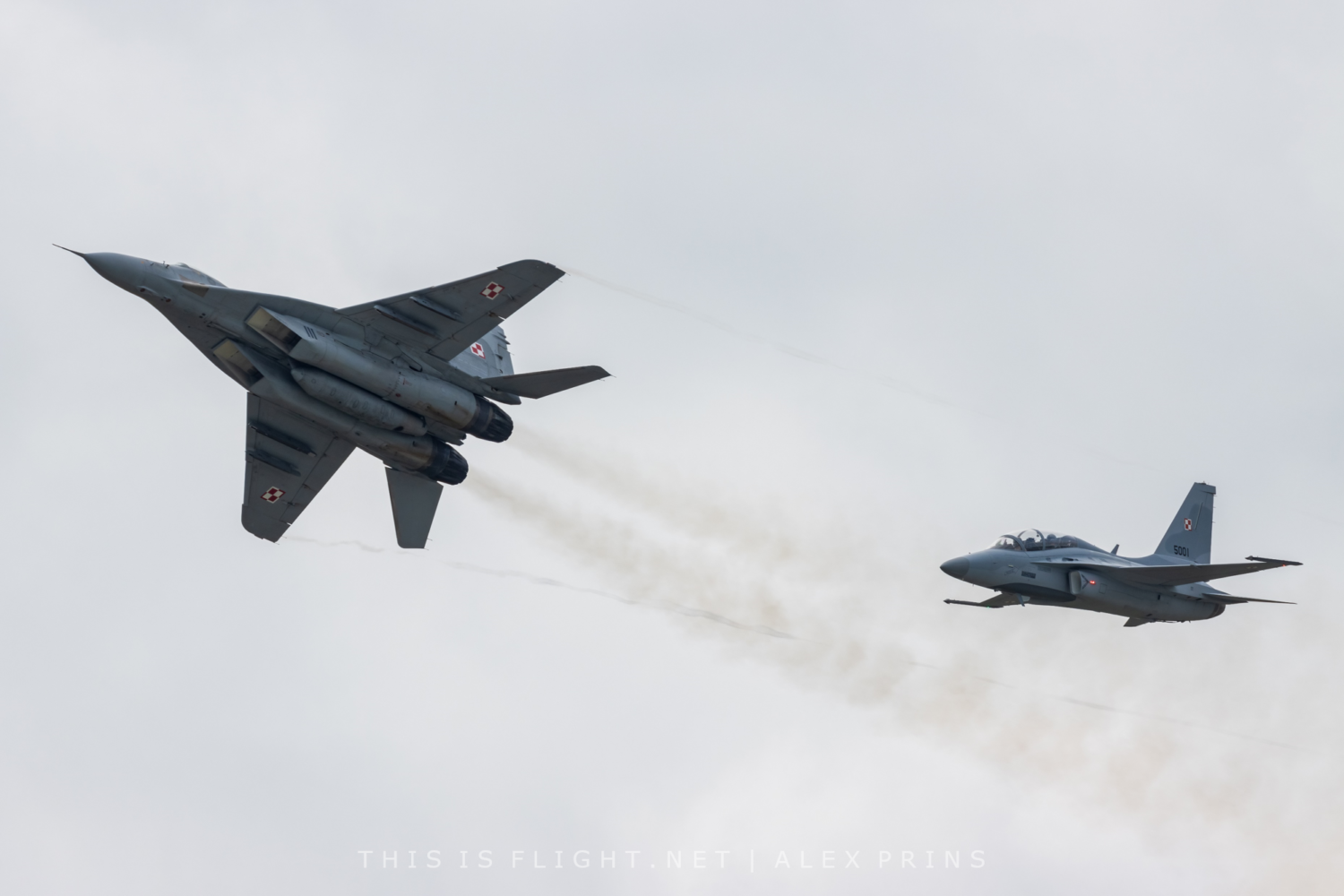 Following a mass-parachute drop with a flag for each NATO member state, the event was formally opened by the Polish Minister for Defence – more cynical visitors might connect this lengthy address and the fact that Radom's post-COVID revival has come a year earlier than expected, with next month's parliamentary election, in which the ruling party are defending a shrinking majority. Much was made of recent military procurements both on the ground and in the air, most notably the introduction of the FA-50 into Polish Air Force service as part of a $14 billion arms deal between Warsaw and Seoul.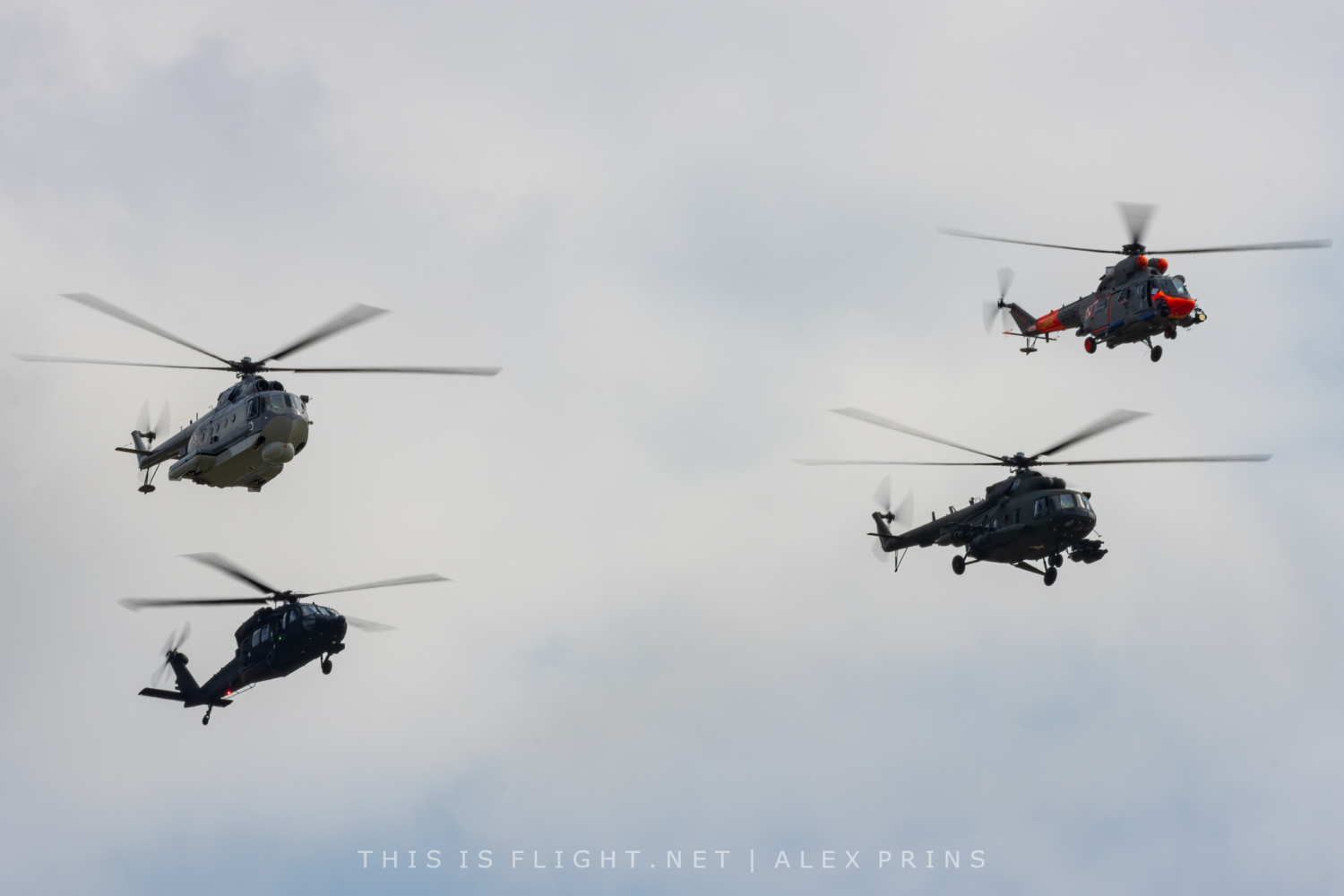 One FA-50 participated in the 64-strong Air Parade, in which it symbolically flew alongside the MiG-29 that it will replace in service – albeit the jet was flown by a Korean pilot, suggesting perhaps that conversion training might not be as close to completion as previous announcements had suggested. Other participants in the flypast (which was largely a repeat of one that had taken place over Warsaw ten days earlier) included light training aircraft (R-44s, Diamond DA-40s and DA-42s), helicopters both old and new (Mil Mi-2, Mi-14, Mi-17s and an S-70i Blackhawk), VIP and transport (Boeing 737-800 BBJ, G550, C-130H Hercules, M28 Bryza and CASA C295M), advanced trainers (PZL-130 and M-346) and fighters (F-16). The real stars for many foreign visitors however, were the symbolic farewells by a trio each of MiG-29s and Su-22s, though their smoky trails lasted a great deal longer than their actual appearance. The flypast ended on a slightly anticlimactic note with a further MiG-29 flying in formation with the sole FA-50.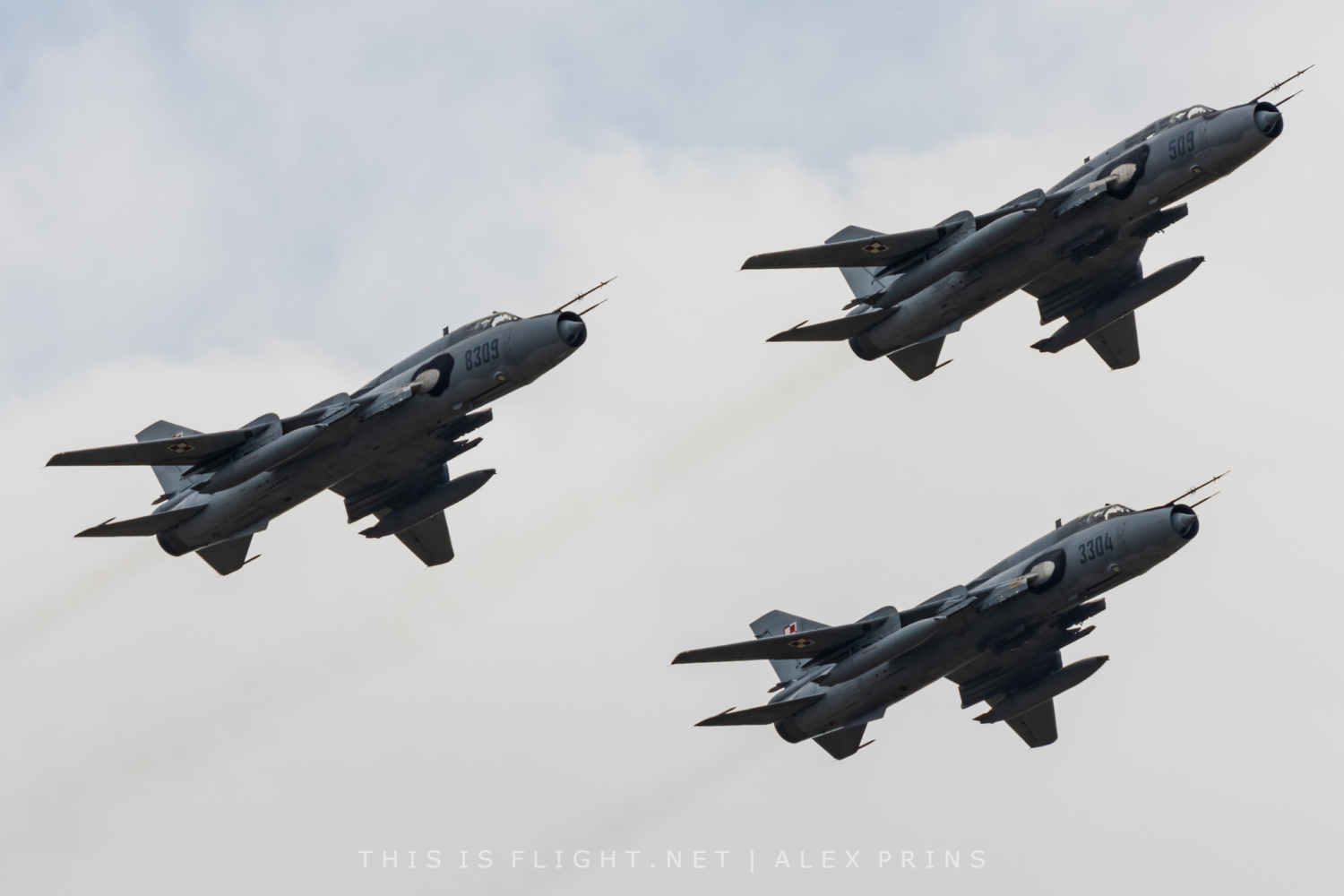 Two of the Fitters then returned with the FA-50 and MiG-29 for Radom's traditional 'airfield attack': a pair of blink-and-you-miss-it flypasts by the Fitters while the FA-50 and MiG-29 orbited somewhere in the stratosphere. On Sunday the MiG at least ignited its afterburner for a final bonus flypast, in a limp farewell to Polish airshows for the type.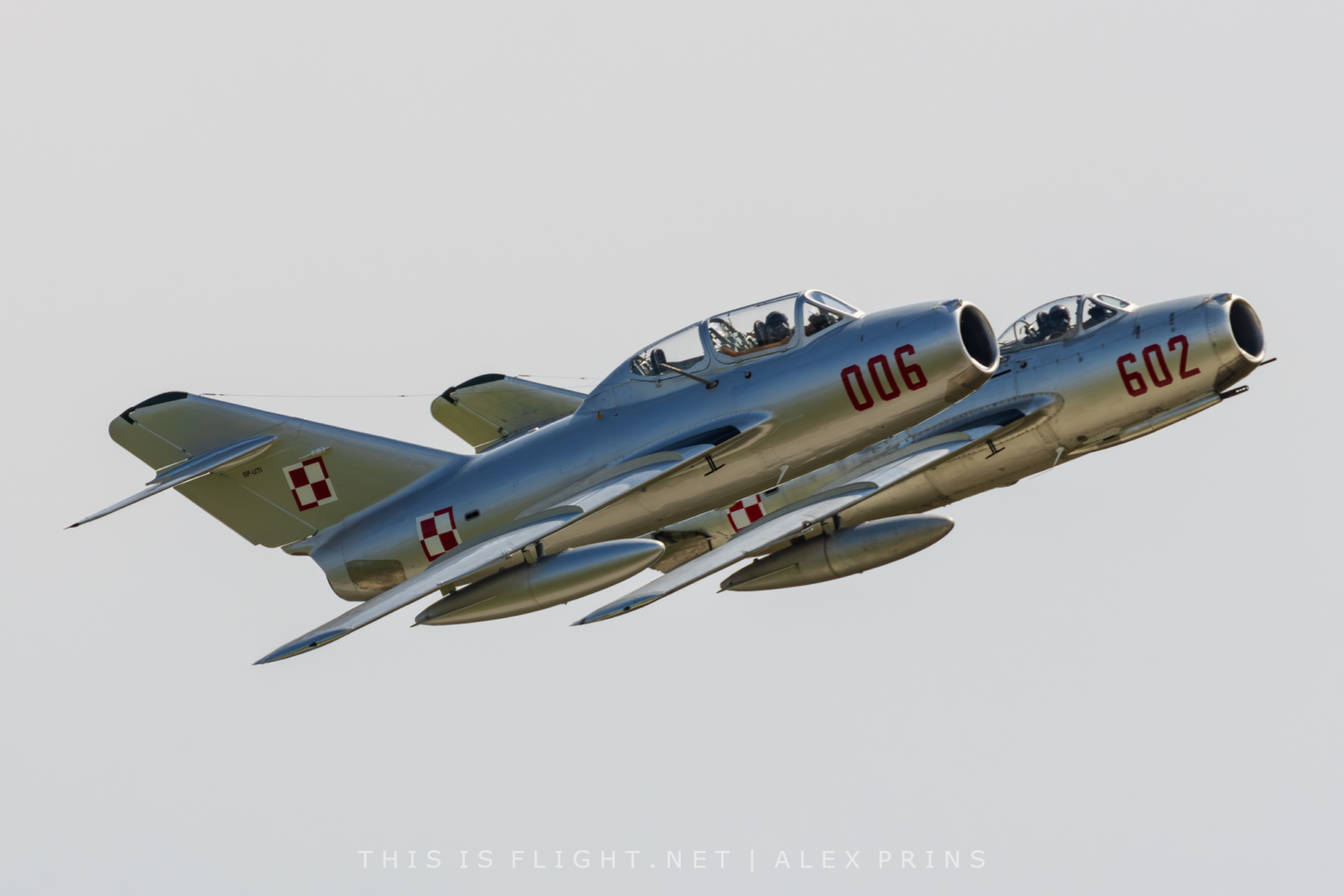 The flying display then began to wind up, and the opening hours included patriotically-coloured water drops by M-18B Dromaders, a formation of AT-3s with an AN-2 and a pairs display by the Fundacja Eskadra's SB Lim-2 and Lim-2B. Having enjoyed several close and well-orchestrated routines in Leszno, the Squadron's showing in Radom felt comparatively distant and sporadic – though the formation flying was undeniably excellent. Later in the programme, the Fundacja Biało-Czerwone Skrzydła (Red and White Wings Foundation) flew a similar display with their two TS-11 Iskras, starting with some pleasing formation turns and flypasts, followed by some synchronised aerobatics which felt distinctly un-polished at times. The third and final jet pair was provided by Red Bull's Alpha Jets, as part of a contingent that included Felix Baumgartner's aerobatic Bo105 display and Luke Czepiela variously racing an "F1 car" and flying conventional aerobatics; the Alpha Jets in particular were enjoyable during the golden hour period, supplemented by a characteristically rich smokewinder system.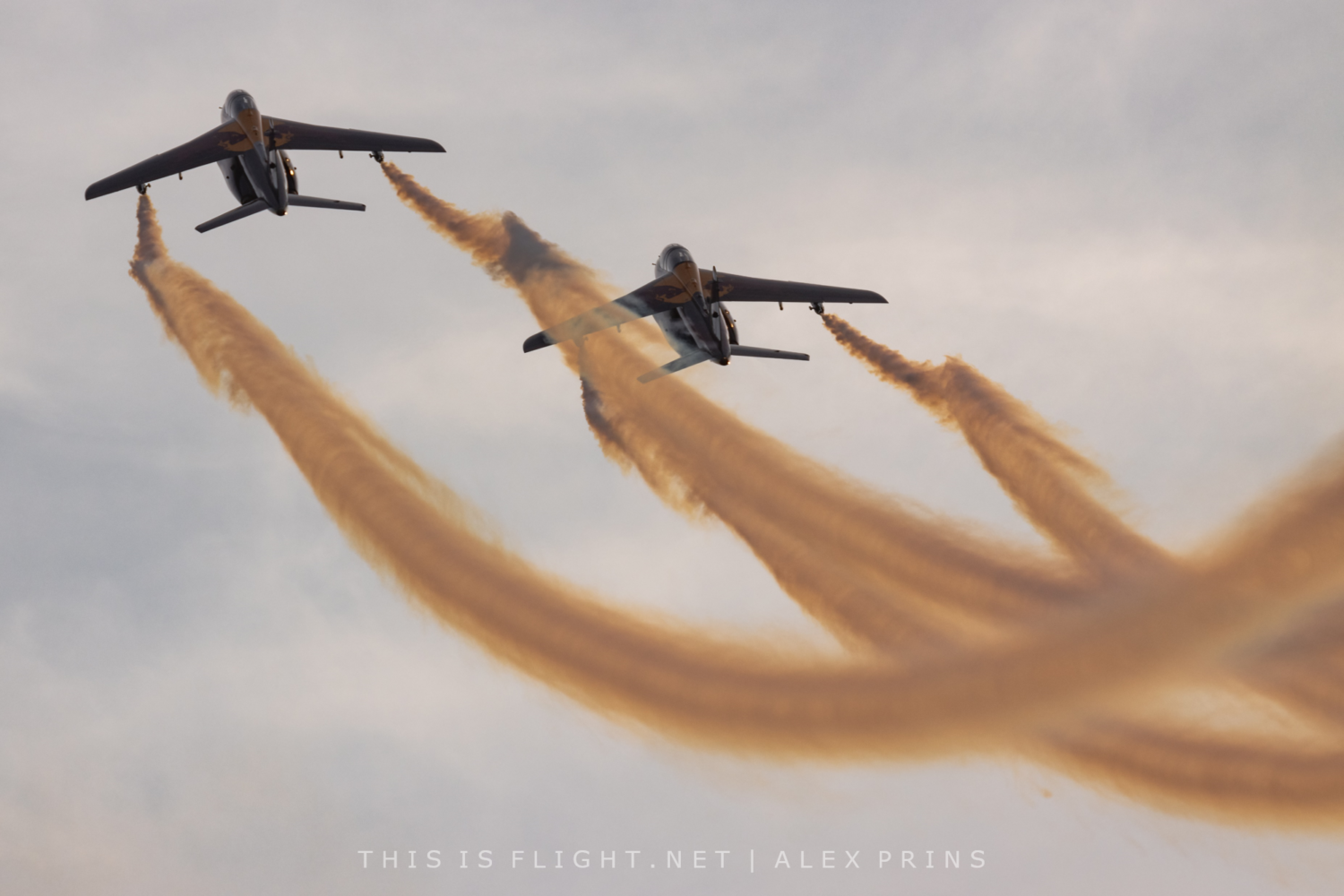 The finest civilian aerobatic team was ORLEN Grupa Akrobacyjna Żelazny, who displayed twice on Saturday in daylight and at sunset with pyrotechnics. Neither display matched the best we have seen from Żelazny at other venues, and though the dusk display was a marked improvement on their pyro debut in Leszno, there remains scope for a reimagined routine.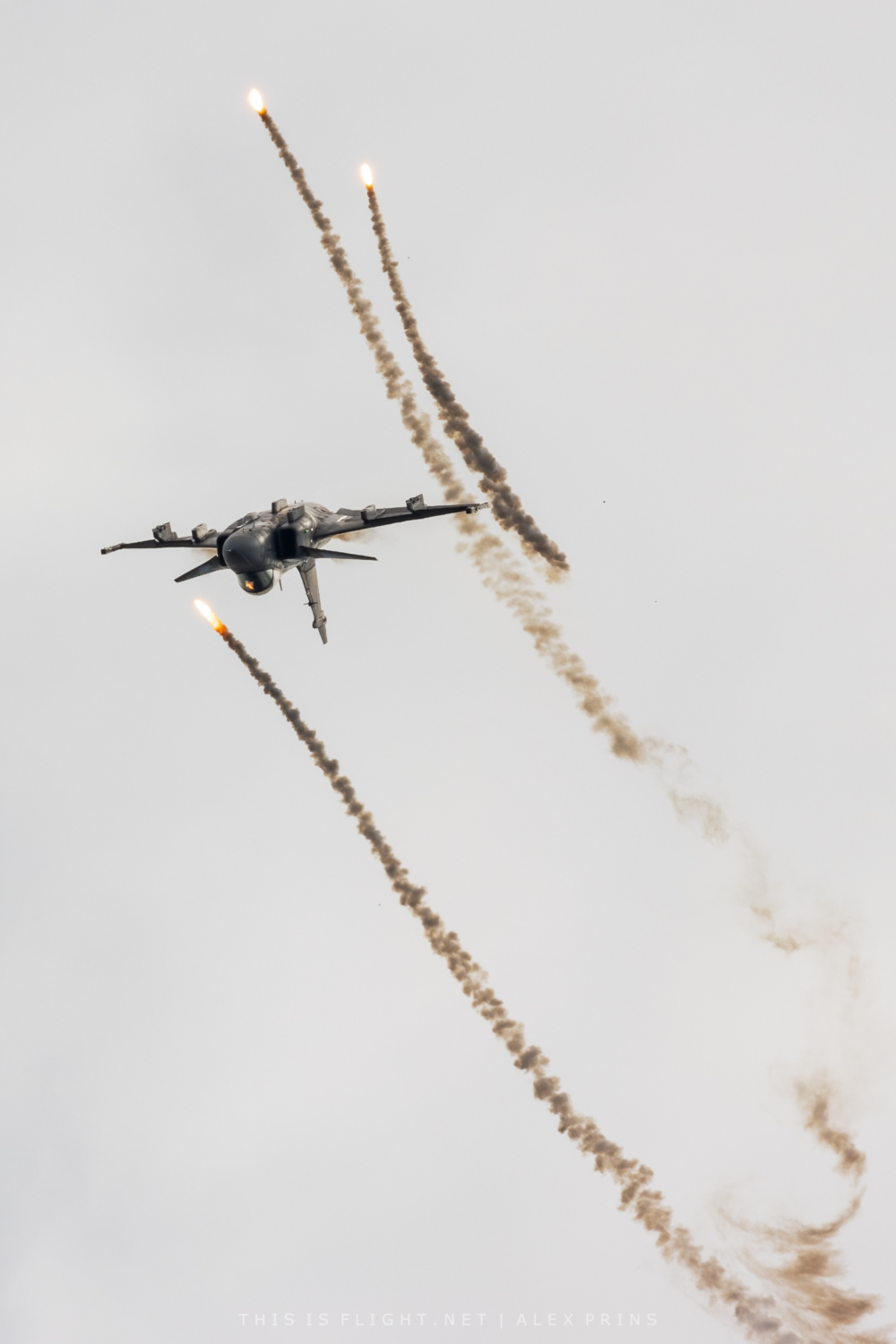 Radom's traditionally rich international military participation was opened by the Czech Air Force JAS-39C Gripen on both days, and soon followed by the Hellenic Air Force F-16C 'Zeus'. Neither are leaders in their class however, and lacked the presence of later equivalent displays; similarly, Flt. Lt Matt Brighty in the RAF Typhoon FGR.4 was a little off his best, not helped by the main demo jet's unserviceability on Sunday.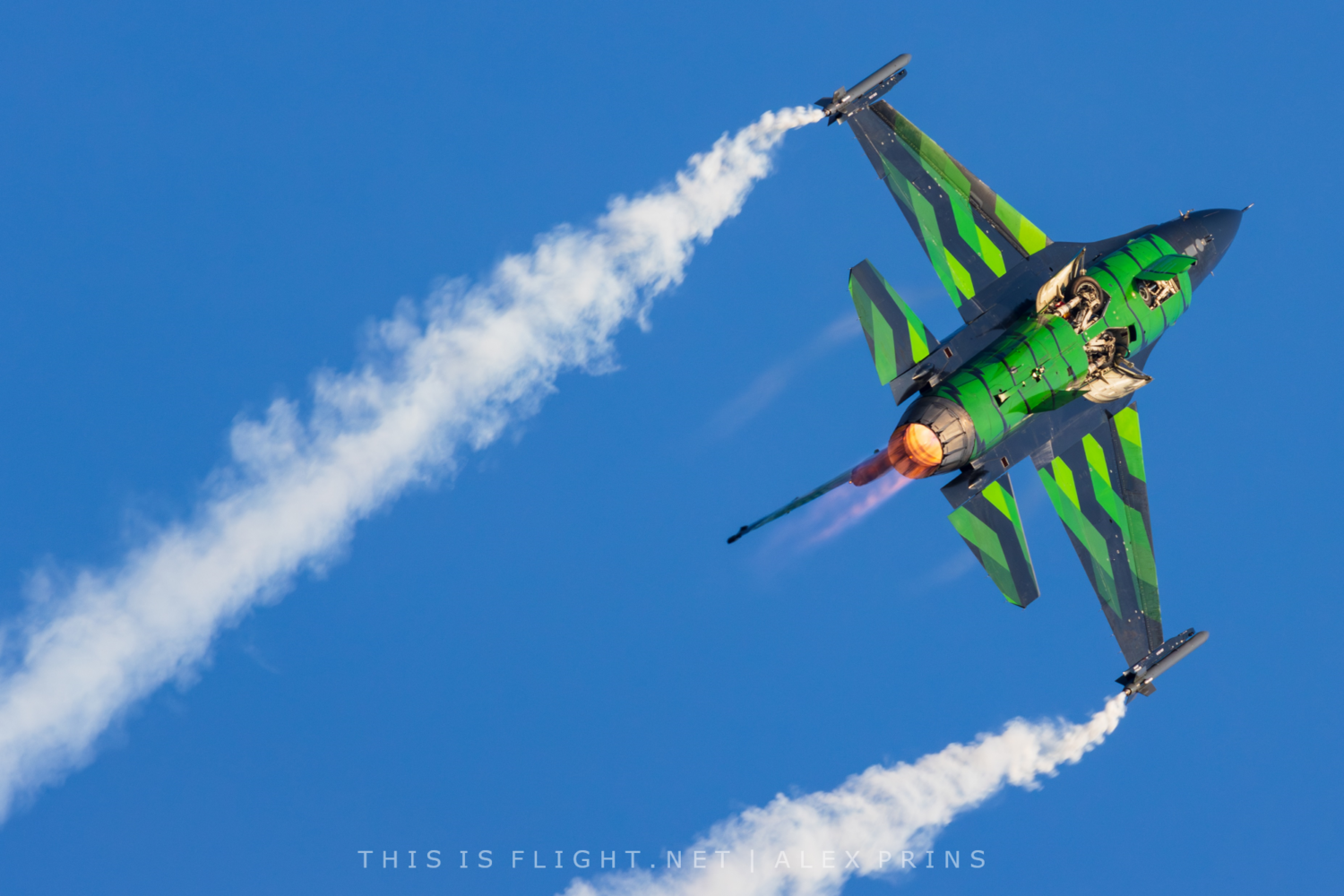 In particular, the ageing F-16AM was well presented with two of the best displays found anywhere in the world: the Belgian "Dream Viper" and Danish "Dannebrog". One begins to run out of superlatives for the Belgian demo, and it rightfully won the award for Best Military Demonstration; the Danish jet was almost his equal however, and the addition of flares made for an extremely engaging Fighting Falcon showcase.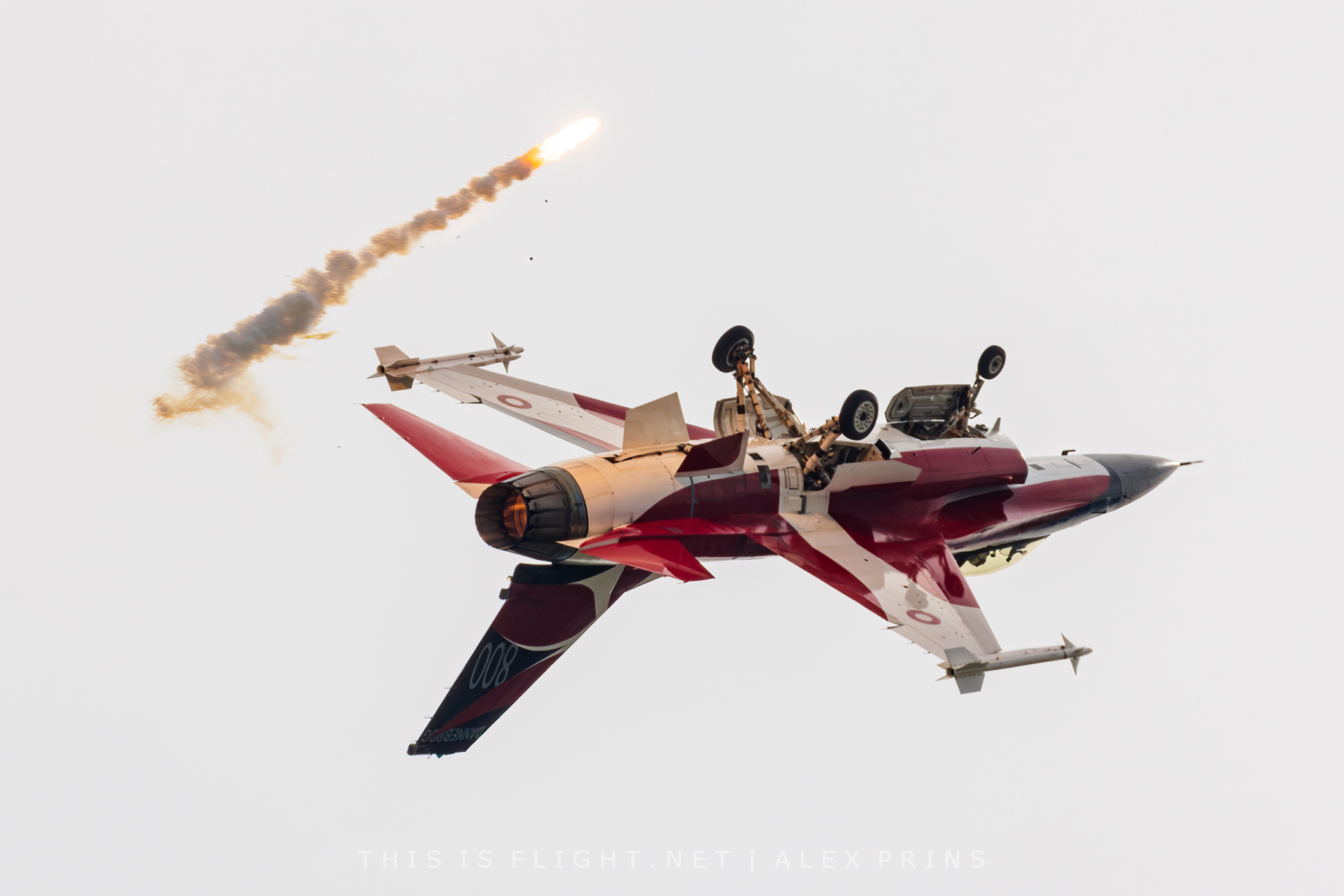 Pyrotechnics was a watchword for Radom 2023, and there was an abundance of flares throughout the flying programme. The Finnish F/A-18C solo was even better than in its showing at RIAT, something you might not have thought possible, as cascades of candles were launched during its rudder rolls and pirouettes.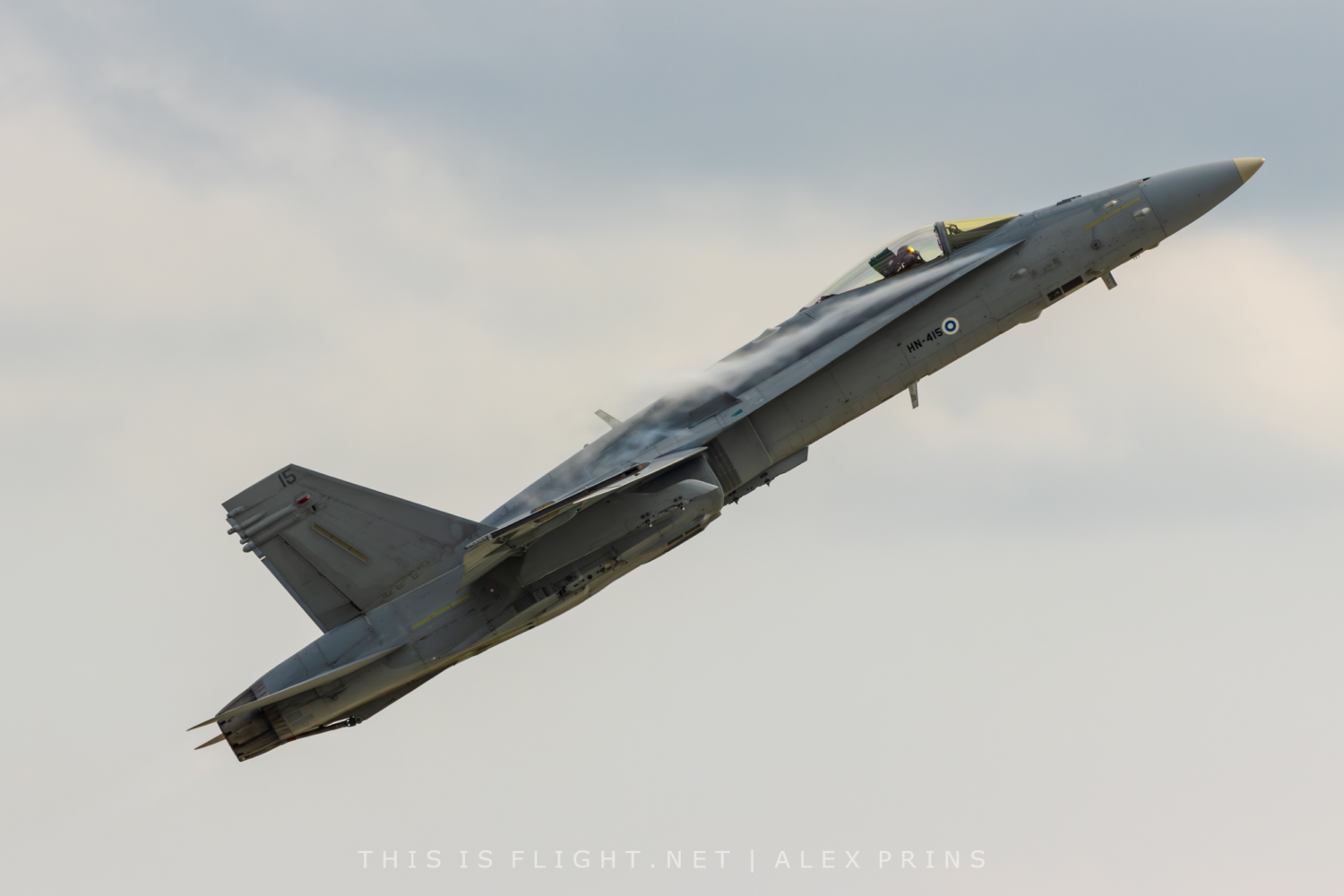 Radom has a long history of attracting a substantial line up of large jet aerobatic teams – five at the 2015 and 2018 editions of the show. This year, there was disappointingly only one: Patrouille Suisse, who flew in some of the best light on both days of the show, and used flares throughout. In particular, the solo pilot's finale flare dump while inverted was notable both for its quantity of countermeasures, and also the number of pigeons eradicated from the air, in what was less a "bird-strike" and more a mass event. Fortunately, the soloist was able to land uneventfully and his F-5E Tiger II was found to be undamaged.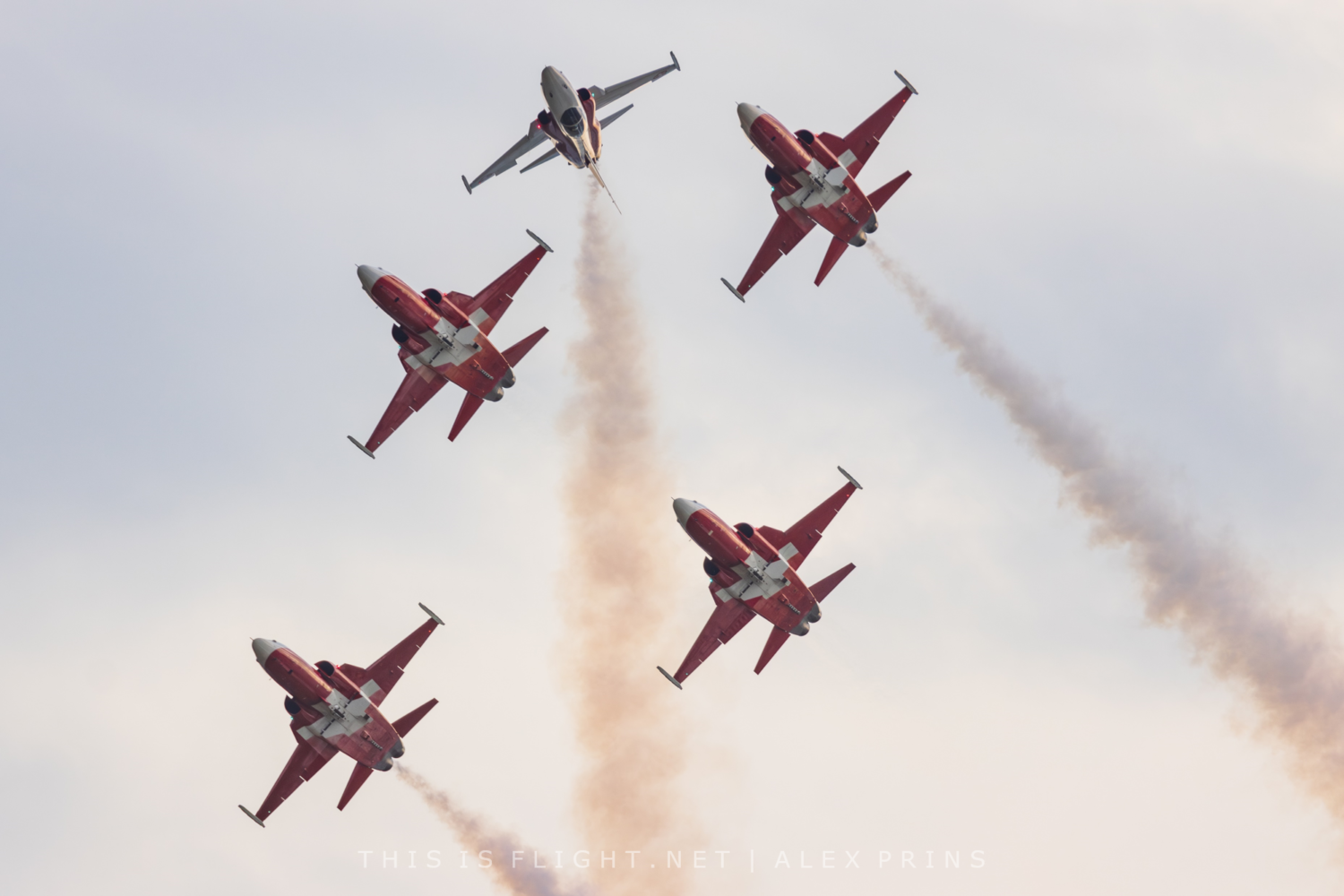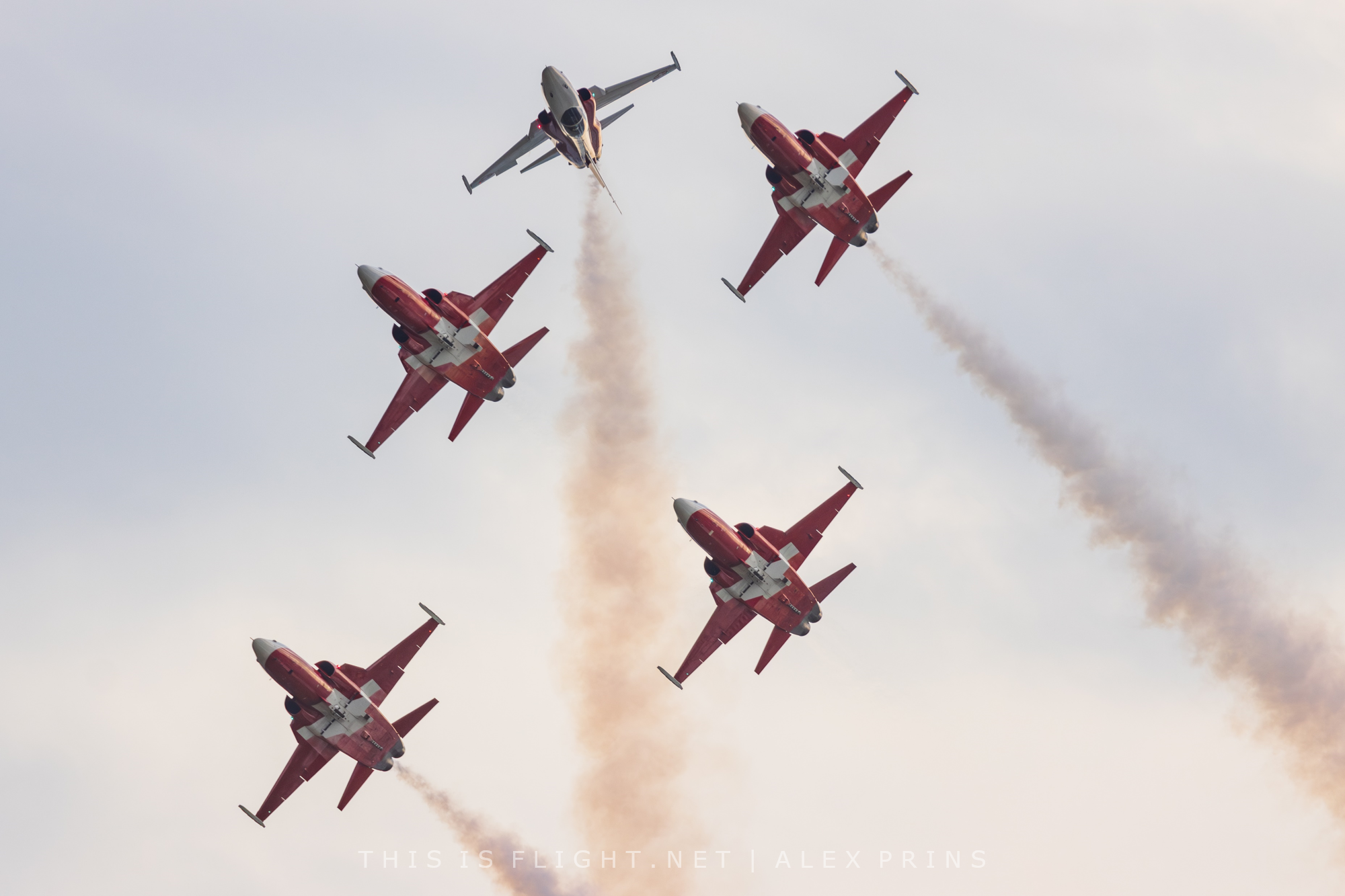 If international participation was thin on the ground, then Poland represented itself well. Along with the Parade and airfield attack, the Air Force and Navy provided solo displays, notably including a CASA C295M, M-346, SW-4, and W-3. The latter was a SAR demo that was unfortunately less spectacular than its Czech counterpart, which used the same aircraft type. Sadly, the home team example was both less dynamic and further away. Notable for a more positive reason was the debut of the new M-346 Bielik display, which the Polish Air Force had never put through its paces with a full aerobatic sequence until Radom; its sequence was dynamic, visually interesting and surprisingly loud.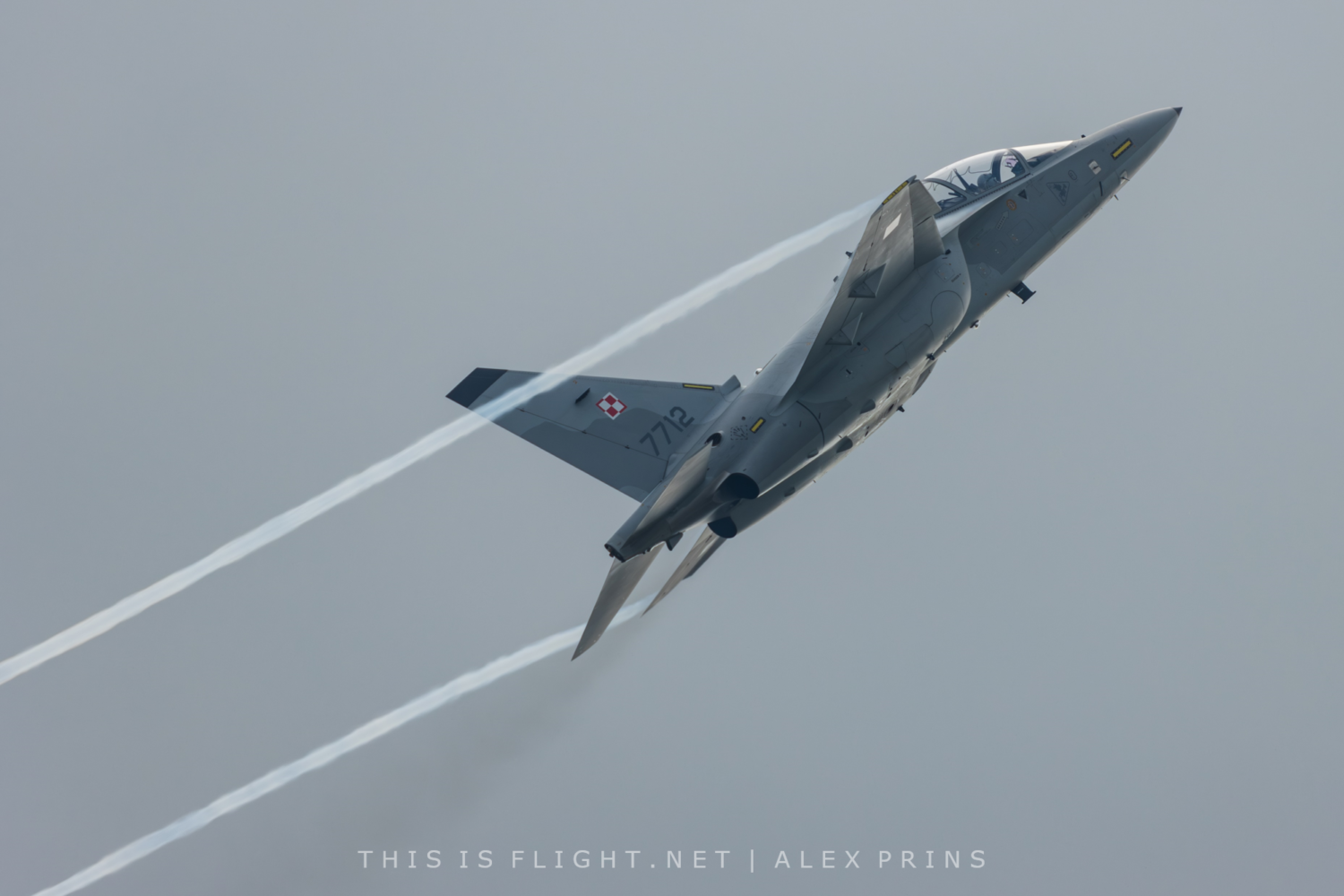 The showpiece, however, was 'Slab' and the Tiger Demo Team F-16 display, which had the best sunset light on both days, and clearly relished its standing as the headline act. Firing more flares than any standard F-16 display, and in the hands of the most capable Polish demo pilot yet, the Tiger Demo lived up to its billing and was a genuine highlight – though there would be two further standout Polish Air Force displays after dark.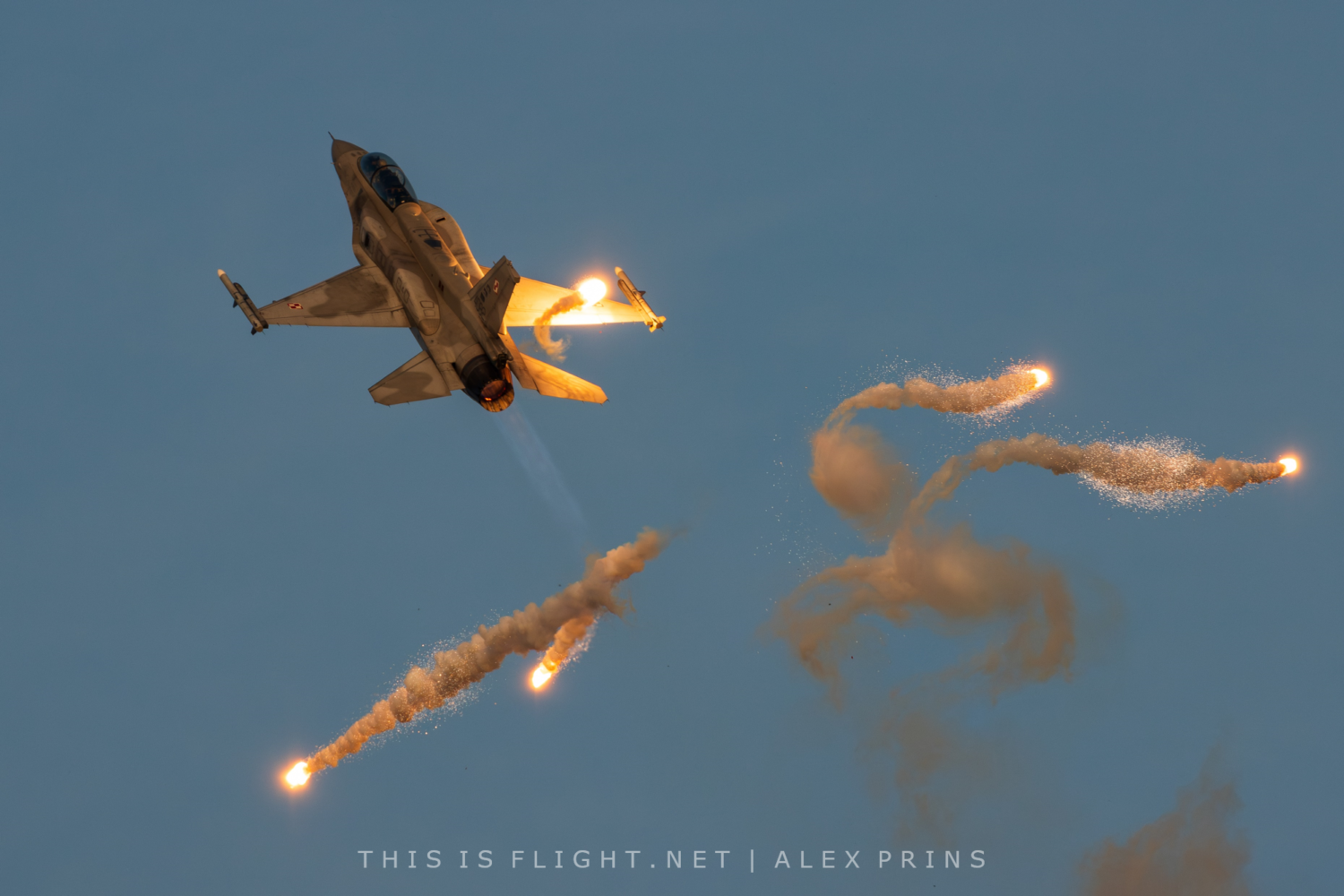 Another display of note was a three-ship of Agusta Westland helicopter types, the A109, AW139 and AW101. The latter was painted up in Polish Navy markings to denote the type's entry into Polish service, but was crewed by civilian pilots from the UK. The three helicopters started with a loose formation hover before performing solo displays in turn, with the AW101's being particularly enjoyable.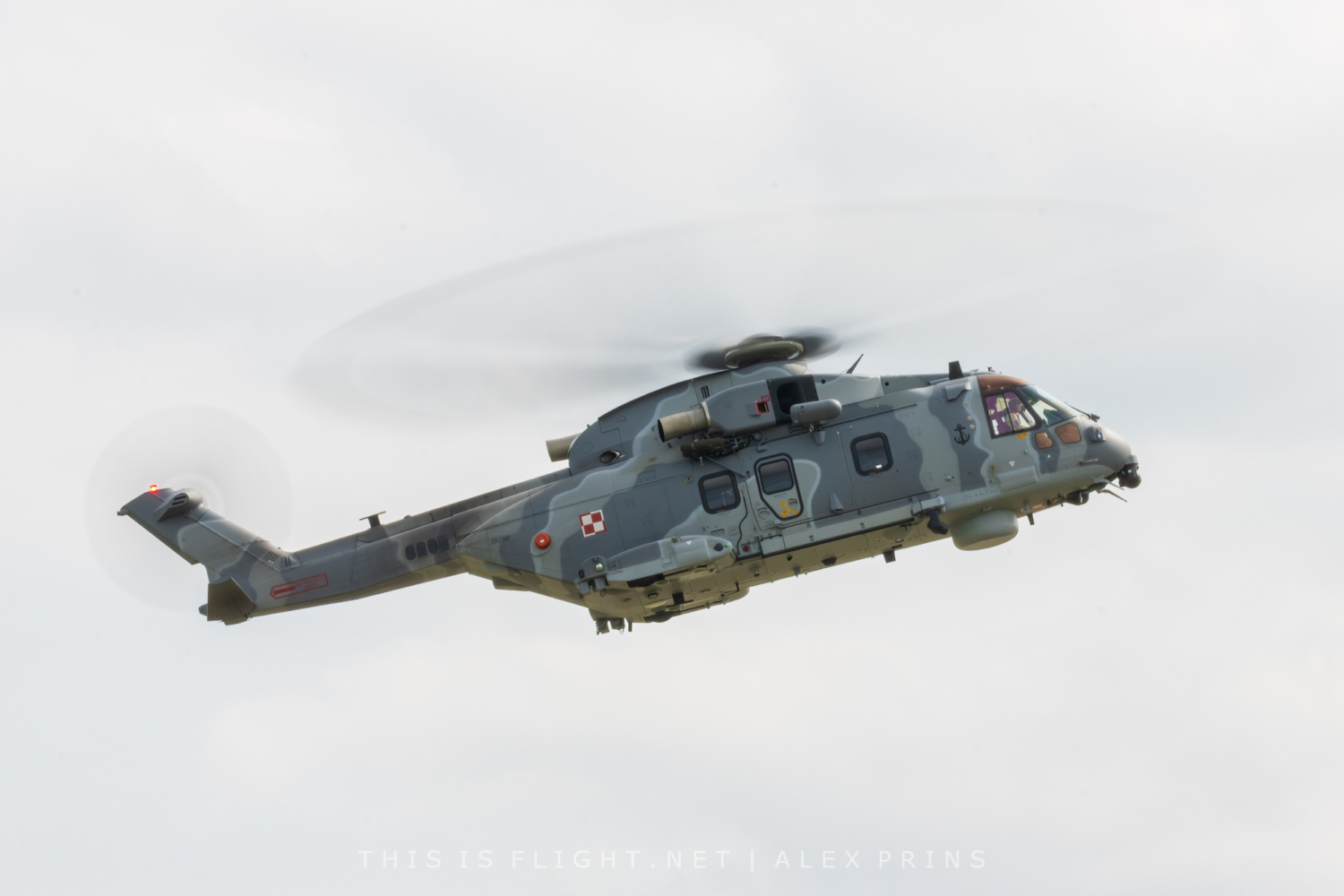 While Saturday's flying programme had been ramping up in quality and quantity throughout the afternoon, as the sun sank and the sky turned golden, the tempo seemed to peter out. A lengthy FOD sweep following Slab's landing delayed a solo Iskra display with pyrotechnics until after the sun had set, and a relentless schedule with little flexibility appeared to push the likes of Marek Choim and Maciej Pospieszyński's Swift glider display beyond the regulatory sunset+30 limit. Indeed, as Marek Choim ended his show, he narrowly avoided being intercepted by the first Polish Air Force contribution to the night show, when his stage-left exit sent him hurtling towards a Sukhoi Su-22 firing photographic flash flares from a belly-mounted KKR-1T pod.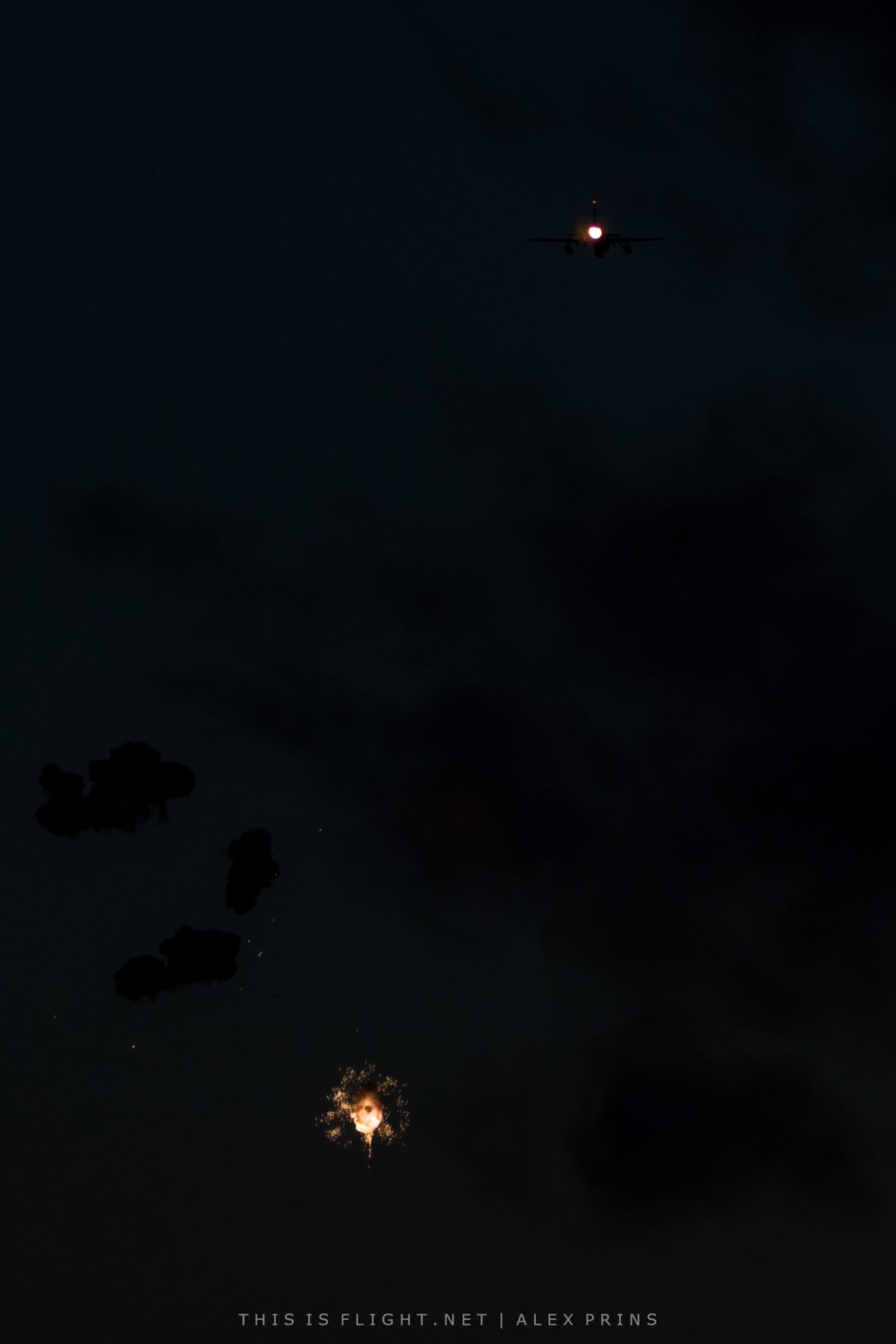 This was billed as a "pyrotechnic surprise", and many rightfully expected flares of some sort – some were thrilled that live ordnance was being fired by a Fitter at an airshow for the very first (and last) time, while others were disappointed not to see more photogenic countermeasures, or a healthier use of afterburner. More concerningly, as the commentary team was situated crowd-rear with no communication link to ATC, they were alarmingly unprepared for one of the event's highlights and were not able to give any real warning as the Su-22 approached silently and under cover of darkness.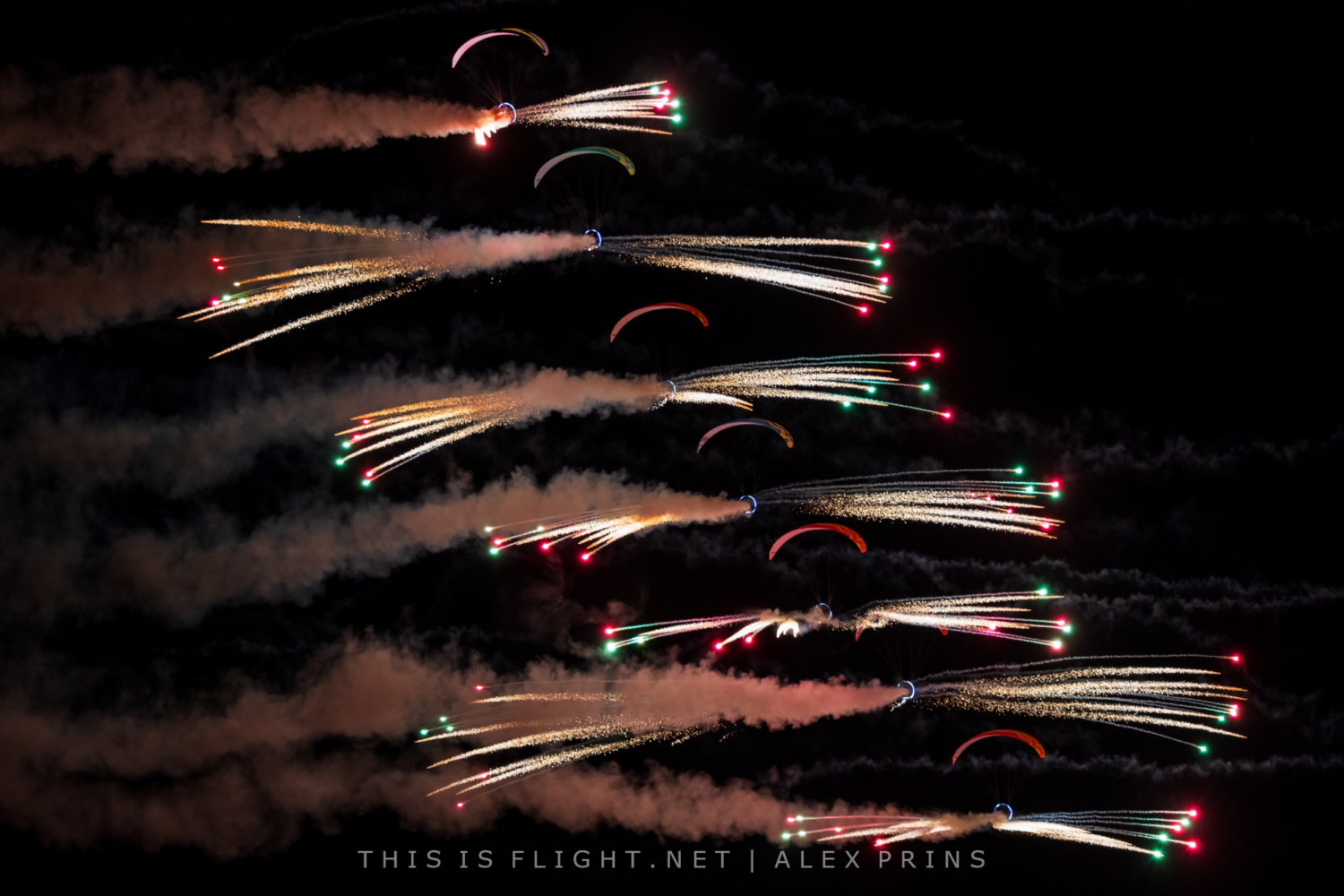 Comparatively, regulars to Leszno Antidotum will have been more prepared for the Polish Air Force C-130E flare drop, which fell between the Flying Dragons and AeroSparx Display Team finale; the latter deservedly won the award for Best Civilian Display. Further inflexibility in the timings meant that the Dragons' fireworks were cut short to facilitate the Hercules, however few would really have complained as the paramotors were reduced to a palatable 5-minute slot ahead of one of the single-most spectacular sights in European airshows. As in Leszno, the "dump" was preceded by half a dozen single candles, which alerted spectators and commentators alike to the spectacular ten-second blaze.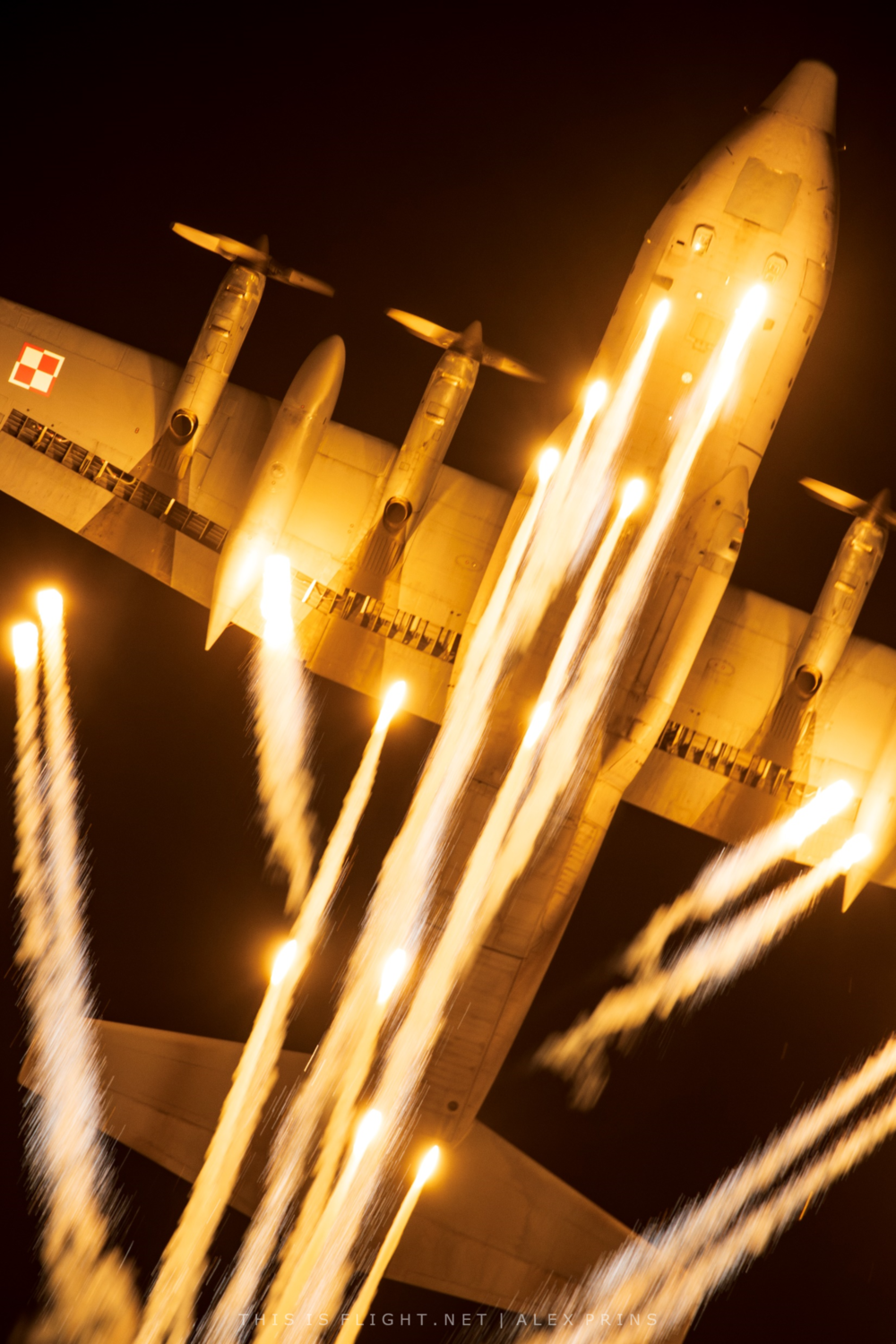 There are a great many things that Radom does very well – better, perhaps, than any comparable airshow in the world. For the flares, the Air Parade, the night show and the Soviet-era heavy metal, it is quite simply unmissable. But for everything that Radom gets right, there are a slew of things they get wrong.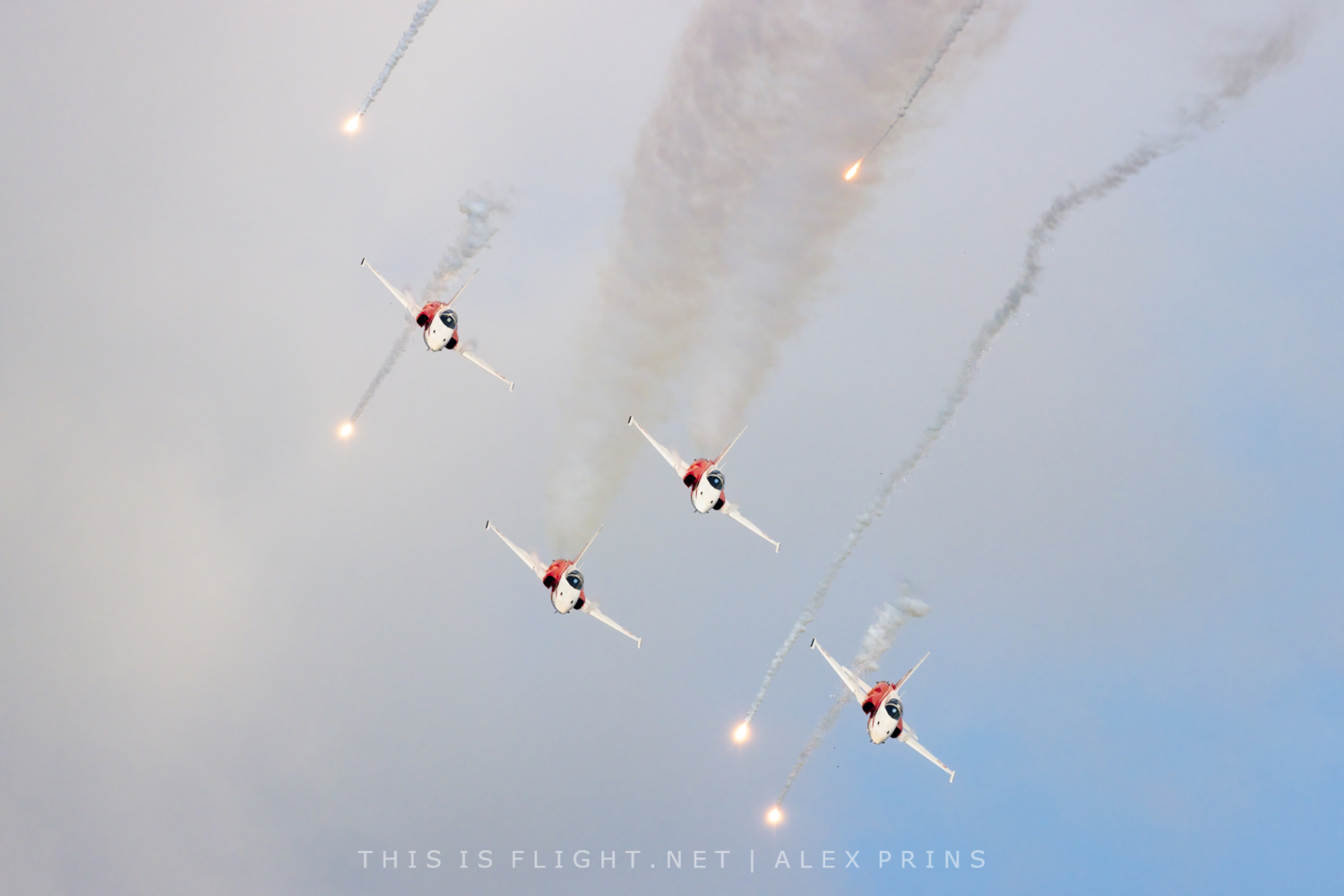 This started many months before the show, when organisers began announcing some of the aircraft that would participate. Those attending from abroad were perhaps tempted by promises of rarely-seen Polish assets such as the Mi-24 and SH-2G, neither of which turned up, for reasons outside the organisers' control. Other Soviet-era helicopters, like the Mi-8 and Mi-14, were relegated solely to the Air Parade. A MiG-29 sunset show was promised, and failed to materialise. News posts bordered on being outright cryptic, announcing unspecified "transport aircraft" and "the helicopters of the Polish armed forces", without either specifying types, nor confirming whether they would be in the Air Parade, main flying display or static park.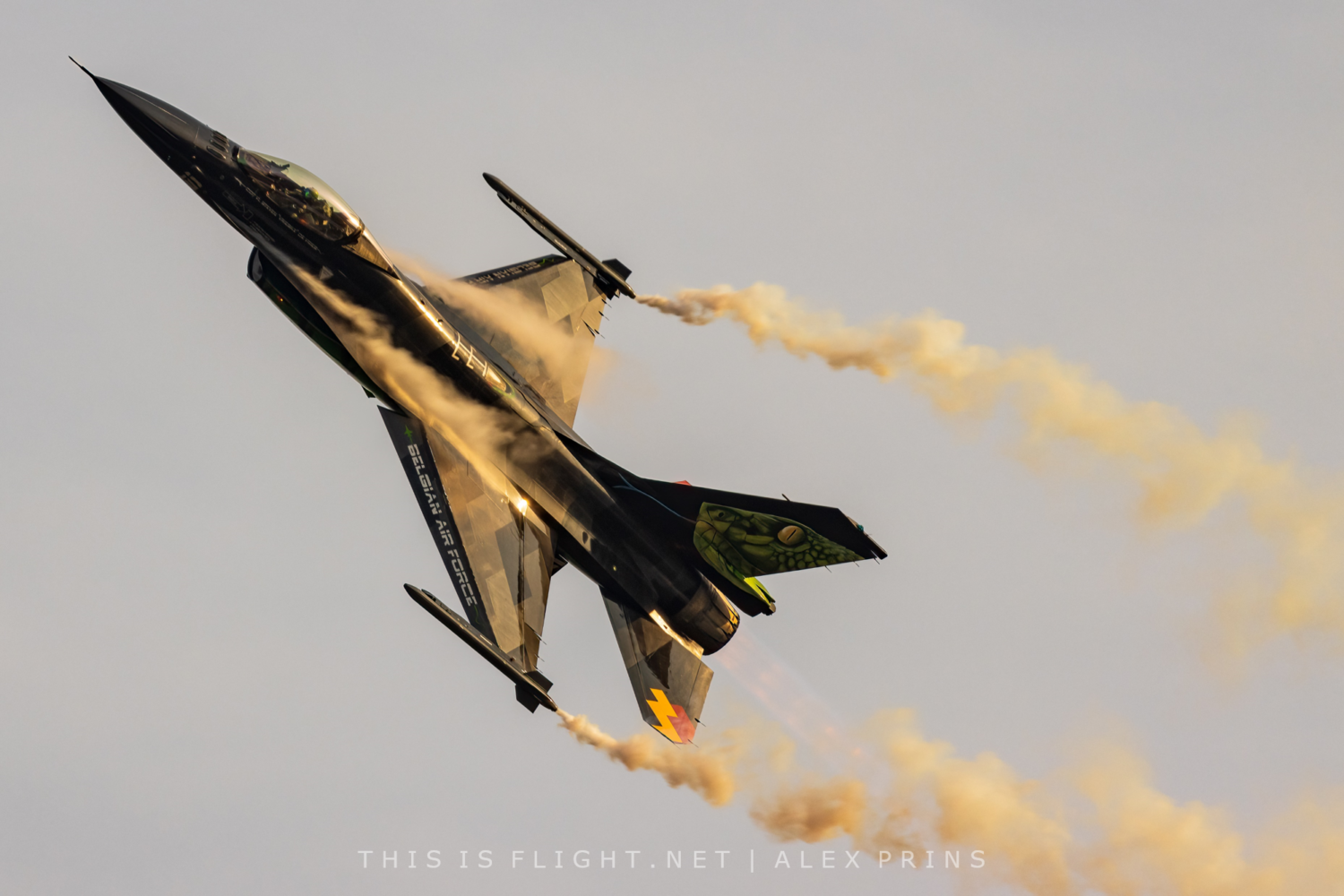 Foreign participation, too, was a thing of intrigue: for several months, through repeated vaguely worded press releases, the organisers implied a Lithuanian C-27 that was planned to appear in the static display would, in fact, be flying (in fact, it didn't turn up at all). They also prematurely announced unspecified participation from Italy, the UAE and Korea, none of which came to fruition. Even the parking plan on the airshow app, released just a fortnight before the airshow, seemed confused: it featured a Slovak L-29, five TS-11s (four from a foundation that only actually operates two, and another from the Air Force, who retired the type a year ago), a MiG-17 that is still at least two years from being flight-ready, a mysterious pair of F-35s and a gamut of Polish Air Force assets which, in the end, based at other airports instead.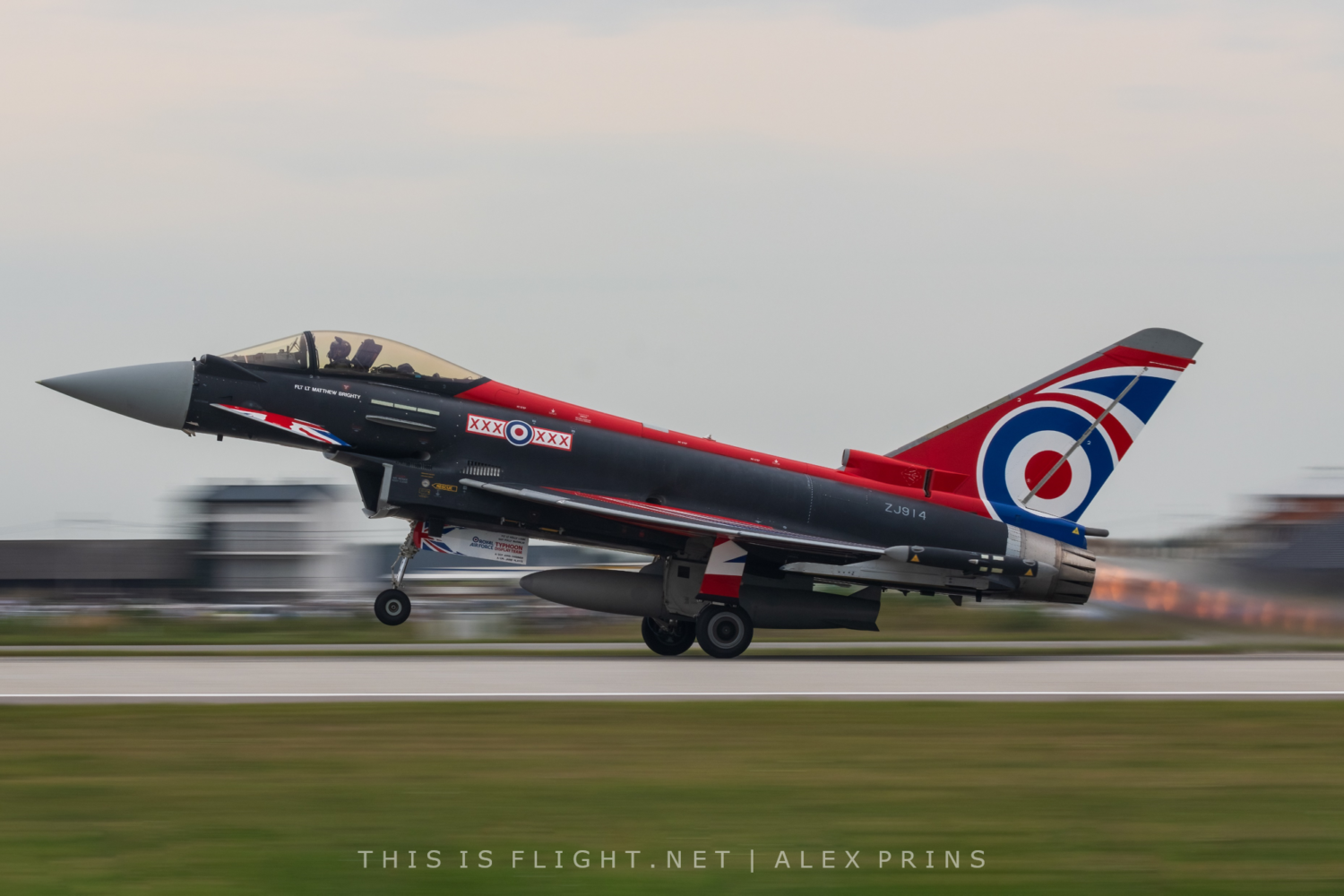 This haphazard approach to pre-show communication perhaps set the tone for what was to come. The organisers seemed totally ill-prepared for Saturday's sell-out crowd, with huge queues several hours long at the gates to the showground. Traffic management was poor, to the point that arriving aircrew needed to abandon their vehicles and walk the last mile to the show, or hastily arrange police escorts to cut through the jams. Once inside, things went from bad to worse; the showground was hopelessly overcrowded to such an extent that it was difficult to tread a path through the assembled masses, and then, by mid-afternoon, vendors began to run out of water. The few free water refill stations set up by the city council were unable to pick up the slack, and queues hundreds of metres long quickly formed. With organisers only permitting visitors to bring in 500ml of water each, many simply succumbed to heat exhaustion, and the sound of ambulance sirens became all too common.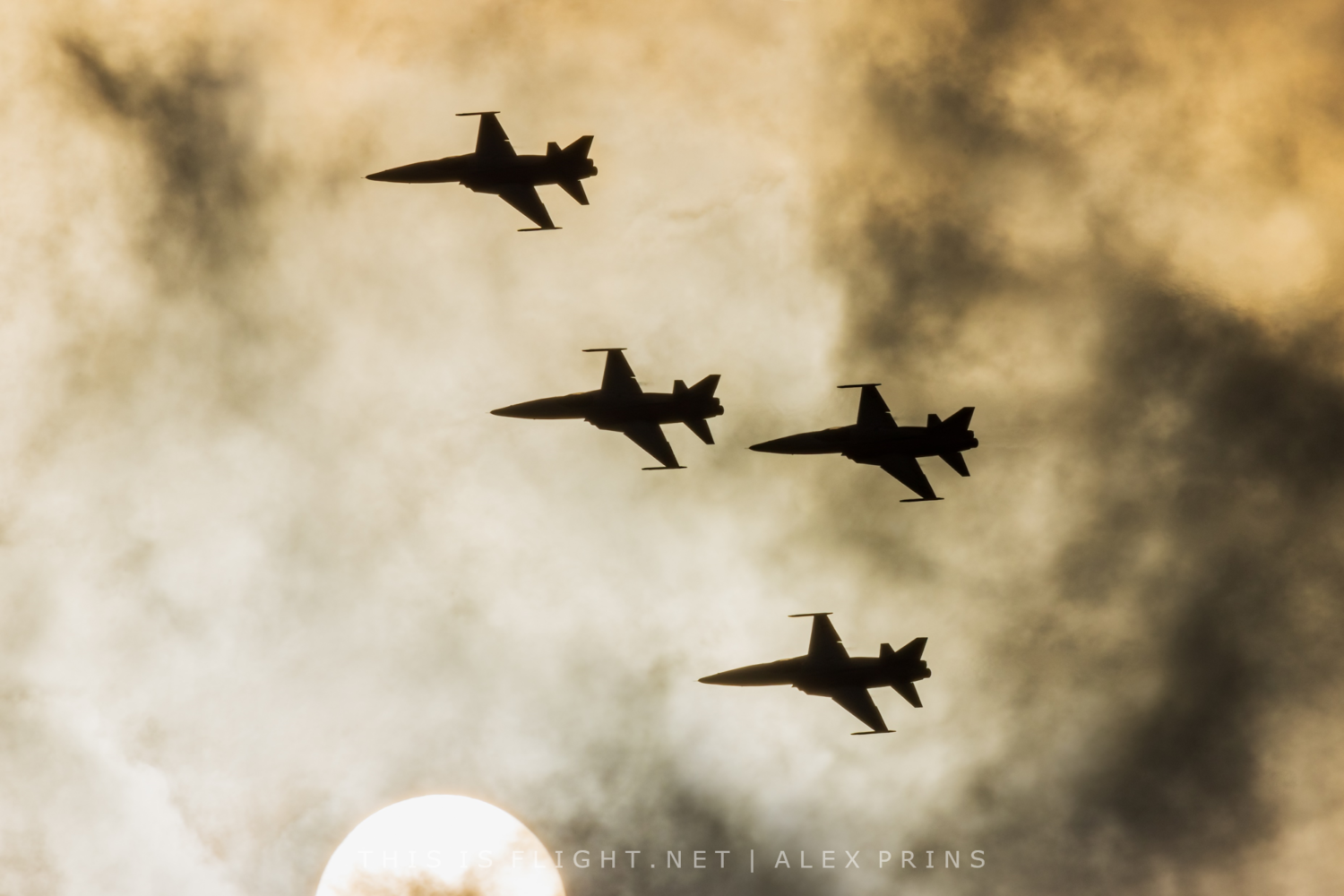 Fortunately, lessons from Saturday's debacle were learned and quickly applied. By Sunday, there were far more visible traffic control measures and the 500ml water limit was sensibly scrapped. This, combined with a noticeably smaller crowd, made Sunday's show a much more pleasant experience.
Amid all the chaos, the modestly-priced spotter pack came into its own. While the spotter area was also far too crowded, it did at least provide a modest space at show centre with access to shade and unlimited bottled water: a godsend during Saturday's 30-degree heat.
The flying, too, felt like something wasn't quite right. Things generally ran smoothly until the late afternoon, when momentum on both days noticeably dissipated. On Saturday especially, criminally long gaps during sunset meant that the glorious golden hour light and pleasant evening temperatures were mostly wasted. The Air Parade, while enjoyable, was noticeably thinner than previous editions and it was the least interesting aircraft that participated in the greatest numbers. The idea that a Radom Airshow could feature just one big military jet aerobatic team verges on being depressing, given the show's excellent form last decade, and the number of "filler" civilian acts that participated instead was simply too high for a show of this calibre. Many of those civilian displays were undeniably higher or more distant than at other venues – sometimes both. And surely it would have been possible for the MiG-29 to give us some slightly more enthusiastic passes?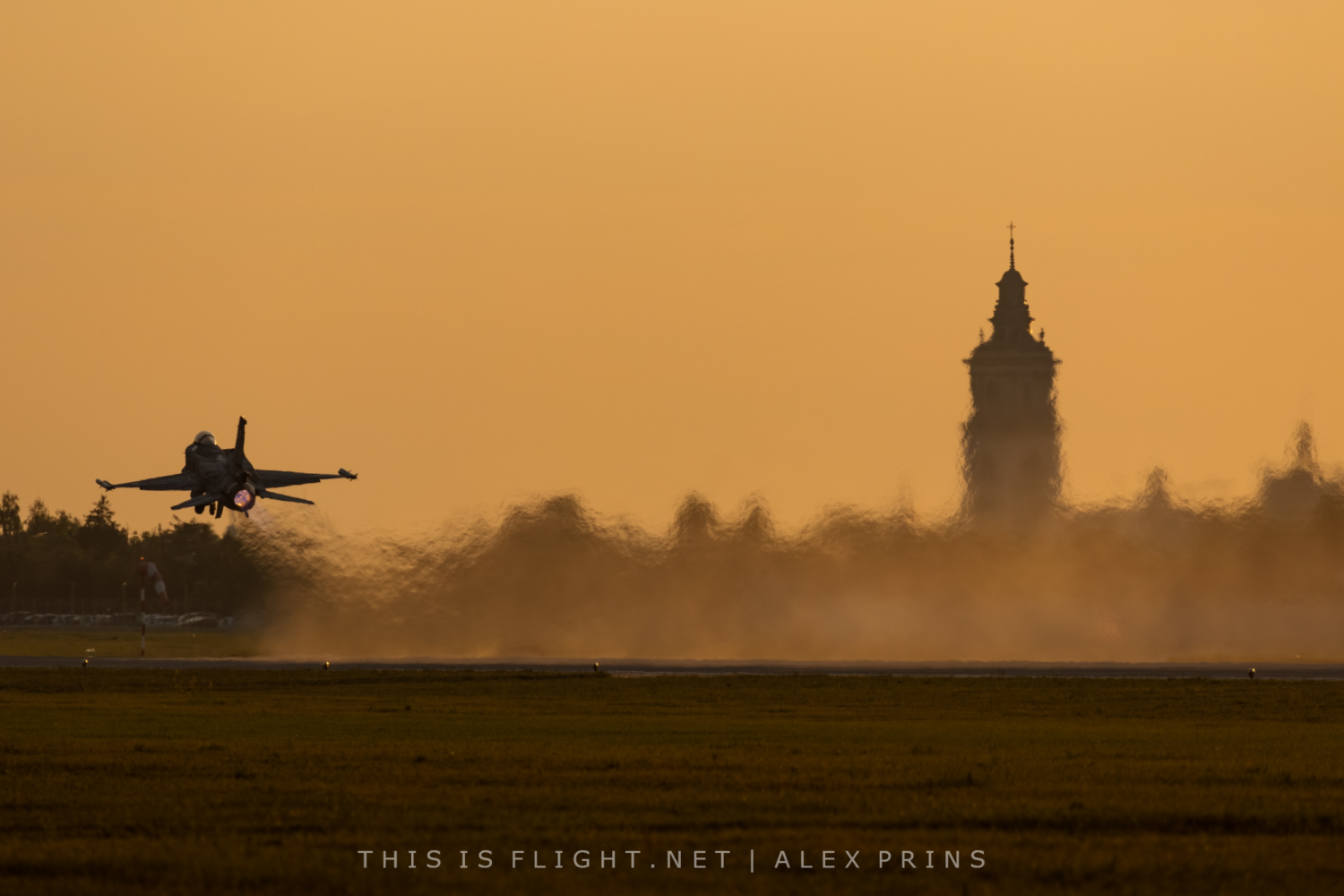 It is a shame to end on a negative note, because in the past, Radom has consistently been one of the world's very best airshows. It still has all the ingredients needed to rise to that level again; this year's show doubtless had some truly great elements, but added up to less than the sum of its parts. Do we feel the insatiable need to rush back as soon as the next airshow at Radom is announced? On the basis of this year's edition, probably not. Radom 2023 was an airshow that left us feeling satisfied, but not especially inspired.