WORDS & PHOTOS: ALEX PRINS
As we are all fast becoming familiar with, most coronavirus vaccinations benefit from a second dose to become fully effective: apparently, so too does the 'Antidotum Airshow' held at Leszno. After several years as the Sound Air Festival, and previously the Leszno Air Picnic, the organisers' success last year during an airshow season like no other has led to a permanent rebrand, cementing the strength of its 'Antidote' identity.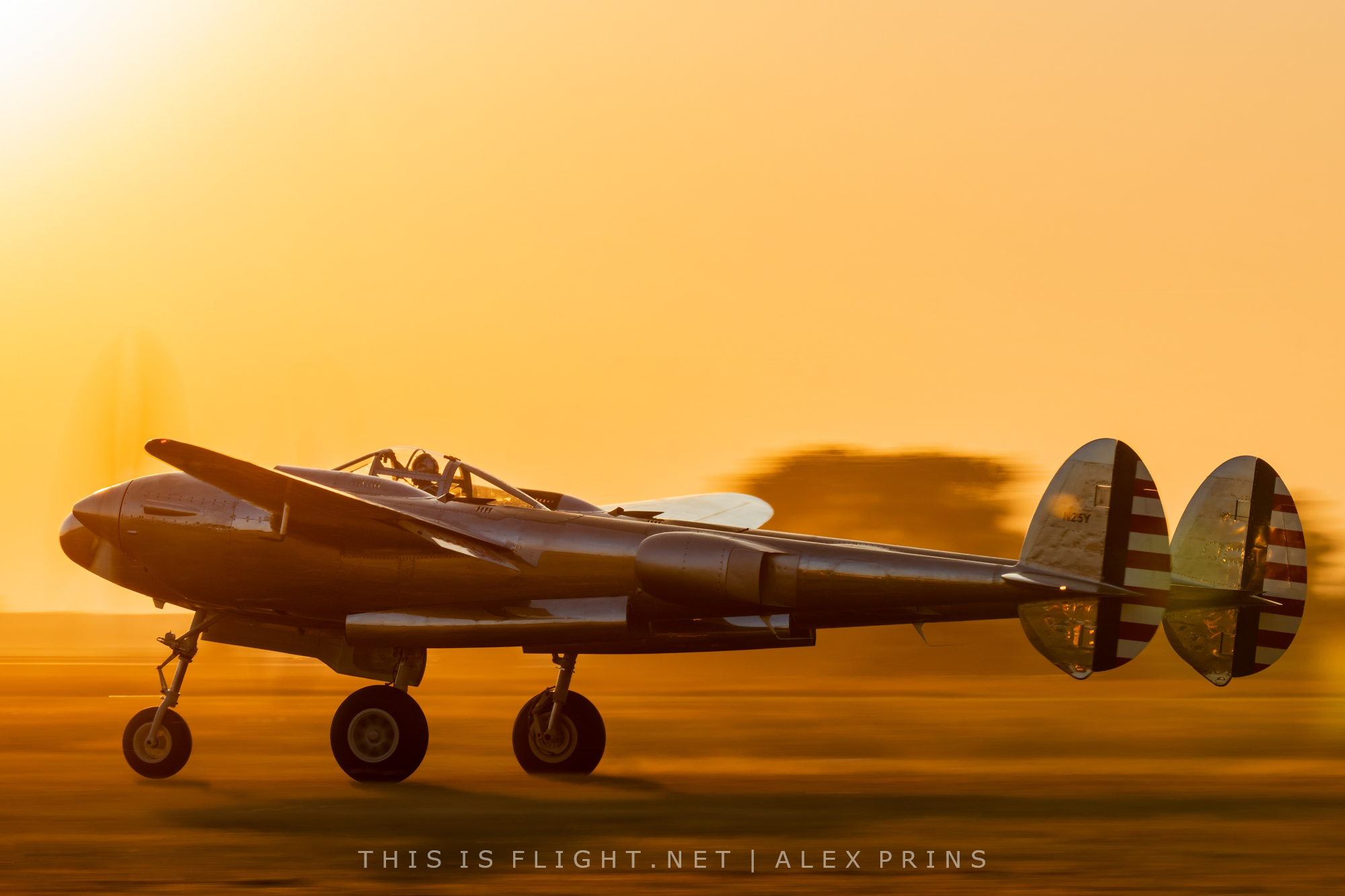 Leszno's established Friday-Saturday format was unchanged, with a three hour block of flying displays starting just before 5pm. This is followed by a short break and a two-and-a-half-hour block of sunset performances that saw many acts fly again, but either in different combinations, or with the addition of pyrotechnics both in the air and on the ground.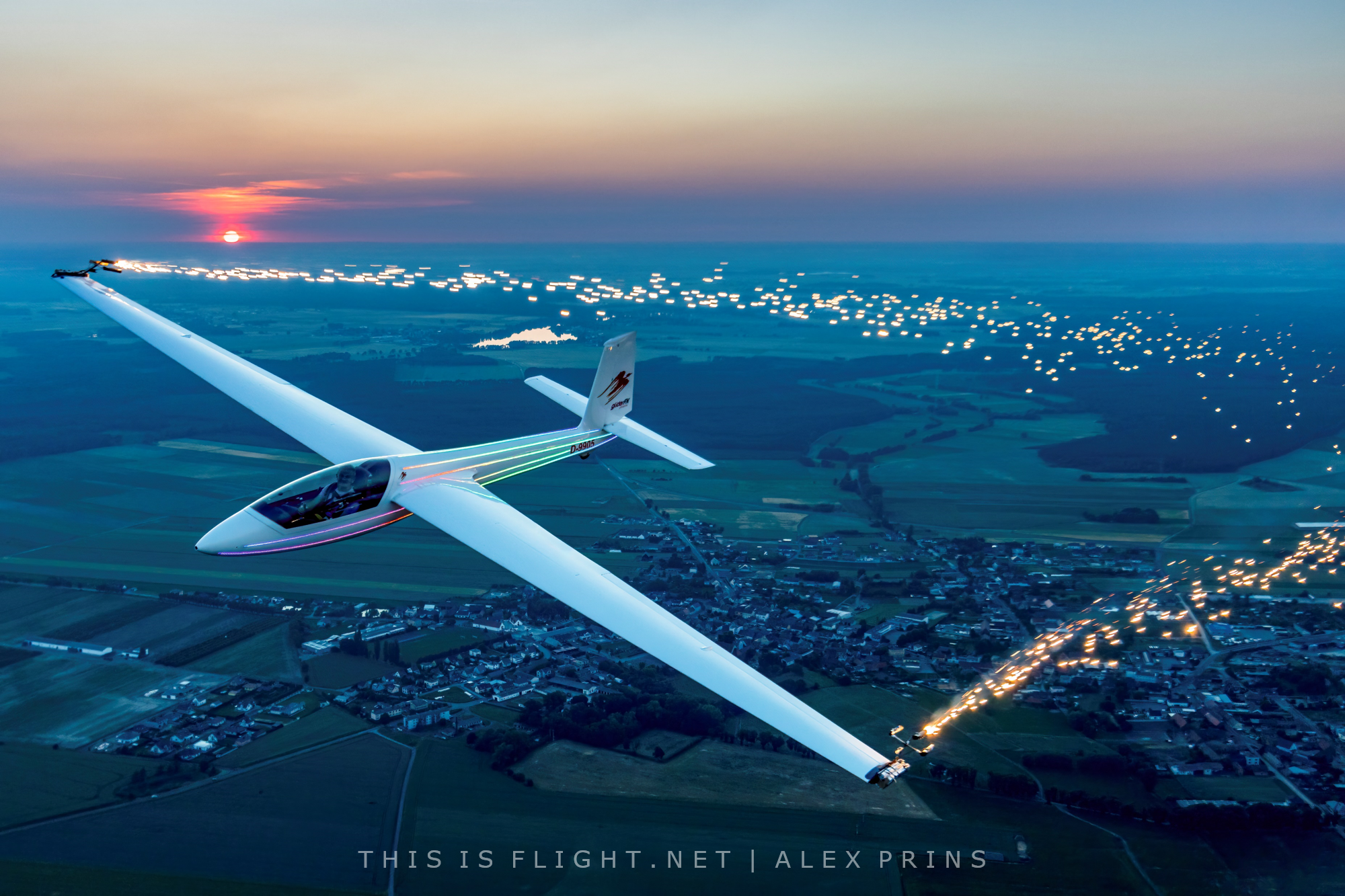 The Antidotum organisers have spoken before about how they aim to maintain variety in each year's line-up, and this was evident in an expanded flying program in comparison with previous editions. Many of those acts which were returning made sure to bring something new to the show, with the Flying Bulls displaying a collection of four warbirds (rather than one in 2020) and acts such as Marek Choim's Extra 330SC and the Aerosparx Display Team developing new and spectacular sequences, integrated with ground-launched fireworks.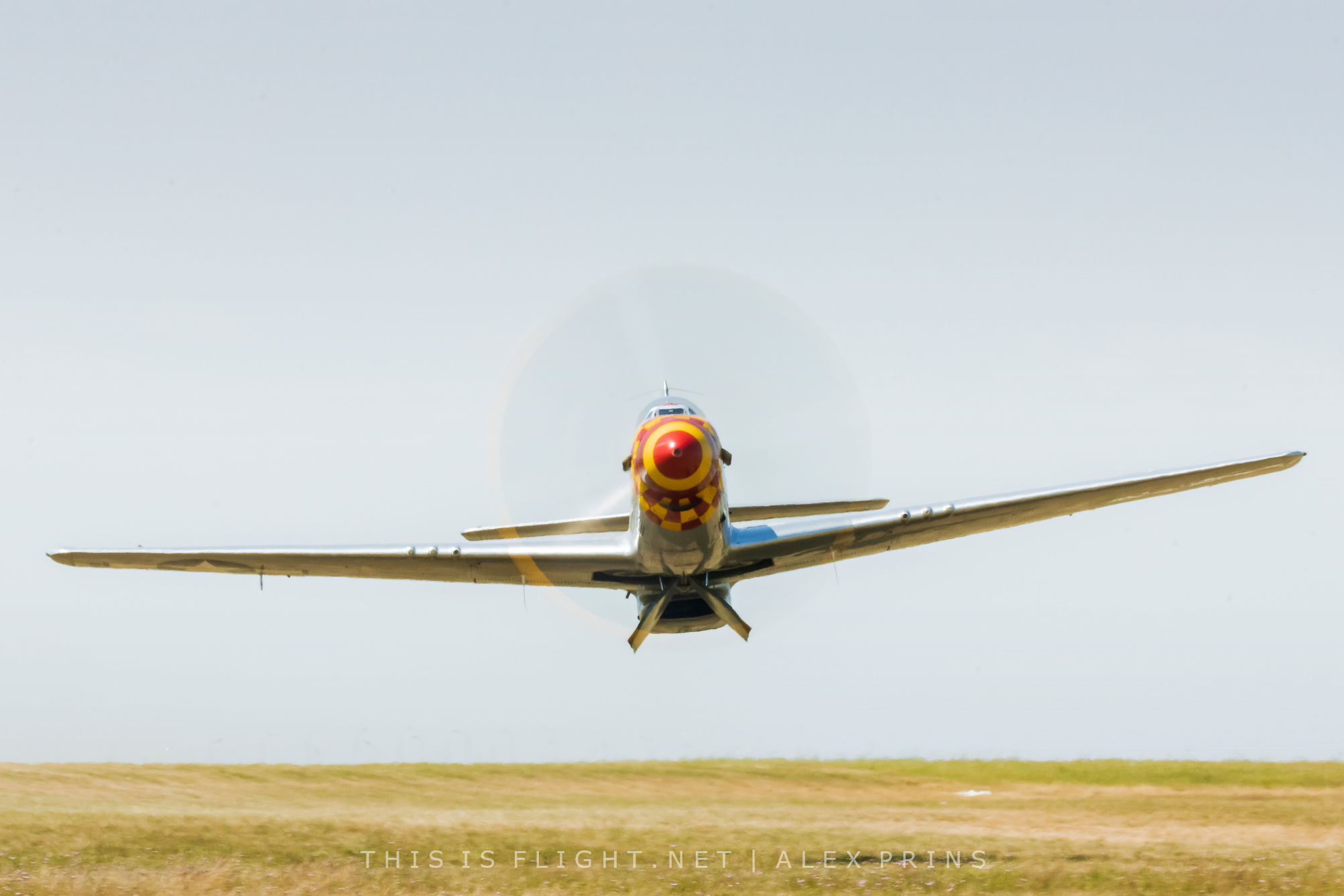 This marks an appropriate juncture to appreciate one of the Antidotum Airshow's greatest assets: its innovative organisers and the atmosphere this encourages. Guy Westgate, of Aerosparx and GliderFX, arrived in Leszno intent on setting a new Guinness World Record for the number of continuous rolls of a glider while on aerotow, which he duly did on the Tuesday to promote show, completing 200 rolls behind a Noble Wings AirLony Skylane. Further innovation was demonstrated by the ground pyrotechnic team, Arka Pyroshow, who detonated a 'wall of fire' during some displays, along with the aforementioned night time effects used by Marek Choim and AeroSparx. Other ground-breaking displays were planned, including a debut pyrotechnic display by a civilian-operated Bolkow Bo-105, and a Lim-2/SB Lim-2 pairs display, both of which were scuppered by a late directive from the Civil Aviation Authority of Poland. The SB Lim-2 operators were at least able to fly their solo routine, with a marked improvement on Saturday, with closer and more energetic flypasts, which followed an uncharacteristically distant and high display on Friday evening.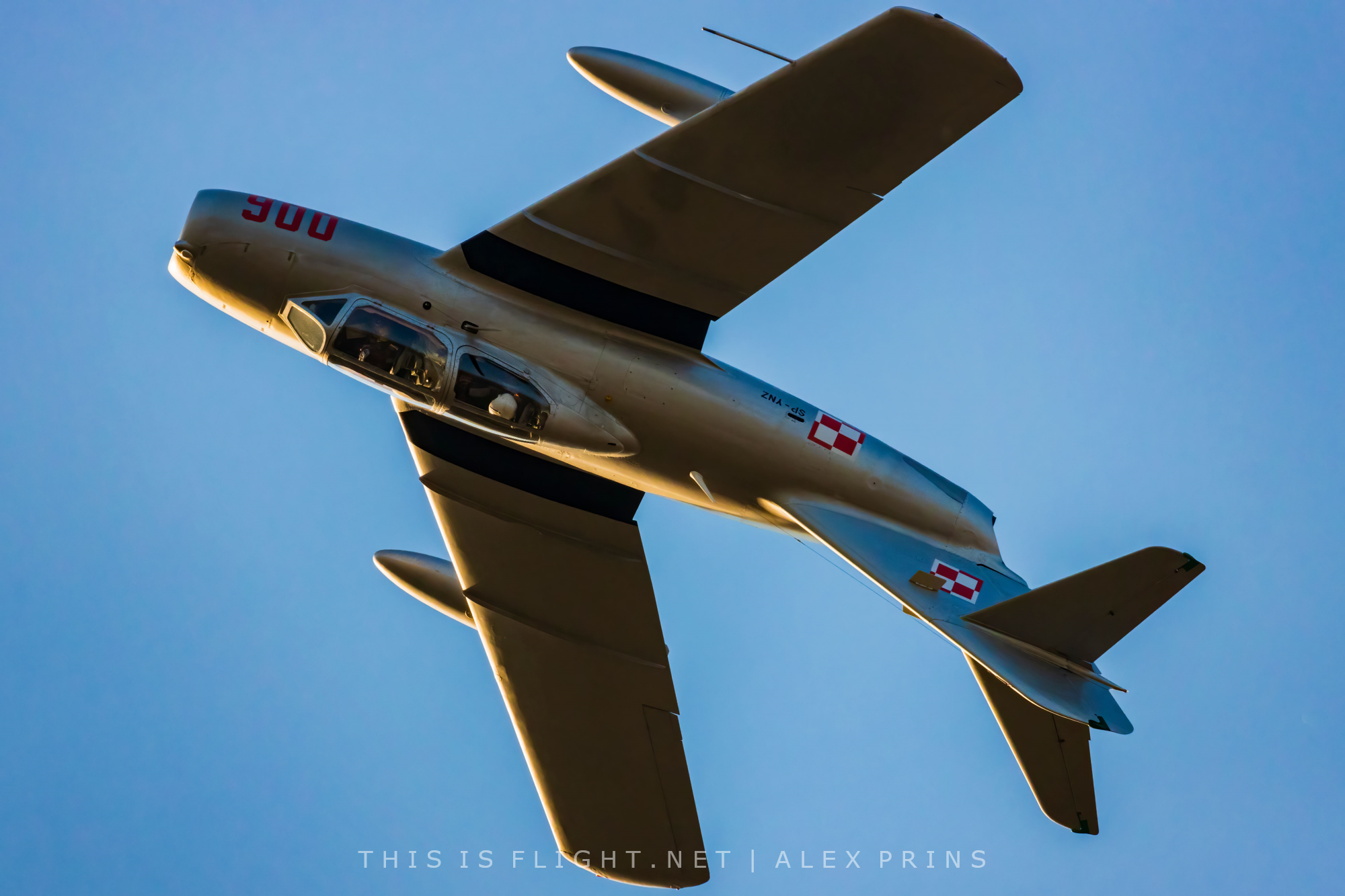 The reputation that Leszno has garnered in recent years speaks for itself: international display teams and air forces are known to be keen to visit, and indeed following the disappointing cancellation of the planned Bo-105, the organisers were able to draft in a last-minute replacement from Red Bull with a single phone call. Red Bull, in particular, is a devoted supporter of the show: after bringing the Flying Bulls Aerobatic Team, Team Blanix and a T-28B Trojan solo last year, they dispatched an even bigger arsenal in 2021. Along with their Bo-105 and Team Blanix again (the latter standing in for the Slovak gliding team Očovskí Bačovia), the Austrian energy drinks company made a spectacular arrival on Friday morning with a magnificent formation of its B-25 Mitchell, P-38 Lightning, T-28 Trojan and P-51 Mustang.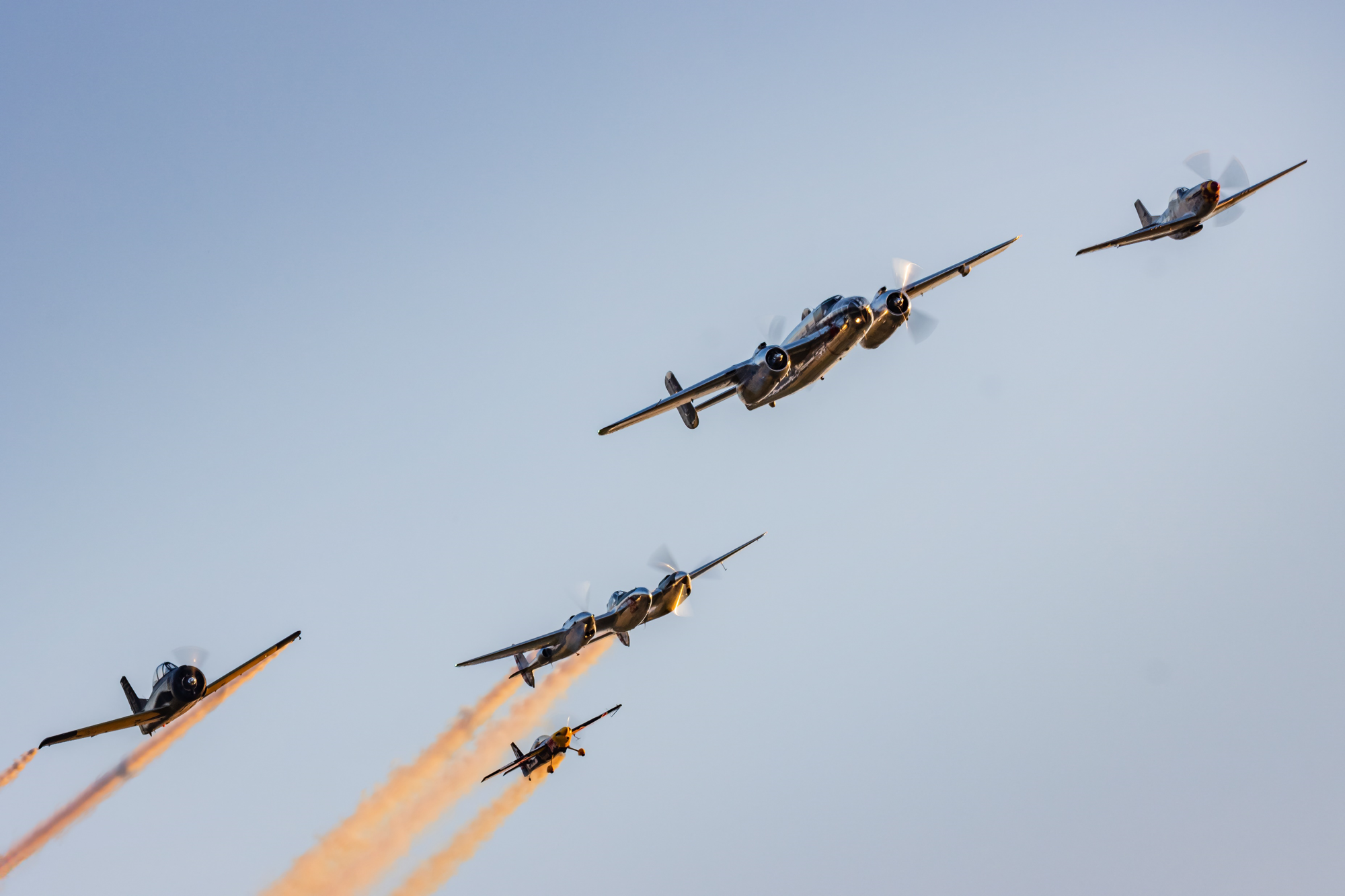 During the daytime airshow, the four Flying Bulls performed pairs displays, with the B-25 flying alongside the T-28 with its famous wingtip smoke, while the P-38 was joined by the P-51D, making its Flying Bulls debut in the colours of "Nooky Booky IV". As the sun then set, the four warbirds took to the air together, joined by Łukasz Czepiela's Red Bull liveried Edge 540, and led the sell-out crowd through the most magnificent formation set-piece these authors have witnessed. Beginning as a five-ship formation, accompanied by The Cellos' live orchestral adaptation of the Star Wars theme, each aircraft gradually broke away to perform alternating solo or pairs manoeuvres against the stunning evening sky – a sequence that will perhaps live on as the crowning glory of Antidotum Airshow Leszno 2021.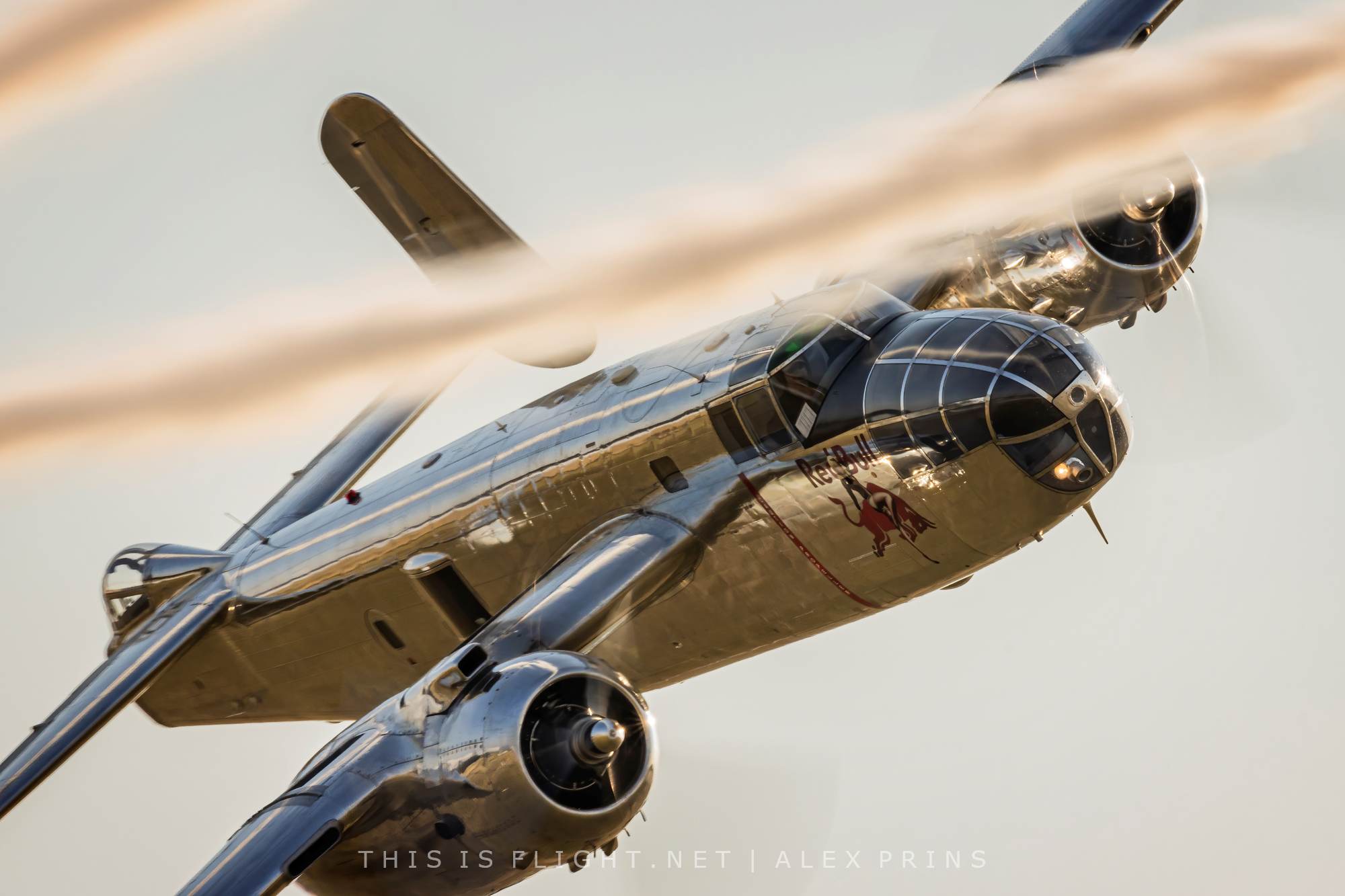 Further masterful displays during that most golden hour included a unique display by a classic Slovak L-29 Delfin, operating for the first time from Leszno's grass strip, augmented on the Saturday by a huge "wall of fire" during the final flypast. Further international support was provided by the Swiss Air Force's Super Puma display team, whose visit marked the culmination of several years of diplomacy by the Antidotum organisers. The Super Puma display piloted by Captain Sandro Haag, with airshow debutant Major Fabio Verna in the co-pilot's seat, and the demonstration could not have been better suited to the venue. Scheduled to perform immediately after sunset on both Friday and Saturday, the transport helicopter opened its display with something of a topside pass, before entering a punchy role demonstration that included pedal turns, aggressive noseovers and a reverse 360-degree turn. Although flares featured throughout, the performance concluded with a huge flare drop as the Super Puma dived from height, lighting up the sky with cascading munitions.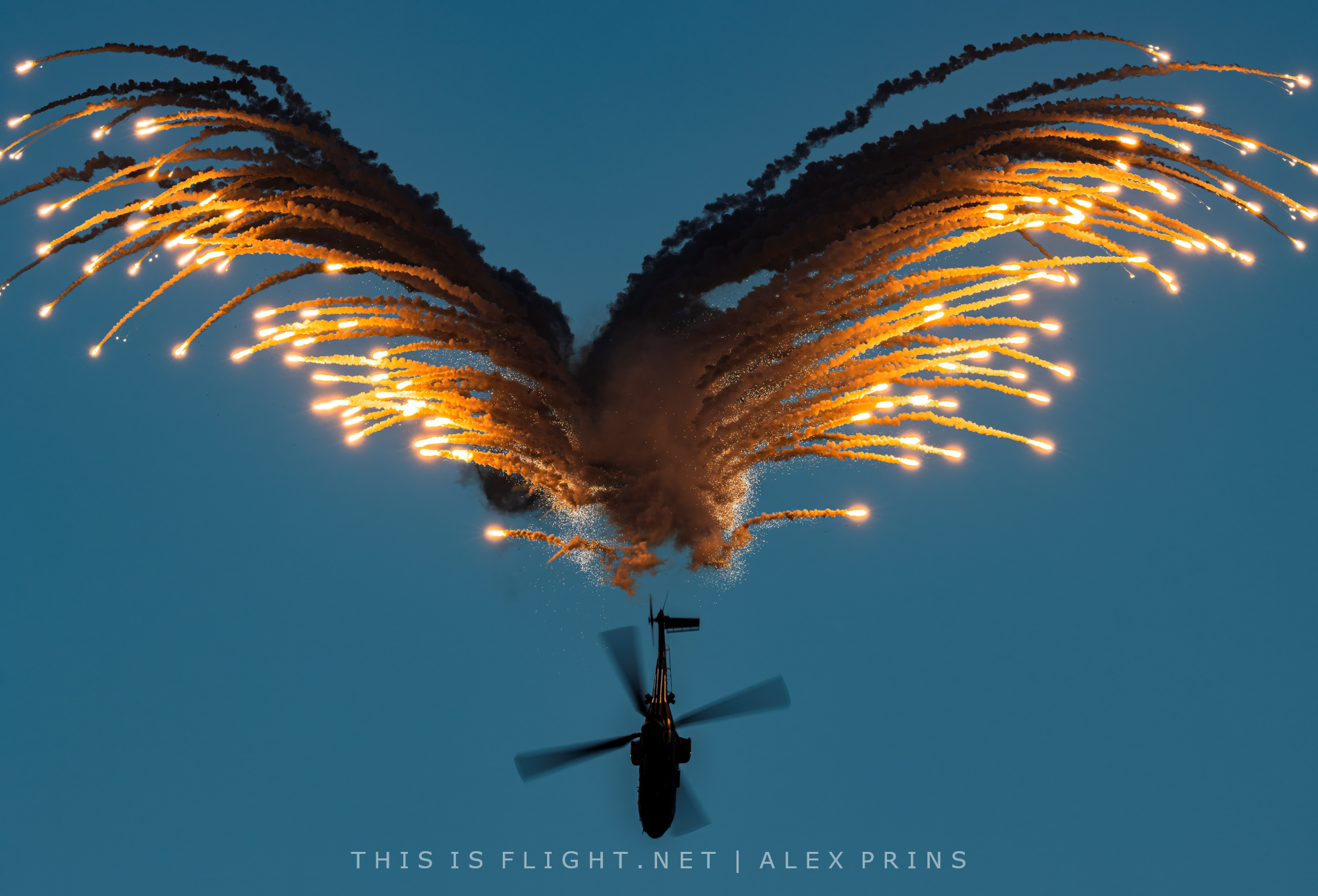 Military participation also came from the Polish Air Force, supporting one of the few large-scale airshows in Poland this year. Unfortunately, in a programme packed with some of the finest aircraft and pilots in Europe, the home team fell a little short; in his debut season as F-16C 'Tiger' Demo pilot, Major Wojciech "Ramrod" Kieczur seemed to struggle to locate the display venue – this was especially notable during the first half of his Thursday rehearsal. The official displays were closer, however some of the best manoeuvres were still flown higher and further away than we have seen from the team at other events, and the occasional use of flares took place at some of the most distant moments.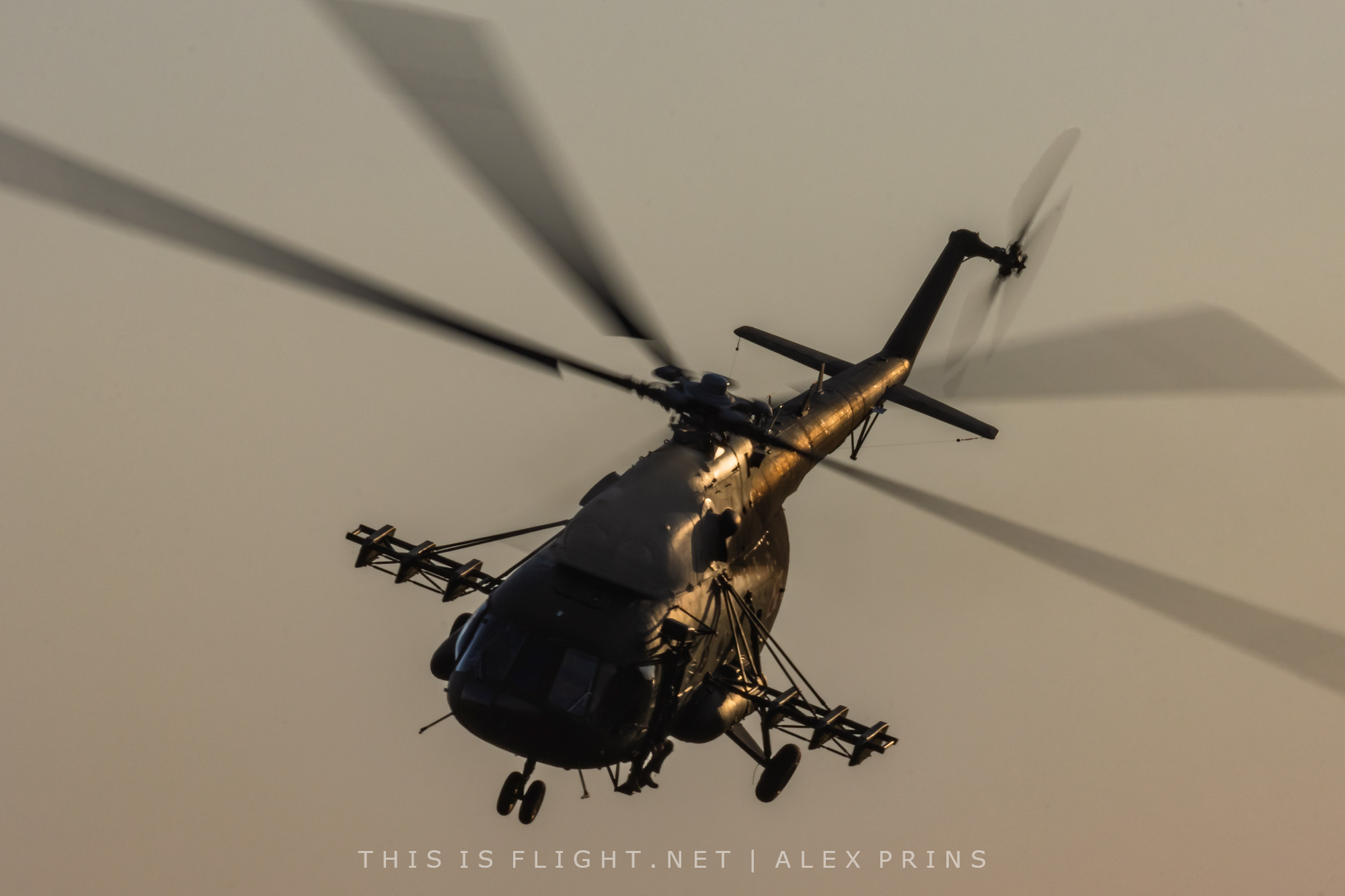 Team Orlik similarly struggled against the high standards we expect of them: temporarily reduced to a 3-ship by aircraft and pilot availability (depending on which rumours you believe), the display did not have the same slick choreography that we have seen from the team when flying seven or even four aircraft. Lacking in any particularly complex or dynamic manoeuvres, the formation was visibly inaccurate at times. Hopefully, displays later this year (slated to be performed with a minimum of six aircraft) will be a marked improvement.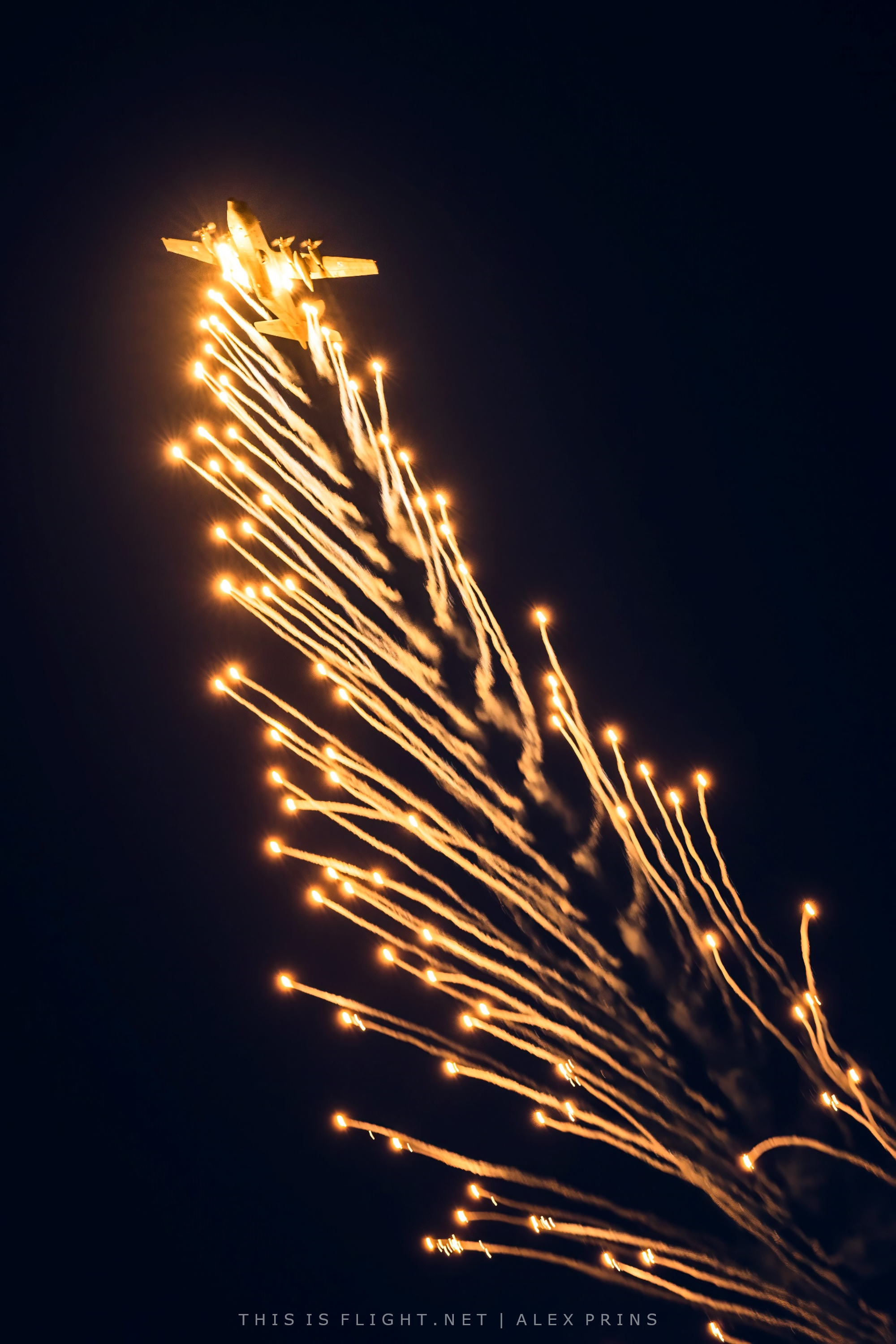 Other appearances by the Polish military included drop-ins by a Mil Mi-8 and Mil Mi-2 on Friday and Saturday respectively, with the helicopters providing transport for Air Force personnel involved with the various displays. Lastly, a C-130E Hercules from the 33rd Transport Air Base provided the type's first official full airshow performance, including a simulated tactical landing and cargo drop, with a huge Polish flag proudly displayed on the open ramp during the latter. The Hercules then made a dramatic return under the cover of darkness 20 minutes later for a colossal flare drop, firing hundreds of burning shells and trailing a vast cloak of light; this flash of light drew gasps and cheers from the home crowd, and if the rumours are true, we may well see this jaw-dropping cascade much lower and closer in the future!
The sunset-into-twilight period is what makes Leszno special, and this year's displays included Marek Choim's first ground-fired pyro slalom display in Poland, Team Blanix, a surprisingly entertaining pyrotechnic display by the ultralights of Obornickie Motolotnie, and a remote-controlled extravaganza by ace RC-pilot Luca Baumann. Further general aviation representation also came from GliderFX, whose rolls-on-tow at twilight were complimented by a twisting trail of waterfalls.
The show was finally then brought to a close in the familiar manner, with crowd-favourites The Flying Dragons followed by AeroSparx. The Polish paramotor team struggled in their daytime flights, as the unsettled thermal conditions that July's scorching weather triggered led to some of the most difficult conditions anyone in the team had flown close formation in. Fortunately, as the evening cooled, the air settled down, allowing for a typically precise display. As finales go, however, AeroSparx's display will be remembered as one of the best. After the customary formation and solo elements of the British team's pyrotechnic display, the two Grob 109bs orbited a central ground pyro station as part of an exceptional coordinated sequence. Choreographed by the ground team, the two-minute segment was a spectacular climax to events, as the two Grobs, themselves trailing copious fireworks, circled around a huge crane-mounted Catherine Wheel effect, and huge shells filled the sky.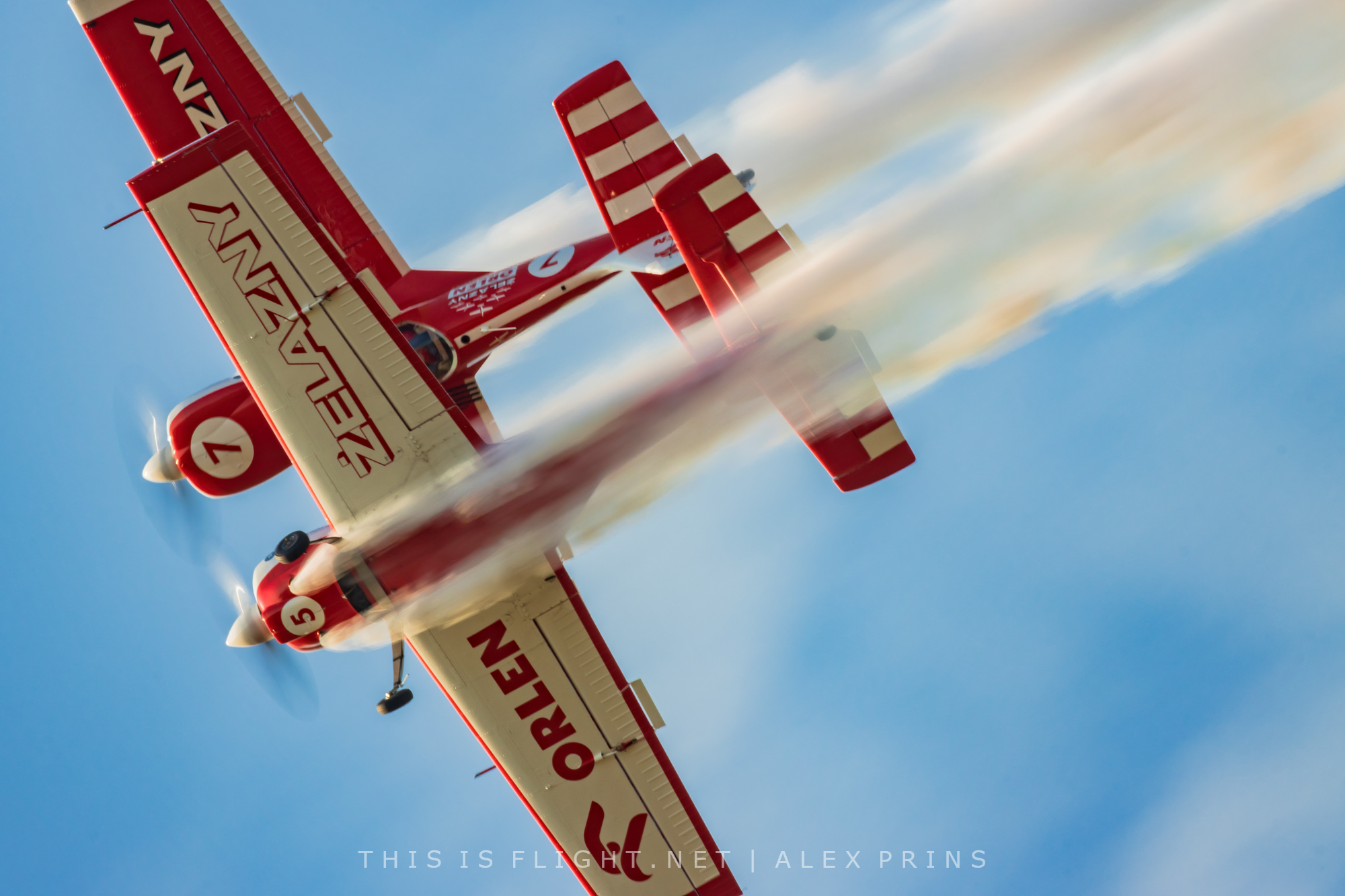 The capacity crowd of Antidotum 2021 were left in no doubt that they had witnessed something truly special – but then that is something we have come to expect from this David amongst the Goliaths of European airshows. Few venues anywhere can rival the Antidotum Airshow for the punch it packs, and nowhere else would an organising team manage to assemble an airshow of such a scale in the current climate, and still sit at breakfast the following morning to scheme about making Antidotum Airshow 2022 even bigger and better. Next year will hopefully see the resurgence of airshows we had hoped for already, and if so, we fully expect to see Leszno leading the field into a new dawn of airshow excellence.