Eight former Red Bull Air Race pilots have signed up to take part in a new air racing series, due to start in October 2023 with a race in Shibuya, Japan.
'Air Race X' was devised by Matt Hall, Yoshi Muroya and Pete McLeod as a successor to the Red Bull Air Race, which ended in 2019. While the organisers aims to hold in-person Red Bull-style races in future years, for now, Air Race X will use a combination of real flying and augmented reality, with each pilot competing at their home airfield.
While two other attempts to revive the air race have failed in recent years due to the enormous cost and complexity of staging a global sporting series, Air Race X's format will enable racing to begin at a fraction of the cost, without the need to set up physical race tracks or ship race aircraft and teams to a single location.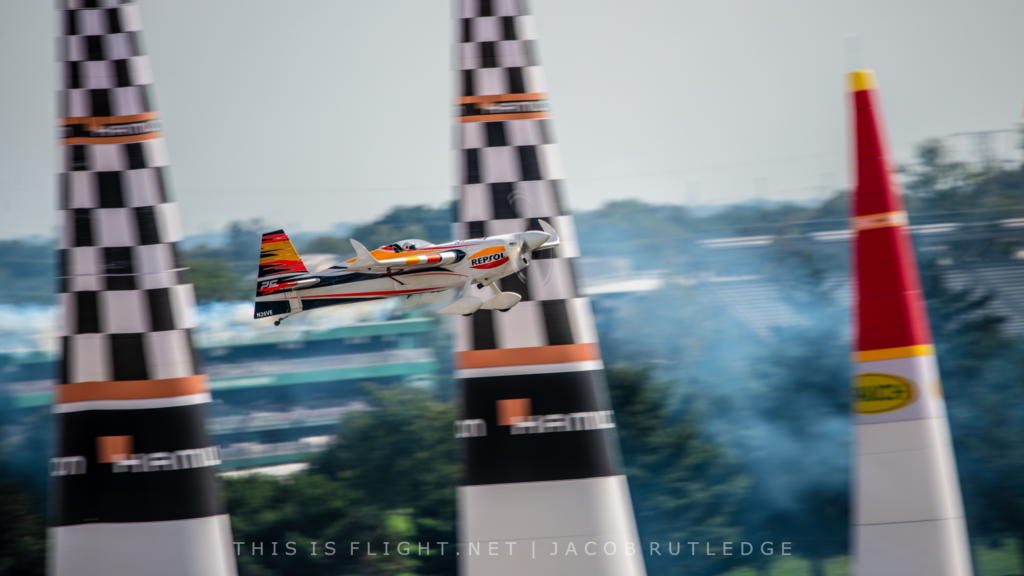 Five new pilots join the founding trio
A total of eight new pilots are now lined up to join Air Race X, representing seven nations in five continents. All eight had previously signed up to take part in the World Championship Air Race, a series which does not seem to have materialised. All eight previously competed in the Red Bull Air Race – seven in the Masterclass and one in the Challenger Class.
MATT HALL (AUSTRALIA, 51): A former Royal Australian Air Force fighter pilot and airshow pilot, Hall joined the Red Bull Air Race in 2009, flying the MXS-R. He finished third in his debut season, immediately becoming one of the sport's most elite competitors. In total, he has seven race wins, 25 podiums and one World Championship title (2019). He has also been the end-of-season runner-up on three occasions. Although he flew the Edge 540 for his final few seasons with the Red Bull Air Race, Hall intends to fly his MXS for Air Race X. He is actively involved in training new air race pilots, and intends to "pass the baton" to a successor in the coming years.
YOSHI MUROYA (JAPAN, 50): Japan's most famous aerobatic pilot, Muroya joined the Red Bull Air Race in 2009. He was the 2017 World Champion and finished second in the standings in 2019, having won three out of four of that year's races. In total, he has won eight races and been on the podium at 14. Muroya has partnered with Lexus to set up a new air racing team for Air Race X, and will fly the Edge 540 V3.
PETE MCLEOD (CANADA, 39): Coming from a flying family in rural Canada, McLeod took his first flight in the family plane at the age of six and gained his pilot licence at 16. In 2009, aged 25, he became the youngest pilot to enter the Red Bull Air Race's top tier of competition. McLeod has 11 podiums and one race win to his credit, and a career-high season end result of third. He flies an Edge 540 V3.
MARTIN ŠONKA (CZECHIA, 45): Šonka is a former Czech Air Force fighter pilot and member of the Czech national aerobatic team. He joined the Red Bull Air Race in 2010 and retired from the air force in 2014 to focus on his racing career. In total, he has six race wins, 15 podiums and one World Championship title (2018). He flies an Edge 540 V3.
JUAN VELARDE (SPAIN, 48): One of Spain's top aerobatic pilots, Velarde joined the Red Bull Air Race's second tier of competition, the Challenger Class, in 2014. Although he finished eighth in the standings, he graduated to the Masterclass the following year. He has twice been on the Masterclass podium, with a career-best race result of second and a best end-of-season result of eighth. He flies the Edge 540 V2 previously used by the most successful Red Bull Air Race pilot in history, Paul Bonhomme.
PETR KOPFSTEIN (CZECHIA, 45): Kopfstein is a Czech aerobatic pilot and the first winner of the Red Bull Air Race Challenger Class when it was founded in 2014. In his first two seasons, he won three Challenger races and finished second in four. This was enough to see him graduate to the Masterclass in 2016. He has a career-bestMasterclass race result of second place and finished the 2017 season in fifth place overall. He flies an Edge 540 V3.
MIKA BRAGEOT (FRANCE, 36): A former European aerobatic champion, Brageot was the youngest ever pilot to fly with the French national aerobatic team. He joined the Red Bull Air Race Challenger Class in 2014, aged 26. In his second season, he won two races and finished on the podium at every race he competed at, taking first place overall at the end of the season and prompting his move to the Masterclass. His career-best Masterclass race finish is second, and he ended the 2018 series in fourth place overall. Brageot was mentored by 2014 World Champion Nigel Lamb, and flies Lamb's Championship-winning MXS-R.
PATRICK DAVIDSON (SOUTH AFRICA, 41): The newest air racer in the pack, Patrick Davidson entered the Red Bull Air Race Challenger Class in 2018. He has flown at eight races, finishing on the podium at four of them, but he is the only Air Race X pilot without any Masterclass experience. Despite that, he is an acclaimed aerobatic pilot, having entered and won his first competition at the age of 12 (with a safety pilot). He has since won the South African national championships six times. He flies an Edge 540 V3.
Combining augmented reality with real flying
Although each pilot will race at their home airfield, they will all be following the same racetrack design. The familiar pylons won't be physically present at each location, but their positions will be marked on the ground and they will be visible using a smartphone camera through an Augmented Reality app called STYLY.
In the week leading up to the race, each of the eight competitors will race against each other in pairs in a round-robin format. Points will be awarded based on the result of each two-pilot dual and the time margin between the two competitors.
For each of these two-way duals, one pilot will be designated the 'Challenger' and the other will be the 'Defender'. Challengers can choose to initiate a two-way dual against their competitors at any point during the five-day qualifying session; the Defender will then have the rest of the week to post a time of their own. This introduces an interesting tactical dimension that has not been seen at air racing before, with pilots having to take into account global weather patterns, initiating duals when the conditions are advantageous at their own airfield, but detrimental to their opponent.
Telemetry data from each flight, accurate to 3cm and 1/1000 of a second, will be collected and tabulated by Air Race X officials as the week unfolds. This will enable the pilots to be ranked over the course of the week, with the highest-scoring four pilots at the end of the qualifying period progressing to the 'Grand Final'.
The Grand Final will see a further four two-way head-to-head duals (two semifinals, one final and one third-place play-off) to determine the overall race winner.
While the Grand Final is officially held after the end of the qualifying period, pilots will actually fly these 'hot laps' at a time of their choosing during qualifying week. Their times will be withheld until the day of the final, when recordings of the flights will be played out as if they were unfolding live.
The spectator experience
Perhaps the biggest challenge facing Air Race X is the need to create an immersive spectator experience without any of the pilots physically being at the same place.
This is Flight has viewed a demonstration of the Augmented Reality pylons that can be inserted while watching one of the pilots perform qualifying runs at their home airfield; this was immensely impressive, but spectators will only be able to see a small portion of the competition unfold and will seemingly not have access to live timing and penalty information as they watch each flight.
For the Grand Final, there are two primary viewing methods.
Although an in-person race is not yet possible, Air Race X has collaborated with officials from Shibuya, Tokyo, for the next best thing: an augmented reality race, where the racetrack and ghost aircraft can be superimposed over the streets of Tokyo. The racetrack used by the competing pilots during qualification will have been designed to fit in with the streets and skyline of Shibuya, meaning the digital aircraft will appear to fly down streets and around buildings, bringing air racing into the urban environment like never before. Fans will be able to gather in the streets and at a dedicated Fan Zone to watch the race simultaneously, using the STYLY app on their smartphones to see the augmented reality raceplans and watching a simultanious TV broadcast shown on big screens. This 45 minute TV broadcast will also be available on the Air Race X website for viewers around the world to enjoy.
The balance the broadcast strikes between real footage from the pilots' home airfields and augmented reality footage from Shibuya remains to be seen – but given the vast majority of the Red Bull Air Race's audience followed the sport online and on TV, it is easy to imagine that a televised version of the Grand Final could inspire similar interest, even if it includes animated elements and footage recorded at multiple locations.
The "digital air races" are a stopgap measure; Air Race X founder Yoshi Muroya is open about the fact that in-person physical racing is the ultimate goal. He said: "I think some fans who have experienced the frenzy of air racing live may feel that digital is not enough for them. I understand this, and we will stop at nothing to bring them the best possible experience. We will continue to evolve step by step, and we hope you will support us."
Once Air Race X has been established as a racing series, it is the company's ambition to move to a hybrid racing format that combines low-cost digital air races early in the season, followed by an in-person Red Bull Air Race-style Grand Championship round at the end of each year. For the Grand Championship, participating pilots will all race at the same location in front of a live audience.
The first round of Air Race X will be held later this year; flights will be recorded on Monday 9th-Friday 13th October, with the Grand Final broadcast live on Sunday 15th. Participating pilots will be able to organise events at their home airfields during the qualifying period, although none have yet been announced. Shibuya's "Fan Zone" will spring into life on Sunday 15th October, and will be free to visit.
After holding a single digital race in 2023, Air Race X aims to run four digital rounds of racing in 2024. For 2025 and 2026, they intend to hold at least four digital rounds per year, followed by a Grand Championship.
To watch October's race, visit airracex.com.