Reigning Red Bull Air Race World Champion Matt Hall is among three race pilots attempting to revive pylon air racing with a mixed-format "real" and "digital" race series, aiming to hold their first race later this year.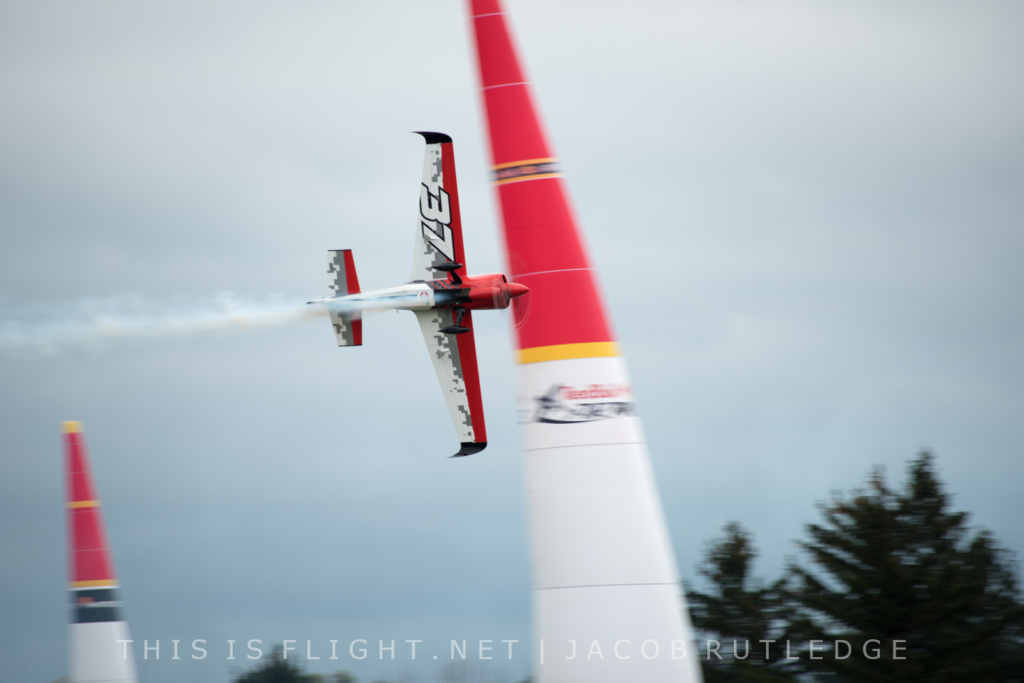 The new sport, named Air Race X, was launched at a press conference in Japan on Wednesday 29th March hosted by 2019 World Champion Matt Hall of Australia, 2017 World Champion Yoshi Muroya of Japan, and Pete McLeod of Canada.
There have been multiple attempts to revive World Championship pylon air racing since Red Bull pulled the plug on the sport in 2019. The official rights to hold a World Championship series rest with a group of Chinese investors who bought the sport from Red Bull in 2020, initially backed by former Red Bull pilots, contractors and organisers. However, after a year of minimal progress, the core team split from their Chinese backers and attempted to stage a breakaway series funded by American sports and technology company Touchpoint Group Holdings. Although it came close to holding races in 2022, this partnership also ultimately collapsed.
As of 2023, there are therefore three attempts to revive air racing: the FAI-backed World Championship Air Race from Hong Kong, which claims to be aiming to hold races in 2023 but which lacks competitors and expertise, the British-Austrian AIR RACE company, composed of ex-Red Bull organisers and suppliers, which is currently searching for a new sponsor, and now, the pilot-run Air Race X.
Air Race X said that, rather than waiting for a race to be organised by an external party, the pilots and teams should "unite and take action to restart a new air race series in their own hands."
Yoshi Muroya admitted that holding air races in the current global climate was "not easy", causing the pilots to consider alternate formats. This has led them to develop a dual-format race series involving both real racing, in the same format as the Red Bull Air Race World Championship, and lower-cost digital racing, combining real flight with digital technology to transform cities into virtual air race locations while pilots compete seperately around the world.
Describing the digital format, Muroya said: "The race track will be distributed [by] the race officials to the teams, then the teams will set up the track at their own airport – exactly the same track for everyone, set by ground markings or small pylons. We can measure the aircraft's inflight information really precisely. The flight recording is sent to the race officials. The race officials verify if the flight data is valid – if there's a penaltiy it will be deleted – and the data will be displayed on a leaderboard on the website."
Digital races would be staged over a period of around one week, but during the final days, results will be kept secret, allowing the organisers to produce a 45 minute edited programme which will be broadcast on race day, revealing the final results for the first time. Additionally, Augmented Reality will be used to enable spectators in a dedicated host city to watch the races live at a specified venue. Full details on how the races can be watched will be released in August.
Muroya was not clear how race officials would compensate for different conditions at each of the racetracks, but said that such data could be monitored precisely and taken into account. "At this time, we are still in the test phase. As we progress, these factors will become clearer," he said.
He added: "I think some fans who have experience the frenzy of air racing live, may feel that digital is not enough for them. I understand this, and we will stop at nothing to bring them the best possible experience. We will continue to evolve step by step, and we hope you will support us."
Air Race X aims to hold their first digital race in October 2023, followed by a two-race, dual-format series in 2024, before finally attaining World Championship status in 2025.
Currently, just the three founding pilots are due to take part, but the trio expressed a clear ambition to expand the series. Muroya said Air Race X would have a five-year training programme to introduce new pilots to the sport, starting in April 2023, and prospective candidates have already been contacted. Matt Hall also said he hoped his former Red Bull Air Race peers will also join the project.
It is not clear whether any former Red Bull staff are involved in organising Air Race X, neither has the team mentioned any partnership with crucial suppliers in Austria that currently own pylons and other racing equipment. Furthermore, the sport does not appear to have the FAI backing required for it to become a World Championship series at this stage, with the FAI having recently reaffirmed its 15-year exclusive deal with World Championship Air Race which would prevent Air Race X from becoming an official World Championship until the mid-2030s.
Potential host cities are invited to contact Air Race X via their official website.