The Royal Air Force Aerobatic Team, the Red Arrows, has released its 2023 domestic display schedule. This year, the team will display with eight jets, one more than last season but still fewer than usual. Nine aircraft will be available for flypasts at national events.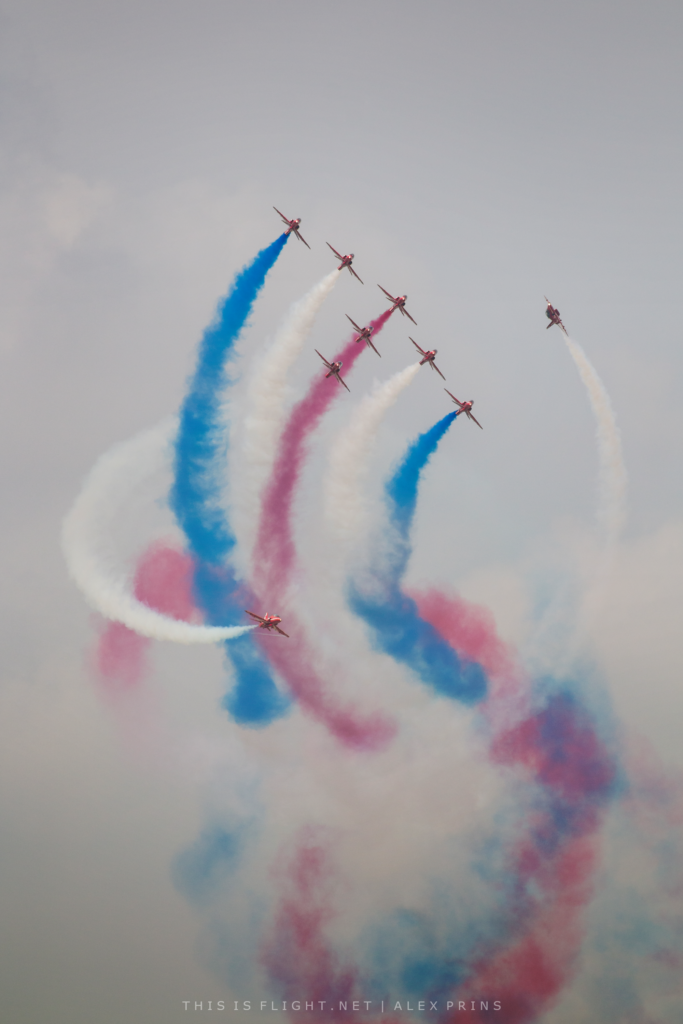 According to the team's Officer Commanding, Sqn. Ldr. Adam Collins, the number of new pilots is capped at three per year to allow for proper supervision during pre-season training. As the Red Arrows flew with just seven aircraft in 2022, due to two pilots being dismissed for misconduct during pre-season training, this has limited the team to eight jets this season. They intend to increase to nine aircraft for 2024 and beyond.
Displays at full airshows are denoted in bold, while displays at smaller or non-aviation events are in regular text. This is Flight understands that international events, including shows in France and Eastern Europe, will be added at a later date.
| | | | |
| --- | --- | --- | --- |
| Date | Show | Location | Country |
| Jun 2-3 | Midlands Air Festival | Ragley Hall, Alcester | UK |
| Jun 3-4 | English Riviera Airshow | Torbay, Torquay | UK |
| Jun 8 | Isle of Man TT | Douglas | Isle of Man |
| Jun 11 | RAF Cosford Airshow | Cosford, Wolverhampton | UK |
| Jun 24 | Scarborough Armed Forces Day | Scarborough | UK |
| Jun 24 | Armed Forces Day (National Event) | Falmouth | UK |
| Jun 25 | Duxford Summer Airshow | Duxford | UK |
| Jul 1 | Teignmouth Airshow | Teignmouth | UK |
| Jul 1-2 | Wales Airshow | Swansea | UK |
| Jul 2 | Battle of Britain Airshow | Headcorn | UK |
| Jul 13-14 | Goodwood Festival of Speed | Chichester | UK |
| Jul 14-16 | Royal International Air Tattoo | Fairford, Swindon | UK |
| Jul 29 | Scottish Week | Peterhead | UK |
| Jul 29 | Old Buckenham Airshow | Old Buckenham, Attleborough | UK |
| Aug 12-13 | Blackpool Airshow | Blackpool | UK |
| Aug 13 | Whitby Regatta | Whitby | UK |
| Aug 16 | Cromer Carnival | Cromer | UK |
| Aug 17-20 | Airbourne: Eastbourne International Airshow | Eastbourne | UK |
| Aug 24-25 | Clacton Airshow | Clacton-on-Sea | UK |
| Aug 25 | Sidmouth Air Display | Sidmouth | UK |
| Aug 26-27 | Rhyl Airshow | Rhyl | UK |
| Aug 31-Sep 3 | Bournemouth Air Festival | Bournemouth | UK |
| Sep 9 | International Ayr Show: Festival of Flight | Ayr, Prestwick | UK |
| Sep 9 | Southport Airshow | Southport | UK |
| Sep 10 | Great North Run | Newcastle-upon-Tyne | UK |
| Sep 14 | Guernsey Air Display | St. Peter Port | Guernsey |
| Sep 14 | Jersey International Air Display | St. Helier | Jersey |
| Sep 16-17 | Duxford Battle of Britain Airshow | Duxford | UK |