WORDS: ADAM LANDAU
After several years of disruption and destitution, British airshows were in dire need of a vaguely normal display season. At long last, 2022 provided not only a sense of normality, but also that rarest of things: cause for optimism.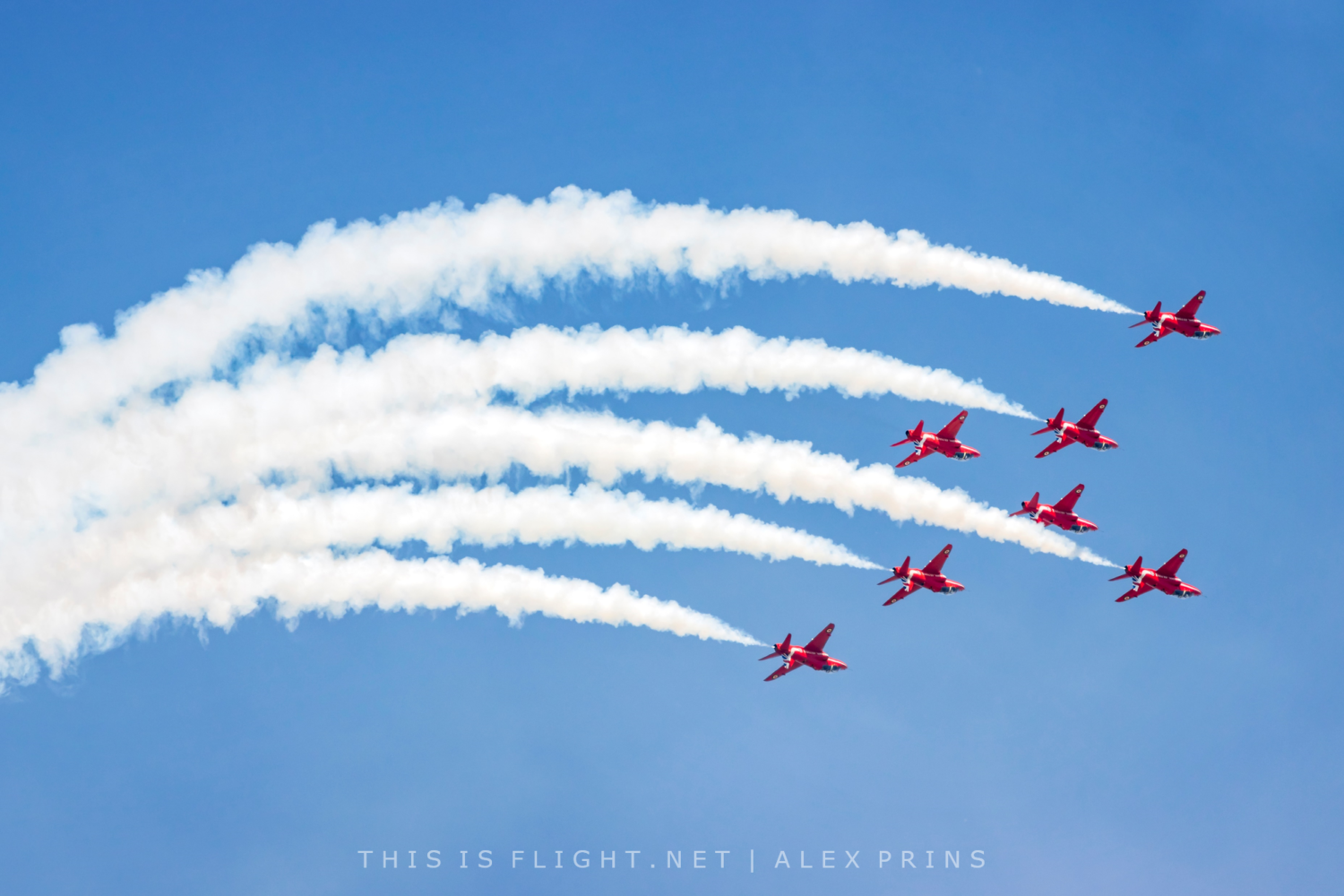 The British airshow industry has, since mid-2019, been facing unprecedented challenges. Record-low airshow attendance during the Red Arrows' North America tour had asked difficult questions of many airshow organisers, and hopes for a more normal season in 2020 were dashed when the world was dealt a crippling blow by the pandemic. Airshows, throughout 2020 and 2021, have been in survival mode, at best going ahead with severely reduced capacities and budgets, or, in most cases, being cancelled altogether in an attempt to weather the storm.
The few displays that went ahead in 2020 were made possible by remarkable flexibility and inginuity on the part of their organisers, but while they offered a brief escape from life in lockdown, none would claim to come close to their pre-pandemic standards. Last year saw cautious steps towards normality, with several major events going ahead and a smattering of truly memorable airshow moments. However, there was no doubt that the industry was still hurting: flying displays still felt light on content, with countless aircraft and teams in pandemic-induced hibernation.
This year, by contrast, saw the re-awakening of much of what was left, and a clear reminder, to those who had forgotten, of the depth and breadth of the British airshow scene, much of which had been inactive through 2021: we saw the return of show-stopping warbirds such as ARCo's Blenheim, Shuttleworth's Anson, Peter Teichman's Mustang and Navy Wings' Seafire, while civilian acts as diverse as Peter Davies' autogyro and the Yakovlevs aerobatic team awoke from their slumber. In fact, the Yakovlevs were not only re-activated, but performed their six-ship display for the first time in Europe: this has potential to be a major asset to the industry should British airshow organisers at last decide to take advantage of it. Airshows themselves surged back in abundance, from seaside events at Southport, Blackpool and Eastbourne to the mighty Air Tattoo, which attracted one of its most exciting line ups of the last decade, and events reported sell-out crowds nationwide.
Even the RAF seemed willing to approach the season with (carefully moderated) enthusiasm: the return, after seven years, of the Spitfire and Typhoon "Synchro Pair" was certainly most welcome, as was the revival, after a three-year absence, of the Tutor Solo Display. The BBMF's Lancaster was also able to put in a full season of shows for the first time since the pandemic, marking the return of a major staple of air displays in the UK.
For some airshow performers, 2022 wasn't just a year of re-awakening, it was a year of growth. Team Raven expended from five aircraft to six, despite facing the challenge of losing a pilot at short notice pre-season, and the Gazelle Squadron finally debuted their long-awaited four-ship routine (indeed, the two teams flew together in a ten-ship mixed formation at the Weston Air Festival). Historic Helicopters, meanwhile, bolstered their burgeoning fleet with the addition of the UK's first civilian-operated Lynx – a type that we would never have imagined might display in civilian hands just a few short years ago.
This year also saw the creation of two entirely new formation display teams. The seeds were sewn for the Flying Komrades back in 2021, but the new three-ship team made their debut at the Old Buckenham Airshow this July, flying two Yak-52s and a Yak-18T. A few weeks later, another new team joined the circuit: the highly entertaining Extreme Formation, flying one XA-42 and one Decathlon. These two dissimilar types perform an unconventional but polished routine of close formation aerobatics, with the XA-42 being captained by Phil Ansell of Aerostars fame. His new outfit could very easily become a stalwart of the British airshow scene, just as the Aerostars were ten years ago.
This is not to say that everything has been rosy, nor that the industry has fully recovered. Much has been made of the Red Arrows' self-inflicted wounds and the uninspiring seven-ship display that resulted. The Blades have had a tricky season, too, flying several shows with a reduced number of aircraft ever since one was grounded by a minor incident at Duxford in June. We are still no closer to seeing the return of the Royal Navy International Air Day or the much-loved Flying Legends, while seaside shows in Eastbourne and Sunderland face uncertain futures after the withdrawal (permanently, in Eastbourne's case) of public funding. Farnborough continued its slow decline with its most restricted flying display yet, the Teesside Airshow's revival was very publicly marred by botched traffic management, and Cosford faced extraordinarily challenging conditions due to the double-whammy of the MOD's prohibitive new insurance requirements for civilian aircraft and extremely limited preparation time – these are not necessarily matters that will improve in the next year or two.
Despite that, and in a notable change from earlier this year, the mood among display pilots, organisers and industry insiders has morphed from uncertainty to cautious optimism. Nowhere was this more apparent than at the final show of the year, Duxford's Flying Finale, held on a glorious Autumn afternoon in early October. This was the first of Duxford's "Flying Day"-branded events to attract foreign military participation, in the form of the Patrouille Suisse (indeed, Duxford has plans in place to bolster foreign military contributions to its airshows in general during future seasons) and it also featured both of the year's new formation teams, the Flying Komrades and Extreme Formation. The Komrades, particularly, had notably improved since their debut ten weeks prior, with another of their pilots having qualified to fly aerobatics since then. By next season, all three pilots should have aerobatic Display Authorisations and the team intends to up the ante of their performance yet further in each subsequent season: like Extreme Formation, they have potential to become stalwarts of the British airshow circuit.
These are not isolated developments, and the industry looks set to offer further novelties in 2023: most notably, next spring should see the first jet-powered test flights of Rich Goodwin's head-turning Jet Pitts, perhaps with a view of getting the aircraft show-ready for the busy summer season. An all-new electric formation team is apparently on the cards. On the warbird front, new two-ship Spitfire and Hurricane formation teams are apparently on the cards, while Ultimate Warbird Flights' Tempest is tantalisingly close to making its first flight, as is the country's second FM-2 Wildcat.
There is even reason for Scottish airshow fans to feel upbeat, for a change: the country's only two airshows had been axed during the pandemic due to a combination of local politics and poor weather. It now appears that a revival of the popular Scottish International Airshow in Ayr is likely to take place next September, now being organised by the local council.
By our count, there were 44 substantial public flying displays in Britain this year (46, including two events cancelled at short notice after the passing of Her Majesty the Queen). That's almost three times the number that took place in 2021 and not far short of the 52 events held in the heady days of 2018. There is still much that must happen before the British airshow circuit can be said to have fully recovered from the pandemic, and indeed, a full recovery may never happen. But there is, at long last, reason to be cheerful.
EDITED TO ADD: Since the publication of this article, the much-lauded Yakovlevs and Blades have decided to cease flying airshows. This dreadful news no doubt tarnished the otherwise-positive mood at the end of 2023. However, irrespective of public speculation in the wake of these announcements, This is Flight understands that neither team was disbanded as a direct cause of a "declining" British airshow scene. Failed or abandoned international business interests were, apparently, far larger factors in the demise of both operations.