The Royal International Air Tattoo at RAF Fairford, England, is the largest and most prestigious military airshow in the world, with a famous two mile-long static display and around eight hours of flying displays on the main show days, featuring many of the world's best aerobatic teams and jet demonstrations. Click here for a list participating aircraft.
But attending the Air Tattoo as a first-time visitor can be a daunting prospect – especially if you want to maximise your experience by staying from the first arrivals until the last departures. Our reporters have been attending the Air Tattoo for years, and these are our tips and recomendations to best enjoy the show.
---
Airshow schedule
Wednesday: arrivals & some rehearsals/validations 07:30-19:30.
Thursday: arrivals & rehearsals/validations 07:30-19:30.
Friday: 4-hour flying display 11:00-15:00. Showground & static display partially open 07:30-18:00.
Saturday: 7-hour flying display, 10:00-17:00. Showground & static display open 07:30-19:30.
Sunday: 7-hour flying display 10:00-17:00. Showground & static display open 07:30-19:30.
Monday: departures 07:30-16:30.
---
Ticket options
The Air Tattoo's myriad of ticket options can be confusing, at best, with dozens of packages available. The airshow runs from Friday to Sunday (Friday's flying display is typically around four hours, with around eight hours of flying over the following two days), but for those who wish to view the arrivals, rehearsals and departures, tickets are usually available from Wednesday through to the following Monday.
In 2019, adult ticket prices begin at £47 per day at Super Earlybird rates (under 18s go free with a paying adult). These increase to a standard price of  £57. Tickets for the main show days must be purchased in advance. During the arrivals days, tickets for the popular 'Park and View' enclosures cost £15 on the Wednesday and Thursday and £20 on Monday. Park and View tickets allow visitors an unlimited number of entries to both the East and West enclosures, which are about a ten minute drive apart. We advise visitors to book Park and View tickets in advance, but there are also a limited number available on the gate.
A combination of Park and View and standard entry tickets can allow an adult spectator to enjoy the entire event, from Wednesday to Monday, for as little as £191, or the three show days for £141, using the Super Earlybird discount.
However, many of the most ardant fans will purchase one of the popular FRIAT packages. In 2017, a FRIAT 'Mach 1' package (Saturday-Sunday) cost £200, 'Mach 2' (Friday-Monday) cost £220, and 'Mach 3' (Wednesday-Monday) cost £240. This may be almost £60 more than the cost of standard and Park and View tickets over the same period, but FRIAT packages includes priority access at the airshow's blue gate and a seat in the FRIAT grandstand at show centre, garunteeing an unparalleled view of the flying display.
Other grandstands and enclosures are also available; the most popular among enthusiasts and photographers include the Viewing Village, access to which costs £30-40 on any of the main three show days, in addition to the cost of a standard entry ticket.
Despite the popularity of the FRIAT package, our reporters have found a combination of standard entry tickets and Park and View tickets to be more than sufficient to enjoy the show – but beware that the Air Tattoo's crowdline is crowded with grandstands, enclosures and marquees around show centre. Standard ticket holders will struggle to find a good viewing spot for the flying displays within half a mile of show centre and will have to consent to viewing arrivals and departures from the Park and View enclosures at the far ends of the runway, while FRIAT members can use their crowd-centre grandstand all week long. If these constraints are not an issue, visitors will likely find a combination of standard tickets and Park and View tickets to be more than adequate.
---
Getting there

By far the most convenient way of getting to the Air Tattoo – especially for those camping – is by car. The airshow site is around a two hour drive from London along the M4 in normal traffic conditions, 30 minutes from central Swindon or 15 minutes from Cirencester. Parking at the Air Tattoo is free for ticket holders, with three main car parks: the green car park (for cars from the Cirencester/Gloucester direction) tends to be slightly quieter, with most other visitors using the red and blue car parks. Visitors will be directed towards specific car parks along colour-coded entry routes which start several miles out from the showground.

For those wanting to avoid the queues, there is a Park and Ride service from Cheltenham Racecourse, with a journey time of 90 minutes. Tickets cost £5 and must be bought with your RIAT admission ticket.
The most convenient option for those without a car is the airshow shuttlebus. These run every 20 minutes from Friday to Sunday from Swindon Bus Station and cost £4 return if purchased in advance, or £6 on the day. The bus station is a short five minute walk from Swindon railway station, which is served by regular fast Great Western Railway services from London Paddington. The standard off-peak return fare from London to Swindon in Standard Class is around £50, although advance single tickets can cost less than £15 each way on certain services if booked well in advance. The trip from Paddington to Swindon takes just under an hour, but beware that trains start late on a Sunday: you're unlikely to make it into the showground for the start of the flying display, even if you leave London on the earliest train.
A number of tour operators and coach companies offer direct services to the Air Tattoo from a number of other cities around the UK, but these are not recommended as spectators are frequently called back to their coach long before the daily flying display ends.
Fairford is in a rural area with very limited public transport. The unfortunate reality for those without a car is that, while there are shuttle bus options from Friday to Sunday, this is simply not the case the rest of the time. Sadly, camping near the showground, or attending departures or arrivals, is virtually impossible without a car, particularly if you are bringing large quantities of equipment.
---
Where to stay



Thanks to the Air Tattoo's rural location, hotel or Bed and Breakfast accomodation near the show site is limited, prohibitively expensive and prone to selling out many months before the show. Those who to not object to driving into the show every day may be able to find accomodation in Swindon, the nearest big town, around a half-hour drive from the Air Tattoo in normal traffic conditions, with the most reasonable prices generally found on sites such as Air BnB (as little as £30 per night, including breakfast) rather than with chain hotels.
Camping, however, has proved to be by far the most popular option for those with a car, staying for multiple days at the show. A huge variety of campsites spring up around the airfield, the closest being the Air Tattoo's own campsite just outside the red gate, charging £10 for a pitch and £15 per person per night thereafter. Conveniently placed outside the blue gate is Kempsford camping, charging a slightly more expensive £20 pitch fee plus a nightly charge of £15 per person.
Other popular camping options around a 20 minute walk from the red gate include Fairford Airshow Camping at Townsend Farm and Flyby Camping, both similarly priced to the Air Tattoo's own offering but further from the show site.
A five mile, one hour walk from the red gate, on the opposite side of the airfield, is Totterdown Hill. This campsite, right underneath the display zone, has been popularised as an alternative viewing area for the flying displays – although it must be mentioned that this comes with increased risks as aircraft perform aerobatic manoeuvres low overhead the campsite. Totterdown campers pay a very reasonable £14 per person per night for long stays (£15 for shorter ones) with no additional pitch fee, but must spend a total of £60 or more to make a booking, making it one of the cheapest accomodation options available. However, the long walk to the nearest entry gate means Totterdown is not ideal for those who plan to journey into the showground itself, unless they are happy to drive the short distance.
Most of the nearest shops, restaurants and pubs are in the village of Fairford, on the opposite side of the airfield to the main showground. This includes an invaluable Co-op Food, but beware that we found the sandwich and snack selection was almost sold out during the airshow weekend. Fairford village centre is an easy 20 minute walk from Totterdown Hill, or and a little under an hour from campsites in the Whelford area such as Flyby Camping. Alternatively, it is around a five minute drive from the official campsite and less than ten minutes from Kempsford, but beware that one-way systems and traffic controls will make this journey a challenge on Friday, Saturday and Sunday.
Most campsites offer limited services on-site, such as showers, drinking water taps and fast food vans. Some also allow supermarket deliveries. Please check the websites of individual campsites for more information.
---
At the show

On the Wednesday, Thursday and Monday, there are three spectator viewing areas. The FRIAT grandstand, located in the middle of the showground, is open only to those who have purchased FRIAT's Mach 1, Mach 2 or Mach 3 packages. It offers an unmatched view of any rehearsals and departures, although arrivals tend to be less interesting from this position.
For those who are not members of FRIAT, there are Park and View enclosures at each end of the runway. Given that operations at RAF Fairford typically use Runway 27, Park and View East is the more popular enclosure; arriving aircraft touch down right in front of the enclosure, while departing aircraft taxy directly towards it before turning onto the runway. Park and View West is not advised for Runway 27 departures, as aircraft have generally climbed significently before reaching that end of the runway.
However, Park and View West does offer some truly unique views of the arriving aircraft, some of which roll to the end of the runway before turning round within feet of the spectators at the westerly enclosure. Some aircraft heading to the western parts of the static display will also taxy along the edge of the spectator area sometimes with their wings overhanging the crowd. That, combined with its relaxed atmosphere and smaller crowd, meant West certainly won the affection of all our reviewers; Park and View East did not.
Park and View tickets allow access to both enclosures and unlimited re-entry; the two sites are a ten minute drive apart, and many people switch ends over the course of the day. Remember to check which runway is in use before choosing your site – this is generally announced on Twitter early in the morning.
Come the airshow days, those with standard tickets who want a crowdline position near show centre should enter via the blue gate if possible, arriving no later than 6am (gates open at 7:30). While not so central, the red zone (opposite the BAE Systems hangar) towards the eastern end of the crowdline usually offers a good view of the take-offs and landings, with more clear space along the crowdline. While the view is not as desirable, the green zone of the showground (at the western end of the crowdline) is the least cluttered and least busy, and it can still be possible to find a crowdline spot here right up until the flying display begins.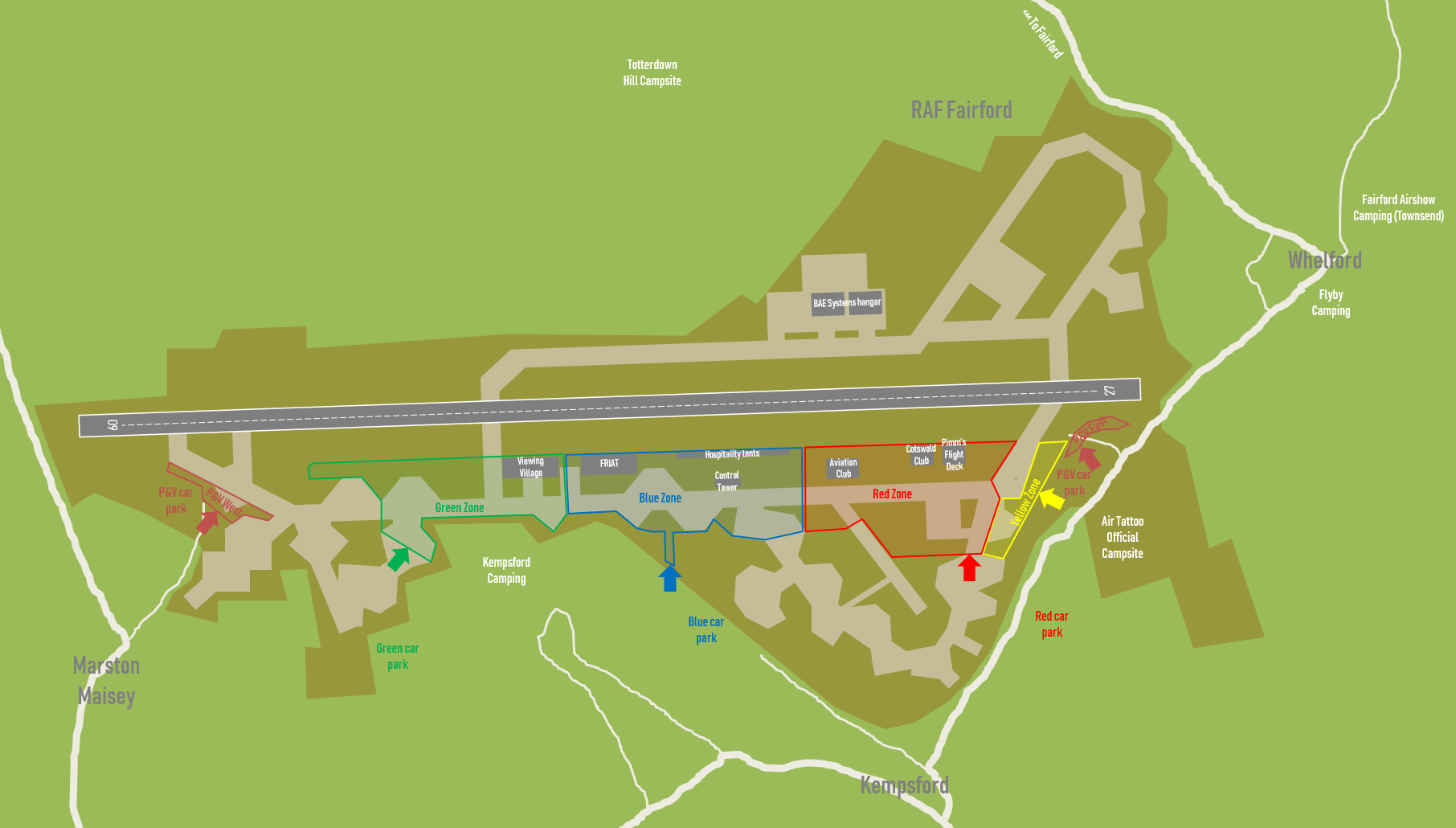 Off-base viewing is strongly discouraged at the Air Tattoo, with footpaths closed and barriers errected around the runway thresholds. While several campsites offer their own park and view facilities, most of these are some distance to the east and do not offer a particularly good view of the flying displays. One of the few exceptions to this rule is Totterdown Hill Campsite, which sits under the flying display box. Non-campers can enter the campsite by car for a fee of £7.50 per person, with a minimum fee of £15 per car. The runway is hidden behind trees, lighter aircraft and helicopters often do not come close to the campsite and much of the displays are badly backlit, but many faster aircraft pass directly overhead in spectacular fashion. Increased risks are obviously associated with occupying this area during the flying displays.
---
Reviewer's summary
The Royal International Air Tattoo is without doubt one of the greatest airshows on earth, with a flying and static display lineup that most airshow organisers can only dream of. While many aspects of it feel impersonal or overly-commercialised, such as the proliferation of premium-price garden marquees pushing standard ticket holders towards the extremeties of the showground, that is simply a reflection of the show's size and status.
Without purchasing a FRIAT package, the Air Tattoo is not be able to offer an overall spotting or photography experience akin to some comparable events in other countries, but after careful preparation, our reviewers have spent many an excellent weekend at the Air Tattoo and highly reccomend it to anyone who loves military aviation.