Two new airshows have been added to the USAF Thunderbirds' 2021 airshow schedule, with one filling the gap left by a cancelled event.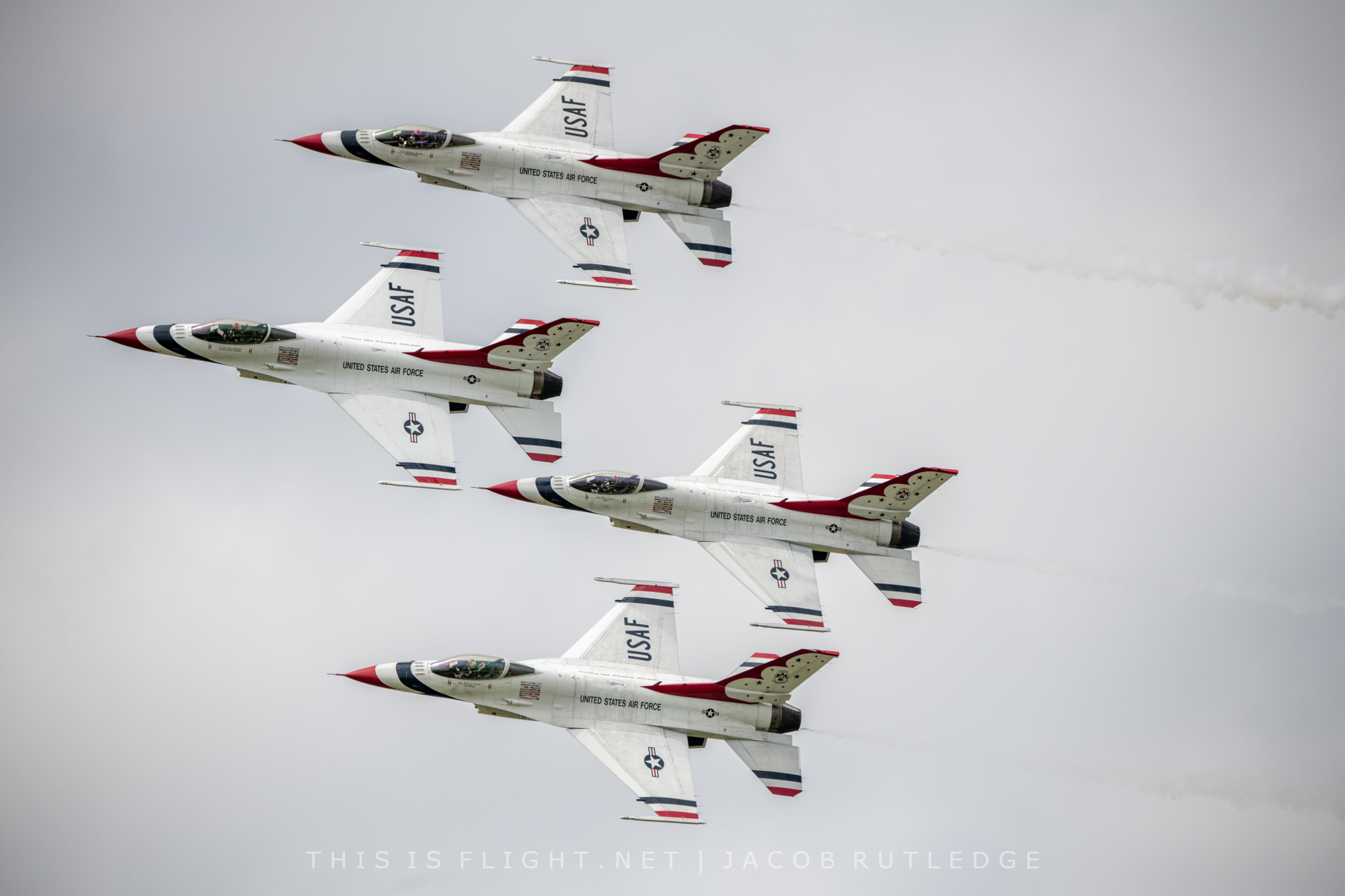 The OC Airshow in Ocean City, Maryland, will feature the Thunderbirds for the second year running, following the cancellation of the Star-Spangled Salute at Tinker AFB on the same date. Ocean City was one of the few venues to welcome the Thunderbirds in 2020, and the first major seafront airshow since the start of the coronavirus pandemic. Scheduled for the 19th-20th June 2021, it will also feature the F-22 Raptor and GEICO Skytypers.
Also added to the team's schedule is the Greater Binghamton Airshow in New York state, filling a previously open slot on the 17th-18th July. Last held in 2014 and 2018, the Greater Binghamton Airshow had been due to return in July 2020, but was postponed by a year because of the coronavirus pandemic. Little was known about the rescheduled event until today's announcement.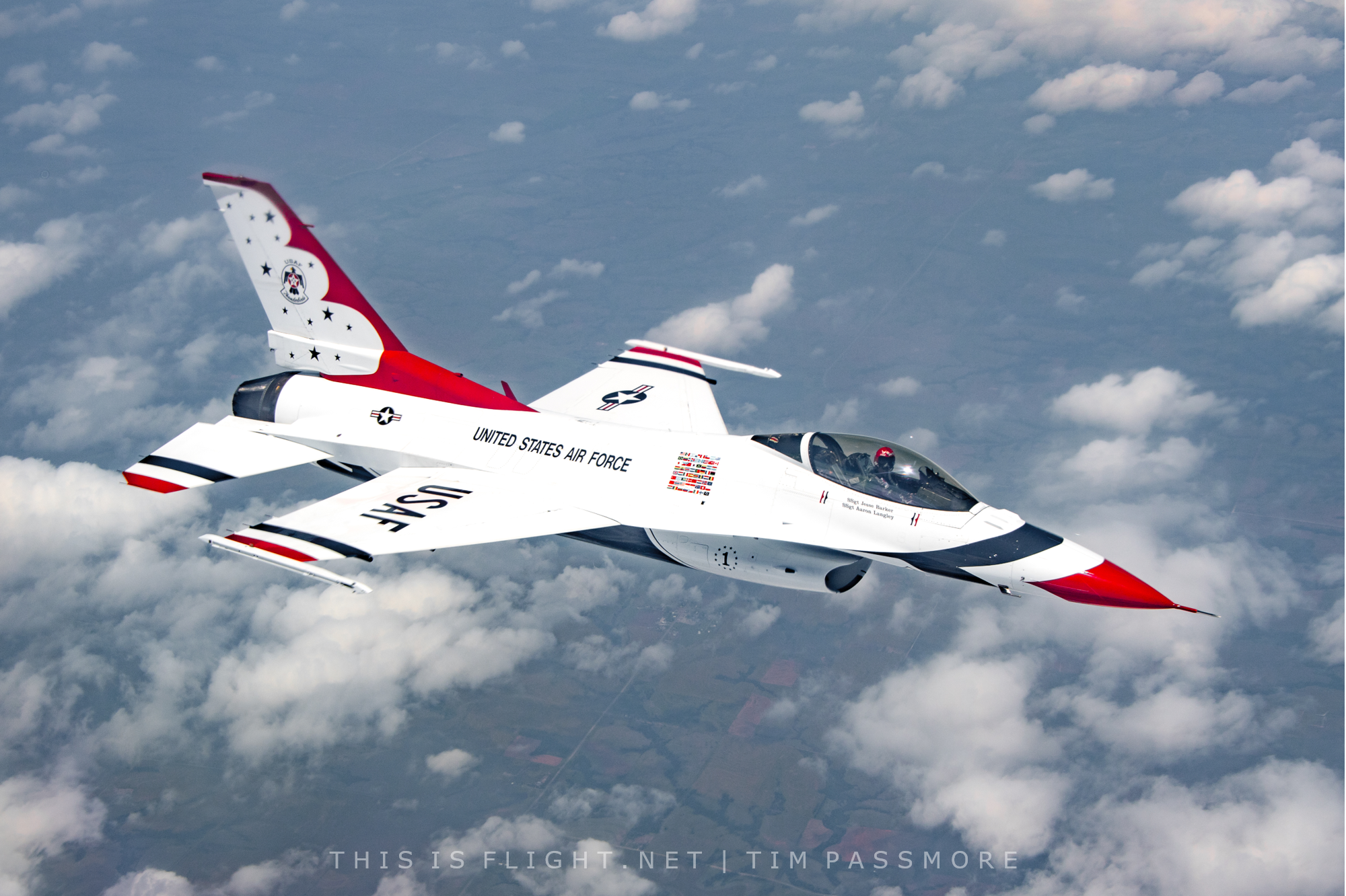 The Thunderbirds have two further open dates on their schedule, caused by the cancellation of Gowen Thunder on the 28th-29th August and and the Westfield Airshow, cancelled earlier this week, on the 14th-15th August. Further schedule changes are likely as the pandemic continues to affect the 2021 airshow season.
The team's schedule, as of the 29th January 2021, is as follows:
| | | | |
| --- | --- | --- | --- |
| Date | Show | Location | Country |
| Apr 17-18 | Cocoa Beach Airshow | Cocoa Beach | USA (FL) |
| Apr 24-25 | Davis-Monthan AFB: Thunder & Lightning Over Arizona | Tuscon | USA (AZ) |
| May 1-2 | Sound of Speed Airshow | St. Joseph | USA (MO) |
| May 8-9 | Barksdale AFB: Defenders of Liberty Airshow | Shreveport | USA (LA) |
| May 30-31 | Bethpage Airshow | Jones Beach | USA (NY) |
| Jun 5-6 | The Great Tennessee Air Show | Smyrna | USA (TN) |
| Jun 12-13 | Fairchild AFB: Inland Northwest Skyfest | Spokane | USA (WA) |
| Jun 19-20 | Tinker AFB: Star Spangled Salute Air & Space Show | Oklahoma City | USA (OK) |
| Jun 19-20 | OC Airshow | Ocean City | USA (MD) |
| Jul 3-4 | National Cherry Festival Airshow | Traverse City | USA (MI) |
| Jul 10-11 | Dayton Airshow | Dayton | USA (OH) |
| Jul 17-18 | Greater Binghamton Airshow | Binghamton | USA (NY) |
| Jul 24-25 | Milwaukee Air & Water Show | Milwaukee | USA (WI) |
| Jul 28 | F E Warren AFB: Cheyenne Frontier Days | Cheyenne | USA (WY) |
| Jul 31-Aug 1 | Oregon International Air Show | McMinnville | USA (OR) |
| Aug 14-15 | Barnes ARGB: Westfield International Airshow | Springfield | USA (MA) |
| Aug 18 | Thunder Over the Boardwalk | Atlantic City | USA (NJ) |
| Aug 28-29 | Gowen Thunder Open House & Airshow | Boise | USA (ID) |
| Sep 4-6 | Cleveland National Airshow | Cleveland | USA (OH) |
| Sep 11-12 | Pease Open House | Newington | USA (NH) |
| Sep 18-19 | National Championship Air Races | Reno | USA (NV) |
| Sep 15-16 | California Capital Airshow | Sacramento | USA (CA) |
| Oct 2-3 | Puerto Rican Aerial Extravaganza | Cieba | Puerto Rico |
| Oct 9-10 | Wings Over Houston | Houston | USA (TX) |
| Oct 16-17 | Central Florida Air & Space Show | Sanford | USA (FL) |
| Oct 23-24 | Los Angeles County Airshow | Lancaster | USA (CA) |
| Oct 30-31 | California Int'l Airshow | Salinas | USA (CA) |