The US Air Force Thunderbirds announced their updated 2021 airshow schedule at the virtual ICAS Convention, with ICAS releasing a provisional 2022 schedule in early January.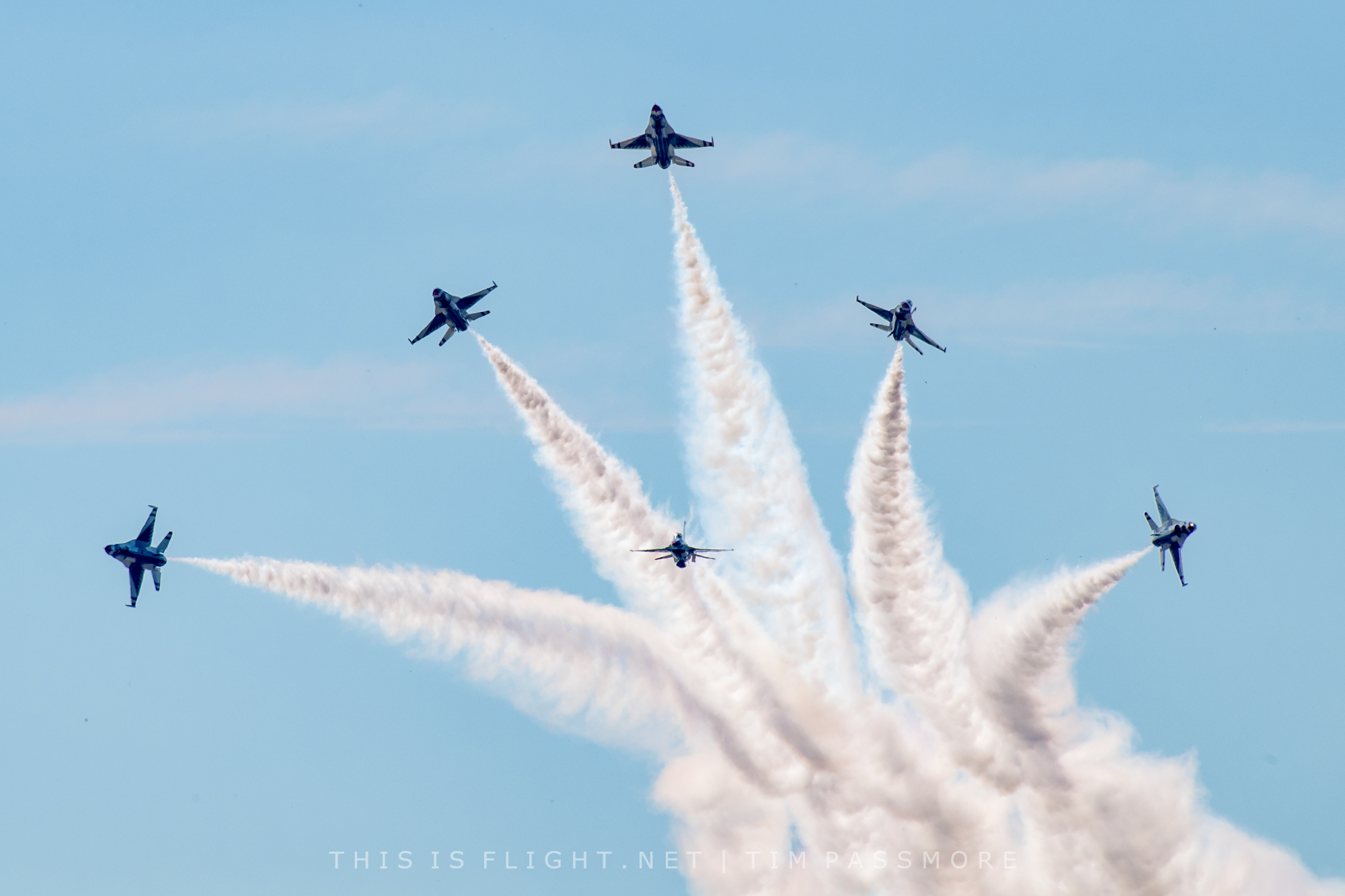 Flying six F-16C/D Fighting Falcons, the Thunderbirds are the official aerobatic demonstration team of the US Air Force. They were formed in 1953 and are based at Nellis AFB in Nevada.
The team's 2021 schedule has changed quite significently since a provisional list of shows was released a year ago: initially, several large gaps existed in the schedule, suggesting an overseas tour may have been in the works. These have now been filled with US shows, perhaps as a result of coronavirus travel restrictions. In 2022, the team will perform internationally in Canada.
North American military airshow teams traditionally announce their schedules at the the International Council of Air Shows' annual convention, which is being held virtually this year because of the coronavirus pandemic.
For more about how airshows are coping with the coronavirus, see our in-depth feature article.
THUNDERBIRDS 2021 SCHEDULE
| | | | |
| --- | --- | --- | --- |
| Date | Show | Location | Country |
| Apr 17-18 | Cocoa Beach Airshow | Cocoa Beach | USA (FL) |
| Apr 24-25 | Davis-Monthan AFB: Thunder & Lightning Over Arizona | Tuscon | USA (AZ) |
| May 1-2 | Sound of Speed Airshow | St. Joseph | USA (MO) |
| May 8-9 | Barksdale AFB: Defenders of Liberty Airshow | Shreveport | USA (LA) |
| May 30-31 | Bethpage Airshow | Jones Beach | USA (NY) |
| Jun 5-6 | The Great Tennessee Air Show | Smyrna | USA (TN) |
| Jun 12-13 | Fairchild AFB: Inland Northwest Skyfest | Spokane | USA (WA) |
| Jun 19-20 | Tinker AFB: Star Spangled Salute Air & Space Show | Oklahoma City | USA (OK) |
| Jun 19-20 | OC Airshow | Ocean City | USA (MD) |
| Jul 3-4 | National Cherry Festival Airshow | Traverse City | USA (MI) |
| Jul 10-11 | Dayton Airshow | Dayton | USA (OH) |
| Jul 17-18 | Greater Binghamton Airshow | Binghamton | USA (NY) |
| Jul 24-25 | Milwaukee Air & Water Show | Milwaukee | USA (WI) |
| Jul 28 | F E Warren AFB: Cheyenne Frontier Days | Cheyenne | USA (WY) |
| Jul 31-Aug 1 | Oregon International Air Show | McMinnville | USA (OR) |
| Aug 7-8 | Thunder Over Michigan | Ypsilanti | USA (MI) |
| Aug 14-15 | Barnes ARGB: Westfield International Airshow | Springfield | USA (MA) |
| Aug 18 | Thunder Over the Boardwalk | Atlantic City | USA (NJ) |
| Aug 21-22 | Great Pocono Raceway Airshow | Pocono | USA (PA) |
| Aug 28-29 | Gowen Thunder Open House & Airshow | Boise | USA (ID) |
| Aug 28-29 | New York Airshow | New Windsor | USA (NY) |
| Sep 4-6 | Cleveland National Airshow | Cleveland | USA (OH) |
| Sep 11-12 | Pease Open House | Newington | USA (NH) |
| Sep 18-19 | National Championship Air Races | Reno | USA (NV) |
| Sep 15-16 | California Capital Airshow | Sacramento | USA (CA) |
| Oct 2-3 | Puerto Rican Aerial Extravaganza | Cieba | Puerto Rico |
| Oct 9-10 | Wings Over Houston | Houston | USA (TX) |
| Oct 16-17 | Central Florida Air & Space Show | Sanford | USA (FL) |
| Oct 23-24 | Los Angeles County Airshow | Lancaster | USA (CA) |
| Oct 30-31 | California Int'l Airshow | Salinas | USA (CA) |
| Nov 6-7 | Davis-Monthan AFB: Thunder and Lightning over Arizona | Tuscon | USA (AZ) |
THUNDERBIRDS 2022 SCHEDULE (PROVISIONAL)
| | | | |
| --- | --- | --- | --- |
| Date | Show | Location | Country |
| Mar 19-20 | Luke AFB: Days Air & Space Expo | Glendale | USA (AZ) |
| Mar 26-27 | Columbus AFB: Wings Over Columbus | Columbus | USA (MS) |
| Apr 2-3 | Shaw AFB Air Expo: Thunder Over the Midlands | Sumter | USA (SC) |
| Apr 9-10 | Sun 'n Fun Aerospace Expo | Lakeland | USA (FL) |
| Apr 23-24 | JB San Antonio Air & Space Expo | San Antonio | USA (TX) |
| Apr 30-May 1 | Fort Lauderdale Airshow | Fort Lauderdale | USA (FL) |
| May 14-15 | March Field Air & Space Expo | Riverside | USA (CA) |
| Jun 4-5 | Fort Wayne Open House & Airshow | Fort Wayne | USA (IN) |
| Jun 11-12 | OC Airshow | Ocean City | USA (MD) |
| Jun 18-19 | Grand Forks AFB Airshow | Grand Forks | USA (ND) |
| Jun 25-26 | Hill AFB: Warriors Over the Wasatch | Ogden | USA (UT) |
| Jul 2-3 | Battle Creek Airshow & Balloon Fiesta | Battle Creek | USA (MI) |
| Jul 16-17 | Duluth Air & Aviation Expo | Duluth | USA (MN) |
| Jul 23-24 | Flight Over the Falls | Great Falls | USA (MT) |
| Jul 27 | F E Warren AFB: Cheyenne Frontier Days | Cheyenne | USA (WY) |
| Jul 30-31 | JB Elmendorf: Arctic Thunder Airshow & Open House | Anchorage | USA (AK) |
| Aug 6-7 | Abbotsford International Airshow | Abbotsford | Canada (BC) |
| Aug 20-21 | Chicago Air & Water Show | Chicago | USA (IL) |
| Aug 24 | Atlantic City Airshow: Thunder Over the Boardwalk | Atlantic City | USA (NJ) |
| Aug 27-28 | Wilkes-Barre/Scranton Armed Forces Airshow | Avoca | USA (PA) |
| Sep 3-4 | Kansas City Airshow | Gardner | USA (KS) |
| Sep 10-11 | Maryland Fleet Week & Airshow Baltimore | Baltimore | USA (MD) |
| Sep 17-18 | JB Andrews Airshow | Clinton | USA (MD) |
| Sep 24-25 | McConnell AFB: Frontiers in Flight Airshow | Wichita | USA (KS) |
| Oct 1-2 | Great Pacific Airshow | Huntington Beach | USA (CA) |
| Oct 15-16 | Edwards AFB: Aerospace Valley Airshow | Edwards | USA (CA) |
| Oct 22-23 | Fort Worth Alliance Airshow | Fort Worth | USA (TX) |
| Oct 29-30 | Central Florida Air & Space Show | Sanford | USA (FL) |
| Nov 5-6 | Nellis AFB: Aviation Nation | Las Vegas | USA (NV) |