Aeroshell are a popular civilian aerobatic team from the United States flying four AT-6 Texans. They are one of the most prolific teams on the North American airshow circuit, performing most weekends from March to November. Most of Aeroshell's performances are in the western United States, with the team performing at a mix of large airshows and smaller events, where they are often the show's headliner.
The team is composed of Mark Henley (lead), Steve Gustafson (left wing), Bryan Regan (right wing) and Jimmy Fordham (slot).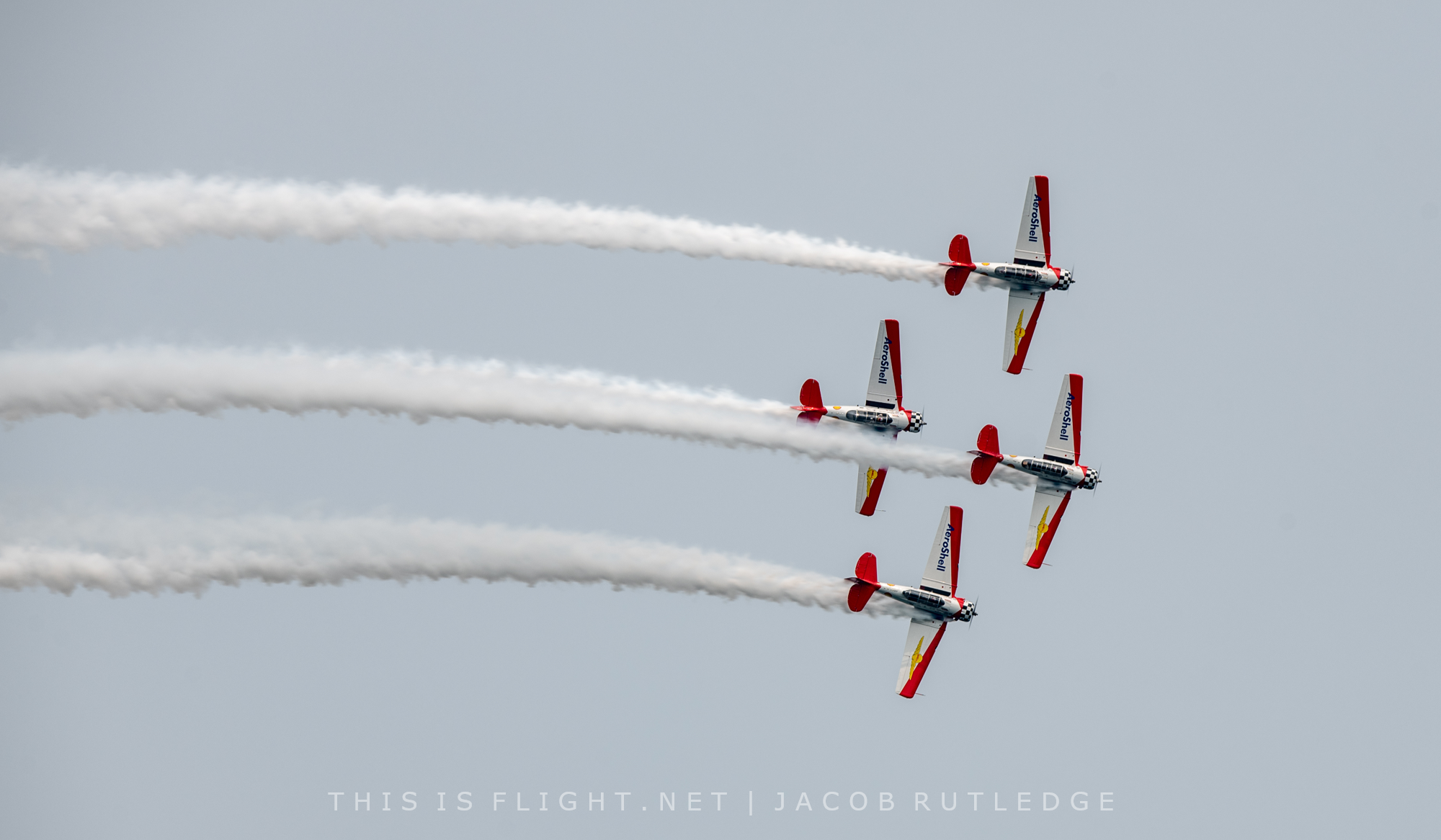 Active: 1984-present
Country:

United States of America
Home base: Northport, AL
Operator: Private
Size: 4 aircraft (4 in display)
AIRCRAFT FLOWN
AT-6 Texan (1984-present)
TITLE SPONSORS
Shell (2001-present)
History
Aeroshell was founded in 1984 as the North American Aerobatic Team by Alan Henley and Steve Gustafson. Ben Cunningham also flew with the team. The North American Aerobatic Team added a fourth aircraft in 1996, flown by Gene McNeely, and the following year, Cunningham was replaced by Alan Henley's twin brother, Mark.
The team gained Aeroshell sponsorship in 2001, with a gradual turnover of pilots continuing over the following years. In 2008, Alan Henley was forced to retire after a non-aviation accident and was replaced by Bryan Regan. Jimmy Fordham joined in 2010 as the spare pilot, replacing Gene McNeeley for the 2018 season.
Display
Aeroshell's display consists of classic aerobatics in close formation. Particularly during the second half of the routine, the team break into trail formation for manoeuvres reminiscent of a tailchase. Aeroshell perform their routine during the day and at night, with lights illuminating the propeller and smoke system.
Gallery