While reporting on the 'Chenault International Air Show' 2017 in Lake Charles, Louisiana, I was invited to fly with the US Army Parachute Team, the Golden Knights. Although I didn't jump with them, (that honor went to the Chairperson of the airshow) I did get to go up with them aboard their C-31A Fokker Friendship support aircraft. I arrived 30 minutes before take-off for the safety briefing, and was soon strapped into an observation seat next to one of the two rear doors. From this perch I was able to photograph and video the pre-jump rituals that the Gold demo team perform, as well as get some great shots of the scenery.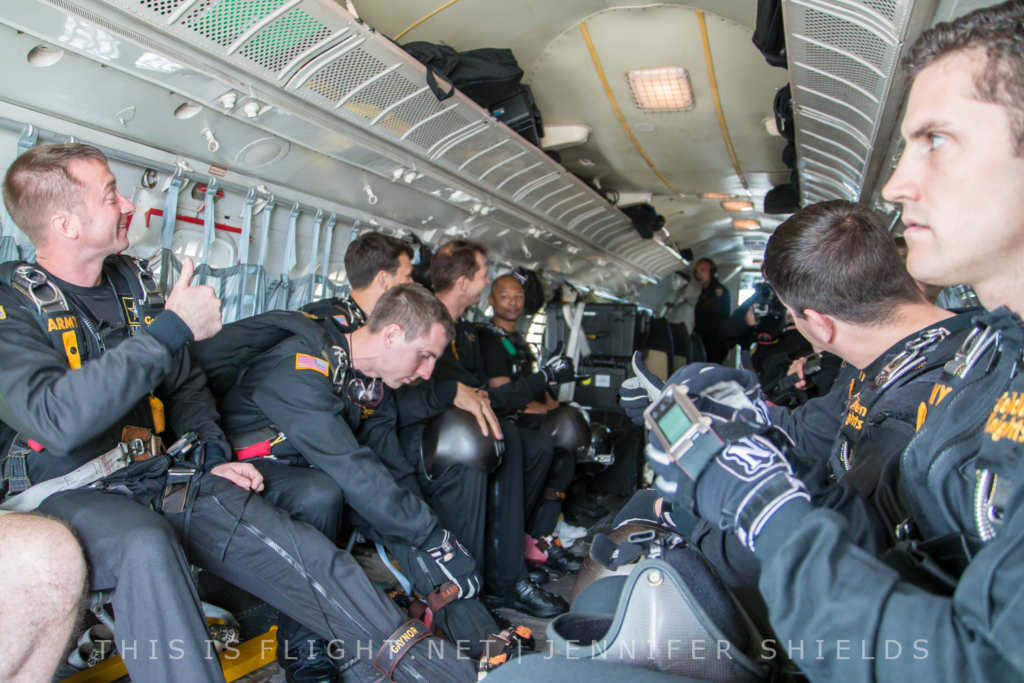 SFC Steve Green carried a helmet-mounted GoPro camera for This is Flight during his jump. He performed the cutaway maneuver, which demonstrates what would occur if the jumper's parachute were to malfunction. He told me after the jump that I got a little bonus footage, because the bags that are supposed to come apart on their own didn't, and he had to do it manually, which can be seen on the video.
During my interview with a member of the team, SGT Blake Gaynor, I asked him how much time he had spent falling from the sky. After a laugh, he said that he estimated that over the nine years he had been jumping, he had spent about 20 hours falling. I also asked him how he ended up on the team, which is comprised primarily of non-commissioned officers who all have other duties. Whilst stationed at Fort Polk he had taken sky diving up as a hobby; after nearly 300 jumps he applied, and was accepted onto the team. Team members are required to have a minimum of 100 jumps to apply, but SGT Gaynor told me that having more can be seen as a mark against a candidate, because it is harder for instructors to correct bad habits that have been picked up.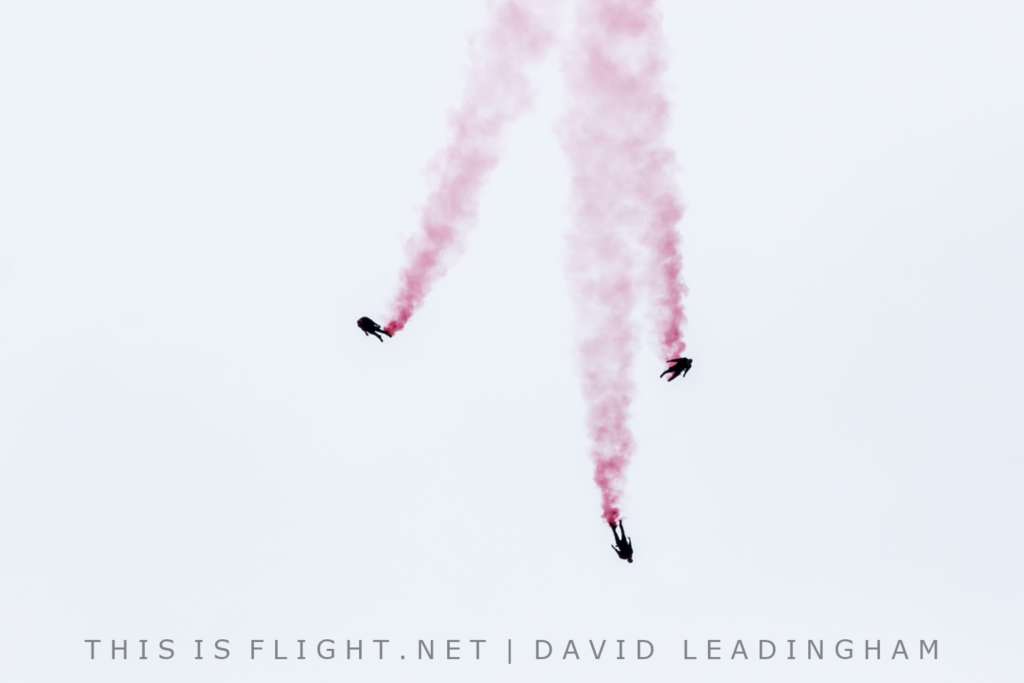 While I enjoyed the scenery during my trip, SGT Gaynor told me he really doesn't have time to enjoy it because he is on duty for the entire flight. That may be true during the jump, but the team certainly seemed to have fun beforehand, with various chants, elaborate handshakes and high fives before each jumper leaves the aircraft.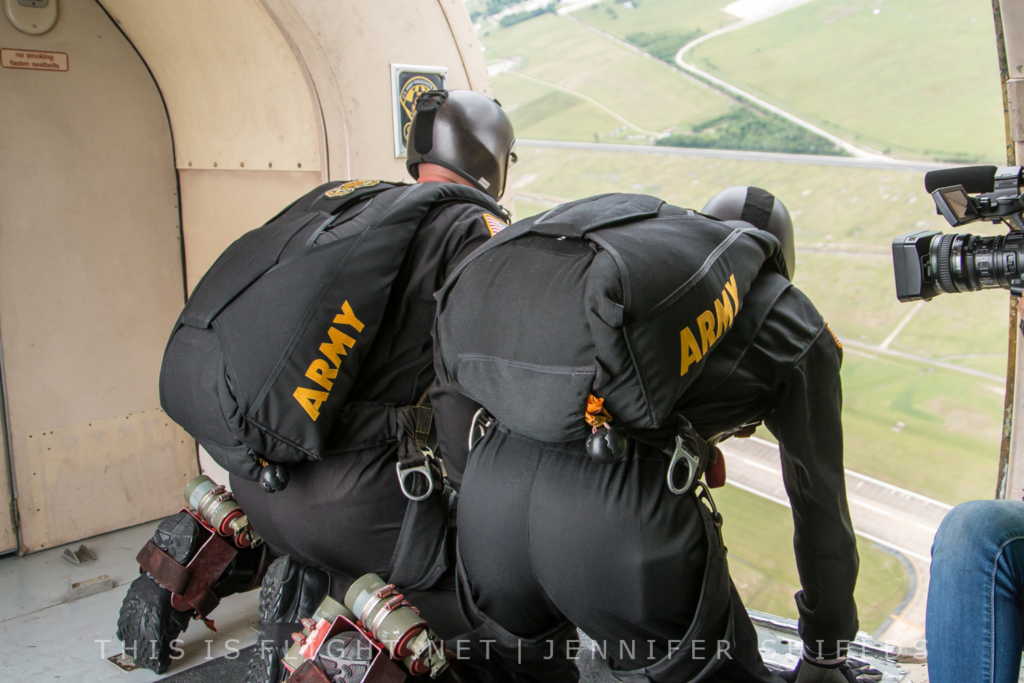 While the flight up was a rather gentle climb followed by a series of circles around the jump site to gauge wind direction and wait for the air space to be cleared of the previous performers, the trip back to earth was decidedly more abrupt. Once all the jumpers were out, the crew wasted no time in getting the plane back on the tarmac and the rate of decent was fairly dramatic. Despite being by no means a luxurious journey it was nevertheless one I shall never forget.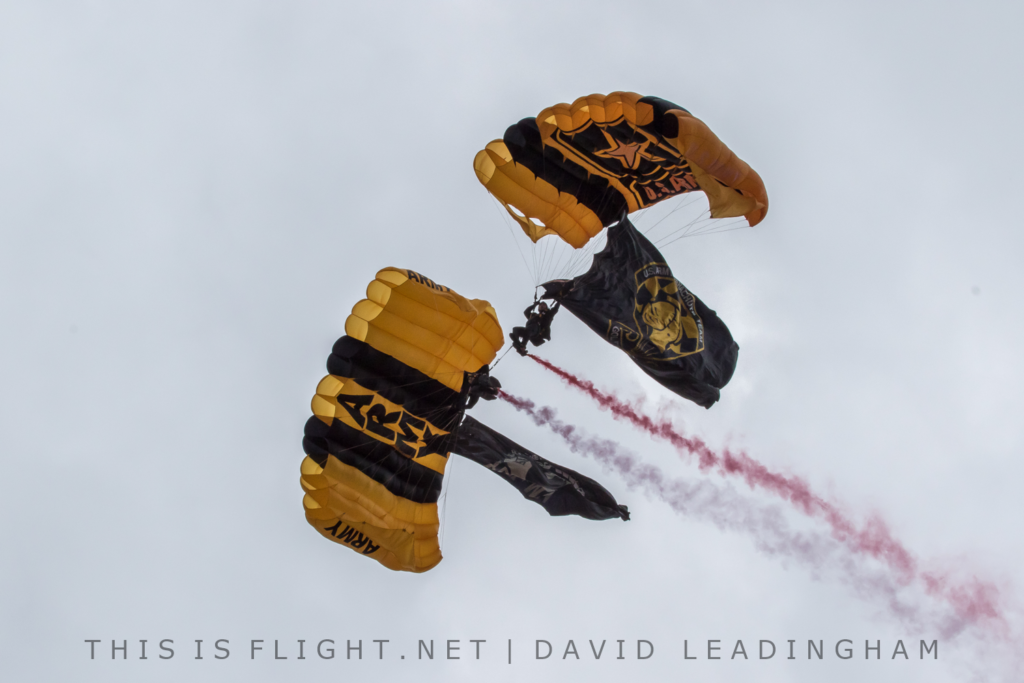 ---
Jennifer Shields is the Education Curator at the Baton Rouge Zoo in Louisiana, USA. With her father serving in the US Air Force, she's been attending airshows since she was a child.