The Silver Swallows display team will be among the participants at this year's Air Tattoo, marking the Irish Air Corps' 100th anniversary.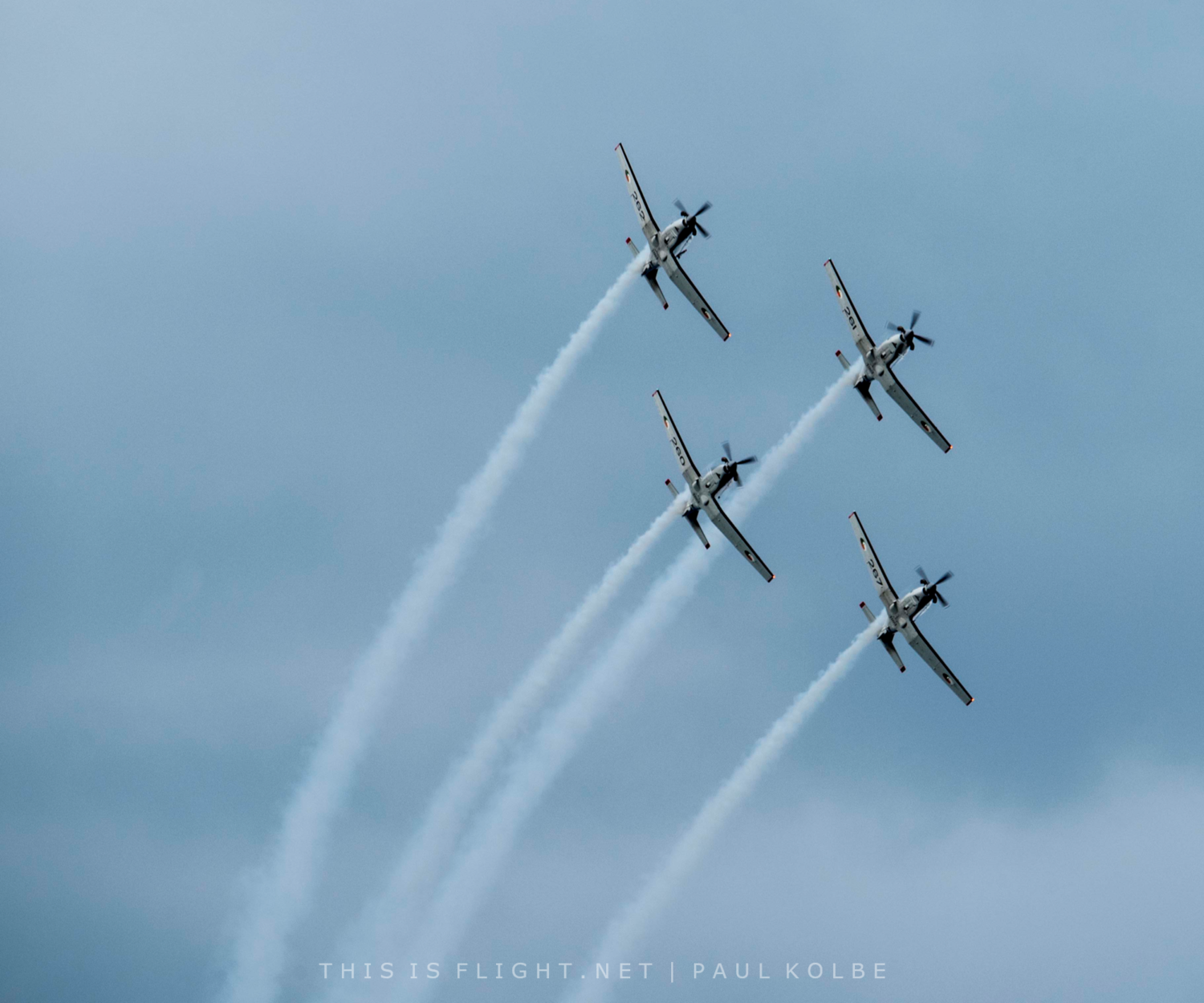 Founded in 1986 on the Fouga Magister, the Silver Swallows have always been a rare sight outside their native Ireland; their first overseas display was at RAF Brawdy in Wales in 1990. Their next international performances did not come until 1997, as part of a tour of the UK and Belgium to mark the Irish Air Corps' 75th anniversary; this included an appearance at the Royal International Air Tattoo, where the team won the award for the best display by an overseas participant. They were disbanded in 1998.
Although the Irish Air Corps have not officially had an aerobatic team since then, formation displays of four or five PC-9s have been at several airshows, including during a limited number of UK appearances. Four aircarft flew at the Leuchars Airshow 2005 as the Irish Air Corps Display Team, and more recently, an act known as Team Silver has performed at several domestic events, as well as two shows in Northern Ireland in 2011 and 2012. However, the re-activation of the Silver Swallows this year means the Irish Air Corps will have an official aerobatic team for the first time in a quarter of a century. It is not clear whether it will be substantially different from the informal Team Silver performances, last seen in 2019.
The expectation is that the re-activated Silver Swallows will be active for just a few months, and will not become a permanent official display team.
As well as marking the Irish Air Corps' centenary, the Silver Swallows join the Air Tattoo's burgeoning "training" theme, which will also see displays from the Slovenian Air Force PC-9M Swift, Swedish Air Force SK-60, Finnish Air Force Hawk Mk.51, French Air Force Mustang X-Ray PC-21 tactical display and a variety of aerobatic teams, including the Red Arrows, Baby Blue, PC-7 TEAM, the Frecce Tricolori and the Black Eagles. Other modern and historic trainers will take part in the static display, such as the Hunter T.72, Bulldog, Firefly, Portuguese Air Force TB30 Epsilon, and a plethora of UK-operated types: the Phenom T.1, Tutor T.1, Hawk T.2, Texan T.1, Prefect T.1, Juno HT.1 and Jupiter HT.1.
The Royal International Air Tattoo takes place on the 15th-17th July at RAF Fairford, with the Silver Swallows due to display on the 16th-17th July only.