The US Air Force Air Combat Command's four single-ship demonstration teams have released their schedules for the 2022 airshow season at the International Council of Air Shows Convention in Las Vegas, NV.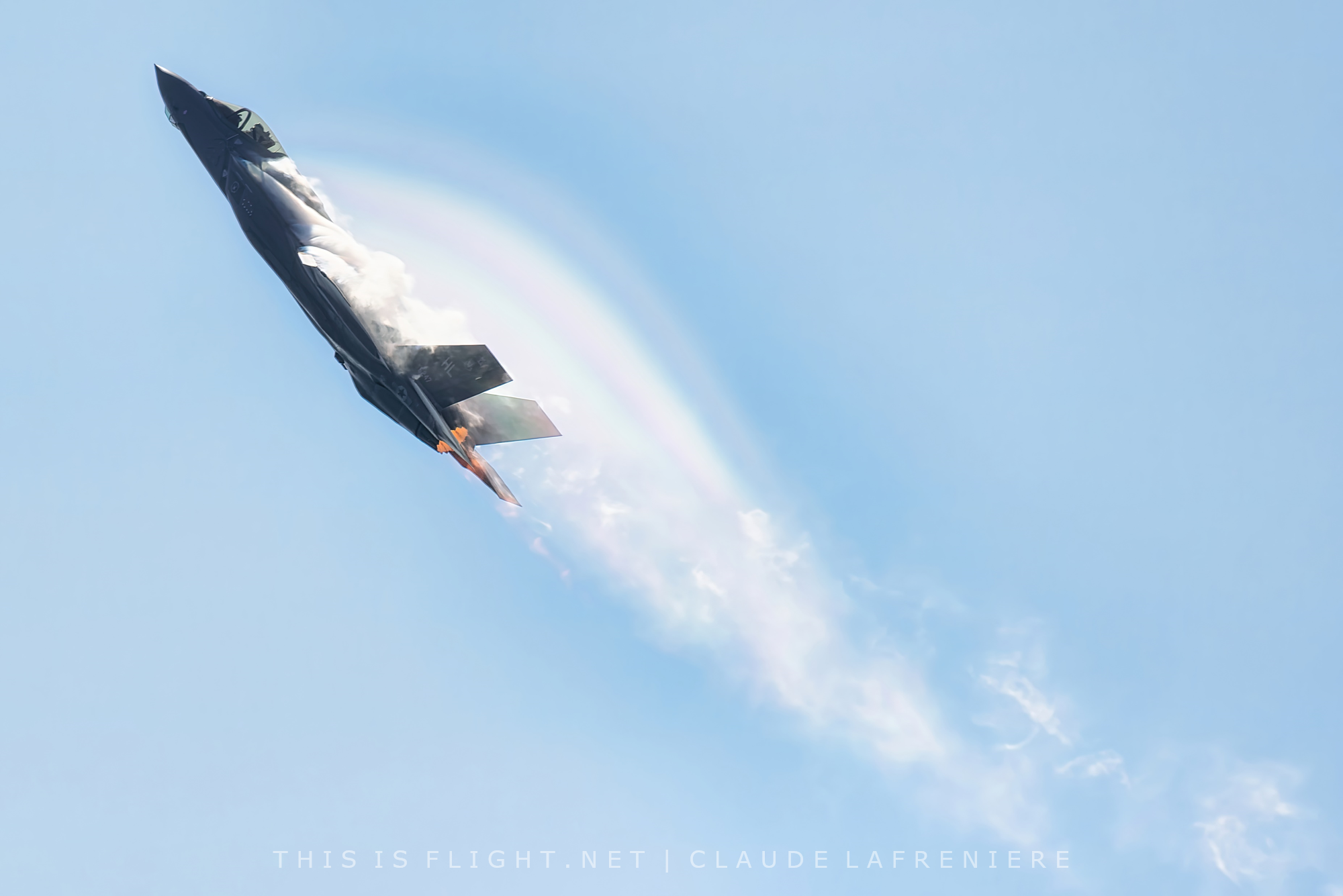 The four demonstration teams include the F-16C Viper Demo Team from Shaw AFB, F-22A Raptor from Langley AFB, F-35A Lightning II from Hill AFB and A-10C Thunderbolt II from Davis-Monthan AFB.
As well as shows in Canada, all four will also be supporting shows in Canada apart from the F-35. There are only two events scheduled to host more than one of the teams: the Oregon International Airshow with the F-16 and F-35, and the USAF's official 75th anniversary airshow, Aviation Nation, with the F-35 and F-22.
USAF SINGLE-SHIP DEMO TEAMS 2022 SCHEDULE
| | | | | |
| --- | --- | --- | --- | --- |
| Date | Show | Location | Country | Aircraft |
| Feb 27 | Stars & Stripes Airshow Spectacular | Laredo | USA (TX) | F-35 |
| Mar 2-6 | Davis Monthan AFB Thunder & Lightning Over Arizona | Tuscon | USA (AZ) | A-10 |
| Mar 11-12 | Yuma Airshow | Yuma | USA (AZ) | F-35 |
| Mar 12 | El Centro Airshow | El Centro | USA (CA) | A-10 |
| Mar 19 | Bluebonnet Airshow | Burnet | USA (TX) | A-10 |
| Mar 19-20 | Luke AFB Airshow | Phoenix | USA (AZ) | F-35 |
| Mar 19-20 | New Orleans Airshow | Belle Chasse | USA (LA) | F-35 |
| Mar 26-27 | Wings Over Columbus | Columbus | USA (MS) | A-10 |
| Mar 26-27 | MacDill AFB Tampa Bay AirFest | Tampa | USA (MS) | F-22 |
| Apr 2-3 | Shaw AFB Air & Space Expo | Sumter | USA (SC) | F-16 |
| Apr 2-3 | Wings Over South Texas | Kingsville | USA (TX) | F-35 |
| Apr 5-10 | FIDAE | Santiago | Chile | F-22 |
| Apr 5-10 | Sun 'n Fun | Lakeland | USA (FL) | A-10 |
| Apr 8-10 | JB Charleston Air Expo | North Charleston | USA (SC) | F-16 |
| Apr 23 | Thunder Over Louisville | Louisville | USA (KY) | F-16 |
| Apr 23-24 | Vidalia Onion Festival | Vidalia | USA (GA) | A-10 |
| Apr 23-24 | Great Texas Airshow | San Antonio | USA (TX) | F-35 |
| Apr 30-May 1 | Vero Beach Airshow | Vero Beach | USA (FL) | F-16 |
| Apr 30-May 1 | Fort Lauderdale Airshow | Fort Lauderdale | USA (FL) | A-10 |
| Apr 30-May 1 | Seymour Johnson AFB Wings Over Wayne | Goldsboro | USA (NC) | F-22 |
| May 7-8 | Holloman AFB Legacy of Liberty Airshow | Alamogordo | USA (NM) | F-35, A-10 |
| May 7-8 | JB McGuire-Dix-Lakehurst Open House | New Hanover | USA (NJ) | F-22 |
| May 14-15 | Ellsworth AFB Raider Country Open House | Rapid City | USA (SD) | F-22 |
| May 14-15 | Travis AFB Airshow | Fairfield | USA (CA) | F-35 |
| May 21-22 | Space Coast Warbird Airshow | Titusville | USA (FL) | F-22 |
| May 21-22 | Oregon International Airshow | Hillsboro | USA (TX) | F-16, F-35 |
| May 28 | Go! Wheels up | San Marcos | USA (TX) | A-10 |
| May 28-29 | Bethpage Airshow | Jones Beach | USA (NY) | F-22 |
| May 28-29 | Air & Sea Show | Miami Beach | USA (FL) | F-16 |
| May 29 | | Hatfield | USA (MA) | F-22 (HF only) |
| Jun 3-5 | History of Flight Airshow | Geneseo | USA (NY) | F-22 |
| Jun 4-5 | Chippewa Valley Airshow | Eau Claire | USA (WI) | F-16 |
| Jun 11-12 | Spirit of St. Louis Airshow | Chesterfield | USA (MO) | F-35 |
| Jun 11-12 | Westmoreland County Airshow | Latrobe | USA (PA) | F-16 |
| Jun 17-18 | Red, White & Blue Airshow | Monroe | USA (LA) | F-16 |
| Jun 18-19 | Armed Forces Day | Borden | Canada (ON) | A-10 |
| Jun 18-19 | Midsouth Airshow | Millington | USA (TN) | F-22 |
| Jun 24-26 | Rhode Island Airshow | Quonset | USA (RI) | F-22 |
| Jun 25 | Sentry Eagle Open House | Klamath Falls | USA (OR) | A-10 |
| Jun 25-26 | Hill AFB Warriors Over the Wasatch | Ogden | USA (UT) | F-35 |
| Jul 1 | Rose City AirFest: The Magnificent Warbird Expo | Tyler | USA (TX) | A-10 |
| Jul 1-4 | Battle Creek Field of Flight | Battle Creek | USA (MI) | F-35 |
| Jul 2 | Thunder Over Cedar Creek Lake | Mabank | USA (TX) | A-10 |
| Jul 2-3 | National Cherry Festival | Traverse City | USA (MI) | F-16 |
| Jul 3 | Dubuque Fireworks & Airshow | Dubuque | USA (IA) | F-35 (HF only) |
| Jul 9 | Wingnuts Flying Circus' Greatest Little Airshow | Tarkio | USA (MO) | F-16 |
| Jul 9 | America's Freedom Fest | Goshen | USA (IN) | A-10 |
| Jul 9-10 | Selfridge ANGB Open House & Airshow | Mount Clemens | USA (MI) | F-22 |
| Jul 15-17 | Royal International Air Tattoo | Fairford | UK | F-35, A-10 |
| Jul 16-17 | Cold Lake Airshow | Cold Lake | Canada (AB) | F-22 |
| Jul 16-17 | Thunder Over Michigan | Ypsilanti | USA (MI) | F-16 |
| Jul 23-24 | Milwaukee Air & Water Show | Milwaukee | USA (WI) | F-22 |
| Jul 25-31 | EAA AirVenture | Oshkosh | USA (WI) | F-35 |
| Jul 29-31 | Water Follies Over the River Airshow | Kennewick | USA (WA) | A-10 |
| Jul 30-31 | Dayton Airshow | Dayton | USA (ON) | F-16 |
| Jul 30-31 | JB Elmendorf Arctic Thunder Airshow | Anchorage | USA (AK) | F-22 |
| Aug 6-7 | Seattle Seafair Airshow | Seattle | USA (WA) | F-35 |
| Aug 13-14 | Kaneohe Bay Airshow | Kaneohe | USA (HI) | F-22 |
| Aug 13-14 | Props & Pistons Festival | Akron | USA (ON) | A-10 |
| Aug 20 | Wings Over Mattoon | Mattoon | USA (IL) | A-10 |
| Aug 20-21 | Oregon International Airshow | McMinnville | USA (OR) | F-35 |
| Aug 20-21 | Chicago Air & Water Show | Chicago | USA (IL) | F-22 |
| Aug 27-28 | Warbird Roundup | Nampa | USA (ID) | F-35 (HF only) |
| Aug 27-28 | Roar by the Shore Air & Space Expo | South Padre Island | USA (TX) | F-22 |
| Sep 3-5 | Cleveland National Airshow | Cleveland | USA (OH) | F-16 |
| Sep 3-5 | Canadian International Airshow | Toronto | Canada (ON) | A-10 |
| Sep 9-11 | SkyDrive: Airshow London | London | Canada (ON) | F-22 |
| Sep 10-11 | Sanicole International Airshow | Hechtel | Belgium | F-35 |
| Sep 10-11 | Smoky Mountain Airshow | Knoxville | USA (TN) | A-10 |
| Sep 14-15 | California International Airshow | Salinas | USA (CA) | A-10 |
| Sep 14-18 | National Championship Air Races | Reno | USA (NV) | F-22 |
| Sep 16-18 | Aero Gatineau-Ottawa | Gatineau | Canada (QC) | A-10 |
| Sep 17-18 | AB Andrews Airshow – America's Air & Space Expo | Washington | USA (MD) | F-35 |
| Sep 17-18 | NAS Oceana Airshow | Virginia Beach | USA (VA) | F-16 |
| Sep 23-25 | Volaris Aeronautics Festival | Mirabel | Canada (QC) | F-16 |
| Sep 23-25 | Miramar Airshow | San Diego | USA (CA) | F-22 |
| Sep 24-25 | Pikes Peak Regional Airshow | Colorado Springs | USA (CO) | F-35 |
| Oct 1 | Airpower Over Altus | Altus | USA (OK) | F-16 |
| Oct 1-2 | California Capital Airshow | Sacramento | USA (CA) | F-22 |
| Oct 8-9 | Sheppard AFB Guardians of Freedom Airshow | Wichita Falls | USA (TX) | F-16 |
| Oct 8-9 | Fleet Week | San Francisco | USA (CA) | F-35 |
| Oct 15-16 | Central Coast AirFest | Santa Maria | USA (CA) | F-35 |
| Oct 22-23 | Fort Worth Alliance Airshow | Dallas – Fort Worth | USA (TX) | F-22 |
| Oct 22-23 | Planes of Fame Airshow | Chino | USA (CA) | F-35 |
| Oct 22-23 | NAS JAX Airshow | Jacksonville | USA (FL) | F-35 |
| Oct 22-23 | Planes of Fame Airshow | Chino | USA (CA) | F-16 |
| Oct 29-30 | Wings Over Houston | Houston | USA (TX) | F-16 |
| Nov 5-6 | Nellis AFB Aviation Nation | Las Vegas | USA (NV) | F-22, F-35 |
| Nov 5-6 | Atlanta Airshow | Peachtree City | USA (GA) | A-10 |
| Nov 11-12 | Blue Angels Homecoming Airshow | Pensacola | USA (FL) | A-10 |
| Nov 11-13 | Stuart Airshow | Stuart | USA (FL) | F-16 |