The two display teams of the Royal Canadian Air Force – the Snowbirds, flying nine CT-114 Tutors, and the CF-18 Demo Team, flying one CF-188A Hornet – have released their 2022 airshow schedule.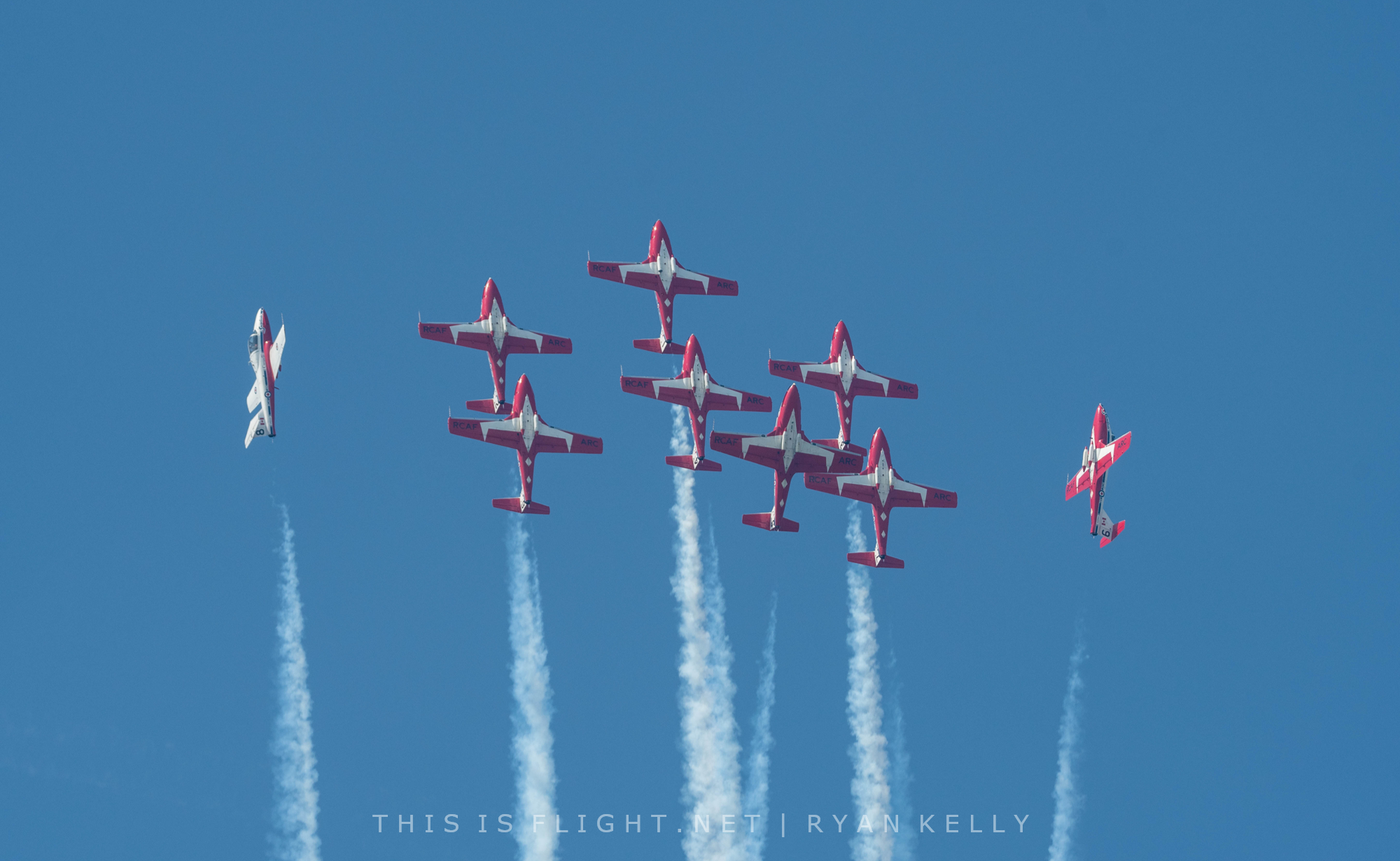 The Snowbirds will have a busy season with seven stops in the United States. As in the last few years, the CF-18 will be flying a relatively light schedule, due in part to the age of Canada's venerable Hornet fleet and challenges in maintaining the aircraft in an operational condition. However, there is one stop in the United States.
Update: In March 2022, the Snowbirds postponed the start of their airshow season, citing the need to extend their training sessions due to the impact of the pandemic and poor weather.
ROYAL CANADIAN AIR FORCE COMBINED 2022 AIRSHOW SCHEDULE
| | | | | |
| --- | --- | --- | --- | --- |
| Date | Show | Location | Country | Aircraft |
| May 21-22 | Space Coast Warbird Airshow | Titusville | USA (FL) | Snowbirds |
| May 28-29 | Bethpage Airshow | Jones Beach | USA (NY) | Snowbirds |
| Jun 4-5 | History of Flight Airshow | Geneseo | USA (NY) | Snowbirds |
| Jun 8 | Yankee Air Museum Evening Airshow | Ypsilanti | USA (MI) | Snowbirds, CF-18 |
| Jun 18-19 | Borden Airshow | Borden | Canada (ON) | Snowbirds |
| Jun 25-26 | Airshow50 | Brantford | Canada (ON) | Snowbirds, CF-18 |
| Jun 29 | Snowbirds display | Moncton | Canada (NB) | Snowbirds |
| Jul 16-17 | Cold Lake Airshow | Cold Lake | Canada (AB) | Snowbirds, CF-18 |
| Jul 20 | Northwest Regional Airshow | Terrace | Canada (BC) | Snowbirds, CF-18 |
| Jul 23-24 | Wings Over Springbank | Calgary | Canada (AB) | Snowbirds, CF-18 |
| Jul 30-31 | Fort St. John Airshow | Fort St. John | Canada (BC) | Snowbirds |
| Jul 30-31 | Lethbridge Airshow | Lethbridge | Canada (AB) | CF-18 |
| Aug 3 | Snowbirds display | Penticton | Canada (BC) | Snowbirds |
| Aug 5-7 | Abbotsford International Airshow | Abbotsford | Canada (BC) | Snowbirds, CF-18 |
| Aug 13-14 | Edmonton Airshow | Edmonton | Canada (AB) | Snowbirds |
| Aug 20 | Gander Festival of Flight | Gander | Canada (NL) | CF-18 |
| Aug 27-28 | Airshow Atlantic | Derbert | Canada (NS) | Snowbirds, CF-18 |
| Sep 3-5 | Canadian International Airshow | Toronto | Canada (ON) | Snowbirds, CF-18 |
| Sep 9-11 | Skydrive: Airshow London | London | Canada (ON) | Snowbirds, CF-18 |
| Sep 14 | Snowbirds display | Tillsonburg | Canada (ON) | Snowbirds |
| Sep 17-18 | Aero Gatineau-Ottawa | Gatineau | Canada (QC) | Snowbirds, CF-18 |
| Sep 24-25 | Volaris Aeronautics Festival | Mirabel | Canada (QC) | Snowbirds, CF-18 |
| Oct 1-2 | Pacific Airshow | Huntington Beach | USA (CA) | Snowbirds |
| Oct 8-9 | Fleet Week | San Francisco | USA (CA) | Snowbirds |
| Oct 15-16 | Central Coast AirFest | Santa Maria | USA (CA) | Snowbirds |