SCAMPTON | The RAF Red Arrows have released their 2021 display schedule and display routine, coinciding with their Public Display Authority being awarded today (Thursday 20th May).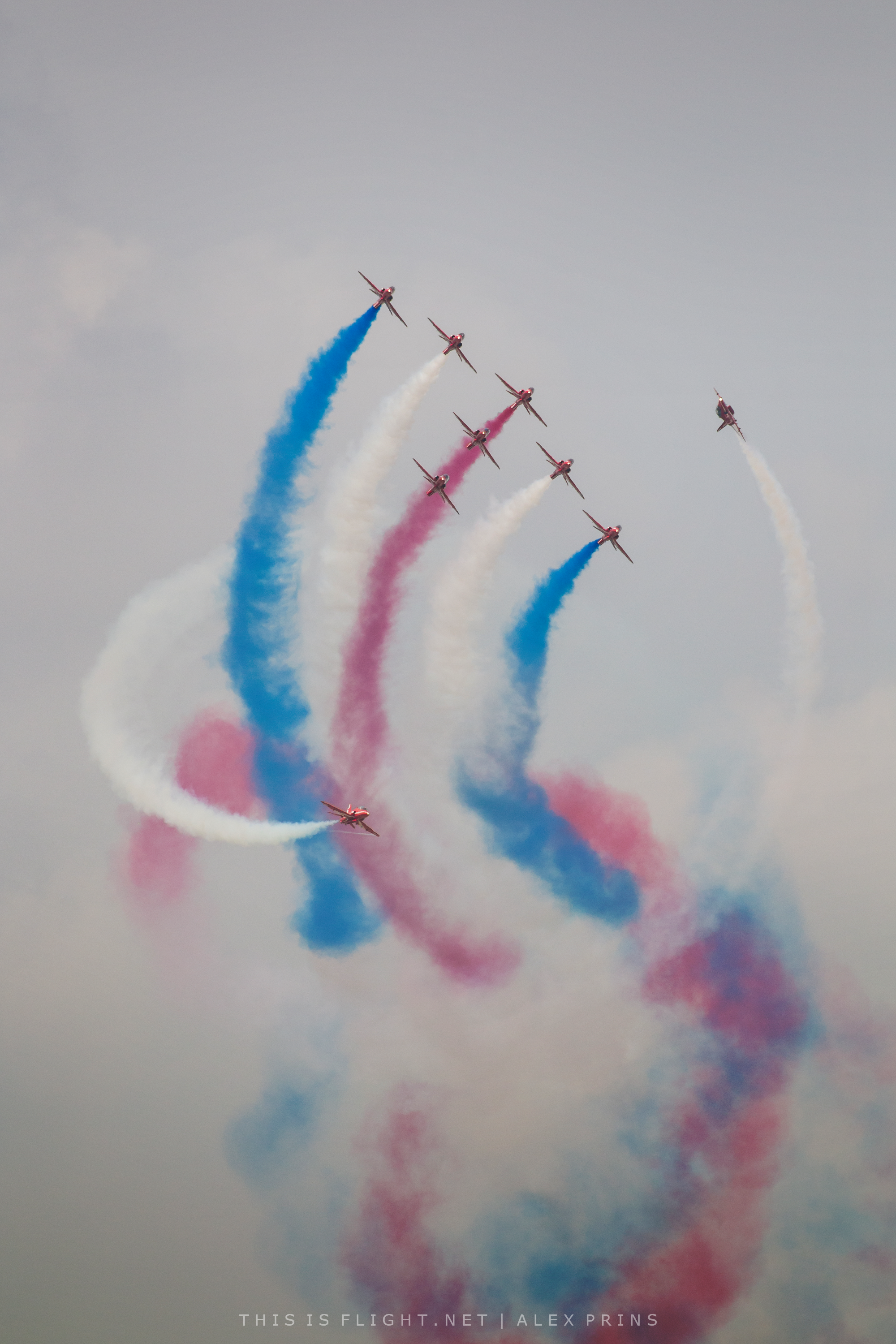 The team's 2021 PDA – a high-level certification that the team are safe and permitted to display to the public – was awarded at Tanagra Air Base in Greece, where the team are conducting spring training.
Following the announcement of the PDA, details of the Reds' 2021 season were revealed on their website. The team will perform at a much smaller selection of events than usual this year, with just eight planned in the UK, as well as two in the Channel Islands, two in Belgium and one in Poland.
It is likely that further displays will be added, as individual airshows have already declared the team to be unavaible due to "operational commitments" on dates left vacant on today's schedule.
This year's display routine will include several new and modified manoeuvres, including Boomerang, Python and the Rolling Heart. The Wall Arrival, Hammer Break and Mirror Roll will return to the display for the first time since 2017, 2016 and 2015 respectively, while the Corkscrew, Vertical Break and Carosel have been dropped this year.
It has been almost two years since the team's last UK display due to an extensive North American tour in 2019 and numerous airshow cancellations in 2020. You can see their full schedule below:
| | | | |
| --- | --- | --- | --- |
| Date | Show | Location | Country |
| Jun 4-5 | Midlands Air Festival | Ragley Hall, Alcester | UK |
| Jun 25 | Battle of Britain Airshow | Headcorn | UK |
| Jun 27 | Belgian Air Force Days | Florennes | Belgium |
| Jul 8-11 | Goodwood Festival of Speed | Goodwood | UK |
| Jul 18 | British Grand Prix | Silverstone | UK |
| Jul 24-25 | Duxford Summer Airshow | IWM Duxford | UK |
| Aug 20-22 | AeroBaltic | Gdynia | Poland |
| Aug 27 | Sidmouth Air Display | Sidmouth | UK |
| Sep 2-5 | Bournemouth Air Festival | Bournemouth | UK |
| Sep 9 |  Jersey International Air Display | St. Helier | Jersey |
| Sep 9 |  Guernsey Air Display | St. Peter Port | Guernsey |
| Sep 10 | Sanicole Sunset Airshow | Hechtel | Belgium |
| Sep 11-12 | RAF Cosford Airshow | Cosford | UK |
The team's 2021 display routine is as follows:
| | | |
| --- | --- | --- |
| FULL (5,500ft+) | ROLLING (2,500-5,500ft) | FLAT (1,000-2,500ft) |
| Wall Arrival | Wall Arrival | Wall Arrival |
| Pyramid to Nine Arrow Loop | Nine Arrow to Diamond Rollbacks | Nine Arrow to Diamond Rollbacks |
| Diamond Roll | Diamond Roll | Diamond Present |
| Swan to Feathered Arrow Loop and Feathered Arrow Present | Feathered Arrow Present | Feathered Arrow Present |
| Big Vixen Roll | Big Vixen Roll | Big Vixen Present |
| Tornado | Tornado | Tornado |
| Hammer Break | Detonator | Detonator |
| Gypo Pass (Gypo) | Gypo Pass (Gypo) | Gypo Pass (Gypo) |
| Cyclone (Synchro) | Cyclone (Synchro) | Cyclone (Synchro) |
| Goose (Enid, 8) | Goose (Enid, 8) | Goose (Enid, 8) |
| Heart (Synchro, 9) | Rolling Heart (Synchro, 9) | Vortex (Synchro, 9) |
| Opposition Barrel (Synchro) | Opposition Barrel (Synchro) | Opposition Barrel (Synchro) |
| Slalom (Enid) | Slalom (Enid) | Slalom (Enid) |
| Mirror Roll (Gypo) | Mirror Roll (Gypo) | Mirror Flat (Gypo) |
| Rollbacks (Enid) | Rollbacks (Enid) | Rollbacks (Enid) |
| Gypo Break (Gypo) | Gypo Break (Gypo) | Gypo Break (Gypo) |
| Crossbow (Synchro) | Crossbow (Synchro) | Crossbow (Synchro) |
| Python (Enid, 8, 9) | Python (Enid, 8, 9) | Revolution (Enid, 8, 9) |
| Boomerang (Synchro) | Opposition Barrel (Synchro) | Opposition Barrel (Synchro) |
| Vixen Break (Enid, 8, 9) | Vixen Break (Enid, 8, 9) | Vixen Break (Enid, 8, 9) |