The US Navy Blue Angels have announced their updated 2021 airshow schedule, as well as provisional dates for 2022, at the virtual ICAS Convention today.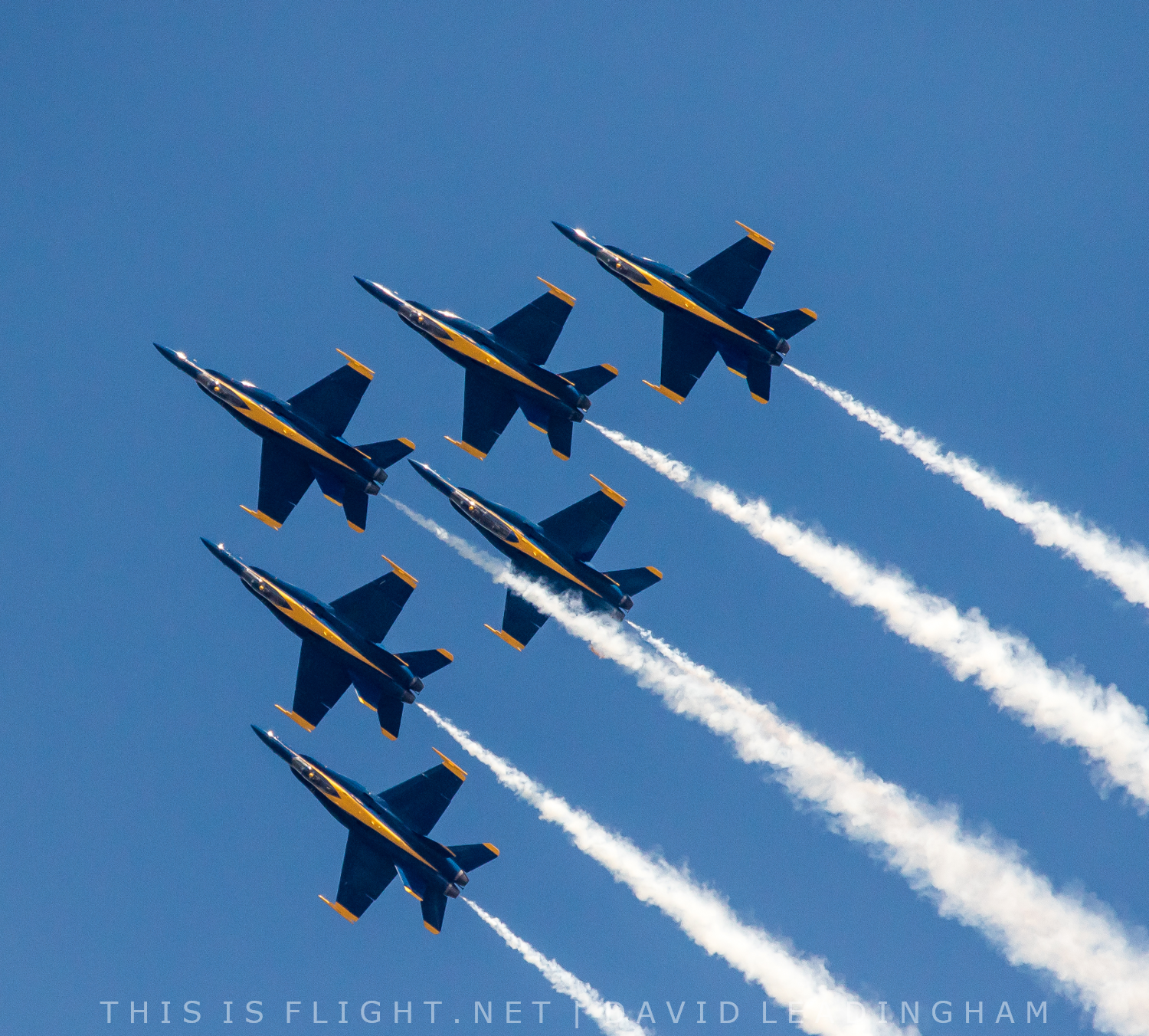 Next year will be the team's first season displaying with their new fleet of F/A-18E/F Super Hornets, replacing their ageing Legacy Hornets, which were phased out in November of this year. They will also be debuting their new support plane at airshows next year, an ex-Royal Air Force C-130J Hercules, known affectionately as "Fat Albert".
The new types will make their debut at a public practice at El Centro on the 13th March (although other US military teams are also scheduled to attend, suggesting this could become a full-scale airshow), followed by the NAS Jacksonville Airshow on the 10th-11th April – the team's first official public airshow since autumn 2019. Their international debut will be at Airshow London 2021 in Canada; no other international appearances are scheduled in the next two years.
Flying six Super Hornets in their display, the Blue Angels are the official aerobatic team of the US Navy, and one of the oldest military aerobatic teams in the world, with a lineage dating back to 1946.
North American military airshow teams traditionally announce their schedules at the the International Council of Air Shows' annual convention, which is being held virtually this year because of the coronavirus pandemic.
For more about how airshows are coping with the coronavirus, see our in-depth feature article.
BLUE ANGELS 2021 SCHEDULE
| | | | |
| --- | --- | --- | --- |
| Date | Show | Location | Country |
| Mar 13 | Festival of Flight | El Centro | USA (CA) |
| Apr 10-11 | NAS JAX Airshow | Jacksonville | USA (FL) |
| Apr 17-18 | Sun 'n Fun Fly-in | Lakeland | USA (FL) |
| Apr 24-25 | MCAS Beaufort Air Show | Beaufort | USA (SC) |
| May 1-2 | Wings Over South Texas | Corpus Christi | USA (TX) |
| May 8-9 | Fort Lauderdale Airshow | Fort Lauderdale | USA (FL) |
| May 15-16 | Great Florida Airshow | Melbourne | USA (FL) |
| May 29-30 | Westmoreland County Airshow | Latrobe | USA (PA) |
| Jun 5-6 | Chennault International Airshow | Lake Charles | USA (LA) |
| Jun 12-13 | Deke Slayton Airfest | La Crosse | USA (WI) |
| Jun 19-20 | Thunder of Niagara Open House | Niagara Falls | USA (NY) |
| Jun 26-27 | Duluth Air and Aviation Expo | Duluth | USA (MN) |
| Jul 3-4 | KC Airshow | Kansas City | USA (MO) |
| Jul 10-11 | Pensacola Beach Airshow | Pensacola | USA (FL) |
| Jul 24-25 | Fargo Airsho | Fargo | USA (ND) |
| Jul 31-Aug 1 | Arctic Lightning Air Show | Eielson | USA (AK) |
| Aug 7-8 | Seafair Airshow | Seattle | USA (WA) |
| Aug 14-15 | Owensboro Airshow | Owensboro | USA (KY) |
| Aug 21-22 | Chicago Air & Water Show | Chicago | USA (IL) |
| Aug 28-29 | Airshow London | London | Canada (ON) |
| Sep 4-5 | Cape Cod Airshow & Open House | Cape Cod | USA (MA) |
| Sep 18-19 | NAS Oceana Airshow | Virginia Beach | USA (VA) |
| Sep 25-26 | MCAS Miramar Airshow | San Diego | USA (CA) |
| Oct 2-3 | Great Pacific Airshow | Huntington Beach | USA (CA) |
| Oct 9-10 | San Francisco Fleet Week | San Francisco | USA (CA) |
| Oct 16-17 | Loveland Airshow | Loveland | USA (CO) |
| Oct 23-24 | Fort Worth Alliance Airshow | Dallas/Fort Worth | USA (TX) |
| Oct 30-31 | Wings over North Georgia | Rome | USA (GA) |
| Nov 5-6 | NAS Pensacola: Blue Angels Homecoming Airshow | Pensacola | USA (FL) |
BLUE ANGELS 2022 SCHEDULE (PROVISIONAL)
| | | | |
| --- | --- | --- | --- |
| Date | Show | Location | Country |
| Mar 12 | NAS El Centro: Festival of Flight | El Centro | USA (CA) |
| Mar 19-20 | New Orleans Airshow | New Orleans | USA (LA) |
| May 26-27 | MacDill AFB: Tampa Bay AirFest | Tampa | USA (FL) |
| Apr 2-3 | NAS Kingsville: Wings Over South Texas | Kingsville | USA (TX) |
| Apr 9-10 | JB Charleston Air & Space Expo | Charleston | USA (SC) |
| Apr 23-24 | Vidalia Onion Festival Airshow | Vidalia | USA (GA) |
| Apr 30-May 1 | Vero Beach Airshow | Vero Beach | USA (FL) |
| May 7-8 | McGuire AFB: Power in the Pines | JB McGuire-Dix-Lakehurst | USA (NJ) |
| May 14-15 | Ellsworth AFB: Raider Country Open House | Rapid City | USA (SD) |
| May 28-29 | Bethpage Airshow | Jones Beach | USA (NY) |
| Jun 4-5 | Cheppewa Valley Airshow | Eau Claire | USA (WI) |
| Jun 11-12 | Spirit of St. Louis Airshow | St. Louis | USA (MO) |
| Jun 18-19 | Memphis Airshow | Millington | USA (TN) |
| Jul 2-4 | National Cherry Festival Airshow | Traverse City | USA (MI) |
| Jul 9-10 | Pensacola Beach Airshow | Pensacola Beach | USA (FL) |
| Jul 16-17 | Thunder Over Michigan | Ypsilanti | USA (MI) |
| Jul 23-24 | Dayton Airshow | Dayton | USA (OH) |
| Aug 6-7 | Seafair Airshow | Seattle | USA (WA) |
| Aug 13-14 | Kaneohe Bay Airshow | Oahu | USA (HI) |
| Aug 20-21 | Oregon International Airshow | McMinnville | USA (OR) |
| Sep 3-4 | Cleveland National Airshow | Cleveland | USA (OH) |
| Sep 10-11 | Smokey Mountain Airshow | Knoxville | USA (TN) |
| Sep 17-18 | NAS Oceana Airshow | Virginia Beach | USA (VA) |
| Sep 24-25 | MCAS Miramar Airshow | San Diego | USA (CA) |
| Oct 1-2 | Aviation Roundup | Minden-Tahoe | USA (NV) |
| Oct 8-9 | Fleet Week | San Francisco | USA (CA) |
| Oct 22-23 | NAS JAX Airshow | Jacksonville | USA (FL) |
| Oct 29-30 | Wings Over Houston | Ellington | USA (TX) |
| Nov 5-6 | Great Georgia Airshow | Peachtree City | USA (GA) |
| Nov 12-13 | NAS Pensacola: Blue Angels Homecoming Airshow | Pensacola | USA (FL) |