The US Air Force's Air Combat Command solo demonstration teams have announced their 2021 schedules at the virtual ICAS Convention today.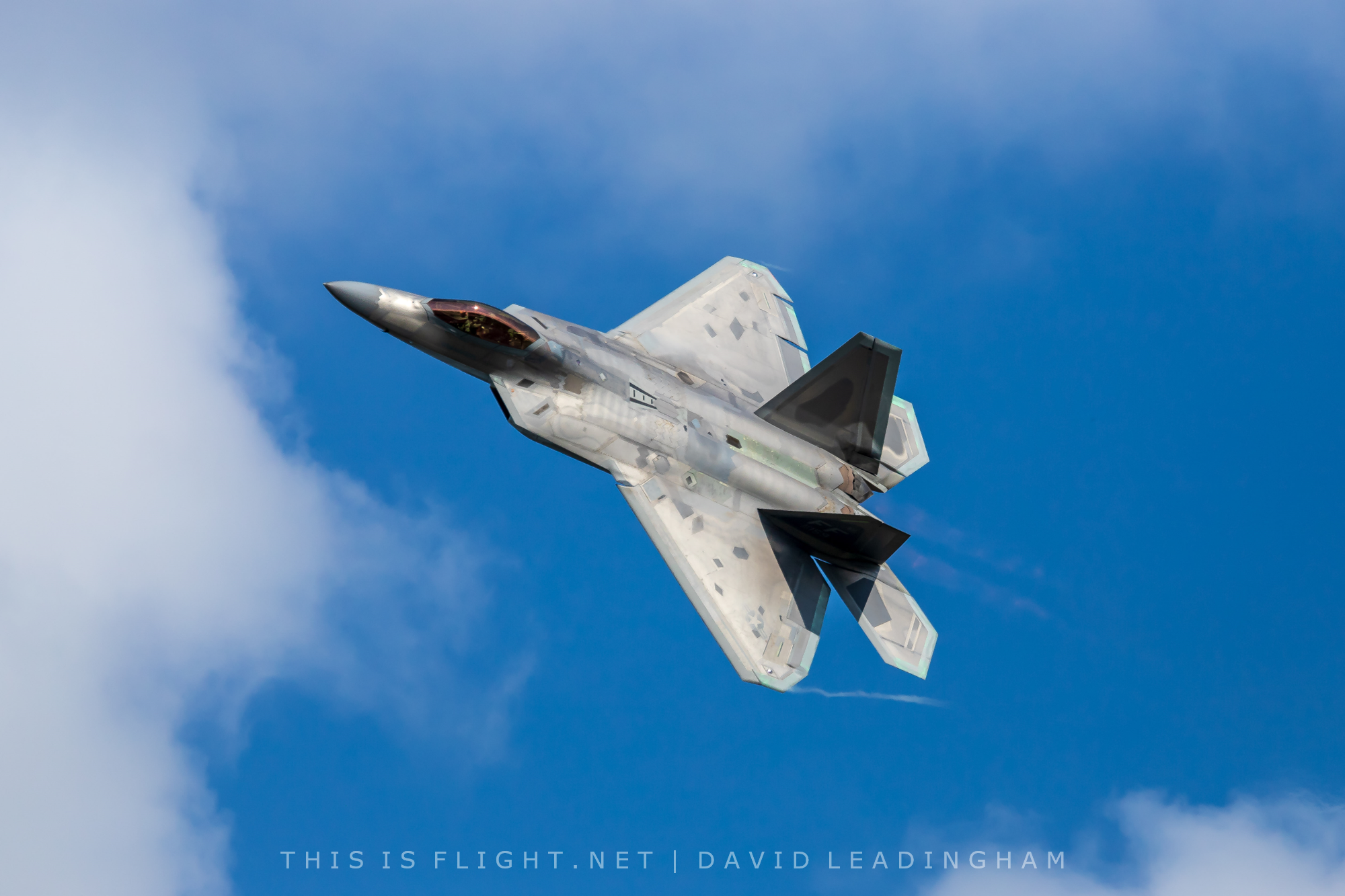 As with the last two seasons, the USAF will field three front-line fast jet demonstrations: the F-35A Lightning II, F-22A Raptor, F-16C Fighting Falcon and A-10C Thunderbolt II. Each team will perform approximately 15-minute solo displays, as well as "Heritage Flights" alongside well-known US warbirds.
In addition to solo displays, all four teams will be visiting Canada at least once. Additional international shows in the UK, UAE, Mexico, Colombia and Australia are also pending approval.
North American military airshow teams traditionally announce their schedules at the the International Council of Air Shows' annual convention, which is being held virtually this year because of the coronavirus pandemic.
For more about how airshows are coping with the coronavirus, see our in-depth feature article.
USAF AIR COMBAT COMMAND 2021 AIRSHOW SCHEDULE
| | | | | |
| --- | --- | --- | --- | --- |
| Date | Show | Location | Country | Type |
| Mar 12-13 | MCAS Yuma Airshow | Yuma | USA (CA) | F-22 |
| Mar 13 | NAS El Centro Airshow | El Centro | USA (CA) | A-10 |
| Mar 20 | Bluebonnet Airshow | Burnet | USA (TX) | A-10 |
| Apr 10-11 | NAS JAX Airshow | Jacksonville | USA (FL) | F-22 |
| Apr 13-18 | Sun 'n Fun Fly-in | Lakeland | USA (FL) | F-22 |
| Apr 13-14 | Moody AFB: Hawgsmoke | Valdosta | USA (GA) | A-10 |
| Apr 17 | Thunder Over Louisville | Louisville | USA (KY) | F-16 A-10 |
| Apr 17-18 | Cocoa Beach Airshow | Cocoa Beach | USA (FL) | F-35 F-22, A-10 |
| Apr 21-24 | Mexico Aerospace Fair | Queretaro | Mexico | TBC |
| Apr 24-25 | MCAS Beaufort Airshow | Beaufort | USA (SC) | F-16 |
| Apr 24-25 | Davis-Monthan AFB: Thunder & Lightning Over Arizona (new date) | Tuscon | USA (AZ) | A-10 |
| Apr 30-May 2 | Planes of Fame Airshow (new date) | Chino | USA (CA) | F-35 |
| May 1-2 | Wings Over South Texas | Corpus Christi | USA (TX) | F-16 |
| May 8-9 | Fort Lauderdale Airshow | Fort Lauderdale | USA (FL) | F-16 |
| May 8-9 | Barksdale AFB: Defenders of Liberty Airshow | Shreveport | USA (LA) | F-22 |
| May 15-16 | Great Florida Airshow | Melbourne | USA (FL) | F-16 |
| May 15-16 | Hangar 24 AirFest | Redlands | USA (CA) | F-35 |
| May 15 | Preakness Race | Baltimore | USA (MD) | F-22 (HF only) |
| May 21-23 | Oregon International Airshow | Hillsboro | USA (OR) | F-35 |
| May 22-23 | Millville Wings & Wheels (new date) | Millville | USA (TX) | F-22 |
| May 22 | Thunder Over Dalhart | Dalhart | USA (TX) | A-10 |
| May 29-30 | Go Wheels Up! Texas | San Marcos | USA (TX) | F-16 |
| May 29-30 | Atlanta Airshow | Peachtree City | USA (GA) | F-35 |
| May 29-30 | Westmoreland County Airshow | Latrobe | USA (GA) | F-22 |
| May 29-30 | Bethpage Airshow | Jones Beach | USA (NY) | A-10 |
| May 30 | | Hatfield | USA (MA) | A-10 (HF only) |
| Jun 5-6 | Chennault International Airshow | Lake Charles | USA (LA) | F-22 |
| Jun 5-6 | Wildwood Airshow | North Wildwood | USA (NJ) | F-16 |
| Jun 5-6 | Great Tennessee Airshow | Smyrna | USA (TN) | F-35 F-16 |
| Jun 12-13 | St. Cloud Airshow | St. Cloud | USA (MN) | F-16 |
| Jun 12-13 | Deke Slayton Airfest | La Crosse | USA (WI) | F-35, F-16 |
| Jun 19-20 | Moses Lake Airshow | Moses Lake | USA (WA) | A-10 |
| Jun 19-20 | OC Airshow | Ocean City | USA (MD) | F-22 |
| Jun 19-20 | Airshow Baltimore | Baltimore | USA (MD) | A-10 |
| Jun 19-20 | Thunder Over Niagara | Niagara Falls | USA (NY) | F-16 |
| Jun 25-27 | Rhode Island Airshow | North Kingstown | USA (RI) | A-10 |
| Jun 26-27 | Duluth Airshow | Duluth | USA (MN) | F-16 F-22 |
| Jun 26-27 | Thunder over the Heartlands | Topeka | USA (KS) | F-16 |
| Jul 2 | Rose City Airfest | Tyler | USA (TX) | F-16 |
| Jul 2-4 | Battle Creek Airshow & Balloon Fiesta | Battle Creek | USA (MI) | F-22 |
| Jul 2 | Thunder Over Cedar Creek Lake | Mabank | USA (TX) | F-16 |
| Jul 3 | Dubuque Fireworks & Airshow | Dubique | USA (IA) | A-10 |
| Jul 3-4 | Gig Harbor Wings & Wheels | Tacoma | USA (WA) | F-35 (HF only) |
| Jul 4 | Racine Independence Day Parade | Racine | USA (WI) | F-22 & A-10 (HF only) |
| Jul 4 | Tacoma Freedom Fair | Tacoma | USA (WA) | F-35 |
| Jul 8-11 | F-AIR (new date) | Rio Negro | Colombia | TBC |
| Jul 9-11 | National Warplane Museum: Geneseo Airshow | Geneseo | USA (NY) | F-22 |
| Jul 10-11 | Flying Legends | Sywell | UK (ENG) | A-10 |
| Jul 16-18 | Royal International Air Tattoo | Fairford | UK (ENG) | A-10 |
| Jul 9-11 | Greater Binghamton Airshow | Johnson City | USA (NY) | A-10 |
| Jul 23-25 | Tri-Cities Water Follies | Kennewick | USA (WA) | F-35 |
| Jul 24-25 | Fargo Airshow | Fargo | USA (ND) | F-16 |
| Jul 24-25 | Milwaukee Air & Water Show | Milwaukee | USA (WI) | F-22 |
| Jul 24-25 | EAA AirVenture | Oshkosh | USA (WI) | F-16 |
| Jul 30-Aug 1 | Oregon International Airshow | McMinnville | USA (OR) | F-22 |
| Jul 31-Aug 1 | Lethbridge International Airshow | Lethbridge | Canada (AL) | A-10 |
| Jul 31-Aug 1 | Eielson AFB: Arctic Lightning Airshow | Fairbanks | USA (AK) | F-35 |
| Aug 6-8 | Abbotsford International Airshow | Abbotsford | Canada (BC) | F-22 |
| Aug 6-8 | Seafair Airshow | Seattle | USA (WA) | A-10 |
| Aug 7-8 | Thunder Over Michigan | Ypsilanti | USA (MI) | F-35 |
| Aug 14-15 | Owensboro Airshow | Owensboro | USA (KY) | F-35 F-16 |
| Aug 14-15 | Decatur Airport 75th Anniversary Airshow | Decatur | USA (IL) | A-10 |
| Aug 15 | Thunder Over Louisville (new date) | Louisville | USA (KY) | F-16 |
| Aug 18 | Thunder Over the Boardwalk | Atlantic City | USA (NJ) | F-22 |
| Aug 20-22 | Edmonton Airshow | Edmonton | Canada (AB) | A-10 |
| Aug 21 | Wingnuts Flying Circus: Greatest Little Airshow | Tarkio | USA (MO) | F-16 |
| Aug 21-22 | Chicago Air & Water Show | Chicago | USA (IL) | F-35 |
| Aug 27-29 | Airshow London | London | Canada (ON) | F-16 |
| Aug 28 | America's Freedom Fest | Goshen | USA (IN) | A-10 |
| Aug 28-29 | New York International Airshow | New Windsor | USA (NY) | F-22 |
| Sep 4-5 | JB Cape Cod Airshow | Cape Cod | USA (MA) | F-16 |
| Sep 4-5 | Millville Wings & Wheels | Millville | USA (NJ) | F-22 |
| Sep 4-6 | Canadian International Air Show | Toronto | Canada (ON) | F-35 |
| Sep 4-6 | Cleveland National Airshow | Cleveland | USA (OH) | A-10 |
| Sep 10-12 | Wild West Airshow | Cheyenne | USA (WY) | F-22 |
| Sep 10-12 | Aero Gatineau-Ottawa | Gatineau | Canada (QC) | F-16 |
| Sep 11-12 | CAF Sky High Wing AIRSHO | Midland | USA (TX) | A-10 |
| Sep 16-19 | National Championship Air Races | Reno | USA (NV) | F-22 |
| Sep 17-19 | Volaria Aeronautics Festival | Mirabel | Canada (QC) | F-35 |
| Sep 18-19 | Wings Over Wine Country | Santa Rosa | USA (CA) | A-10 |
| Sep 25 | Wendover Wings & Wheels | Wendover | USA (UT) | F-16 |
| Sep 25-26 | Wings by the Wabash | Robinson | USA (IL) | A-10 |
| Sep 25-26 | MCAS Miramar Airshow | San Diego | USA (CA) | F-22 |
| Sep 25-26 | California Capital Airshow | Sacramento | USA (CA) | F-35 |
| Oct 2-3 | Great Pacific Airshow | Huntington Beach | USA (CA) | F-35 |
| Oct 9-10 | Wings Over Houston | Ellington | USA (TX) | F-22 |
| Oct 9-10 | Fleet Week | San Francisco | USA (CA) | F-16 |
| Oct 16-17 | Florida International Airshow | Punta Gorda | USA (FL) | F-16 |
| Oct 16-17 | Central Florida Air & Space Show | Sanford | USA (FL) | F-35 |
| Oct 16-17 | Northern Colorado Airshow | Loveland | USA (CO) | A-10 |
| Oct 19-24 | Seoul ADEX | Seoul | Republic of Korea | TBC |
| Oct 23-24 | Los Angeles County Airshow | Lancaster | USA (CA) | F-35 |
| Oct 23-24 | Fort Worth Alliance Airshow | Fort Worth | USA (TX) | A-10 F-16 |
| Oct 30-31 | Wings Over North Georgia | Rome | USA (GA) | A-10 |
| Oct 30-31 | Planes of Fame Airshow | Chino | USA (CA) | F-35 |
| Nov 4-7 | F-AIR | Rio Negro | Colombia | F-16 |
| Nov 5-6 | Blue Angels Homecoming Airshow | Pensacola | USA (FL) | F-35 |
| Nov 5-7 | Stuart Airshow (new date) | Stuart | USA (FL) | F-16 |
| Nov 6-7 | Davis-Monthan AFB: Thunder & Lightning Over Arizona | Tuscon | USA (AZ) | A-10 |
| Nov 12-14 | Stuart Airshow | Stuart | USA (FL) | F-16 |
| Nov 13-14 | Hangar 24 AirFest | Lake Havasu | USA (AZ) | A-10 |
| Nov 14-18 | Dubai Airshow | Dubai | UAE (DU) | TBC |
| Nov 23-28 | Australian International Airshow | Avalon | Australia (VIC) | TBC |
| Dec TBC | | Lakenheath | UK (ENG) | F-35A |