The Canadian Forces Snowbirds have announced their 2021 airshow schedule today at the virtual ICAS Convention.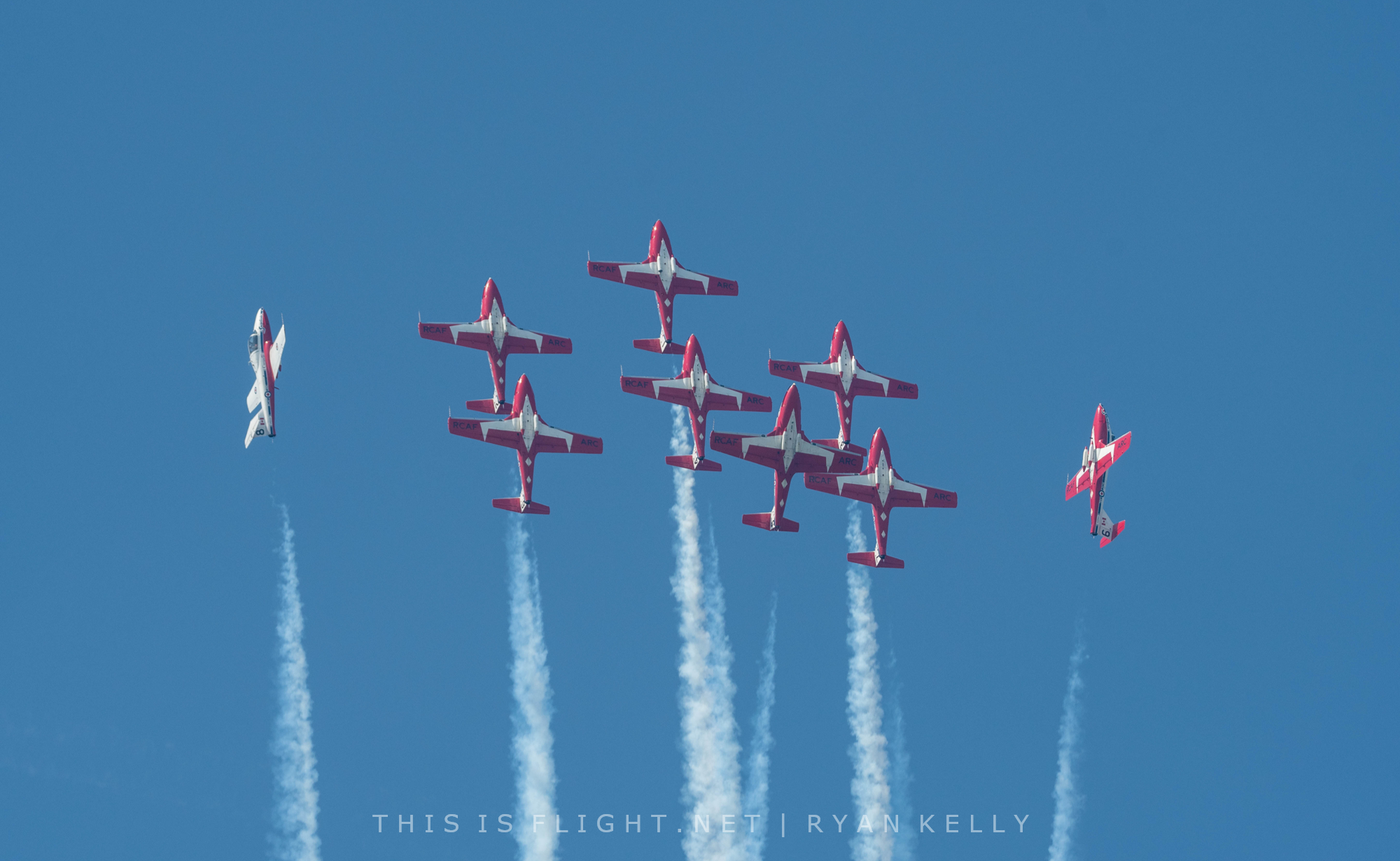 The Snowbirds are the official aerobatic team of the Royal Canadian Air Force, flying nine CT-114 Tutors in their display. Although next year will mark 51 years since the team was formed, it will be only their 50th display season, as no shows were performed in 2020.
Notably, the team plan to undertake an almost month-long visit to the southwestern United States at the end of the year, in addition to Thunder Over Niagara, which will likely be supported remotely.
North American military airshow teams traditionally announce their schedules at the the International Council of Air Shows' annual convention, which is being held virtually this year because of the coronavirus pandemic.
For more about how airshows are coping with the coronavirus, see our in-depth feature article.
SNOWBIRDS 2021 SCHEDULE
Date
Show
Location
Country
Jun 5-6
Open date
Jun 9
North Bay Armed Forces Day
North Bay
Canada (ON)
Jun 12-13
Open date
Jun 19-20
Thunder of Niagara Open House
Niagara Falls
USA (NY)
Jun 22
Snowbirds display
Hannover
Canada (ON)
Jun 24
Open date
Jun 26-27
Spectacle Aerien International de Bagotville
Bagotville
Canada (QC)
Jul 1
Canada Day flyover
Ottawa
Canada (QC)
Jul 5
Snowbirds display
Thompson
Canada (MB)
Jul 17
Boundary Bay Airshow
Delta
Canada (BC)
Jul 18
Snowbirds Fly For CHILD
White Rock
Canada (BC)
Jul 21
Northwest Regional Airshow
Terrace
Canada (BC)
Jul 24-25
Wings Over Springbank
Springbank
Canada (AB)
Jul 31-Aug 1
Open date
Aug 6-8
Abbotsford International Airshow
Abbotsford
Canada (BC)
Aug 21
Gander Airshow
Gander
Canada (NL)
Aug 22
Snowbirds Over Conception Bay
St. John's
Canada (NL)
Aug 25
Snowbirds display
Lunenberg
Canada (NS)
Aug 28-29
Airshow Atlantic
Derbert
Canada (NS)
Sep 2
Brantford Community Charity Airshow
Brantford
Canada (ON)
Sep 4-6
Canadian International Air Show
Toronto
Canada (ON)
Sep 8
Kingston Airshow
Kingston
Canada (ON)
Sep 11-12
Aero Gatineau-Ottawa
Gatineau
Canada (QC)
Sep 15
Stratford Community Airshow
Stratford
Canada (ON)
Sep 18-19
Volaria Aeronautics Festival
Mirabel
Canada (QC)
Sep 25-26
California Capital Airshow
Sacramento
USA (CA)
Oct 2-3
Great Pacific Airshow
Huntington Beach
USA (CA)
Oct 9-10
Fleet Week
San Francisco
USA (CA)
Oct 16-17
Open date