The US Navy will support 40 airshows this year with demonstrations and Legacy Flights, but only 11 shows will see full demonstrations, according to an early schedule.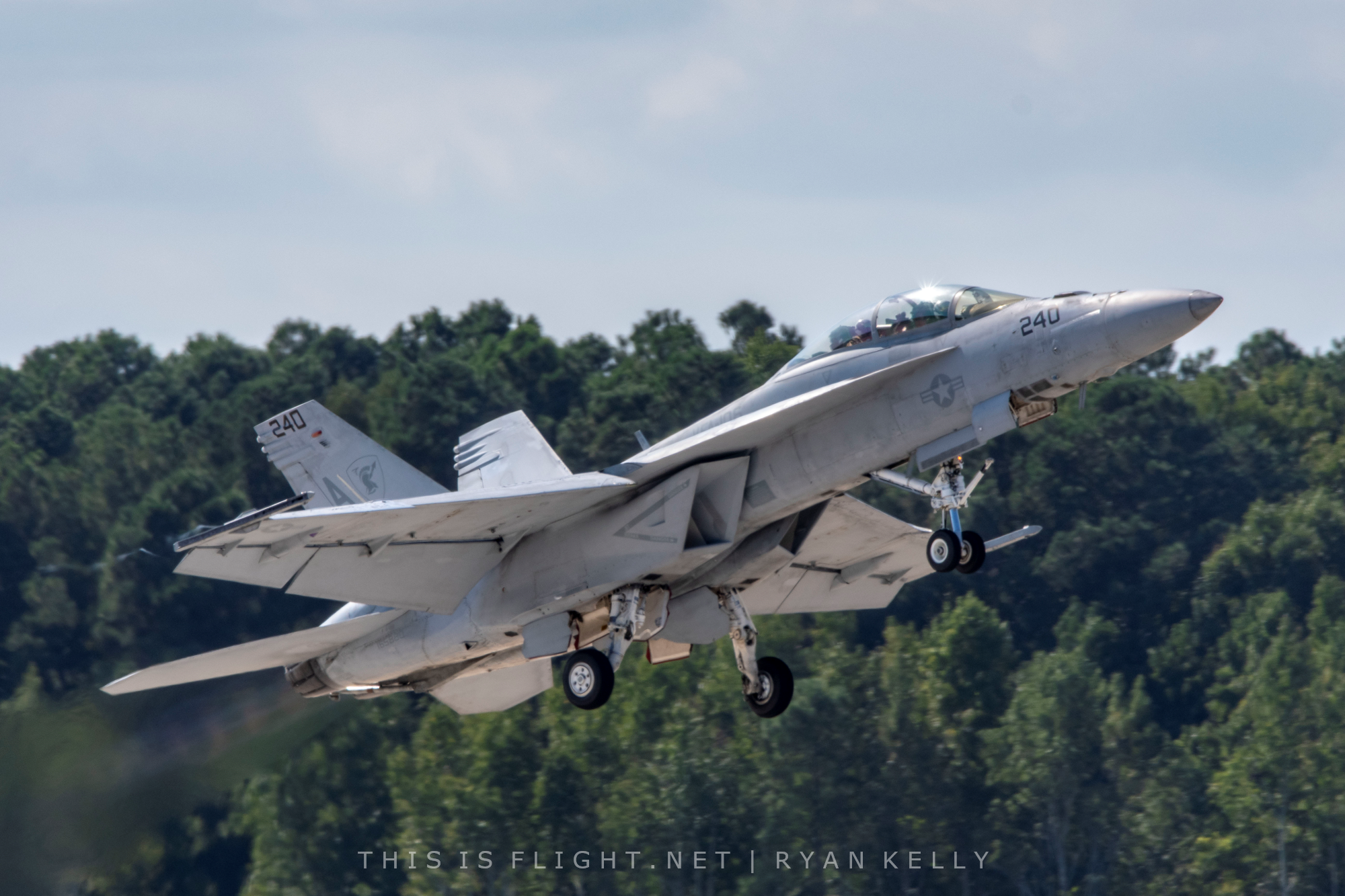 The Super Hornet "TACDEMO" from VFA-106 – rebranded as the Rhino Demo Team – will fly at 11 shows, at which it may also perform Legacy Flights. VFA-125, flying the F-35C Lightning, will fly at ten, performing mini-demonstrations along with Legacy Flights, as will VAQ-129 with the EA-18G Growler.
Meanwhile, VFA-122 will fly Legacy Flights only at nine shows with the F/A-18E/F Super Hornet.
The Legacy Flight organisation have not given details of which aircraft or unit will perform at individual shows, other than those which will see full Super Hornet tactical demonstrations from VFA-106.
Date
Show
Location
Country
Details
Mar 21-22
Los Angeles County Airshow
Lancaster
USA (CA)
F-35C
Legacy Flight
Apr 4-5
Wings Over South Texas
Kingsville
USA (TX)
Legacy Flight
Apr 18
Thunder Over Louisville

Louisville

USA (KY)
F/A-18F
TACDEMOF-35C
Legacy Flight
May 23-24
Miami Beach Air & Sea Show
Miami Beach
USA (FL)
F/A-18F
TACDEMO
May 30-31
Hangar 24 SBD AirFest
San Bernardino
USA (CA)
Legacy Flight
Jun 6-7
Wildwood Airshow

Wildwood
USA (NJ)
F/A-18F
TACDEMO
Jun 6-7
California International Airshow
Salinas
USA (CA)
F-35C
Legacy Flight
Jun 13-14
OC Airshow
Ocean City
USA (MD)
F/A-18F
TACDEMO
Jun 20-21
Deke Slayton Airfest
La Crosse
USA (WI)
Legacy Flight
Jun 27-28
Dayton Airshow
Dayton
USA (OH)
Legacy Flight
Jun 27-28
Hill AFB: Utah Air Show – Warriors Over the Wasatch
Ogden
USA (UT)
Legacy Flight
Jul 3-4
Thunder Over North Beach
Racine
USA (WI)
F/A-18F
TACDEMO
Jul 4
Tacoma Freedom Fair & Airshow
Tacoma
USA (WA)
Legacy Flight
Jul 4
Gig Harbor Wings & Wheels
Tacoma
USA (WA)
Legacy Flight
Jul 18
Sentry Eagle: Kingsley Field Open House
Klamath Falls
USA (OR)
Legacy Flight
Jul 23-26
EAA AirVenture
Oshkosh
USA (WI)
F/A-18F
TACDEMO
Jul 24-26
Tri-City Water Follies: Thunder Over the River
Kennewick
USA (WA)
Legacy Flight
Aug 7-9
Abbotsford International Airshow
Abbotsford
Canada (BC)
EA-18G
Legacy Flight
Aug 15-16
Chicago Air & Water Show
Chicago
USA (IL)
F/A-18F
TACDEMO
Aug 22-23
Wilkes-Barre/Scranton Armed Forces Airshow
Avoca
USA (PA)
Legacy Flight
Aug 29-30
New York Airshow
New Windsor
USA (NY)
F/A-18F
TACDEMO
Aug 29-30
Thunder Over Michigan
Ypsilanti
USA (MI)
Legacy Flight
Sep 5-6
Kansas City Airshow
New Century
USA (KS)
Legacy Flight
Sep 18-20
STIHL National Championships Air Races
Reno
USA (NV)
Legacy Flight
Sep 18-20
Great Pacific Airshow
Huntington Beach
USA (CA)
Legacy Flight
Sep 19-20
NAS Oceana Airshow
Virginia Beach
USA (VA)
F/A-18F
TACDEMO
Oct 10-11
Wings Over Houston
Houston
USA (TX)
F/A-18F
TACDEMO
Oct 17-18
Fort Worth Alliance Airshow
Fort Worth
USA (TX)
Legacy Flight
Oct 17-18
Central Coast AirFest
Santa Maria
USA (CA)
Legacy Flight
Oct 24-25
Little Rock ARB: Thunder Over the Rock
Little Rock
USA (AR)
Legacy Flight
Nov 5
Naval Base Ventura County Airshow (INCORRECT DATE?)
Point Mugu
USA (CA)
Legacy Flight
Nov 6-8
New Orleans Airshow
Belle Chasse
USA (LA)
Legacy Flight
Nov 14-15
Hangar 24 AirFest
Lake Havasu
USA (TX)
Legacy Flight
Nov 14-15
JB San Antonio Air & Space Show
Lackland
USA (TX)
F/A-18F
TACDEMO