Display dates for the RAF Battle of Britain Memorial Flight have been published, with the Flight's Lancaster, Dakota, Spitfires and Hurricanes in for a busy season.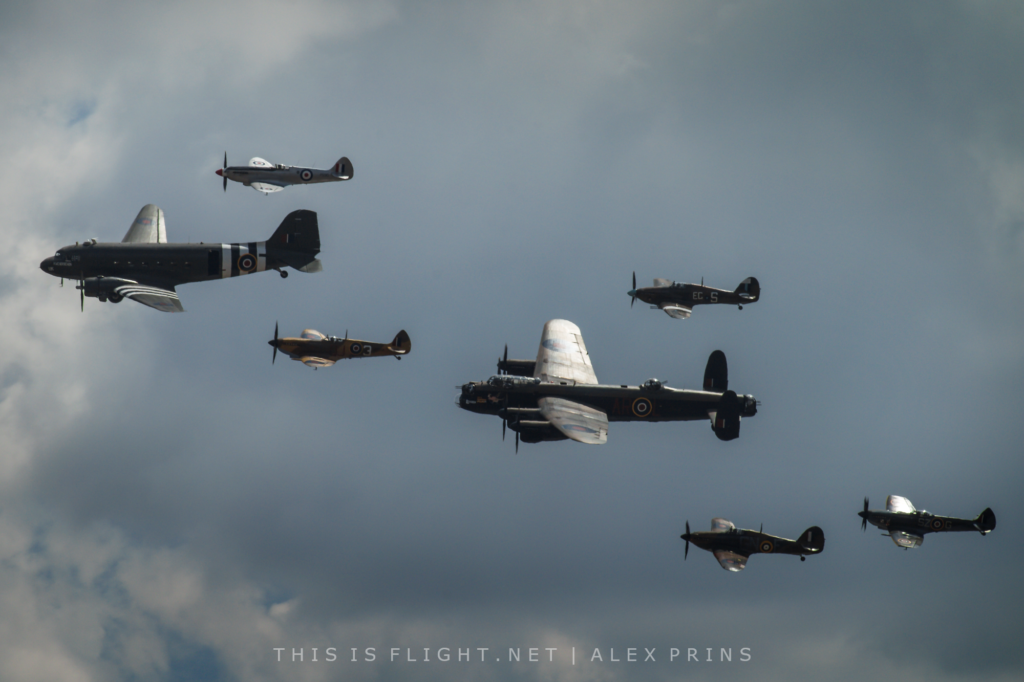 Biggin Hill and Eastbourne are the only events this year to see more than three aircraft participating. One international event is planned at Gilze Rijen in the Netherlands.
Flypasts and events not open to the general public have not been included.
| | | |
| --- | --- | --- |
| Date | Show | Aircraft |
| May 6 | de Havilland Day, East Kirkby, ENG, UK | H |
| May 25 & 27 | Lanc, Tank & Military Machines, East Kirkby, ENG, UK | D |
| Jun 1 | Langham Dome, Cockthorpe, ENG, UK | H |
| Jun 1-2 | Torbay Airshow, Torquay, ENG, UK | DHS |
| Jun 2 | Shuttleworth Flying Festival, Old Warden, ENG, UK | S |
| Jun 2-5 | Daks Over Normandy, IWM Duxford, ENG, UK | D |
| Jun 5 | D-Day 75, Portsmouth, ENG, UK | S |
| Jun 9 | RAF Cosford Airshow, Cosford, ENG, UK | LHS |
| Jun 15-16 | Dunsfold Wings & Wheels, Dunsfold Park, ENG, UK | S |
| Jun 22 | Newcastle Festival of Flight, Newcastle, NIR, UK | D |
| Jun 22-23 | Weston Air Festival, Weston-super-Mare, ENG, UK | LHS |
| Jun 23 | Lymm Festival, Lymm, ENG, UK | D |
| Jun 29 | National Armed Forces Day, Salisbury, ENG, UK | LHS |
| Jun 29 | Plymouth Armed Forces Day, Plymouth Hoe, ENG, UK | S |
| Jun 29 | Scarborough Armed Forces Day, Scarborough, ENG, UK | S |
| Jun 30 | North East Lincolnshire Armed Forces Day, Cleethorpes, ENG, UK | H |
| Jul 6 | Teignmouth Airshow, Teignmouth, ENG, UK | S |
| Jul 6-7 | Wales National Airshow, Swansea, WAL, UK | LHS |
| Jul 6-7 | AeroLegends Battle of Britain Airshow, Headcorn, ENG, UK | HS |
| Jul 7 | Battle of Britain Memorial Day, Capel-le-Ferne, ENG, UK | HS |
| Jul 7 | Shuttleworth Military Airshow, Old Warden, ENG, UK | H |
| Jul 13 | Royal Navy International Air Day, RNAS Yeovilton, ENG, UK | LHS |
| Jul 13-14 | Flying Legends, IWM Duxford, ENG, UK | DS |
| Jul 19-21 | Royal International Air Tattoo, RAF Fairford, ENG, UK | LHS |
| Jul 20 | Holkham Countnry Fair, Wells-next-the-Sea, ENG, UK | D |
| Jul 26-28 | Sunderland Airshow, Tyne & Wear, ENG, UK | LHS |
| Jul 27 | Scotland's National Airshow, East Fortune, SCT, UK | LHS |
| Jul 27 | Old Buckenham Airshow, Old Buckenham, ENG, UK | D |
| Aug 10 | Whitby Regatta, Whitby, ENG, UK | D |
| Aug 10-11 | The Yanks are Back in Saddleworth, Manchester, ENG, UK | L |
| Aug 10-11 | Blackpool Airshow, Blackpool, ENG, UK | LHS |
| Aug 11 | Whitby Regatta, Whitby, ENG, UK | S |
| Aug 15-18 | Airbourne: Eastbourne International Airshow, Eastbourne, ENG, UK | LDHS |
| Aug 17-18 | Biggin Hill Festival of Flight, London, ENG, UK | LDHS |
| Aug 22-23 | Clacton Airshow, Clacton, ENG, UK | LHS |
| Aug 23 | Sidmouth Air Display, Sidmouth, ENG, UK | S |
| Aug 24-25 | Rhyl Airshow, Rhyl, WAL, UK | DHS |
| Aug 25 | Little Gransden Air & Car Show, Sandy, ENG, UK | D |
| Aug 25-26 | White Horse Show, Uffington, ENG, UK | HS |
| Aug 26 | Pistons & Props, Sywell, ENG, UK | S |
| Aug 29-Sep 1 | Bournemouth Air Festival, Bournemouth, ENG, UK | DHS |
| Aug 30-Sep 1 | Chatsworth Country Fair, Chatsworth House, ENG, UK | S |
| Aug 30-31 | Dartmouth Regatta, Dartmouth, ENG, UK | S |
| Aug 31 | Classic Wings & Wheels, Gilze Rijen, the Netherlands | S |
| Aug 31-Sep 1 | AirWaves, Portrush, NIR, UK | D |
| Sep 6-8 | Southport Airshow, Southport, ENG, UK | DHS |
| Sep 12 | Guesnsey Air Display, St. Peter Port, Guernsey | DSH |
| Sep 12 | Jersey International Air Display, St. Aubin's Bay, Jersey | DHS |
| Sep 13-15 | Goodwood Revival, Goodwood, ENG, UK | S |
| Sep 21-22 | Duxford Battle of Britain Airshow, IWM Duxford, ENG, UK | DHS |