Spain's two military aerobatic teams, Patrulla Aspa and Patrulla Aguila, have announced their schedules for 2019.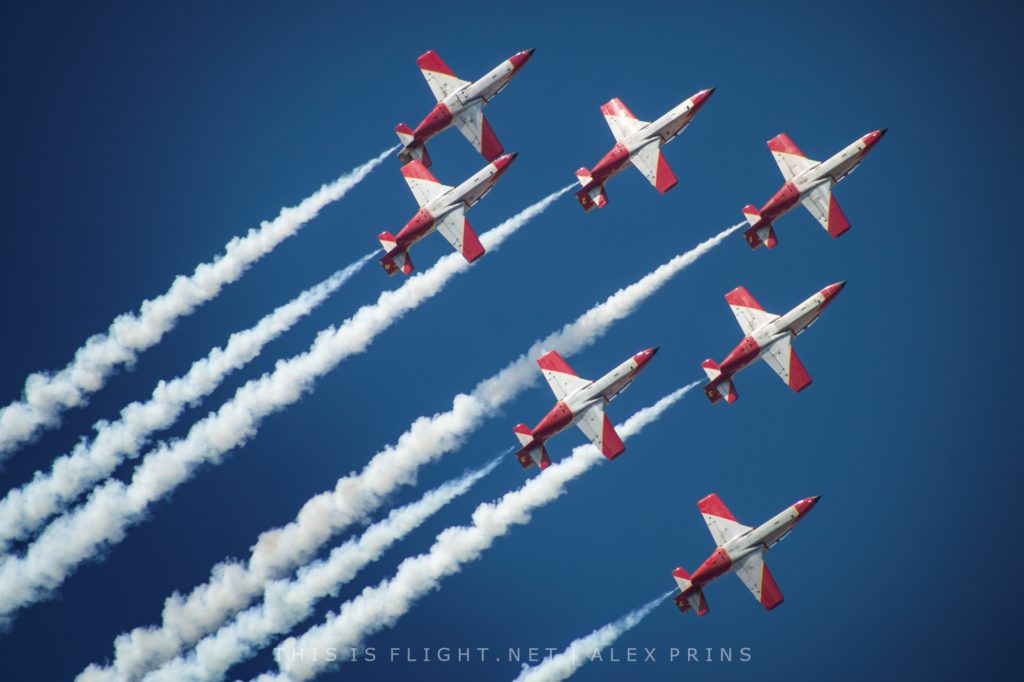 Patrulla Aguila, who fly seven C-101 Aviojets, will perform at overseas events in Portugal, the Netherlands, France and Austria. Patrulla Aspa, flying five EC-120 helicopters, have just two overseas shows; one in Portugal and one in Switzerland.
Display dates for the air forces EF-18 Hornet and Eurofighter Typhoon solo displays have not yet been released.
| | | |
| --- | --- | --- |
| Date | Show | Aircraft |
| Mar 27-31 | International Educational Opportunities Exhibition, Madrid, Spain | Aguila, Aspa |
| Apr 21 | 25th Aniversario de la creación del Escuadrón de Vigilancia Aérea 13, Totana, Spain | Aguila |
| May 3 | Bodas de Plata en la Academia General del Aire, San Javier, Murcia, Spain | Aguila |
| May 11-12 | Open day, Armilla AB, Granada, Spain | Aguila, Aspa |
| May 18 | Open day, Getafe AB, Spain | Aguila, Aspa |
| May 25-26 | Meeting de l'Air de BA115 Orange, Orange – Caritat, France | Aguila |
| Jun 1 | Day of the Armed Forces, Spain | Aguila |
| Jun 14 | 50th Anniversary of the Movie 'Battle of Britain', Tablada, Seville, Spain | Aspa |
| Jun 14-15 | Luchtmachtdagen, Volkel, Netherlands | Aguila |
| Jun 15 | Open Door, Tablada, Seville, Spain | Aspa |
| Jun 29-30 | 67th Anniversary of the Portuguese Air Force, Viseau, Portugal | Aguila, Aspa |
| Jun 30 | Festival Aéreo de Motril, Granada, Spain | Aspa |
| Jul 5-7 | Züri Fäscht, Zurich, Switzerland | Aspa |
| Jul 12-13 | Open day, Malaga, Spain | Aguila |
| Jul 12-14 | Festival Aéreo Torre del Mar, Malaga, Spain | Aguila, Aspa |
| Jul 21 | Festival Aéreo de Gijón, Playa San Lorenzo, Gijón, Spain | Aguila |
| Jul 24-45 | Day of Santiago Apóstol, La Coruña, Spain | Aguila |
| Jul 25-27 | 14th Criterium Aeronáutico y 36th Vuelta Aérea a Galicia, Lugo, Spain | Aguila, Aspa |
| Sep 6-7 | AirPower, Zeltweg, Austria | Aguila |
| Sep 14-15 | Vuelta Ciclista a España, Madrid, Spain | Aguila |
| Sep 17 | Día de la Ciudad Autónomica, Melilla, Spain | Aspa |
| Sep 27 | Bodas de Oro en la Academia General del Aire, Murcia, San Javier, Spain | Aguila |
| Oct 12 | National Day, Madrid, Spain | Aguila |